Monster Cookies are soft and chewy peanut butter chocolate chip cookies with oatmeal and colorful M&M's. These easy cookies are big on flavor and especially fun to make with kids! If you love peanut butter cookies, then you'll adore our Monster Cookies!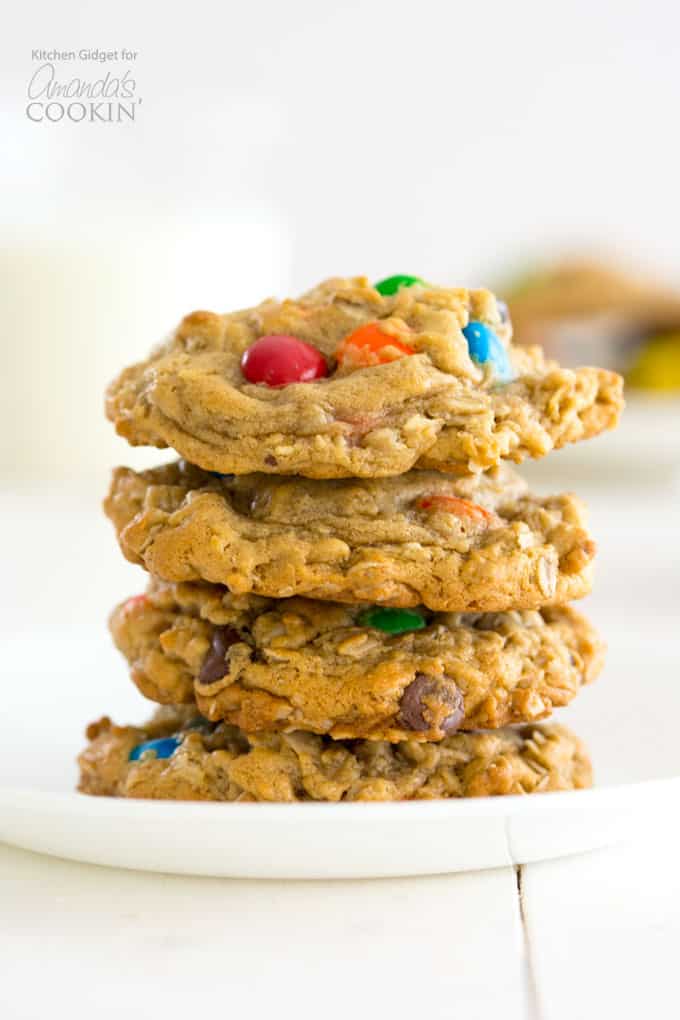 What Are Monster Cookies?
What do you get when you combine oatmeal cookies and peanut butter? The best big, soft, chewy, delicious Monster Cookies! They're big, they're chewy, they're studded with chocolate chips and M&M's and they're sure to please adults and kids alike. All these monsters need is a glass of milk and bonus – the recipe is easy too!
(Oops – were you looking for Cookie Monster cookies? We have those too!)
But why were they named Monster Cookies? Could it be because they are big and so full of different tasty ingredients that they had to be coined a monster? Or maybe it was because in order to eat these "monsters", you had to have a monster appetite!
CHOCOLATE CHIP COOKIES COOKBOOK!
Chocolate Chip Cookies are a favorite in just about every household. But there's more than one way to make these delicious hand-held treats. Get 20 different recipes! See ALL my cookbooks here!
20 yummy chocolate chip cookie recipes plus tips for baking your best batch! ONLY $9.97!!
What's in a monster cookie?
All the things! A basic monster cookie recipe includes peanut butter, old fashioned rolled oats, M&Ms, and chocolate chips. There are some variations out there too, and you can add or subtract the mix-ins if you like. I've even seen raisins, miniature marshmallows, coconut, and nuts added to these cookies.
Years ago I made a cookie called Chockablock Cookies from one of my favorite cookbooks. These are similar but have molasses and coconut in the mix.
Can I replace the peanut butter?
There are plenty of replacements for peanut butter these days. Any nut butter like almond butter, sun butter or cashew butter will work just fine.
Chocolate chips
When we say chocolate chips it's assumed that you will use semi-sweet chocolate, but you can pick whatever flavored chip makes you happy! There are plenty to choose from like white chocolate chips, butterscotch, mint chips, milk chocolate and dark chocolate, among others.
Which oats to use
You will want to use old fashioned oats (also called rolled) for making cookies. Steel cut oats are shaped more like rice and take longer to cook and wouldn't make a nice addition to these cookies. On the other end of the spectrum, instant oats cook a lot faster, making them ideal for a quick breakfast but not the best alternative for baking.
M&M's candy-coated chocolate pieces
A classic monster cookie recipe has traditional M&M's, but we've seen these cookies made with all variations such as peanut M&Ms, peanut butter M&Ms, miniature M&Ms, and even Crispy M&Ms! It would be really fun to use holiday M&Ms to make these cookies at Easter, Halloween, and Christmas too. If you live near or visit a place with an M&M store, you can even buy bags of single colors!
You can use Reeses Pieces in place of M&Ms if you like. There's also a candy called Sixlets, and the popular European candy called Smarties would work well too (not to be confused with the little pastel-colored discs found in the U.S.)
Can I freeze the dough?
Yes, you can free Monster Cookie dough! Mix up the cookie dough according to the directions below.
Next line a cookie sheet with parchment paper and put cookie dough balls onto the sheet and flash freeze for 2 hours.
Remove the frozen dough balls from the sheet and drop them all into a gallon freezer bag. Flash freezing them keeps them from sticking together in the bag!
Mark the freezer bag with the baking temperature and time. You can also write the info on a piece of paper and place it inside the bag.
To bake simply remove from the freezer and place on lined baking sheet. You can let them thaw for ten minutes and bake as directed or place them frozen into the preheated oven and add 3-4 minutes to the cooking time.
Can I make Monster Cookie Bars instead of cookies?
Yes you can make Monster Cookie bars! This particular recipe will actually make two (13×9) pans. You can split the ingredient measurements in half and make one pan. Keep the temperature the same at 350F, but bake them for 25-27 minutes. Insert a toothpick in the center after about 23 minutes to check for doneness.
Mom's Easy Monster Cookies Recipe
When I first decided to make and photograph the best Monster Cookies in the land, I had to ask my mom for the recipe since I didn't have it in my stockpile. When I went away to college, I copied a ton of family recipes so I could take a piece of home with me.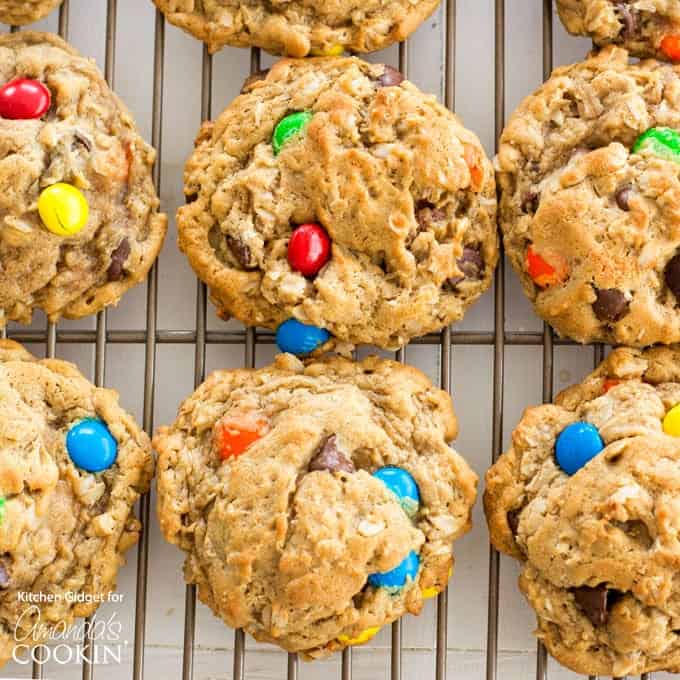 [Side note: Parents, this is such a great idea for your almost-adults! Even if they're not cooking in their dorms, those recipes will be treasured eventually. It's over a decade since I wrote down those recipes and my siblings are still always asking me for dad's famous Cauliflower Casserole or mom's Fiesta Bean Dip.]
Anyways, my mom couldn't find the recipe but told me it had been passed down by my aunt so I was able to track it down from her. Yay! These Monster Cookies are that good! My aunt makes them with her grandkids and says it's a fun recipe for kids to mix with their hands. I bet kids love the sensory experience!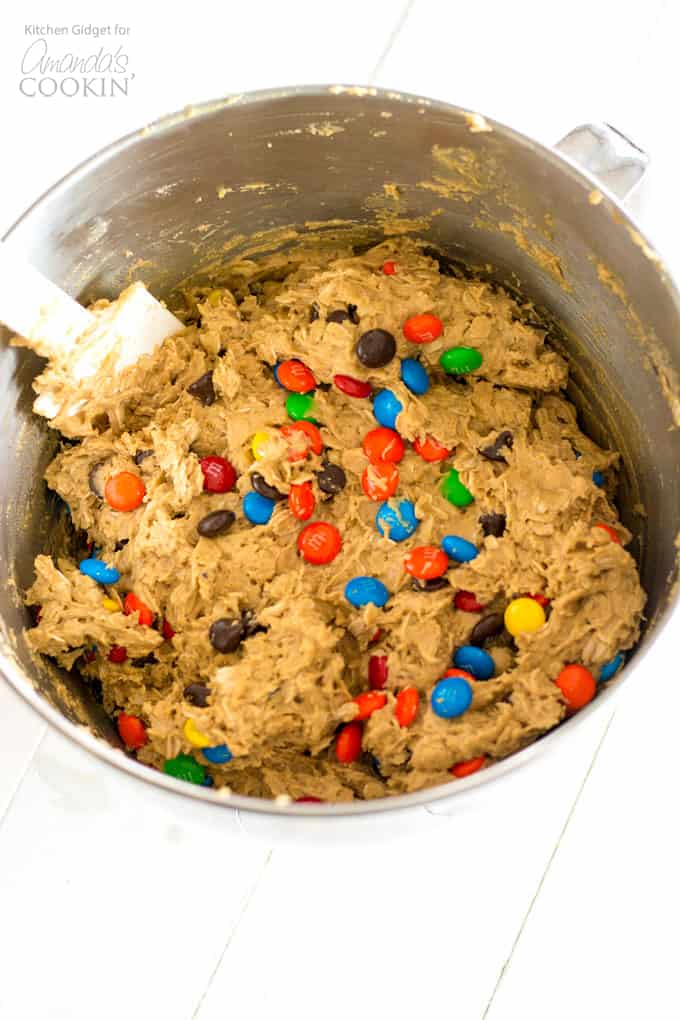 Making Monster Cookies
I, on the other hand, find my kitchen gadgets more exciting. I got to use two of my all-time favorites with these cookies – my KitchenAid Stand Mixer and my adjustable measuring cup. This measuring cup makes measuring things like mayo, shortening, and honey a breeze.
The bottom pushes up so the ingredient pops right out without wasting or trying to scrape down the sides. Plus you can use it as a regular measuring cup for dry, solid, liquid and sticky ingredients. I'm not advocating a certain brand, I just think it's a great invention you should check out!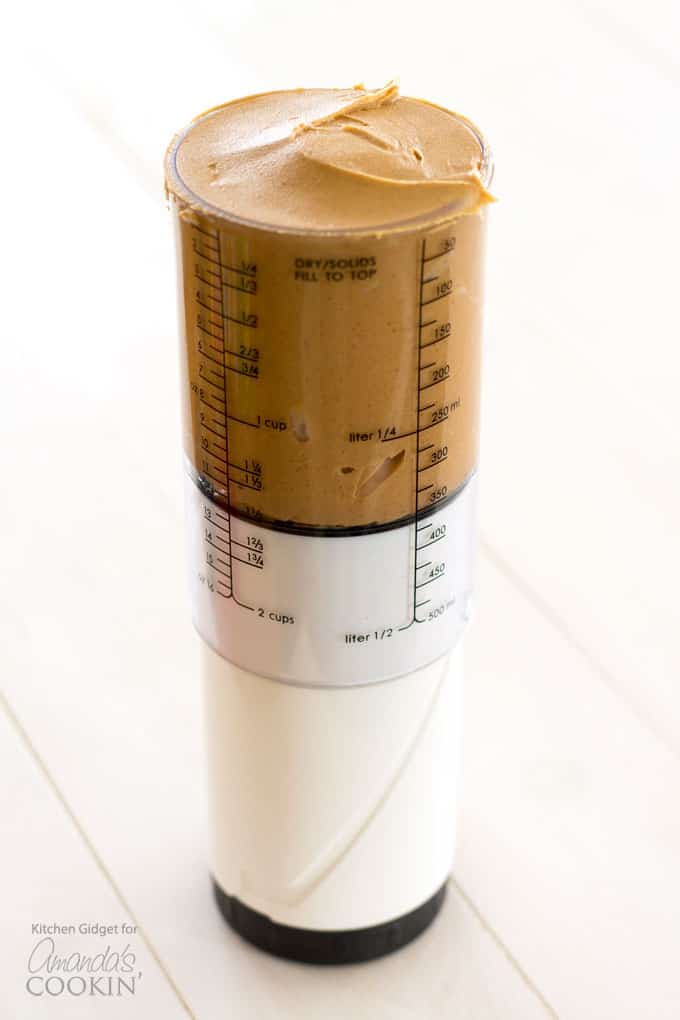 Let's talk about the ingredients:
unsalted butter (softened) – note that softened means you should be able to press your finger into the stick and it should give a little. If your fingers sink into the butter, it's too soft. Take the butter out of the fridge about ten minutes before starting. Can you use salted butter? Yes, it won't affect the flavor of the final product in this case.
packed brown sugar – when measuring brown sugar, dip the cup into the sugar and pack it into the measuring cup tight and level off the top.
white granulated sugar – we recommend regular white sugar for this recipe, but you can actually use the same measurement of brown sugar if you like. You can also replace it with your favorite sugar substitute. Just be sure to check the package for the proper measurement equivalents.
eggs – take the eggs out about 20 minutes before starting the recipe. Room temperature eggs behave better when mixing cookie batter.
creamy peanut butter – as I mentioned above, you can use other nut butters instead of peanut butter.
corn syrup – it's such a small amount that I wouldn't worry about using corn syrup, but if you prefer, you can substitute the corn syrup with agave nectar or honey.
pure vanilla extract – you can use imitation vanilla if you don't have pure.
all-purpose flour – bleached or unbleached all-purpose flour will work fine. When measuring be sure to scoop the flour into the cup and level off the top. Do not pack white flour or dip it into the flour bag to measure. The weight difference can make or break your recipe.
baking soda
old-fashioned oats – these add a wonderful chewy texture to your Monster Cookies, don't leave them out! Only use old fashioned (rolled) oats.
M&M's – we used regular M&Ms, but you can use any variety you like or change it up with Reeses Pieces!
semisweet chocolate chips – you can use any type or flavor of chips you like, just keep the measurements the same.
Helpful Kitchen Tools: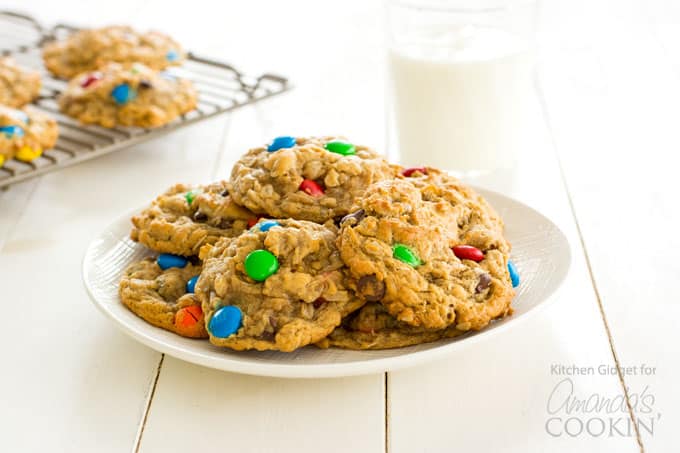 Because these are called monster cookies, I like to make them extra large-sized – about 3 tablespoons or so. You'll get about 3 dozen with this size. The amount can be adjusted down to 1 1/2-2 tablespoons, which is about the size of a "regular" cookie and you'll get more cookies.
Make sure you check out more of our favorite cookie recipes on the blog: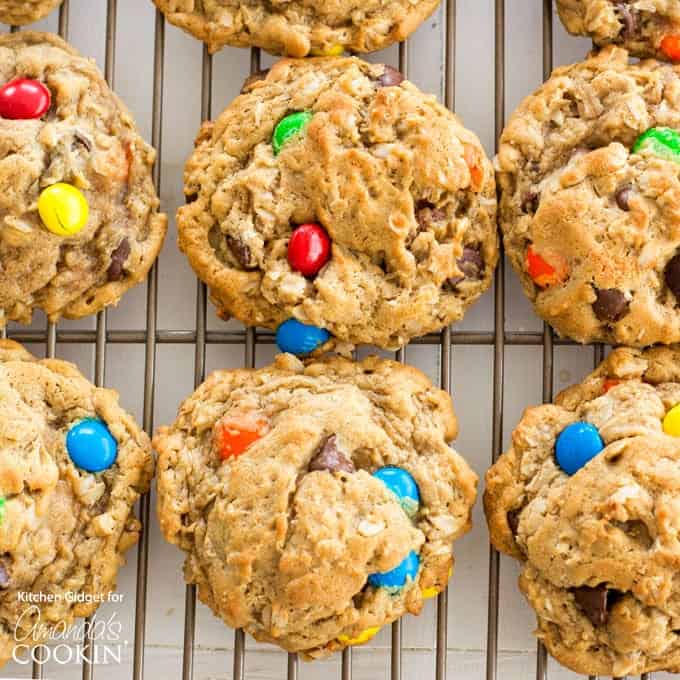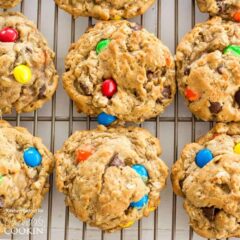 Monster Cookies
This easy recipe for the best Monster Cookies yields a soft and chewy mouthful of amazingness!
IMPORTANT - There are often Frequently Asked Questions within the blog post that you may find helpful. Simply scroll back up to read them!
Print It
Rate It
Ingredients
1/2

cup

butter

softened

1

cup

brown sugar

packed

1

cup

granulated sugar

3

large

eggs

room temperature

1 1/2

cups

peanut butter

1 1/2

teaspoons

corn syrup

1 1/2

teaspoons

vanilla extract

1

cup

all purpose white flour

2

teaspoons

baking soda

3 1/2

cups

old fashioned oats

208

grams

M&M candies

1 cup

1/2

cup

semi sweet chocolate chips
Instructions
Preheat oven to 350°F. Line cookie sheets with silicone mats or parchment paper; set aside.

In a large mixing bowl, cream butter, brown sugar and white sugar with an electric mixer until light and fluffy.

Add eggs one at a time, beating until incorporated.

Beat in peanut butter, corn syrup and vanilla, mixing well. Stir in flour, baking soda and oats. Fold in M&Ms and chocolate chips, just until combined.

If dough is too sticky to handle, refrigerate for at least 30 minutes. Drop 3 tablespoons of dough on prepared cookie sheet, spacing cookies at least 2 inches apart. Press a few extra M&Ms on the tops for more colorful appearance, if desired. Bake at 350°F for 9-13 minutes.

Shorter time will result in softer, chewier cookies. Cookies will look slightly under-baked; allow to cool on cookie sheet for 5-10 minutes after removing from oven. Use the longer bake time if the dough has been chilled or crisp cookies are preferred. Cool on cookie sheet for 2 minutes, then remove to wire rack to cool completely.
Expert Tips & FAQs
Because these are called monster cookies, I like to make them extra large-sized – about 3 tablespoons or so. You'll get about 3 dozen with this size. The amount can be adjusted down to 1 1/2-2 tablespoons, which is about the size of a "regular" cookie and you'll get more cookies.
Nutrition
Serving:
1
cookie
|
Calories:
268
cal
|
Carbohydrates:
32
g
|
Protein:
6
g
|
Fat:
13
g
|
Saturated Fat:
5
g
|
Cholesterol:
27
mg
|
Sodium:
174
mg
|
Potassium:
156
mg
|
Fiber:
2
g
|
Sugar:
20
g
|
Vitamin A:
135
IU
|
Vitamin C:
0.1
mg
|
Calcium:
31
mg
|
Iron:
1.2
mg
This post was originally published on this blog on Jan 17, 2018.
Rebekah Garcia is the food blogger behind Kitchen Gidget. She creates recipes influenced by her Midwestern roots, Hispanic heritage and insatiable sweet tooth. When she's not cooking, you can find her at the beach with a good book. She is married to the man of her dreams and home is where the military sends them. She believes food is better when shared…unless it's the last bite!
Latest posts by Rebekah Garcia (see all)