I'm British, so naturally, I love the licorice flavor in Italian anisette cookies. My children, on the other hand, are not the biggest fan of licorice. You can certainly replace the anise extract in this recipe with lemon or vanilla extract if you have people who love the texture of these cookies, but not the licorice flavor. They will taste delicious either way, I promise! These anisette cookies are a holiday dessert favorite, just like these Thumbprint Cookies that everyone goes crazy over.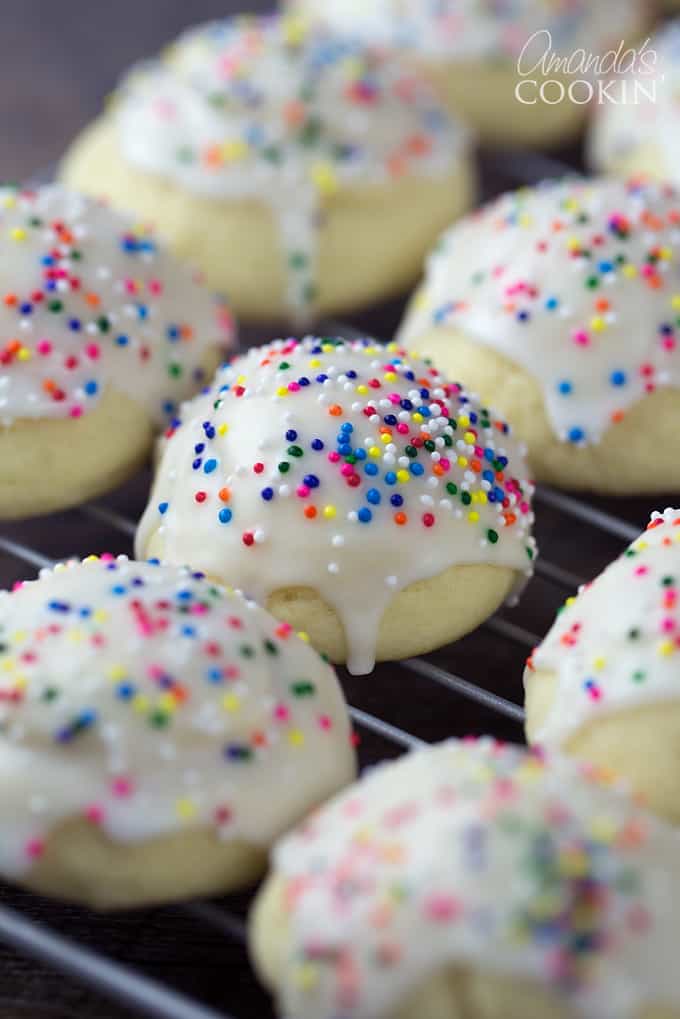 Italian Anisette Cookies
Whether you choose to make these cookies with anise or without, they always seem to be a crowd pleaser. Since this recipe makes a lot of cookies, they also make the perfect treats to bring along to a holiday gathering or family get-together.
If you're making these anisette cookies for your Thanksgiving gathering, be sure to check out how to make an easy leftover Thanksgiving bowl and these adorable Thanksgiving sugar cookies!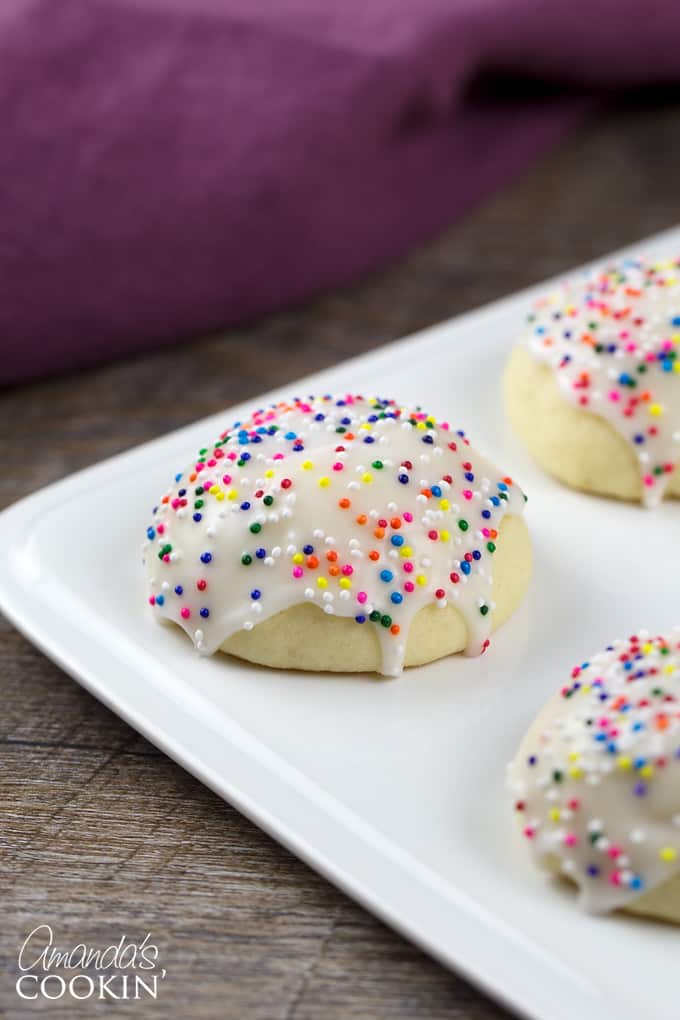 Ingredients for Italian Anisette Cookies
For the cookies:
1/2 cup butter or margarine
1/4 cup shortening
3/4 cup granulated sugar
4 eggs
3 cups all-purpose flour
5 teaspoons baking powder
1/2 teaspoons salt
2 teaspoons anise extract (can use vanilla or lemon extract instead)
For the glaze: 
2 cups confectioners' sugar, sifted
2-4 tablespoons milk
Helpful Kitchen Tools
 How to make Italian anisette cookies
For cookies:
Melt butter and shortening together. Add the sugar; mix well. Add the eggs, one at a time, beating well after each addition. Mix in the anise extract. Sift or whisk together flour, baking powder, and salt.
Add to creamed mixture gradually. If the dough is too sticky to roll in the palm of your hand, add flour until firmer, but it should be very soft.
Roll dough into small balls (these tend to really puff up with all the baking powder in them!) and place on ungreased cookie sheets.
Bake @ 375 degrees for 8-10 minutes (the bottom should be lightly browned but the tops should remain light). Remove cookies to wire rack and cool completely before glazing.
Amanda's Notes: The first time I tried this recipe I think I added a bit too flour much. The tops of my cookies cracked, so be careful with measuring your flour correctly! I also used my cookie scoop and filled it half way, which seemed to work pretty well.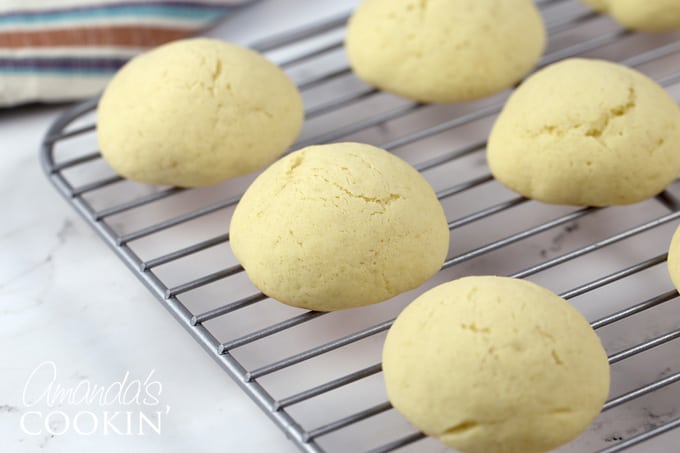 For the glaze:
Mix milk GRADUALLY into confectioners' sugar to make a thick glaze… make sure to keep it on the thick side.
Dip top of each cookie into glaze. Sprinkle with colored jimmies or nonpareils while glaze is still wet.
I usually dip 10-12 cookies, return them to the wire rack (with wax paper under the racks to aid in clean up!) and then sprinkle those cookies before starting to dip more.
Amanda's notes: I dipped and sprinkled 5 at a time, that seemed to be the magic number before the glaze would start to harden.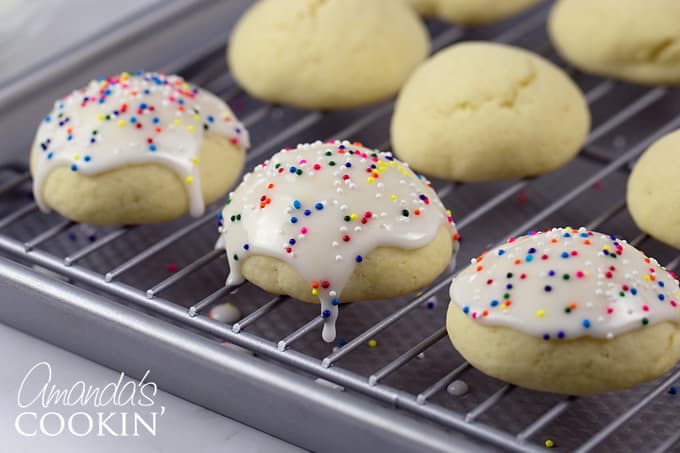 This Italian anisette cookies recipe makes a lot of cookies, depending on how large you roll them. I usually roll the dough into 3/4″ balls-maybe a little bit smaller-I get about 100 cookies from one batch when I roll them this size.
Amanda's notes: I made mine a little bigger and got 75 out of my dough.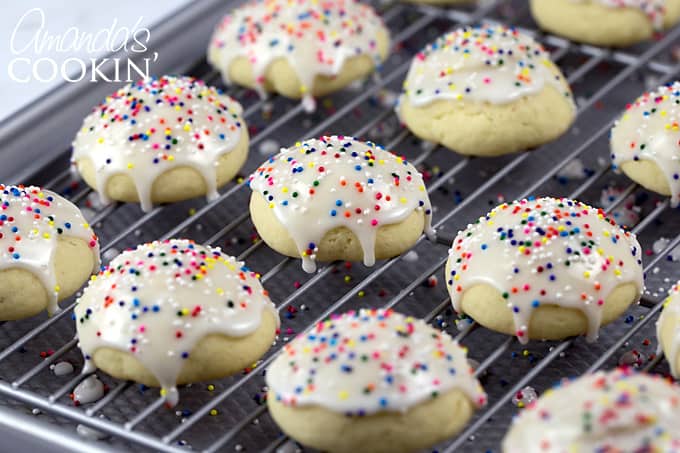 I hope you enjoy these anisette cookies as much as my family and I do! I love the fact that this recipe makes so many cookies, that means I have a little sweet treat to snack on throughout the week. I just have to make sure I set some aside in my secret stash so the kids don't devour them all before I can get any!
If you're a licorice fan like me you might want to make these black licorice caramels from Barbara Bakes and these Lemon Licorice Cupcakes from Shugary Sweets!
Cookie fanatic? Be sure to check out all the cookie recipes on the blog! Some favorites include these Crisco peanut butter cookies, the best chocolate chip cookie recipe ever, chocolate snow cookies, frosted sugar cookie bars, and these chocolate peanut butter cookies.
This post was originally published on this blog on December 8, 2008.