This thumbprint cookie recipe is probably one of the easiest cookies I've ever made. Throw all the ingredients together (all FIVE of them) and mix it all up. Refrigerate for an hour, roll them into balls, poke, bake, fill, bake. Done. Eat.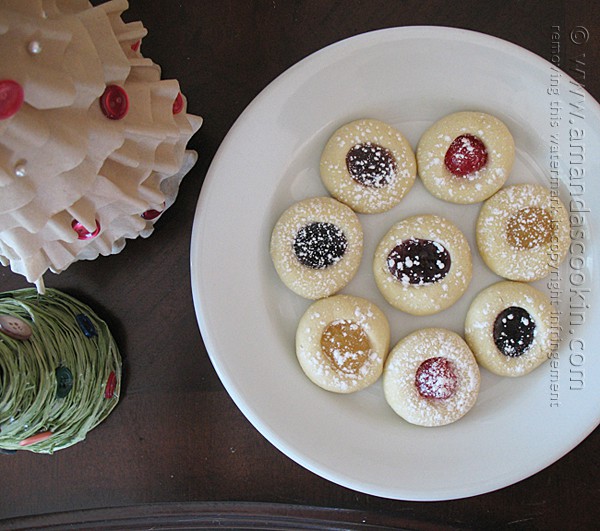 When I was young, just married and before kids, I knew how to make a few things. Spaghetti, hamburgers, baked chicken and of course, chocolate chip cookies (as long as I had the instructions on the chocolate chip bag). That was about it. I relied very heavily on a cookbook my dad gave to me when I moved away from home for the first time. The Good Housekeeping Illustrated Cookbook
.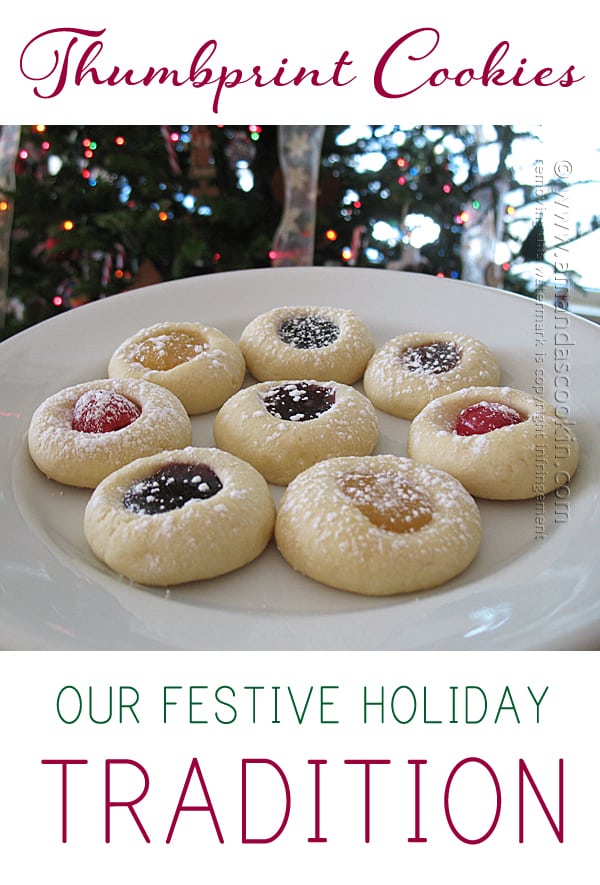 Since my parents had been divorced since I was six years old and both parents were always working, I really never learned to cook. Then my mom passed away when I was 23, so I was left to figure it out on my own. I digress. There are several different versions of this book, but the one I linked here is the one I have, and have had since 1986. Of course, there was that incident when I was a brand new mom 18 years ago…
I set the cookbook on the stovetop to answer the phone and promptly forgot about it. That wouldn't have been a big deal except that I had an electric stove in that little apartment and I had just turned the burner off a few minutes before. Well, if you've ever used an electric stovetop you know that the burners take a while to cool down. Needless to say, my cookbook suffered severe burns and I was devastated. My dad heard about it and bought me the same book, a new copy, for my birthday. What a guy :) I still have that book. I still love that book. And that dad. ;)
Well inside the pages of that lovingly tattered cookbook is a recipe for Spritz cookies. Then below that are instructions for using that same recipe to make raspberry thumbprints. I've been making these thumbprint cookies, same recipe, no changes except the fillings, every Christmas for 24 years.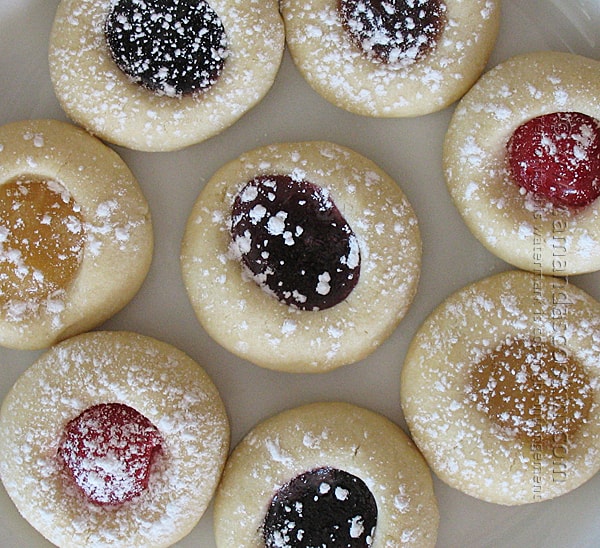 I'm sure I could have altered the recipe, added vanilla or almond extract, experimented with spice additions, maybe nuts or almond flour… but why? They are wonderful just how they are. I wouldn't change a thing. They are firm but soft and totally delicious. I've made them with margarine (I used to use it a lot when I was younger) and with butter and they come out great either way. I hope you'll try them, and maybe even adapt them to fit your tastes. Or maybe you'll make them as is and love them as much as I do. Either way, I'm happy to be able to share one of my Christmas traditions with all of you. :)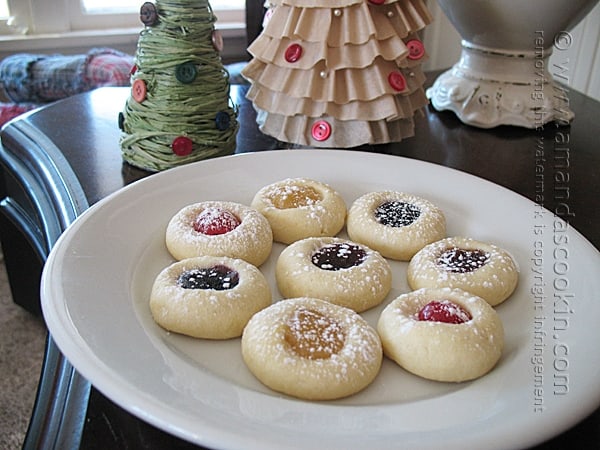 I do have a few tips for this recipe. The recipe itself is rather short, but a bit longer with my added notes.
Oh, and if you are wondering about the cookies with the red centers, those are maraschino cherries. Didn't give me the "umph" I thought they would, but they certainly didn't get thrown away. :)

Thumbprint Cookies
adapted from The Good Housekeeping Illustrated Cookbook
This recipe makes 132 cookies!
Use a TEASPOON to ensure uniform sizing. Measure out level teaspoons of dough (in order to get 132 cookies), otherwise, you can use a cookie scoop for larger cookies like I did here.
Roll balls in your hands to smooth, place on cookie sheet.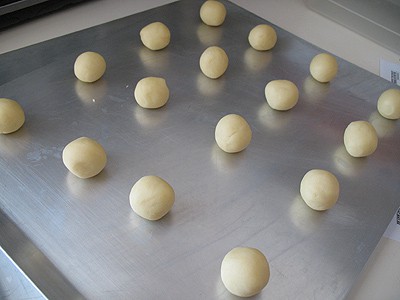 Use your thumb or pointing finger to gently press the center of the cookie, forming an indent.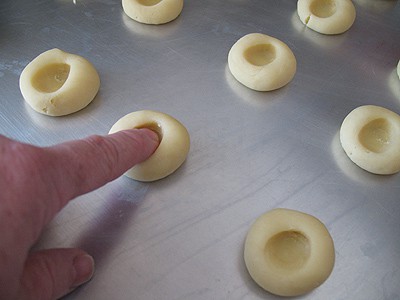 Since pressing the cookie will cause it to lean to one side, after creating all the indents, I turn the cookie sheet around and repress each indent from the other side. This makes then stand back upright. Bake for ten minutes.
Remove from oven, fill indents with preserves, lemon or lime curd, marmalade, or even apple butter.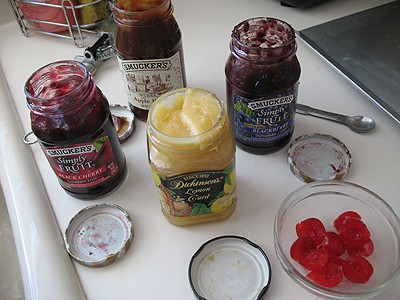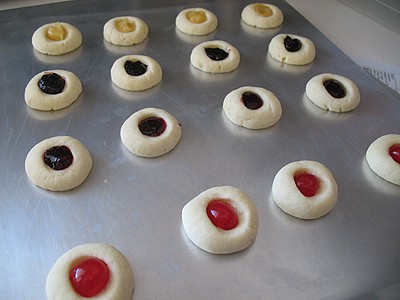 Return to oven and bake 5-6 minutes more, do not let them get brown. Cool on racks. Sprinkle with powdered sugar if desired.
If you followed my indenting tip above, you should have very little spillage… like this.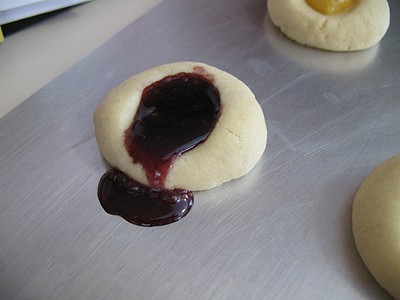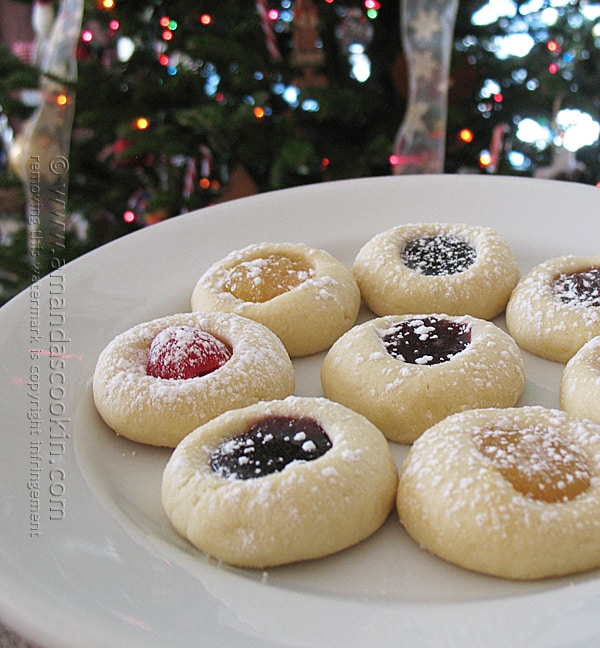 You can watch the video on how to make these cookies below!