When I was in high school I lived across the street from a Poppin' Fresh, which is now known as Baker's Square. They make the BEST French Silk Pie, which is a rich and creamy chocolate cream pie. Yes, they beat out Marie Callender's by a mile. I have been making this pie every Thanksgiving and Christmas since 2008.
PRINTABLE RECIPE IS AT THE END OF THIS POST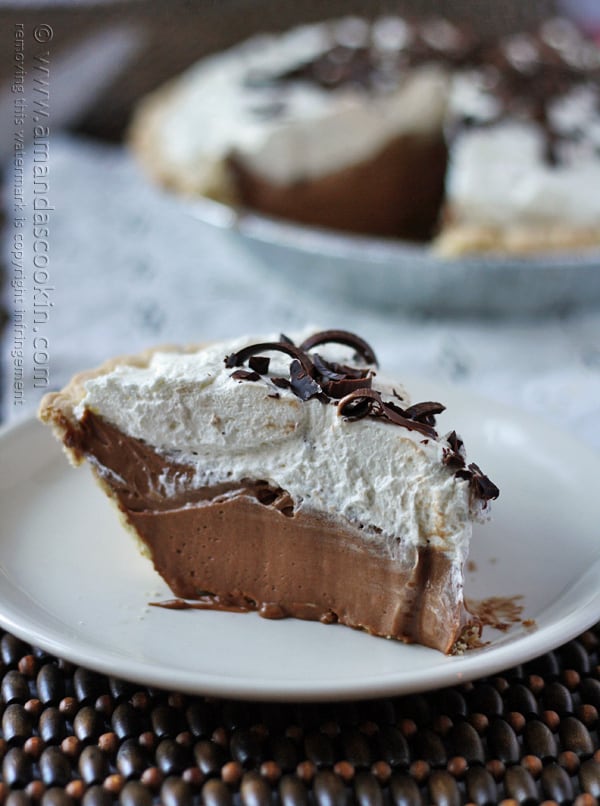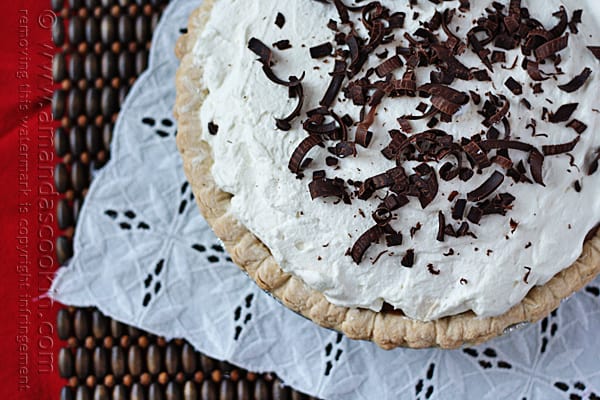 French Silk Pie
There isn't a Christmas or Thanksgiving that goes by without this my French Silk Pie, and chances are we'll be enjoying it for Easter too. It's just a family favorite and there would be a lot of sad faces if I didn't make it!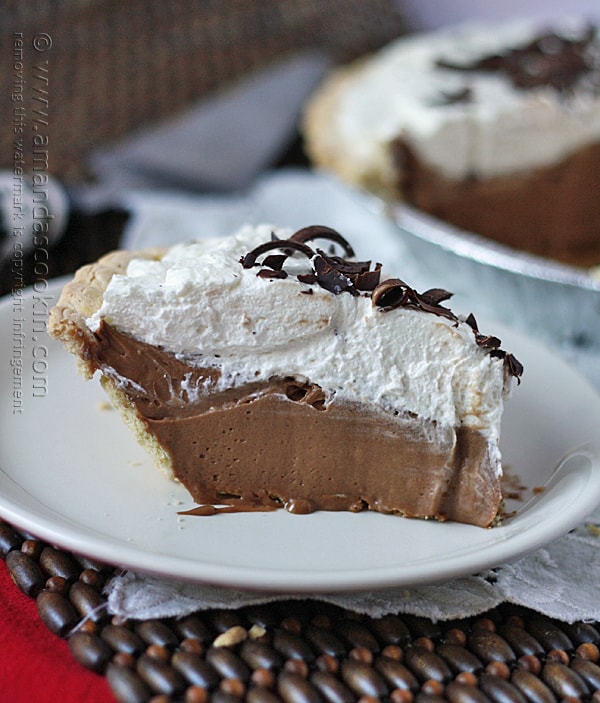 I recently updated the photos on this post. So if you followed a link or came from Pinterest and these aren't the photos you expected, that's why. However, I have kept the original photos in a small collage below. You know. For old time's sake. :)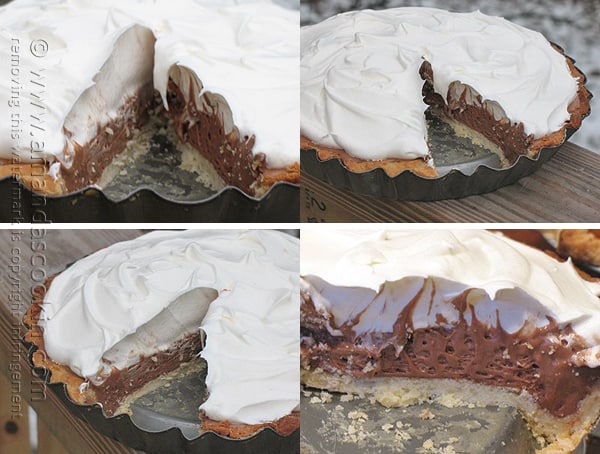 I originally discovered this recipe on a blog called Sticky Feet. Can't thank her enough for sharing this French silk pie which has become a family tradition around here!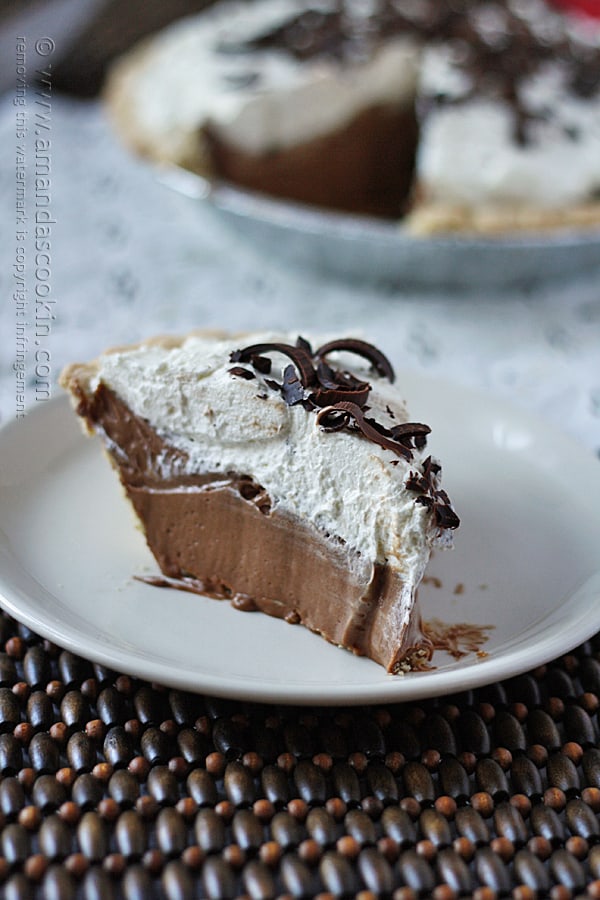 From my original blog post: "I have to admit, I was so excited to make this, and then so worried it wasn't going to work because the instructions said to beat the butter and sugar until creamy and not grainy. Well mine was creamy but never NOT grainy. However, after making this multiple times now, I know to simply beat it for several minutes until light and fluffy, about 6-7 minutes." The sugar melts in the rest overnight, so be sure to include that step. You won't be disappointed!
For this recipe I used my KitchenAid stand mixer
with the paddle attachment.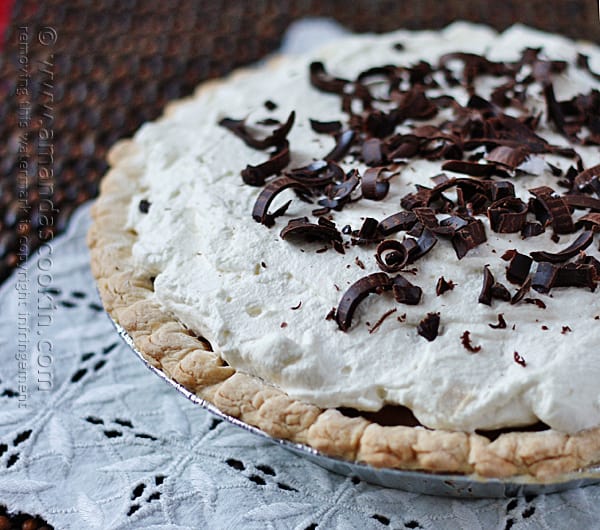 My Tips
First off, make the filling first. The filling will be pale in color but will darken as it chills. Put it into a bowl, cover with plastic wrap and refrigerate. This allows it to set up and thicken a bit before adding it to the pie shell.
Cool the chocolate. Melt the chocolate as instructed and let it cool completely. I usually melt the chocolate first so it's cool by the time I need to add it to the filling in the mixer. If you add vanilla to hot or warm melted chocolate it may seize up.
Make your pie crust. If making a crust from scratch, follow the instructions for a fully baked pie shell as this pie will not go in the oven. Let it cool completely.
Add the chilled filling to the pie crust. Put it back in the fridge while you make the whipped topping. If you are using Cool Whip, go ahead and top the pie now and refrigerate.
WAIT until tomorrow to eat. You can certainly eat it after it has chilled for several hours, BUT believe me when I tell you that you will be very thankful that you waited overnight. The filling needs time to set up. Any graininess you may have detected when you tasted the filling will be gone after a good night's rest.
NOTE: the eggs in this recipe are not cooked. If that concerns you, you can use pasteurized eggs or learn how to pasteurize the eggs in your fridge.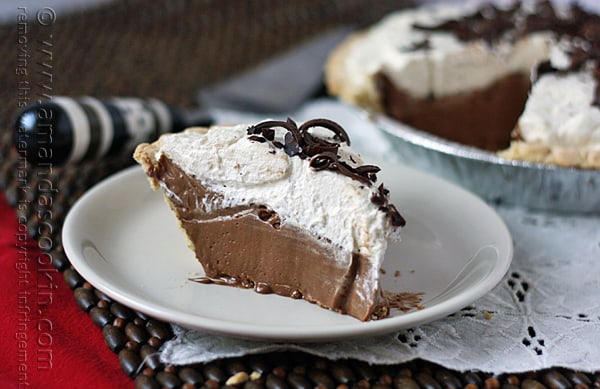 I have made this French silk pie numerous times and have used both Cool Whip (pictured in the original photos) and fresh whipped cream (as seen in these updated photos) for the topping. You can dress it up by shaving some bittersweet chocolate through a mandolin or by using a vegetable peeler. Sprinkle the shavings on the top of the pie.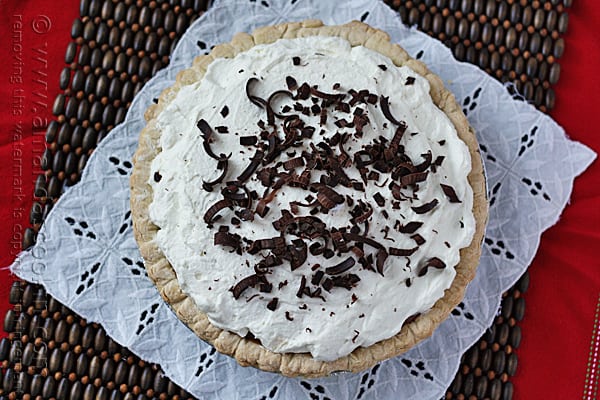 Other Holiday Desserts I Love
Check out the video for this delicious French Silk Pie below!
This post originally published here on December 6, 2008, then republished October 8, 2016.