I recently bought a cookbook called America's Best Lost Recipes. It contains quite a few recipes reminiscent of the old days, and believe me I have several bookmarked to make! One that caught my eye was Grasshopper Pie. I went to a restaurant here in town several years ago and ordered a "Grasshopper", which is a mixed drink that usually consists of heavy cream, Creme de Menthe, and Creme de Cocao. The bartender blended it with vanilla ice cream and I was in love. :) There are quite a few different versions of Grasshopper Pie (plenty without alcohol, but that's not what this post is about) out their in Internetland, some even getting a bad rap because of the strong flavor, but I really wanted to try this recipe as it included the same liqueurs as that drink I love.
I will state for the record that I though this pie was wonderful. The texture is creamy and melts in your mouth. I saw a post on a message board where a woman had tried this recipe and thought the texture was too gelatin-like. All I can say is I couldn't disagree with her more. In fact, if I had to guess I would never have known there was gelatin in the ingredient list.
IMPORTANT NOTE: This recipe is delicious, but I highly recommend making it a day ahead and letting the pie sit in the fridge overnight. If you try the pie right after you make it, you will most likely experience a medicinal flavor from the strength of the liqueur. Allowing it to sit in the fridge overnight lets the flavors mellow. Plan ahead!
Also, I want to add kudos to this recipe for their time suggestions. Throughout the recipe they give suggested times (i.e. "cook until slightly thickened, about 2 minutes", etc). I used my microwave timer for each and every suggested time in this recipe and they were right on the mark with each one. :)
Tempering
– I know that some people have trouble with tempering eggs. The key is to go very slowly. The instructions above say to whisk (the eggs) vigorously and slowly add the gelatin mixture to the yolks. When I do this, I literally dribble the hot mixture in. I have never had trouble tempering eggs and have never ended up with scrambled egg dessert LOL. Just remember to add the hot liquid to the eggs at a dribble or a very slow pour and you should be fine.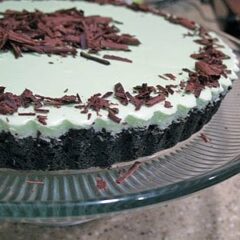 Grasshopper Pie
IMPORTANT - There are often Frequently Asked Questions within the blog post that you may find helpful. Simply scroll back up to read them!
Print It
Rate It
Ingredients
Crust
16

Mint 'n Creme Oreo cookies

broken into rough pieces (Double Stuff)

3

tbsp

unsalted butter

melted and cooled
Filling
3

large egg yolks

1

envelope unflavored gelatin

1/2

cup

sugar

2

cups

heavy cream

pinch

salt

1/4

cup

green creme de menthe

1/4

cup

white creme de cocao

shaved bittersweet or semisweet chocolate for garnish

optional
Instructions
Crust
Adjust oven rack to the middle position and the the oven to 350 F.

Grind the cookies in a food processor to fine crumbs.

Transfer to a bowl, drizzle with the melted butter, and toss well.

Press the crumbs evenly into the bottom and sides of a 9-inch pie plate (I used a tart pan) and refrigerate until firm, about 20 minutes.

Bake until set, about 8-10 minutes.

Cool completely on wire rack.
Filling
Beat egg yolks in a medium bowl.

Combine the gelatin, sugar, 1/2 cup cream, and salt in a medium saucepan and let sit until the gelatin softens, about 5 minutes.

Cook over medium heat until gelatin dissolves and mixture is very hot, but not boiling, about 2 minutes. Whisking vigorously, slowly add the gelatin mixture to the egg yolks (see tempering note above), return the mixture to the pan and cook, stirring constantly, until slightly thickened, about 2 minutes.

Remove from heat and add creme de menthe and creme de cocao.

Pour into a clean bowl and refrigerate, stirring occasionally, until wobbly, but not set, about 20 minutes.

Beat the remaining 1 1/2 cups of cream with electric mixer (I used the KA) at medium high speed until stiff peaks form.

Whisk one cup of the whipped cream into the gelatin mixture until completely incorporated.

Using a rubber spatula, fold the gelatin mixture into the remaining whipped cream until no steaks of white remain.

Scrape the mixture into the cooled pie shell, smooth the top, and refrigerate until firm, at least 6 hours or preferably overnight (DO THIS!).

Serve topped with chocolate curls, if desired.
NEW! Be sure to subscribe to my newsletter, Foodie in the Craftroom, to receive updates and tips from both Amanda's Cookin' and Crafts by Amanda! Visit https://amandascookin.com/p/subscribe-to-newsletter.html
Amanda Formaro is the crafty, entrepreneurial mother of four grown children. She loves to bake, cook, make kid's crafts and create decorative items for her home. She is a crafting expert and guru in the kitchen and has appeared online and in print publications many times over the years. She is also a craft book author five times over and product developer as well as the owner of
FunFamilyCrafts.com
. You can find her on social media by using the buttons to the left!
Latest posts by Amanda Formaro (see all)