These Enchilada Stuffed Peppers have all the makings of hearty enchiladas (with the addition of easy-to-prep quinoa). Finally, a vegetable main dish that's actually filling (and delicious!), a great meatless dish for a weeknight dinner.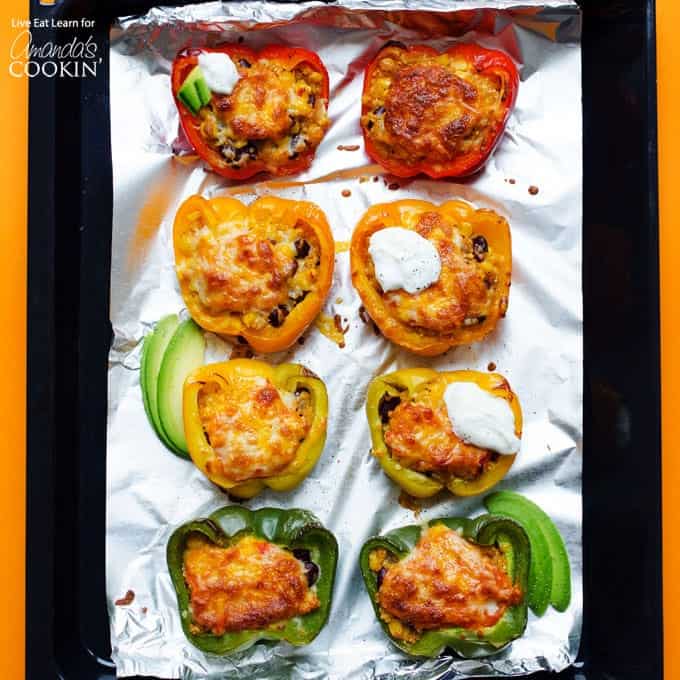 Enchilada Stuffed Peppers
What do you get when you cross a food lover with someone who despises doing dishes? A plethora of recipes where the food is the dish. I'm talking Chickpea Stuffed Avocados, Almond Butter Baked Bananas, and now these Enchilada Stuffed Peppers.
Stuffed with spiced quinoa, beans, corn, and shredded Monterey jack cheese then drizzled with a simple homemade enchilada sauce and loaded with even MORE cheese. Make it dinner, make it a side, but whatever you do, you've just got to make it, okay?
Making Enchilada Stuffed Peppers
This dish truly is ultra simple. You'll just cook some quinoa to create a protein-packed, filling base. We'll combine that with some sautéed onion, spices, beans, and corn, and cheese.
Stuff it into halved bell peppers, drizzle with our delicious enchilada sauce, and sprinkle with more cheese. Bake for 20 minutes, until cheese is golden and bubbling, then serve topped with sliced avocado and sour cream!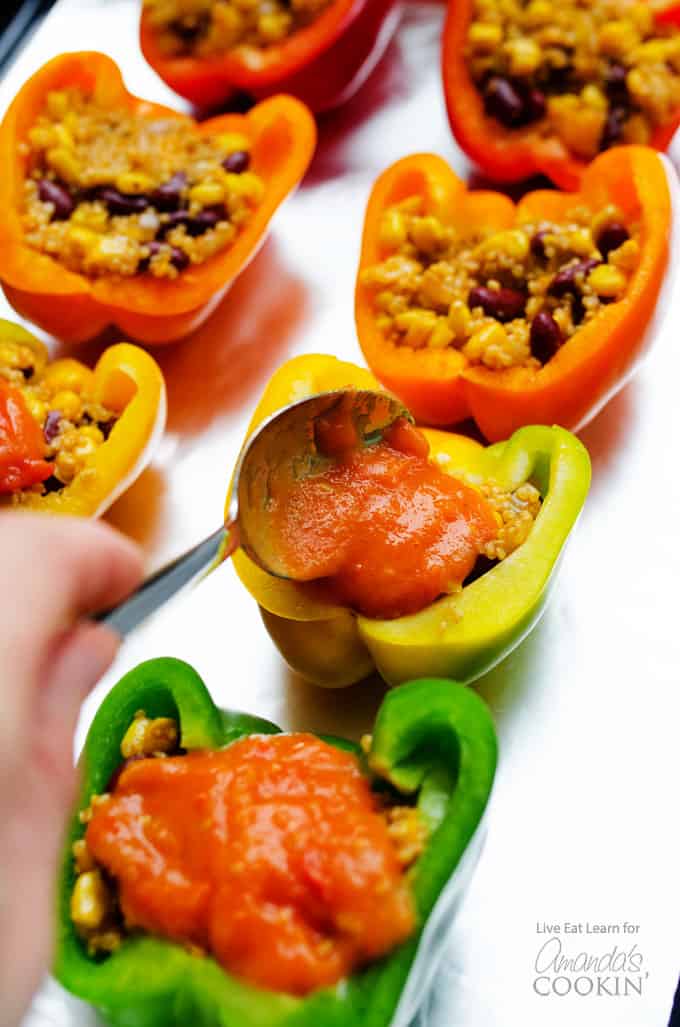 I don't know about you but I'm a big fan of quinoa! I love it in cold salads (see my fall and summer versions), and it's a great replacement side dish for potatoes or rice. I've also been making an avocado chicken salad lately and mixing in some cooked and cooled quinoa.
Traditional stuffed peppers are made with white or brown rice, but you can ultimately stuff them with whatever grain you enjoy most. We went with a Mexican inspired flavor for our stuffed peppers because we are such a fan of our southern neighbor's spices and flavors!
I'm sure you'll love this southwest twist on the stuffed peppers you know and love. Please be sure to let us know if you try them!
Ingredients for Enchilada Stuffed Peppers:
½ cup dry quinoa + 1 cup water
3 to 4 bell peppers
2 Tbsp oil, divided
2 cloves garlic, minced
1 medium yellow onion diced
½ tsp each cumin and smoked paprika
¼ tsp salt
1 15-oz can kidney or black beans, drained
1 15-oz can corn, drained
1 cup Monterey jack cheese, shredded
2 Roma tomatoes, roughly chopped
Pinch each salt and pepper
Avocado and sour cream, to serve
Handy kitchen tools: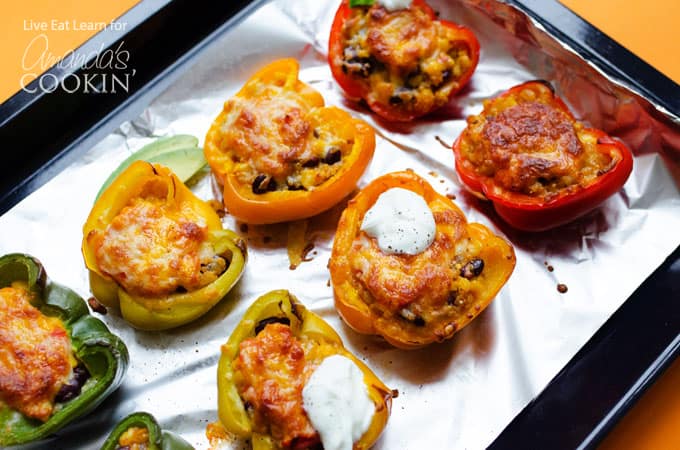 Ringing in the new year with a delicious vegetable main dish that's not only healthy but ultra satisfying!
Do you try to incorporate a Meatless Monday in your meal rotation? Whether you skip the meat one day because of the cost-cutting benefits or you just don't eat meat,  you can check out our other Meatless Monday type meals here.
Be sure to check out this homemade enchilada sauce that you can smother on these amazing chicken enchilada empanadas. See you soon!