Treat yourself to Mexican at home for dinner tonight with this authentic carne asada! Tender and delicious Mexican grilled steak is perfect for tacos, burrito bowls and more. If you have leftovers, make nachos like we did with these Filet Mignon Steak Nachos!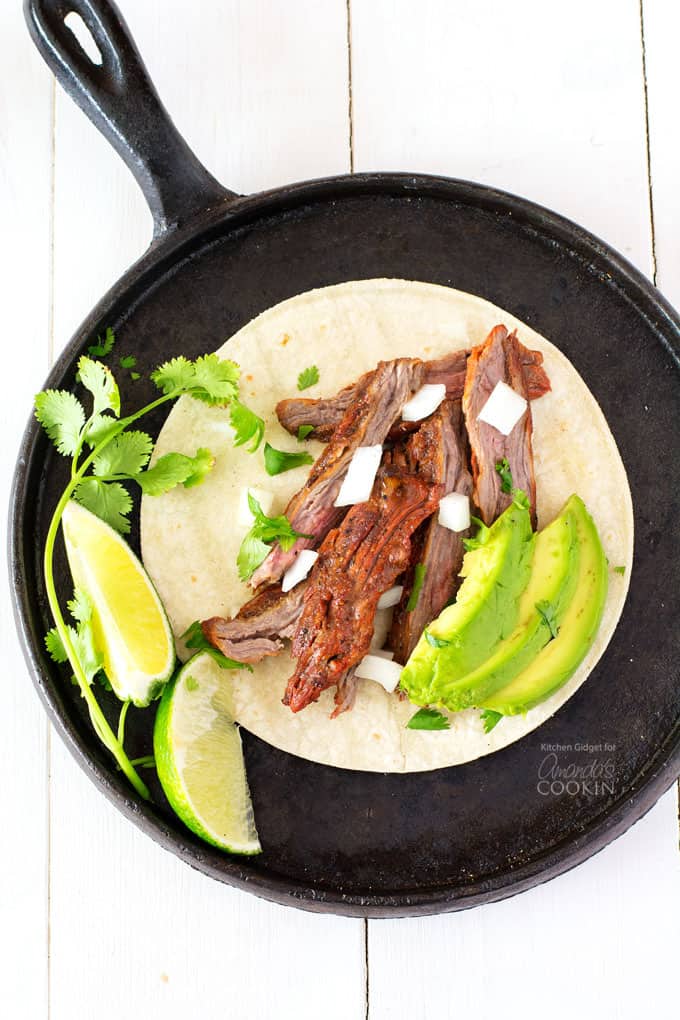 Carne Asada
I am so excited to bring you this recipe! It's a tough call when I think about all the amazing food in the world, but tacos are definitely in my top three favorite foods of all time. I'm guessing they are a favorite of many!
Carne asada simply means "grilled beef." That means there are many variations using various cuts of beef, marinades and spices. It can be served as a main entrée with rice and beans, sliced into strips or chopped. Finish off your meal with a slice of cream cheese flan for a truly authentic experience!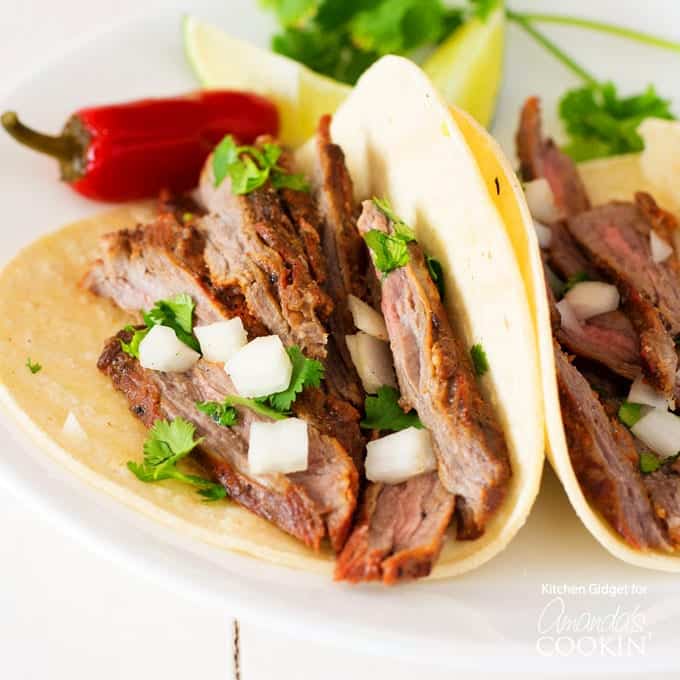 Ingredients you will need:
1 1/2 pounds skirt steak, trimmed of excess fat
Juice from 2 limes
1 teaspoon garlic powder
1 teaspoon salt
1/2 teaspoon ground black pepper
1 packet of sazón (optional)
3/4 cup of beer (optional)
Kitchen tools you may find helpful:
Meat tenderizer
Cast iron griddle pan
Citrus squeezer
Sharp knife
As I mentioned, there are many different ways, but this is my particular way to prepare carne asada, from my Mexican family to yours. It's tender and full of flavor, yet simple. My favorite cut of beef is skirt steak, but you can also use flank, short rib or sirloin steaks.
Skirt steaks are naturally chewy, so you'll want to ask the butcher to run it through the tenderizing machine, or you can do it at home with a tenderizing mallet or blade. There's also a liquid tenderizer called beer which does an exceptional job if you have some on hand.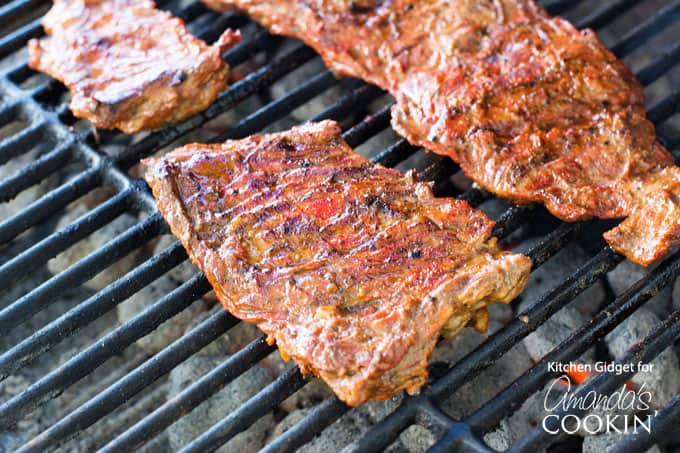 I know many people who like to season with onion, cilantro, chiles, orange juice or even soy sauce, but I keep my marinade simple with garlic, lime and one secret ingredient: sazón. Most grocery stores today carry this ingredient in the Hispanic foods aisle.
It's characterized by its orange color from the annatto seed. Your carne asada will be absolutely delicious without it, but I like to add it as "a little something extra."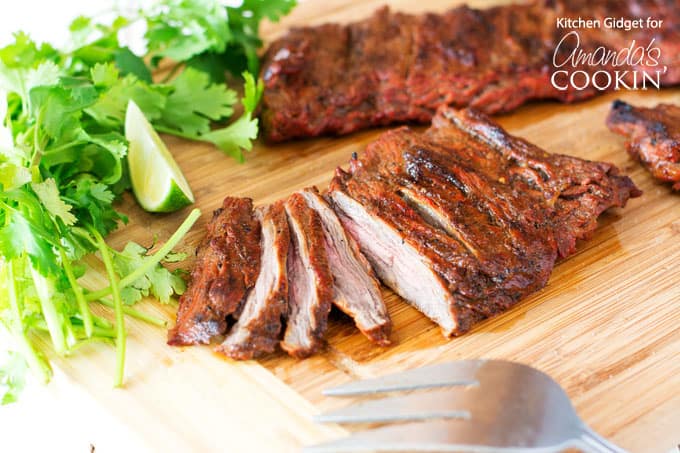 Grill the steak over a high heat. The charring adds great flavor and keeps the juices intact. A charcoal grill gives the best flavor, but if you can't grill year-around, a searing hot cast iron pan will do the trick. Skirt steak is thin so it cooks in less than 10 minutes – you'll be chowing down in no time!
We like to serve these tacos "street style" – that is, on corn tortillas with cilantro and onion as topping and a squeeze of lime. The steak really shines this way, but you can go all out with lettuce, cheese, sour cream and salsa. Or, you can use the carne asada in burrito bowls, salads, nachos and more!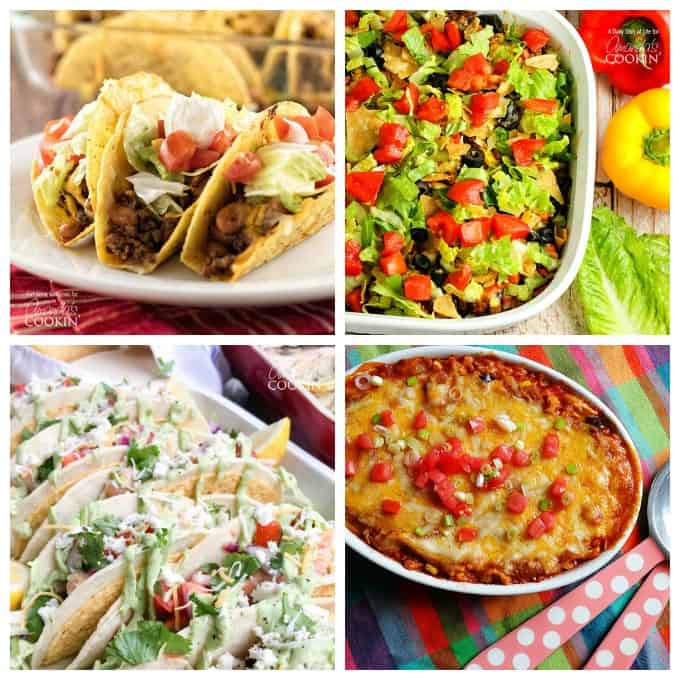 More Mexican inspired recipes: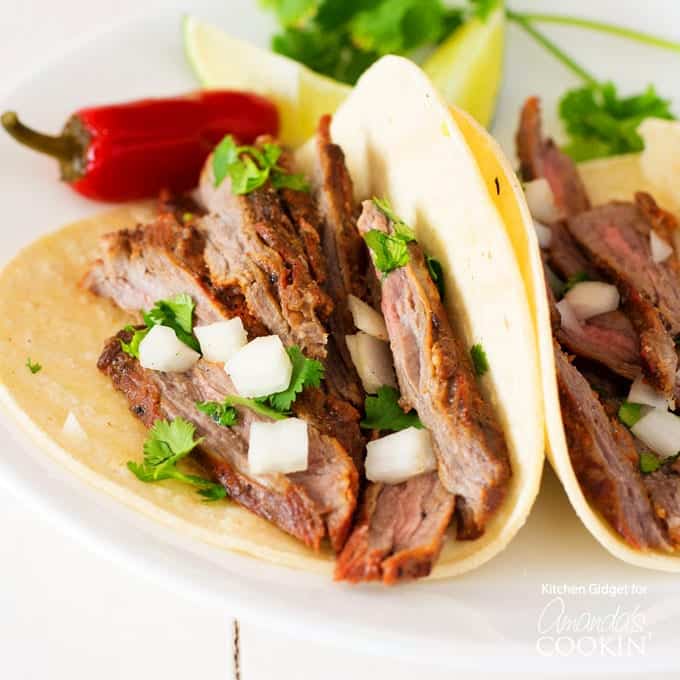 Carne Asada
Treat yourself to Mexican at home for dinner tonight with this authentic carne asada! Tender and delicious Mexican grilled steak is perfect for tacos, burrito bowls and more.
Print
Pin Recipe
Rate
Ingredients
1 1/2

pounds

skirt steak

trimmed of excess fat

4

tbsp

lime juice

about 2 limes

1

teaspoon

garlic powder

1

teaspoon

salt

1/2

teaspoon

ground black pepper

1

packet of sazón

optional

3/4

cup

of beer

optional

Tortillas and desired taco toppings
Instructions
In a large resealable bag, add the steak, lime juice, garlic powder, salt, pepper, sazón (if using) and beer (if using). Close the bag and squish around to distribute evenly. Refrigerate for 3-12 hours.

After marinating, preheat grill or cast iron pan on high heat. Add the steaks and cook for 4-8 minutes. Shorter time will result in medium doneness, longer will be well done. Flip steaks and cook for an additional 4-8 minutes.

Remove steaks from heat and loosely cover with foil. Let sit for 5-10 minutes.

After steaks have rested, they may be served as is, sliced into strips or chopped into pieces. Serve with tortillas and desired toppings.
Expert Tips & FAQs
Nutritional information is for steak only, does not include tortillas and toppings
Nutrition
Serving:
1
g
|
Calories:
286
cal
|
Carbohydrates:
4
g
|
Protein:
37
g
|
Fat:
13
g
|
Saturated Fat:
5
g
|
Cholesterol:
107
mg
|
Sodium:
696
mg
|
Potassium:
535
mg
|
Fiber:
1
g
|
Sugar:
1
g
|
Vitamin A:
15
IU
|
Vitamin C:
4.5
mg
|
Calcium:
10
mg
|
Iron:
3
mg
Rebekah Garcia is the food blogger behind Kitchen Gidget. She creates recipes influenced by her Midwestern roots, Hispanic heritage and insatiable sweet tooth. When she's not cooking, you can find her at the beach with a good book. She is married to the man of her dreams and home is where the military sends them. She believes food is better when shared…unless it's the last bite!
Latest posts by Rebekah Garcia (see all)