Until recently I had no idea just how delicious a fruit pizza really is. Chances are you've seen fruit pizza made with a sugar cookie crust, but you can easily make it from a box of brownie mix. Just top it with yummy cream cheese frosting and then decorate with an array of soft fresh fruit. What's not to love?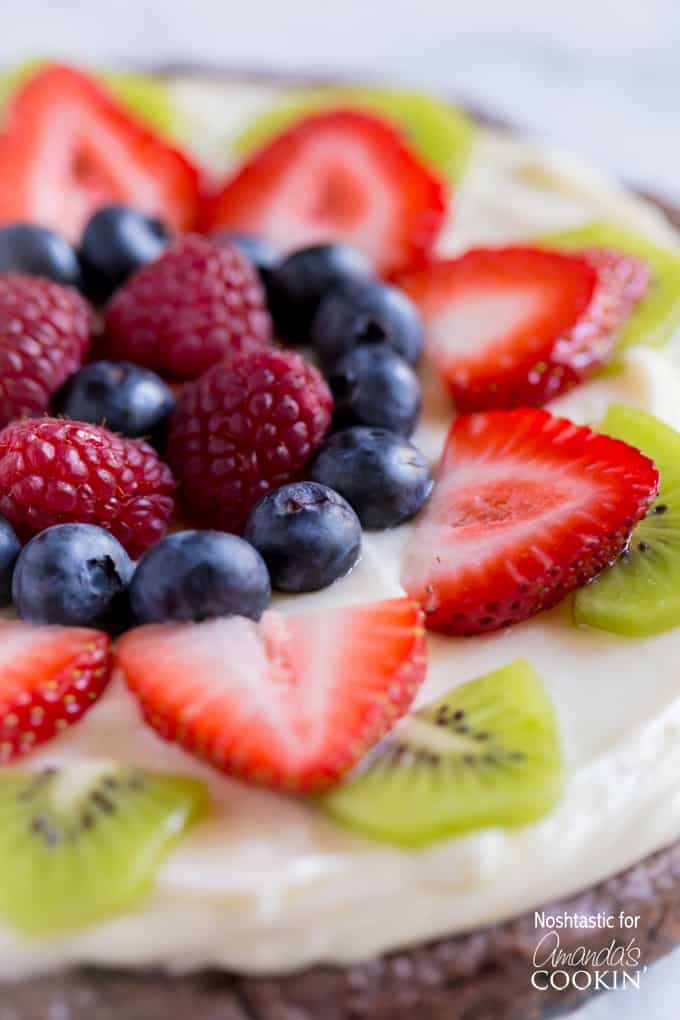 Easy Fruit Pizza
This fruit pizza is a great dessert if you are hosting a party or get together. It's also a tasty potluck option, however you will want to take the fruit along separately to add to the dessert before serving. Because it uses a brownie mix for the base, it's easy to knock out pretty quickly. The cream cheese frosting is also made in a snap, making this a delicious and fairly quick and impressive looking dessert.
I decided to try this for breakfast (don't judge me) and I can happily report that it was ten times better than any breakfast cereal I've ever had. It's also very good with a cup of tea in the afternoon, and it works for dessert too!
Seriously though, it's graduated to my list of favorite desserts for its impressive display with little fuss in the kitchen. I don't make a lot of cakes and cookies from boxed mixes, but I've found that brownie mixes usually taste pretty good and bake well. I eat gluten free and so I've tried three or four different gluten free brownie mixes and they were all tasty and very simple to prepare.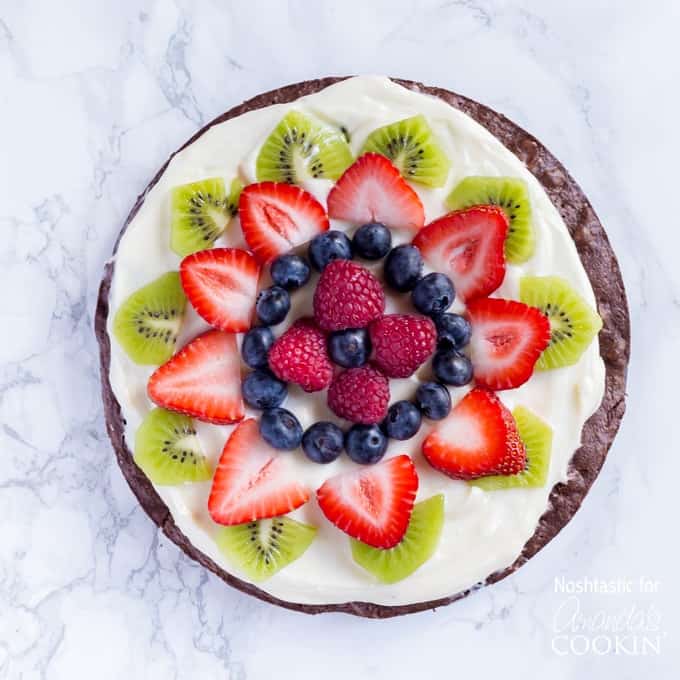 HINT: Even if you have non-stick cake pans you should line the base with parchment paper as the brownie mixture sticks to it like a beast. The first time I made them I had to use a sharp knife to try and pry them from the base of the cake pan. That experience was not fun and it wasn't very good for my non stick pan either.
I have cake pans that have pop up bottoms, it is easy to get the brownie bases out when they first come out of the oven and are still soft. If you let them harden in the pan then you will find that they stick fast to the sides and require a lot more effort to get them out. I do not recommend the pans without the pop up bottoms, I just can't be sure that you will get the 'pizza' bases out without breaking them.
There are affiliate links in this post. That means if you buy something from that link, I will earn a small commission, but it won't cost you anything additional.
INGREDIENTS FOR YOUR FRUIT PIZZA
1 box of brownie mix
eggs and oil as required on the box
Soft fruit for topping
CREAM CHEESE FROSTING
8 oz full-fat cream cheese, softened to room temperature
1/4 cup butter, softened
2 cups powdered sugar
1 tsp vanilla extract
Kitchen tools you may find useful:
It's a good idea to wait to add your frosting and fruit until shortly before serving. The frosting will hold up okay and the brownie base doesn't really get very soggy, but the fruit will start to get soft in the frosting if left on it for too long. If you are using bananas they will turn brown after a few hours.
If you are looking for a couple more easy fruit based recipes then make sure you check out my gluten free lemon bars as they are one of my most popular recipes, and my recipe for Eton Mess which is made with meringues and strawberries.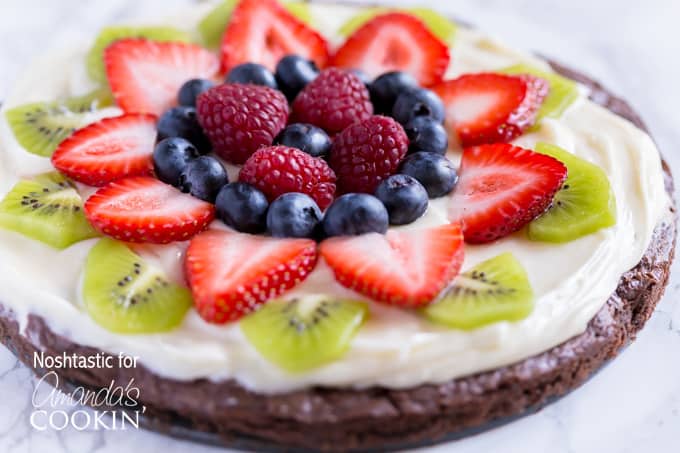 SCROLL DOWN FOR THE PRINTABLE VERSION OF THIS RECIPE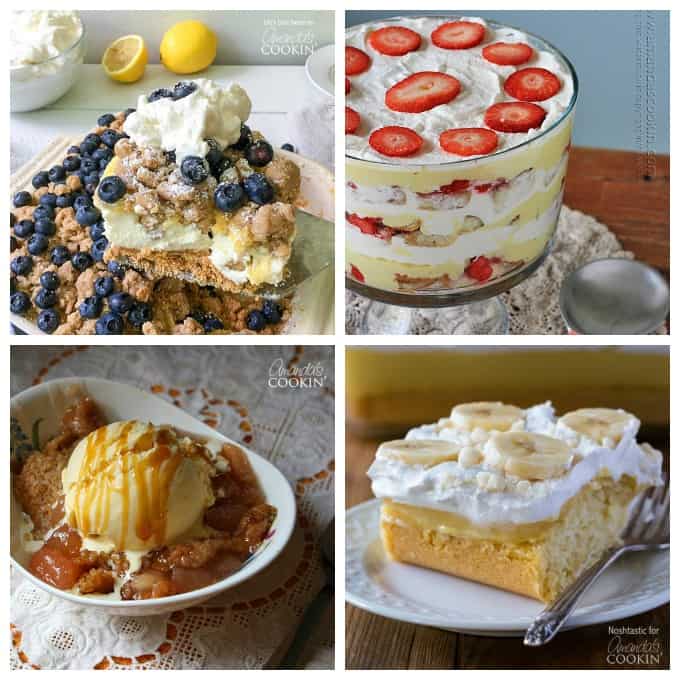 More fruit dessert recipes you will love:
Want even more free recipes? Be sure to join my newsletter for FREE recipes and craft ideas sent to your email inbox every week.