Every kitchen needs a go-to recipe for a simple, delicious, chicken fried rice. I mean, who doesn't love chicken, rice, peas, carrots, and corn, all sautéed together, with a little soy sauce drizzled in? This Asian-inspired Chicken Fried Rice dish is yum city! This meal is only made and served in one skillet, just like our Skillet Chicken Broccoli and Rice!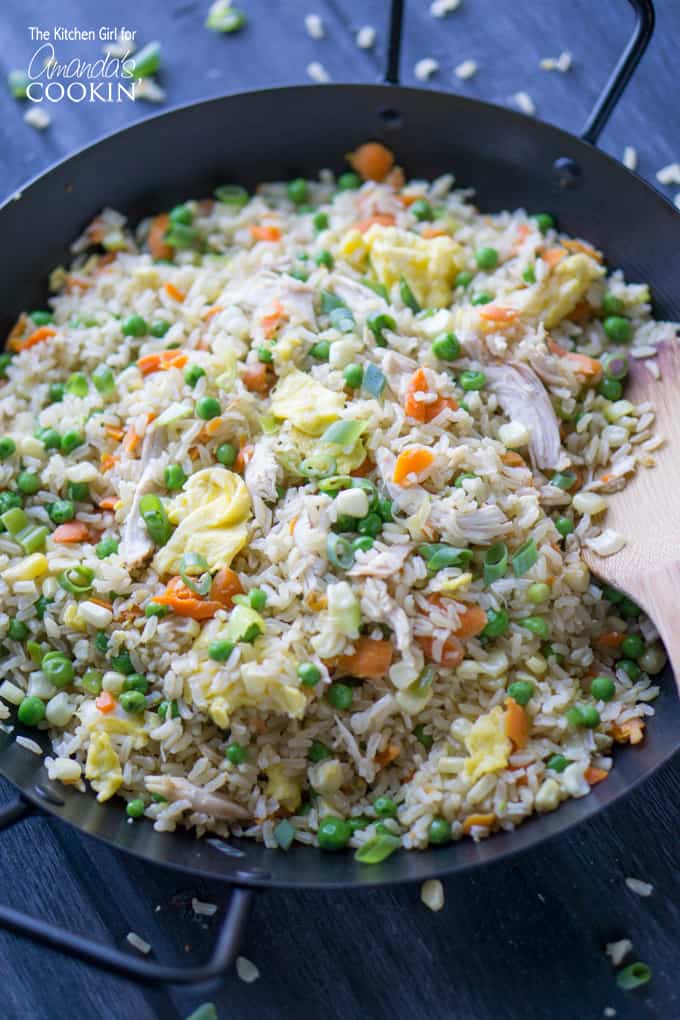 Chicken Fried Rice
I'm guessing you love fried rice because you're reading this right now. But wouldn't you love it even more if you could make it in less than 30 minutes…in one skillet? If you're all like "uh, yeah, yeah!", then this Chicken Fried Rice recipe is for you! It has plenty of everyday vegetables and is virtually headache-free because you're turning cooked rice and cooked chicken into a magical dish that everyone loves.
This implies you have cooked rice and chicken on hand, which in our house, is often the situation. If you don't have cooked rice on hand, you could use instant rice in equal amounts to this recipe. If you don't have cooked chicken on hand, save this recipe for when you do…or, you can easily make this without chicken and it will still rock! I've done it many times.
I wrote this Chicken Fried Rice recipe years ago and have probably made it more often than any other recipe in my collection. It's just the perfect staple in our house…and we usually get a few meals out of it!
In the spirit of 30-minute, one-skillet meals, check out One-Pot Ham and Peas Alfredo. It's creamy, dreamy and ready in 30. So is this Italian Fried Rice. Yummy yum! It's super delish and just as easy!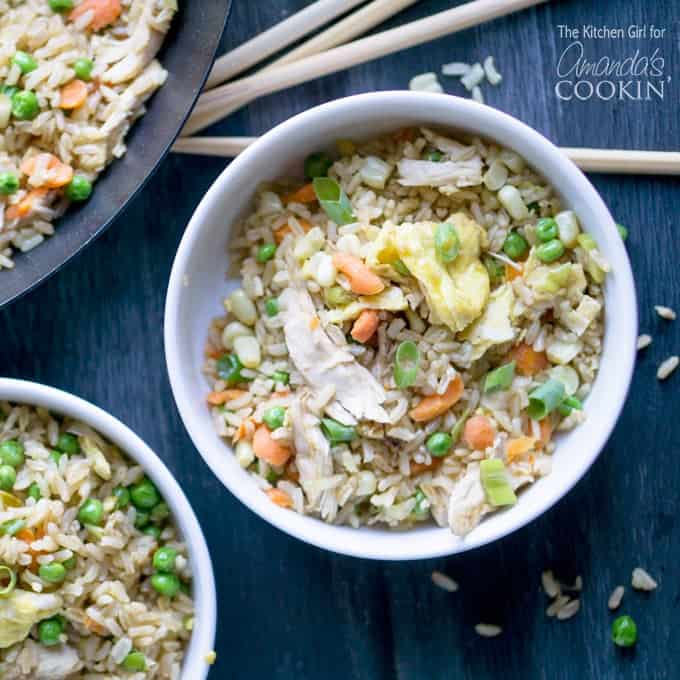 Ingredients you'll need to make Chicken Fried Rice
1 tablespoon canola oil

1 tablespoon sesame oil

2 eggs (lightly beaten)

3 cloves garlic (grated)

1/2 cup green onion (chopped)

1 cup carrots (chopped)

1 cup frozen peas (thawed)

1 cup frozen corn (thawed)

4 cups cooked rice (white or brown)

1 cup cooked, shredded chicken

2 tablespoons soy sauce

1/4 teaspoon black pepper
Kitchen tools I use for this recipe: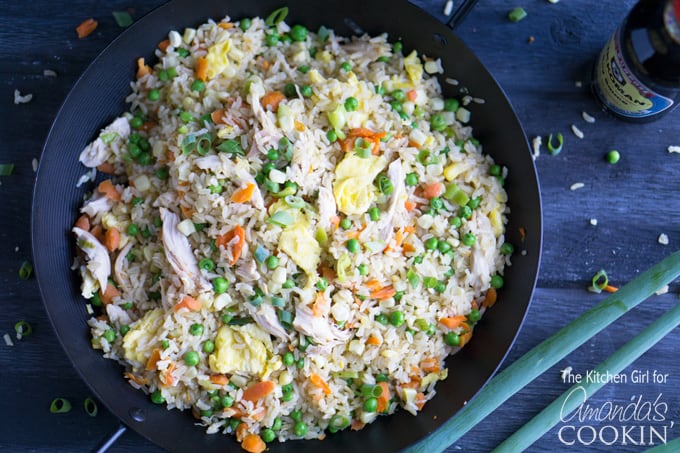 Enjoy your delicious Chicken Fried Rice! Don't forget to check out this fresh and tasty Spring Stir Fry recipe, or this BBQ Chicken Tater Tot Skillet for more yummy one-skillet meals!