Attention guys and gals who love effortless cooking. Check out my new favorite way to make absolute magic happen with chicken, fresh broccoli, and white rice in one skillet. Just like this Bacon Cheeseburger Pasta, homemade doesn't get any easier than this one-pan skillet chicken broccoli and rice!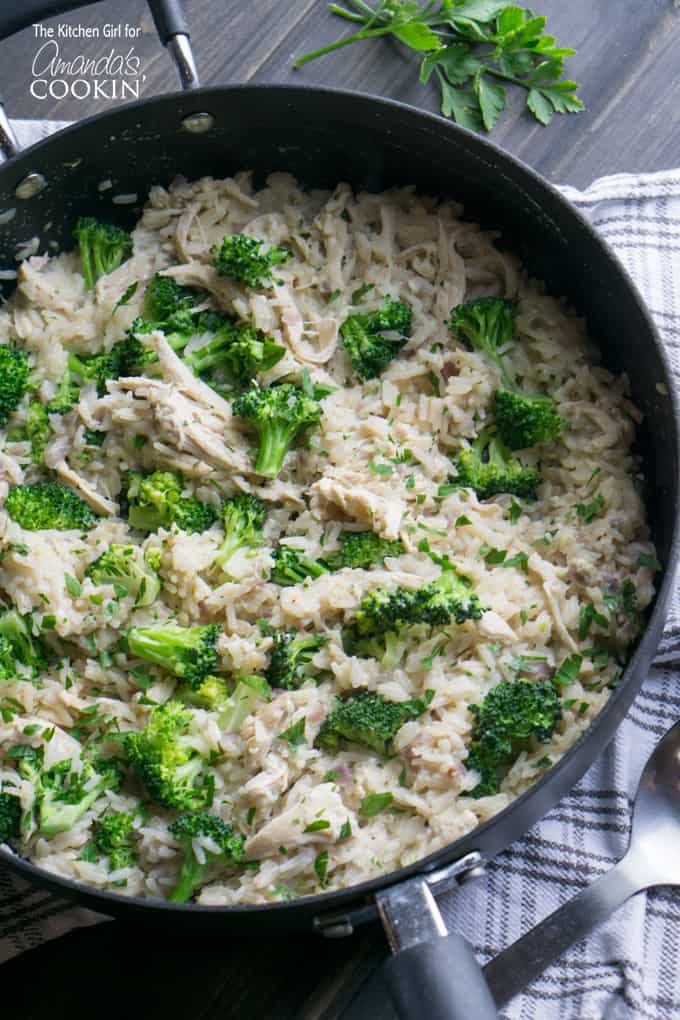 One Skillet Chicken Broccoli and Rice
Do you have enough 30-ish minute meals in your busy, weeknight rotation? Even if you do, you'll want to add this number to the pack. It's just…it's just…soooo damn good! It's creamy, yet light. Fills you up, yet doesn't weigh you down.
For this skillet chicken dish, you simply saute the onions and garlic, toast and steam the rice in whole milk, add cooked chicken, broccoli, and seasonings…all in one skillet. Just wait til you taste the results. The leftovers are just as good too!
For more healthy, skillet chicken recipes, check out Easy Chicken Spinach Mushroom Skillet or Sun-Dried Tomato Vodka Chicken. Both recipes come together in about 30 minutes, and bring a ton of flavor and nutrition to your dinner table!
There are affiliate links in this post. That means if you buy something from that link, I will earn a small commission, but it won't cost you anything additional.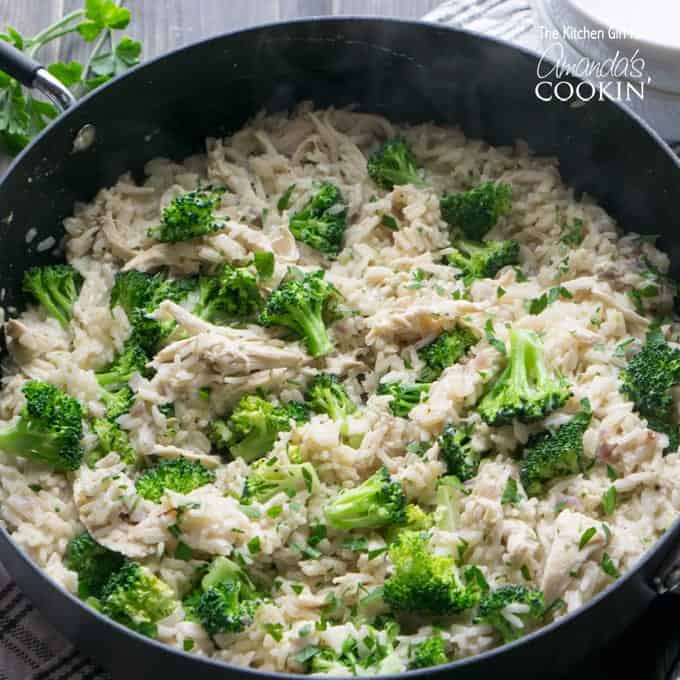 You will need the following ingredients for this recipe
2 tablespoons olive oil

1/2 cup onion (1 small onion diced)

2 garlic cloves (finely grated)

1 cup white long grain rice (rinsed and drained)

1 1/4 cups whole milk

1 1/4 cups chicken broth

1/2 teaspoon salt

1/8 teaspoon black pepper

2 cups fresh broccoli (bite-sized pieces)

1 cup cooked chicken (shredded)

1/2 lemon (for serving)

1 tablespoon fresh parsley (chopped)
Kitchen tools I use for this recipe: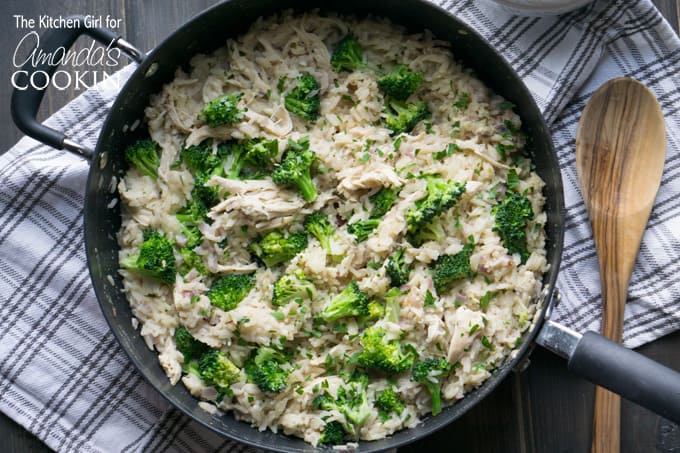 I surprised my hungry guy with this delish dish the other day and he was a super deeee-uper, happy camper. I felt like such a rockstar…mainly because it was so stinkin easy! That all sounds totally corny, but I'm not pulling any legs here. This dish is so simple and delish, I'm all like why I didn't come up with it sooner?!?!
For more awesome skillet recipes check out…