I have always loved fall with the changing colors and cool evenings, perfect for a big pot of homemade soup! If you are looking for a hearty meal to make this season, try my chicken bean soup. It's an earthy treat and, unlike many traditional chicken soup recipes, uses a tomato base for extra richness!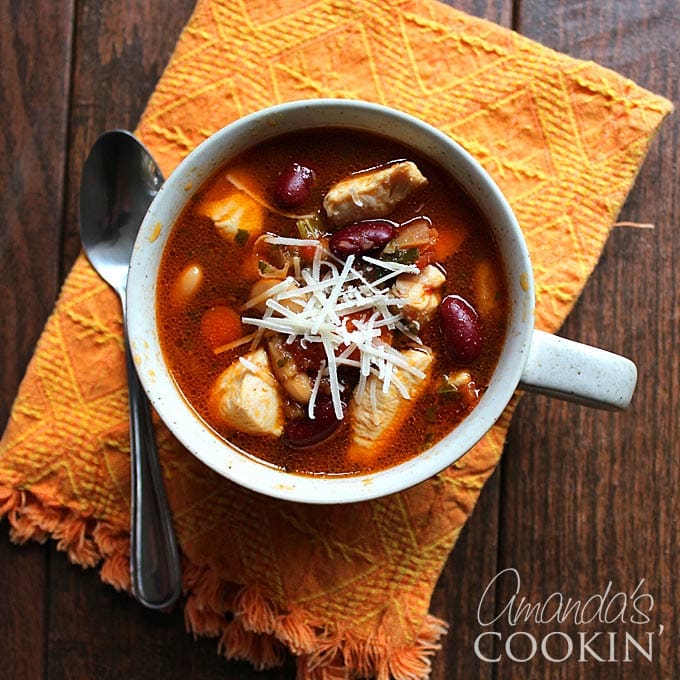 There is nothing quite as inviting on a chilly day as a steamy bowl of soup. Here in Wisconsin the days are getting cooler and shorter, so I see lots of soup recipes in my family's future! While you can certainly adapt them for the slow cooker, soups don't take long on the stove, so that's how I prefer to make them. Soups freeze really well, so feel free to make big batches to save yourself some time in the kitchen weeks from now.
Making Chicken Bean Soup
This chicken kidney bean soup is hearty and delicious, and it's really easy to make. The beans, chicken, and tomato work well together and it's easily adapted by adding or subtracting different vegetables. It makes a great appetizer but is also hearty enough to serve on its own as a meal with some homemade crusty Italian bread.
Perhaps the best part of making this soup is the amazing aroma that will fill your kitchen. It smells (and tastes) like fall in a bowl. A great pick me up after raking all those leaves outside!
There are affiliate links in this post. That means if you buy something from that link, I will earn a small commission, but it won't cost you anything additional.
Ingredients and tools for chicken bean soup
Ingredients:
Tools:
You'll find a printable version of the recipe below. What is your favorite variation on chicken soup? Tell me in the comments!
More soup recipes