This Cauliflower Risotto is a delicious low carb twist on risotto. Creamy, cheesy, and guilt-free!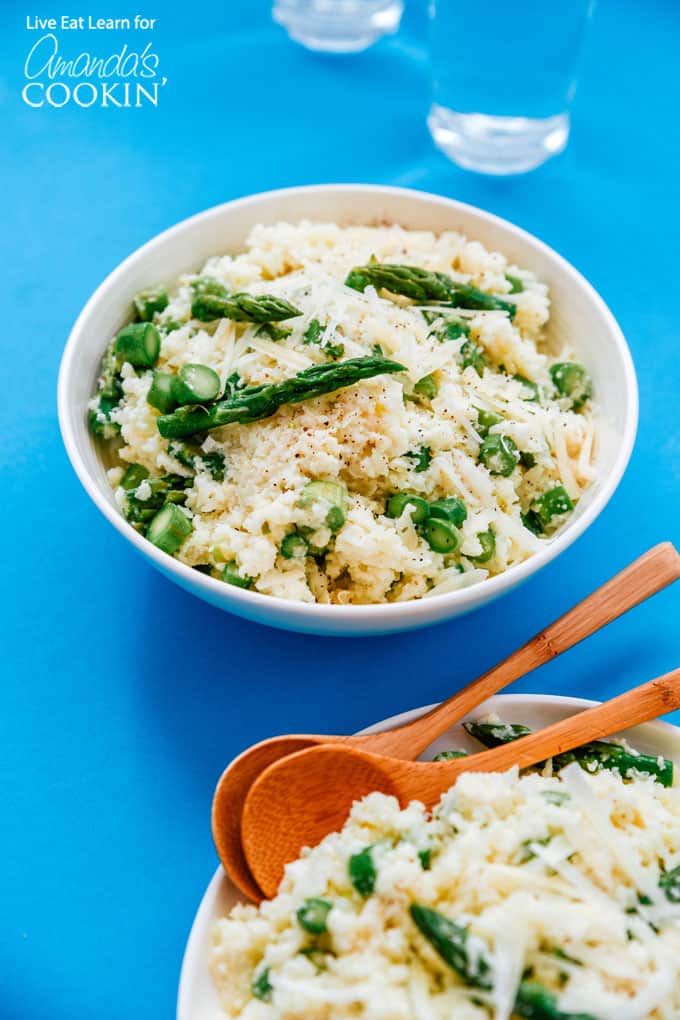 Cauliflower Risotto
I'm a huge fan of risotto. I mean who isn't? Creamy, carby goodness that's easy to customize with whatever you have in your fridge! But I'd be lying if I said traditional risotto doesn't have its drawbacks.
For one, it takes forever to make. You've got to slowly add the broth over the course of 30 or so minutes, meaning you've got to be hovering over the stove for the entire cooking time.
But even more so, traditional risotto isn't all that healthy. It's virtually all carbs and fat, without much in terms of healthy nutrients. So today we're lightening it up and swapping out the risotto rice for cauliflower rice!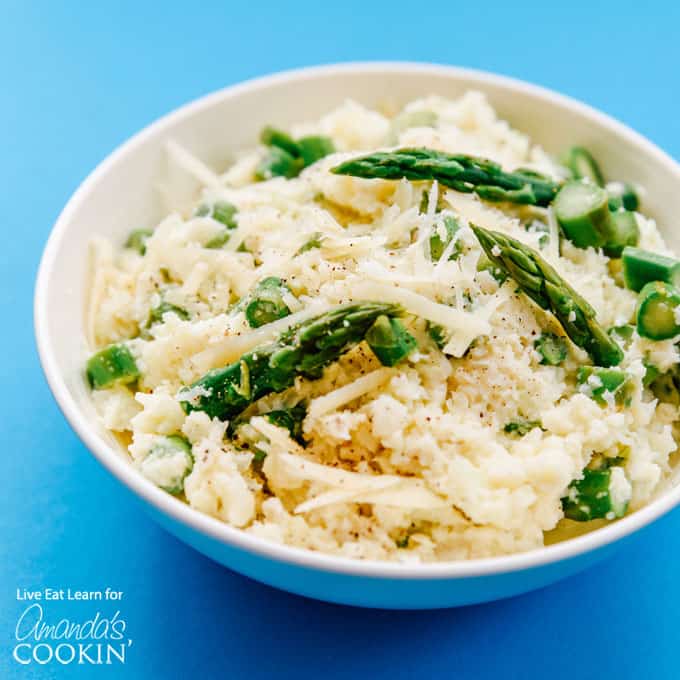 To make this Cauliflower Risotto you'll need:
1 head of cauliflower
1 Tbsp olive oil
2 Tbsp chopped shallot
1 clove garlic, minced
1 cup vegetable broth
½ cup grated parmesan
¼ cup heavy cream
Salt and pepper, to taste
Optional: asparagus
Kitchen tools you may find useful: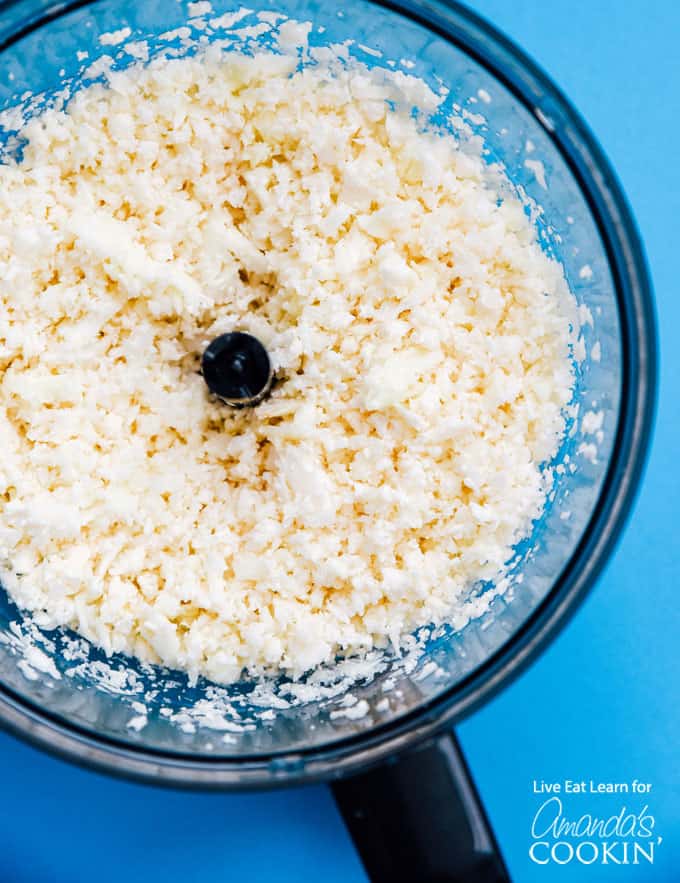 We're making a really basic version of risotto with this Cauliflower Risotto, but you can easily flavor it up and add fun ingredients to mimic your favorite risottos (like Lemon Basil Risotto, Gorgonzola Risotto, or Creamy Mushroom Risotto!) I threw in some sautéed asparagus because it's spring and therefore prime asparagus season.
But I digress; making this Cauliflower Rice Risotto is pretty simple! Process your cauliflower into "rice" using either a food processor or a box grated. Simmer the cauliflower rice in a flavorful broth mixture just until it's tender.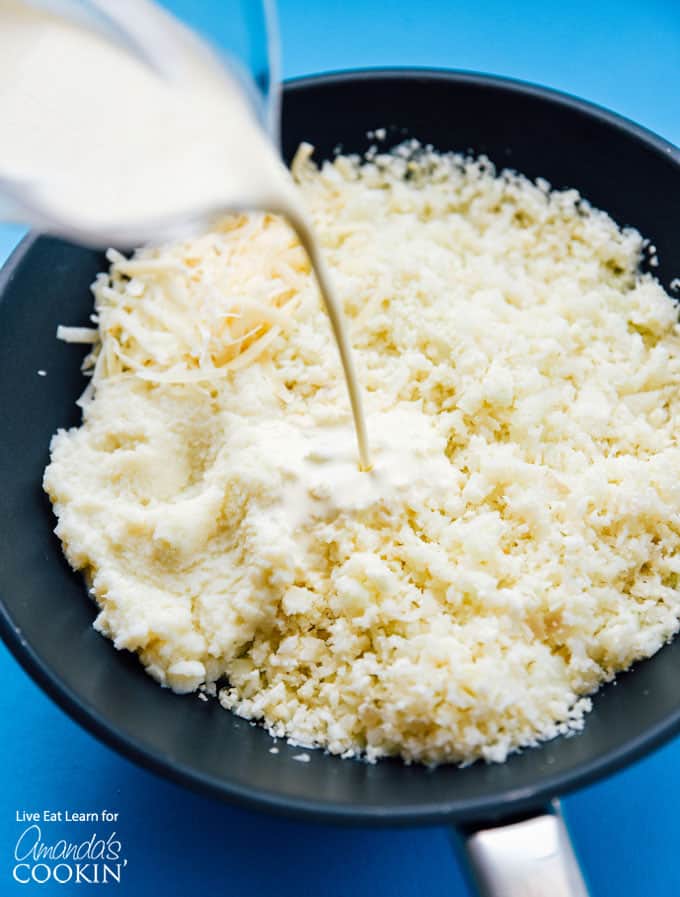 Then there's the secret to even creamier (yet still healthy) risotto. We'll puree a bit of the cauliflower then stir it back in with the rest. This will help glue everything together and give the impression of creaminess (without needing to add a quart of heavy cream!)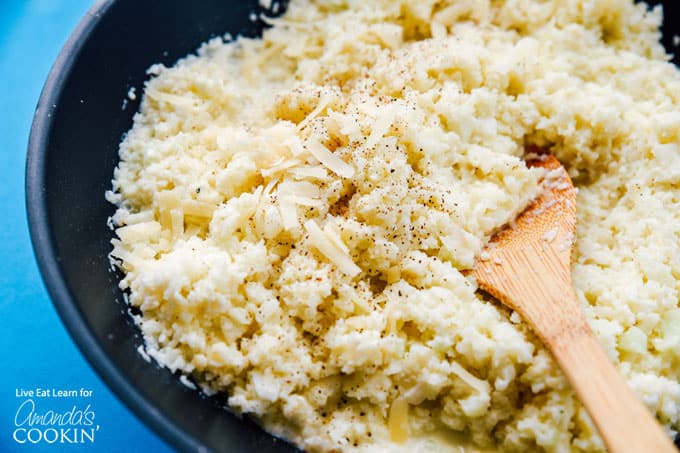 Stir in your parmesan and cream, season with salt and pepper, and mix in your optional extras. That's it, friends. Low carb Cauliflower Risotto coming your way!
More cauliflower recipes: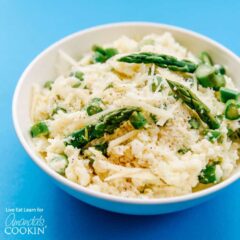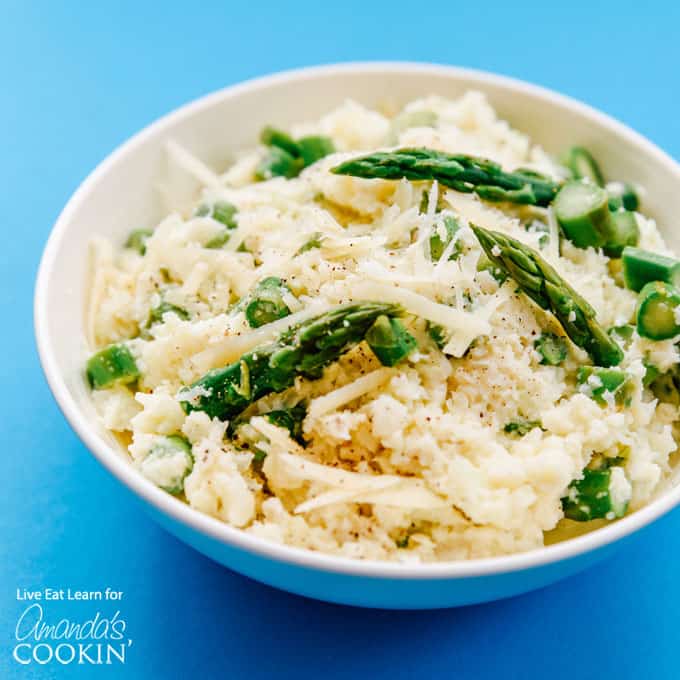 Cauliflower Risotto
This Cauliflower Risotto is a delicious low carb twist on risotto! Creamy, cheesy, and guilt-free!
IMPORTANT - There are often Frequently Asked Questions within the blog post that you may find helpful. Simply scroll back up to read them!
Print It
Rate It
Ingredients
1

head of cauliflower

1

Tbsp

olive oil

2

Tbsp

shallot

chopped

1

clove

garlic

minced

1

cup

vegetable broth

½

cup

grated parmesan

¼

cup

heavy cream

Salt and pepper

to taste

Optional: asparagus
Instructions
Rice the cauliflower by either blitzing chunks of it in a food processor or grating with a box grater.

Heat oil in a large saute pan over medium, then add shallot and garlic. Cook until shallot is tender, then stir in riced cauliflower and vegetable broth. Cover and cook for 10 minutes, or until cauliflower is tender.

Scoop about ¼ of the cauliflower mixture into a blender or food processor and puree until smooth and creamy. Drain excess water from the remaining ¾ of the cauliflower.

Stir pureed cauliflower back into the cauliflower rice, along with the parmesan and heavy cream. Taste and add salt and pepper, as needed.

Optionally stir in sauteed asparagus (or your favorite veggie) or a sauteed protein (like chicken).
Nutrition
Serving:
1
serving
|
Calories:
179
cal
|
Carbohydrates:
9
g
|
Protein:
8
g
|
Fat:
12
g
|
Saturated Fat:
6
g
|
Cholesterol:
31
mg
|
Sodium:
475
mg
|
Potassium:
473
mg
|
Fiber:
3
g
|
Sugar:
3
g
|
Vitamin A:
450
IU
|
Vitamin C:
70
mg
|
Calcium:
180
mg
|
Iron:
0.8
mg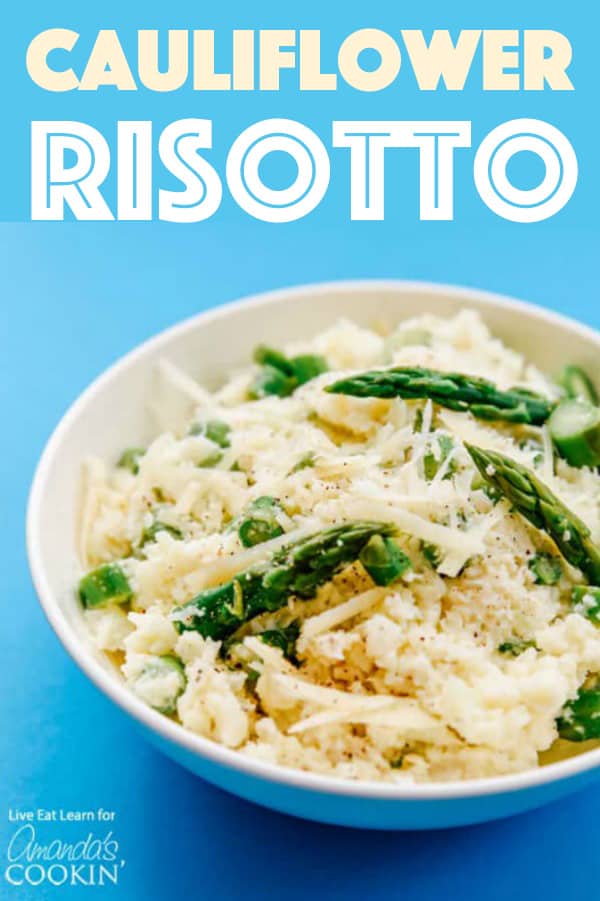 Sarah is the publisher behind the vegetarian health food blog, Live Eat Learn. An Alaskan self-taught cook and nutritionist by trade, she loves all things food and health. When she's not exploring new ways to cook up healthy ingredients, she's romping around the Netherlands, her new stomping grounds!
Latest posts by Sarah Bond (see all)