This Veggie Lasagna is packed with vegetables including sauted baby spinach, Crimini (Baby Bella) mushrooms, grated zucchini and topped with Italian parsley.  It also has ricotta and mozzarella cheese with oregano which adds to its delicious flavor. While one of our all time favorites is this Italian Lasagna with meat, this vegetable lasagna also makes for a hearty dinner dish!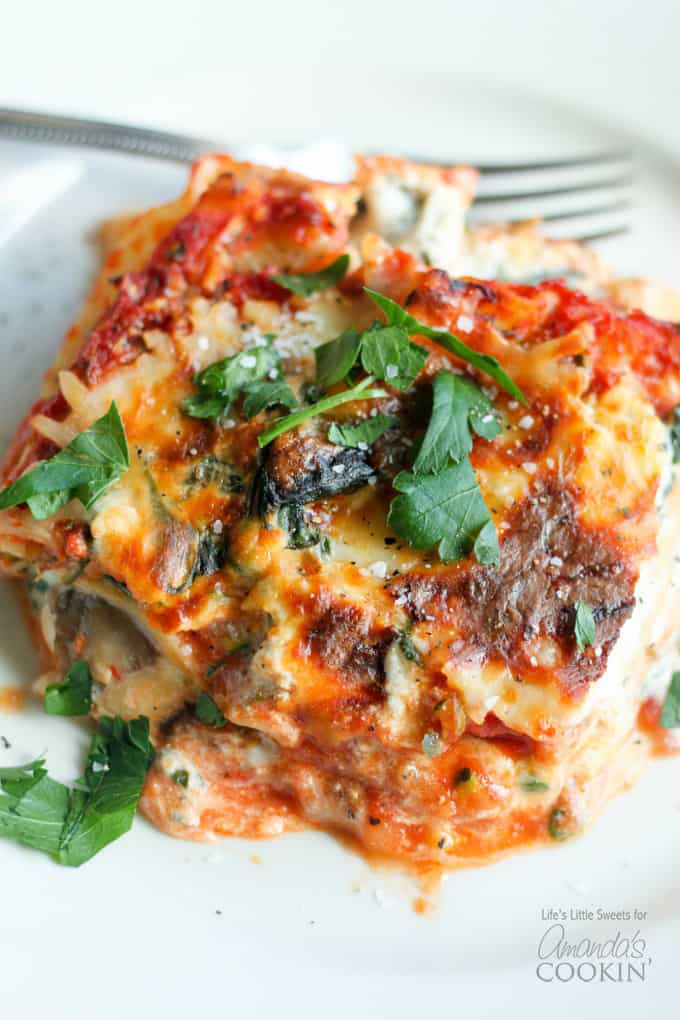 Veggie Lasagna
This Veggie Lasagna is satisfying, savory, delicious and there's plenty for everyone! It's the perfect one-dish dinner or you can also serve it with a side salad and fresh garlic bread.  It would be great to bring to a potluck or family dinner because it makes a 13 in x 9 dish which is plenty to go around.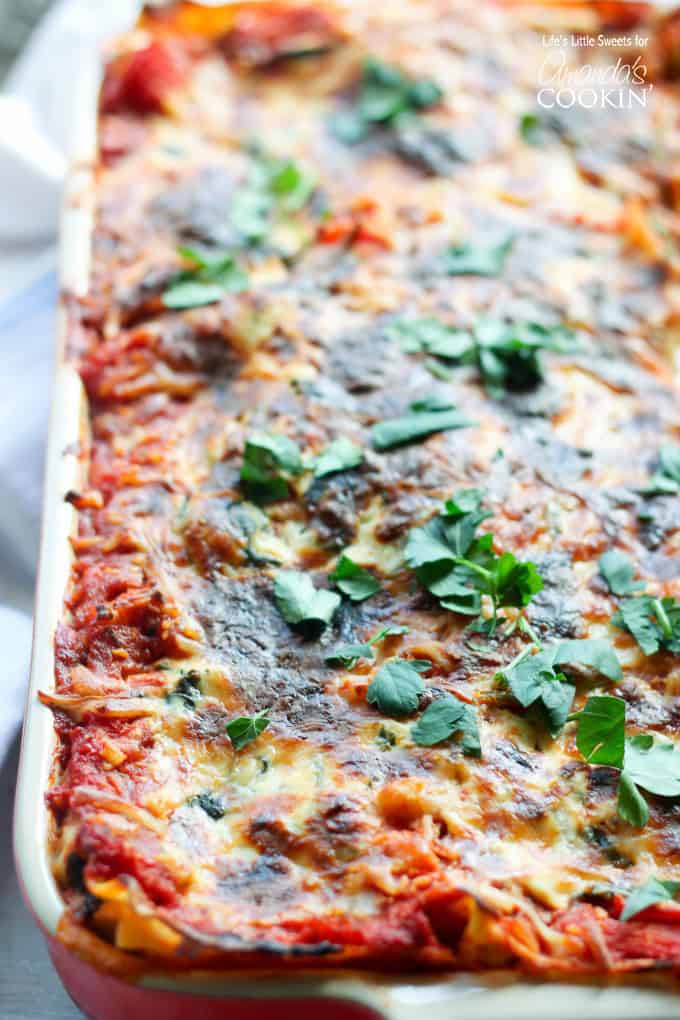 Ingredients for Veggie Lasagna
2 cups tomato pasta sauce
28 ounce (1 lb. 12 oz./794 g.) can of whole, peeled, plum tomatoes, diced, without liquid (or you can leave the liquid but there might be leftover sauce)
1 medium zucchini, shredded (2 cups)
1 32 ounce (907 g.) container of ricotta cheese
11 oz. fresh baby spinach, sauteed with 2 tablespoons olive oil and a pinch of salt
8 ounce Crimini (Baby Bella) mushrooms, sliced and sauteed with 1 tablespoon olive oil and a pinch of salt
2/3 cup fresh grated Parmesan cheese
1 1/2 teaspoons dried oregano (or you can substitute 2 tablespoons chopped fresh oregano)
9 lasagna noodles (I make the whole 16 ounce package just in case there are broken noodles and there will be some leftovers)
3 cups shredded mozzarella cheese
Salt and pepper to taste
Optional: fresh chopped basil or Italian parsley to garnish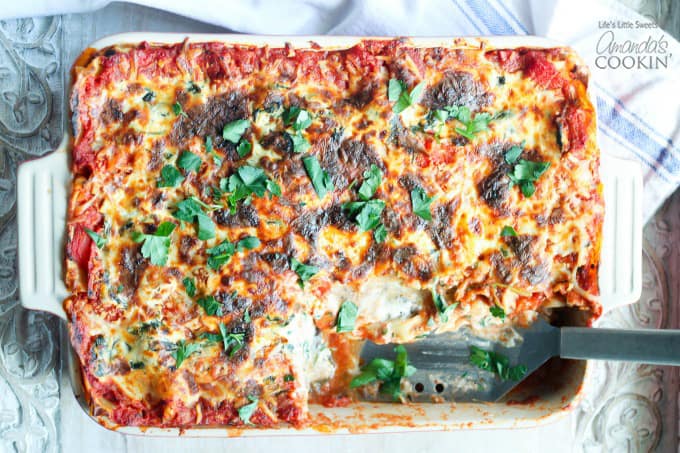 Kitchen Tools Needed for Veggie Lasagna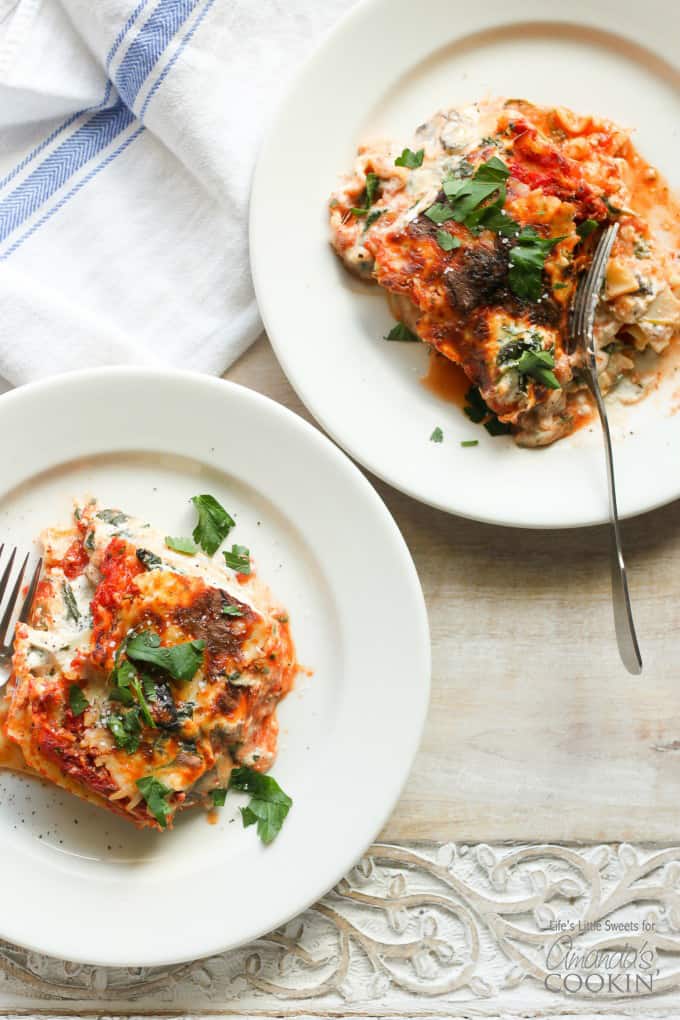 Recipe Attribution
The inspiration to make this Veggie Lasagna comes from my Sister-in-Law, Nicole, she always makes a killer vegetable lasagna often with veggies from her garden.
I also took some inspiration from this Vegetarian Lasagna from Betty Crocker.  I grew up with the classic Betty Crocker cookbook, so many good family favorites in there!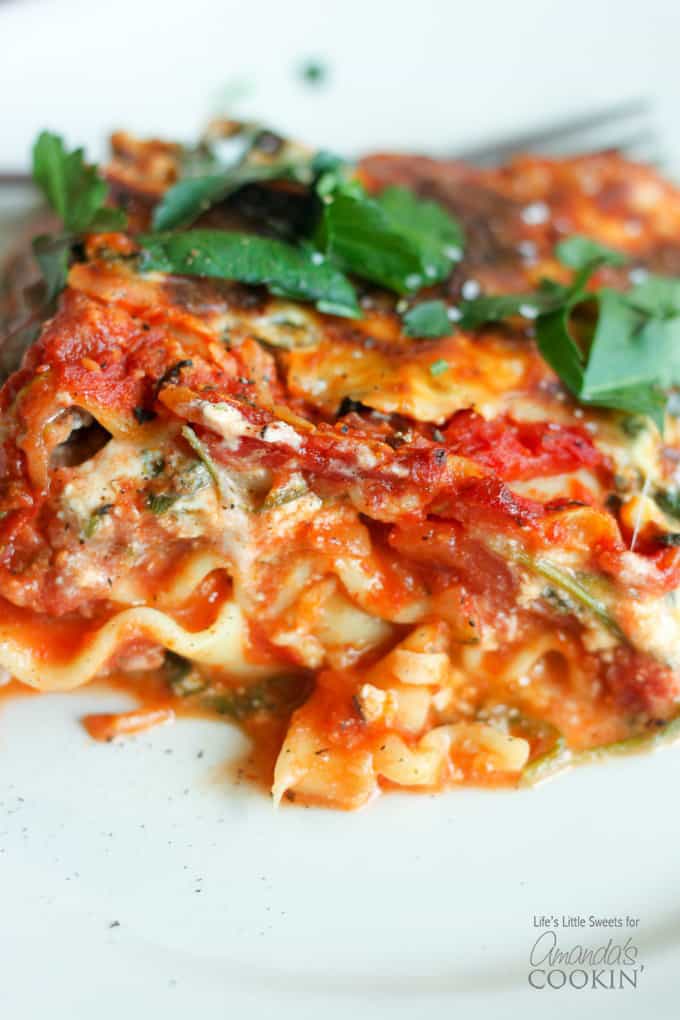 This recipe requires an 8 hour time for it to set.  You can bake it right away but it does taste much better when the ingredients have had time to marinate together.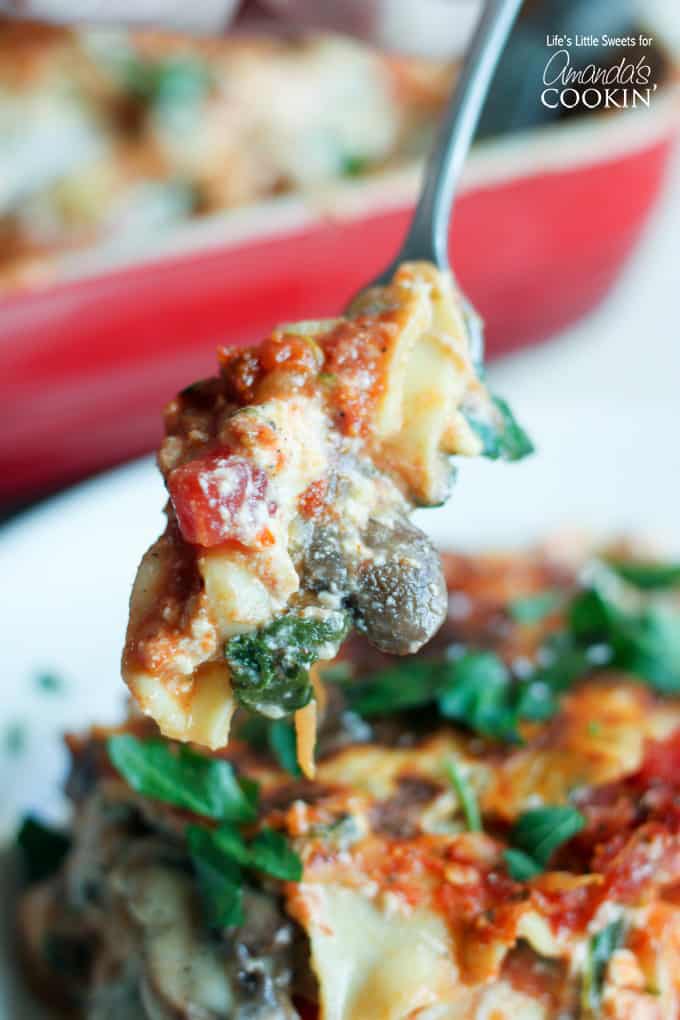 I hope you enjoy this Veggie Lasagna recipe! Serve this delicious lasagna with these Gooey Garlic Cheese Rolls or these Parmesan Garlic Rolls! If you need another one pan dinner idea, be sure to try this very popular John Wayne Casserole. Enjoy!