If I had to choose one dessert as the most nostalgic for me, that would be a traditional English Trifle. I love the flavor combinations!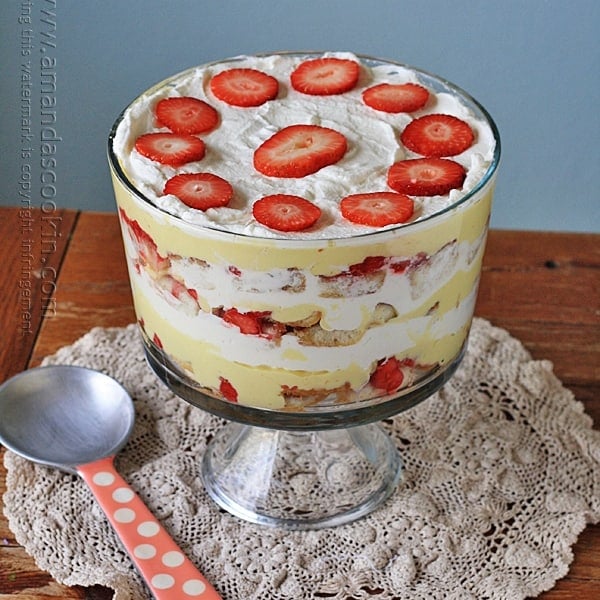 If I had to choose one dessert as the most nostalgic for me, that would be this family recipe for English Trifle. Every holiday we would travel to my aunt's house for a huge feast and a dazzling dessert table covered with homemade chocolate cake, lemon and mincemeat tarts, usually a pie of some sort, and of course, English Trifle. A trifle is a layered dessert that contains custard, sherry-soaked cake, fruit, jam and whipped cream.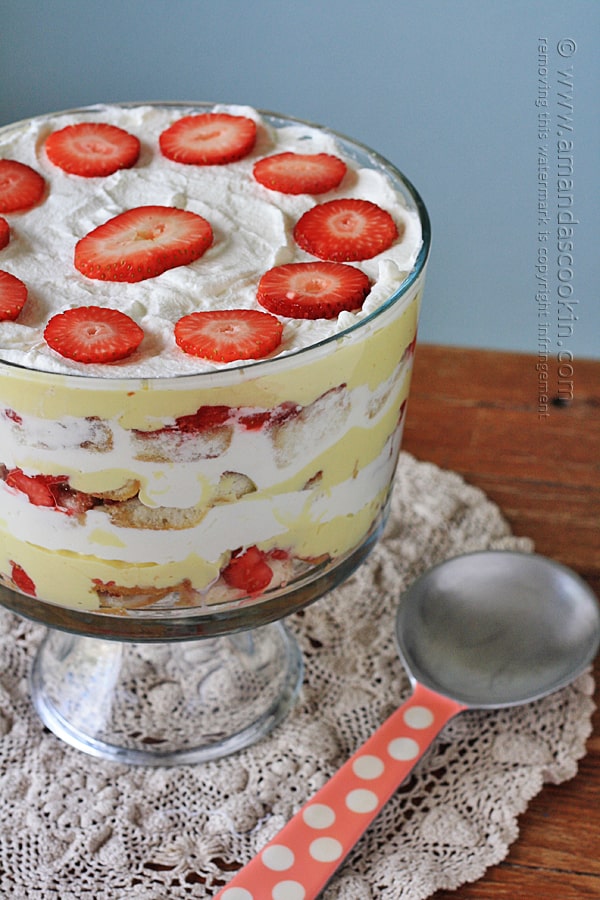 What English Trifle Means to Me
I have quite a few trifle recipes on this blog, but this English trifle recipe is one that my family has always loved. Recipes can vary from family to family, but the basic elements remain the same. A sponge cake soaked in spirits layered together with custard, whipped cream, and fruit. I believe one of my aunts used to add banana slices to hers as well!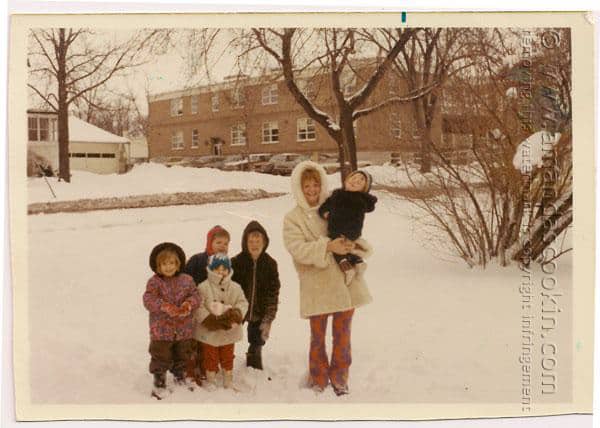 I was actually born in England but came to the states when I was just 2 years old. So growing up I was surrounded by words like "blimey" and "rubbish" and other such British terms. This photo was taken shortly after we arrived in the states back in 1969. Two of the children in the photo above were our new friends, the girl in the pink coat and the boy with the red hat.
ONE-PAN DESSERTS COOKBOOK!
The one-pan dessert is ideal for all occasions including potlucks, holidays, barbecues and birthdays. Several of these desserts do not require baking making them perfect for summer. See ALL my cookbooks here!
20 delicious one-pan dessert recipes plus tips for dessert success! ONLY $4.97!!
I am in the white coat, my older brother is next to me in the brown coat, and my beautiful mom, God rest her soul, is holding my little brother Michael. I have a few other old family photos in this dedication post I wrote for my mom here: Classic Yellow Cake: Dedicated to the Memory of My Mother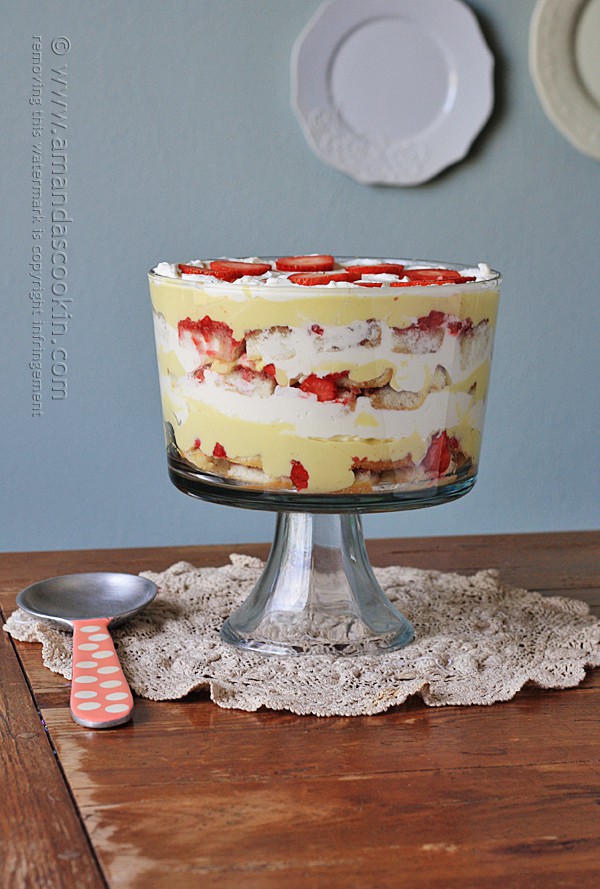 English Trifle Recipe
Over the years, trifles [in America] have been adapted to fit into a family's tastes. Some use pudding, some don't include sherry or Madeira wine, but instead non-alcoholic juices, and some even use chocolate and other ingredients.
Another reason that the trifle has been adapted is simply out of necessity. English custard can be purchased in a box (Called Bird's Custard Powder
) in the same fashion as American pudding. But it can be difficult to find in many American grocery stores, so people have switched to using what is readily available to them.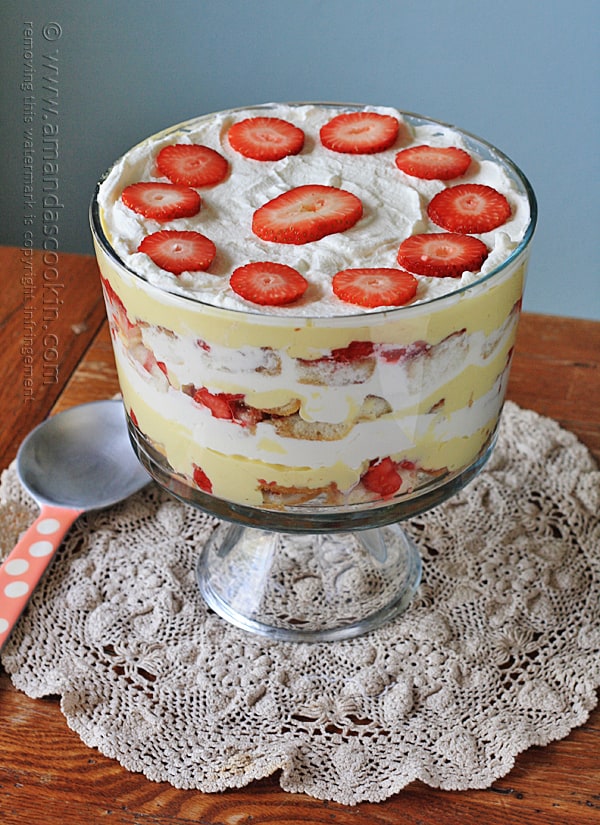 Funny thing is, the English didn't "invent" the trifle, the Scottish did. The Scots have recipes that date back to the late 1500's! Of course hundreds of years ago, Scotland and England united to become the United Kingdom, so calling the trifle "English" is fair. ;-)
I'm actually half Scottish (my dad was born in the Shetland Isles of Scotland) and half English (mom was born in England, I in Leicester). I still have family in the UK, some in Cornwall, more in Droitwich Spa and others in Canterbury just to name a few!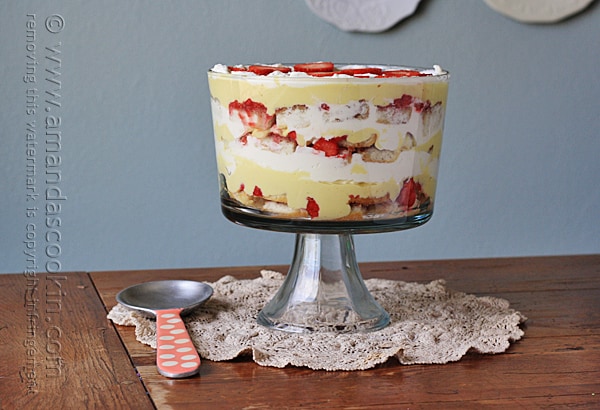 Using Bird's Custard Powder
Growing up, my family always used Bird's Custard Powder
in our English trifle. However, it's hard to find where I live, so I went ahead and made the custard from scratch. I really do love pudding, but for this dessert, I insist on using custard. There's something about the beautiful aroma of custard that reminds me of the house we lived in before coming to America. I savor it.
Bird's custard can be found in some specialty grocery stores, or you can order it online. You can use a purchased cake for this trifle. Most English cooks use a Madeira cake, which is similar to a pound cake in America and was named after the wine that often accompanied it.
If you decide to use Bird's Custard powder, make two batches (2 pints) following the instructions on the back of the can.
Baker's Tips
You can use ladyfingers, or as they are called in England, trifle fingers.
A trifle is made in a similar manner to a tiramisu. I had actually made a white cake and we only used a few pieces, so I used the rest to make my trifle.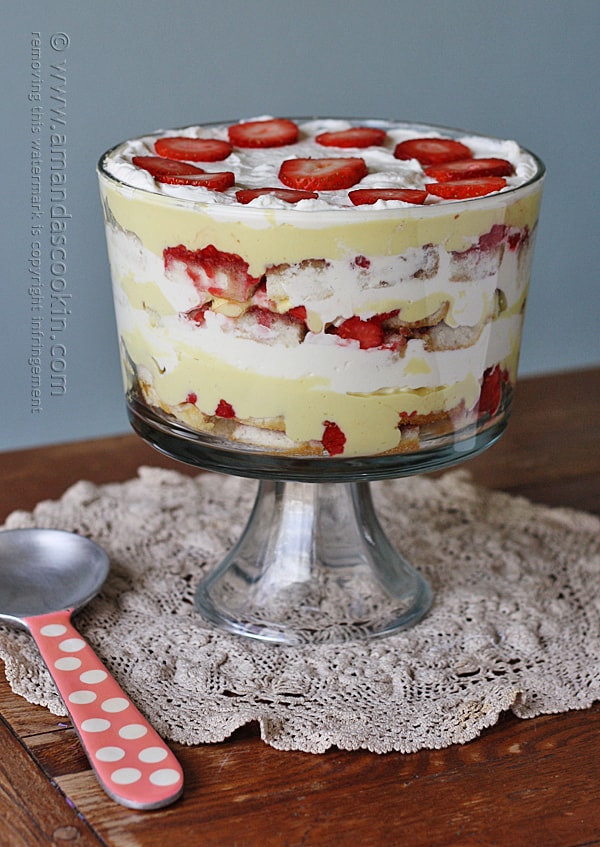 Ingredients for English Trifle
For the custard layer ( or you can use Bird's Custard! )
(If you decide to use Bird's Custard powder, make two batches (2 pints) following the instructions on the back of the can.)
4 cups whole milk
1/2 cup heavy cream
1 teaspoon vanilla extract
8 egg yolks
4 tablespoons sugar
2 tablespoon cornstarch
For the cake layer
9×13 white or yellow cake, baked and cooled
1/2 cup cream sherry
3 heaping tablespoons seedless red raspberry jam or preserves
For the fruit layer
2 cups sliced fresh strawberries
1 cup fresh raspberries
1 tablespoon cream sherry
1 tablespoon sugar
Whipped cream
1 1/2 cups heavy whipping cream
1 teaspoon powdered sugar
Helpful Kitchen Tools
How to Make English Trifle
You will want to make the cake and the custard first. Obviously, if you are using a packaged pound cake or ladyfingers, then start with the custard. If you are making a box cake or cake from scratch, be sure to bake that up first. Both the cake and the custard will need to cool before assembling the trifle.

To make the custard begin by heating the milk, cream, and vanilla in a saucepan. You just want it to come to a simmer, you'll see steam rising from the surface as well. (If you are using Bird's custard, follow the preparation instructions on the canister for two pints.)
Whisk the egg yolks together with the sugar and cornstarch. It will be all lovely and yellow.
Next, you'll temper the eggs (follow the instructions in the printable version) and pour everything back into the saucepan to thicken. You need to do it slowly so you don't burn it, but custard can be finicky, so you need to make sure it heats enough to bubble for several minutes. Use a sturdy rubber spatula to stir the liquid and keep it from sticking to the bottom of the pan.
I quicken the cooling process by using an ice bath. Fill a large bowl with ice and put the hot custard into a bowl that will fit into the larger bowl. After that's in there, add some water to the ice to make the 'bath". This will chill the outside of the bowl that's holding the custard, which will help its contents to cool faster.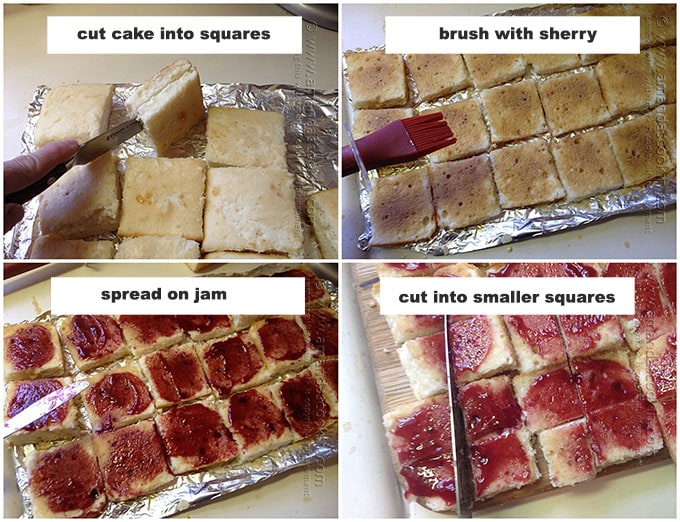 Because you are brushing the cake with sherry, you want the cake pieces to be small enough to soak it up. I sliced my cake in half horizontally.
Place all those pieces cut-side up and brush them with the cream sherry. Now spread the jam on top. Cut them into small squares.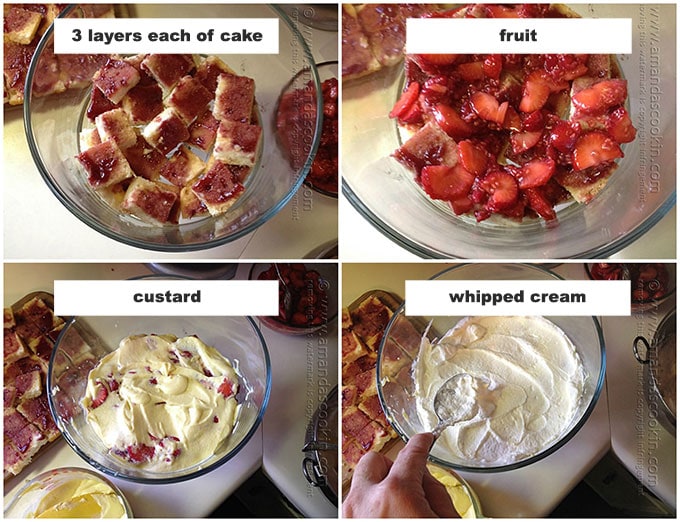 I chopped fresh strawberries and used fresh raspberries as well. It's not uncommon for people to use frozen fruit, thaw it out and macerate it, especially in the winter months when [good] fresh fruit is not readily available. Some English cooks don't macerate the fruit at all, they just use it as is. Unless I'm getting my berries at their peak season, I tend to macerate them or they are a bit too tart. Macerate the sliced berries with sugar and sherry and set aside.
When you're ready to assemble the trifle, layer one-third of the cake cubes, jam side up, in the bottom of the trifle dish.
Cover with one-third of the macerated fruit.
Add one-third of the custard.
Finally, top with one-third of the whipped cream.
Now repeat those layers two more times. Garnish with fresh sliced strawberries or raspberries and chill in the refrigerator until ready to serve.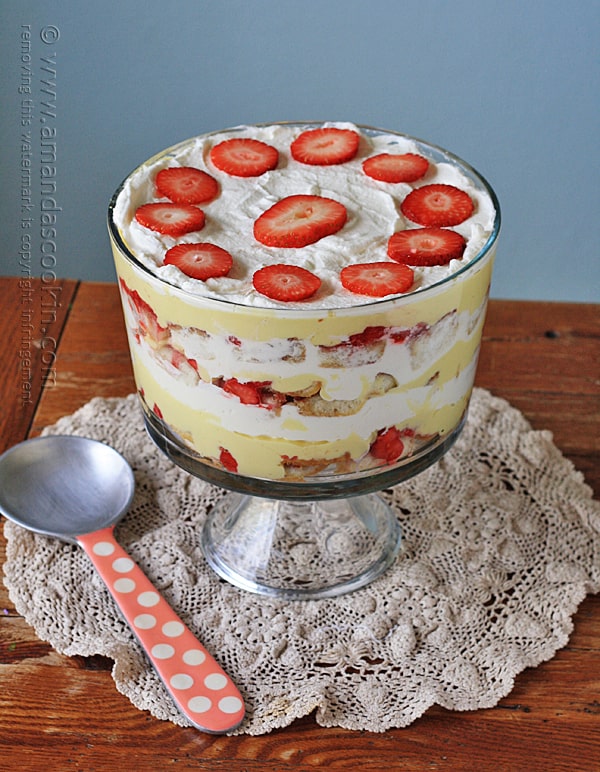 Final Note
Don't be intimidated by the long list of ingredients and instructions. Most of it is because of the homemade custard. If you order Bird's Custard Powder
you can save all that extra time. Enjoy!
More layered desserts
You might also like my English Trifle Cheesecake and this Tiramisu Cheesecake as well! Browse all the dessert recipes here.
If you'd like to try some other trifle versions, here are some to save:
This post was originally published on March 25, 2014.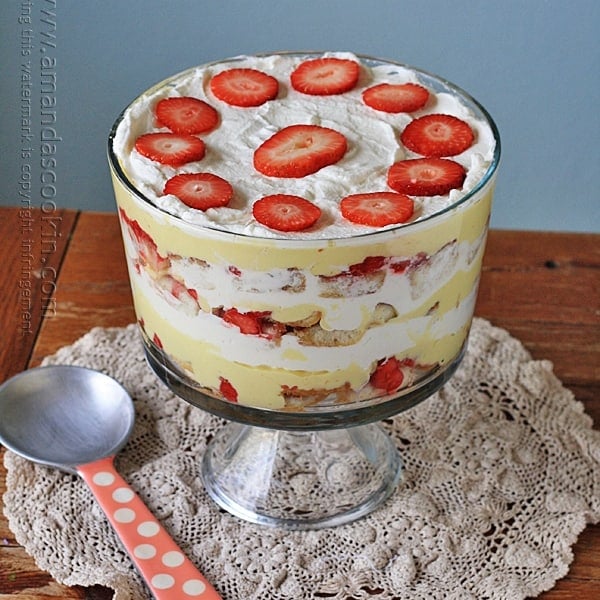 Traditional English Trifle
If I had to choose one dessert as the most nostalgic for me, that would be a traditional English Trifle. I love the flavor combinations!

Print
Pin Recipe
Rate
Ingredients
CUSTARD LAYER
4

cups

whole milk

1/2

cup

heavy cream

1

teaspoon

vanilla extract

8

large

egg yolks

4

tablespoons

sugar

2

tablespoon

cornstarch
CAKE LAYER
9x13 white or yellow cake

baked and cooled

1/2

cup

cream sherry

3

heaping tablespoons

seedless red raspberry jam or preserves
FRUIT LAYER
2

cups

sliced fresh strawberries

1

cup

fresh raspberries

1

tablespoon

cream sherry

1

tablespoon

sugar
WHIPPED CREAM
1 1/2

cups

heavy whipping cream

1

teaspoon

powdered sugar
Instructions
For the Custard
Combine the milk, heavy cream and vanilla in a heavy bottomed medium saucepan, stirring frequently. Heat the milk mixture over low-medium heat until it just begins to simmer and steam rises from the surface.

Meanwhile, mix the sugar and cornstarch together with a fork. In a large mixing bowl, whisk together the egg yolks and the sugar mixture until light and smooth.

HINT: I use my KitchenAid for this, but only as a stand. I hand whisk but use the bowl of the mixer attached to the machine so that I don't have to hold the bowl as well. This allows me to whisk and pour at the same time, which is needed in the next step.

Remove the warmed milk from the stove and while whisking the egg yolks constantly, dribble a few drops at a time into the yolks. Adding the hot liquid very, very slowly in the beginning will temper the eggs, allowing them to warm gradually so that they don't curdle, or worse, scramble! Once you have dribbled in a good amount you can increase the amount of liquid you add at a time, whisking continuously until all the milk has been added.

Pour the contents of the mixer bowl into the saucepan and heat over medium, stirring constantly. Keep stirring, ensuring that the milk mixture does not stick to the bottom of the pan, until thickened, anywhere from 2-6 minutes. Custard will be thick and smooth. Pour into a shallow bowl and cover the top with plastic wrap so that the plastic is touching the surface of the custard. This will prevent a skin from forming on top. Cool in the refrigerator until chilled.
For the Cake
Cut the cake into large manageable squares. Cut those squares in half horizontally. Open the squares so that the cut sides are facing up. Brush the cake with the cream sherry. Spread the sherries cake with the raspberry jam. Cut the cake into cubes.
For the Fruit
In a medium bowl, combine the strawberries, raspberries, sherry and sugar. Stir to coat and allow to macerate. Keep in the refrigerator until ready to assemble the trifle.
For the Whipped Cream
Combine the heavy whipping cream and the powdered sugar in a larger mixer bowl. Beat on high for 2 minutes, or until stiff peaks form. Keep chilled in the refrigerator until ready to assemble.
Assemble the Trifle
Place 1/3 of the cake cubes in the bottom of the trifle dish, jam side up. Top the cake cubes with 1/3 of the fruit, followed by 1/3 of the custard and finally with 1/3 of the whipped cream. Repeat layers two more times. Decorate the top with fresh fruit. Keep chilled until ready to serve.
Notes
If you decide to use Bird's Custard powder, make two batches (2 pints) following the instructions on the back of the can.
If it doesn't bubble long enough, the structure can break down and the custard will turn from thick to runny. The good thing is that if you've chilled the custard and it's lost its thickness, you can put it back on the stove and reheat it to thicken it back up.
Nutrition
Serving:
1
portion
|
Calories:
558
cal
|
Carbohydrates:
76
g
|
Protein:
10
g
|
Fat:
23
g
|
Saturated Fat:
12
g
|
Cholesterol:
281
mg
|
Sodium:
564
mg
|
Potassium:
305
mg
|
Fiber:
1
g
|
Sugar:
48
g
|
Vitamin A:
1025
IU
|
Vitamin C:
17.3
mg
|
Calcium:
207
mg
|
Iron:
3.1
mg
Amanda Formaro is the crafty, entrepreneurial mother of four grown children. She loves to bake, cook, make kid's crafts and create decorative items for her home. She is a crafting expert and guru in the kitchen and has appeared online and in print publications many times over the years. She is also a craft book author five times over and product developer as well as the owner of
FunFamilyCrafts.com
. You can find her on social media by using the buttons to the left!
Latest posts by Amanda Formaro (see all)