This simple and delicious summer vegetable pasta salad is full of flavor, packed with vibrant veggies and just the right amount of crunch. This colorful pasta salad makes use of all those gorgeous summer vegetables you picked up from the farmer's market and is guaranteed to be a hit at your summer BBQs- just like this Rainbow Pasta Salad recipe!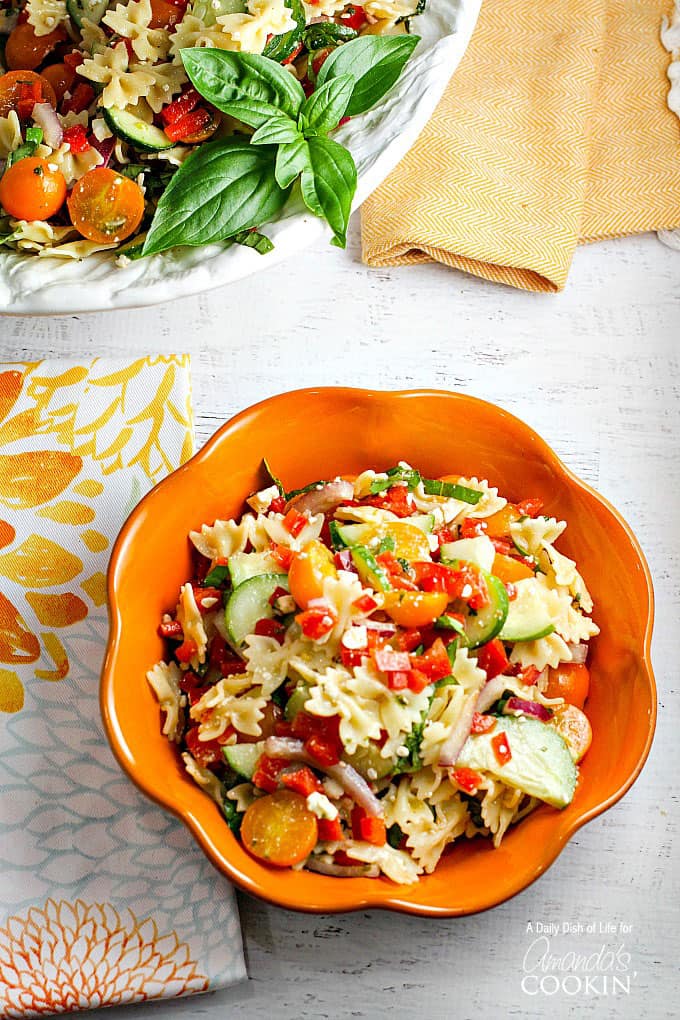 Summer Vegetable Pasta Salad
Pasta salad is a staple at summer cookouts and they are great for potlucks as well. I love a good pasta salad as much as the next person, but with the summer heat, I prefer to stay away from a mayonnaise base. I'm actually somewhat of a vinegar fanatic so I'm using a vinegar based dressing for this summer vegetable pasta salad.
Hit the farmer's market
Our farmer's market is in full swing right now, and I am loving it. Have you ever had a Sun Gold tomato? Those are my absolute favorite. There is nothing better than a Sun Gold tomato right off the vine! And farm fresh cucumbers have a crunch that you just don't get from the ones at the grocery store.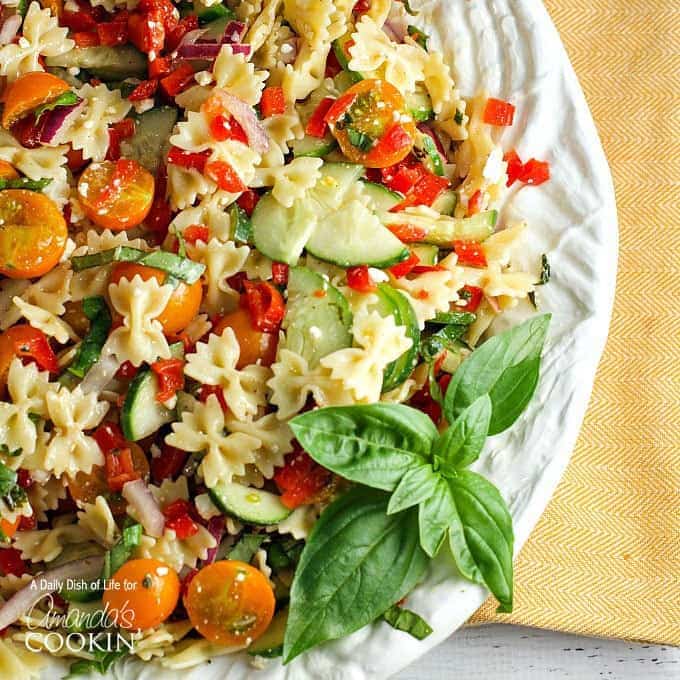 Homemade dressing makes a difference
I always make my own salad dressings. They're so easy to make, and you know exactly what is going into the dressing when you make it yourself. This dressing has a little bit of sugar in it. Usually my "sweet" is honey, but sometimes I like to mix it up.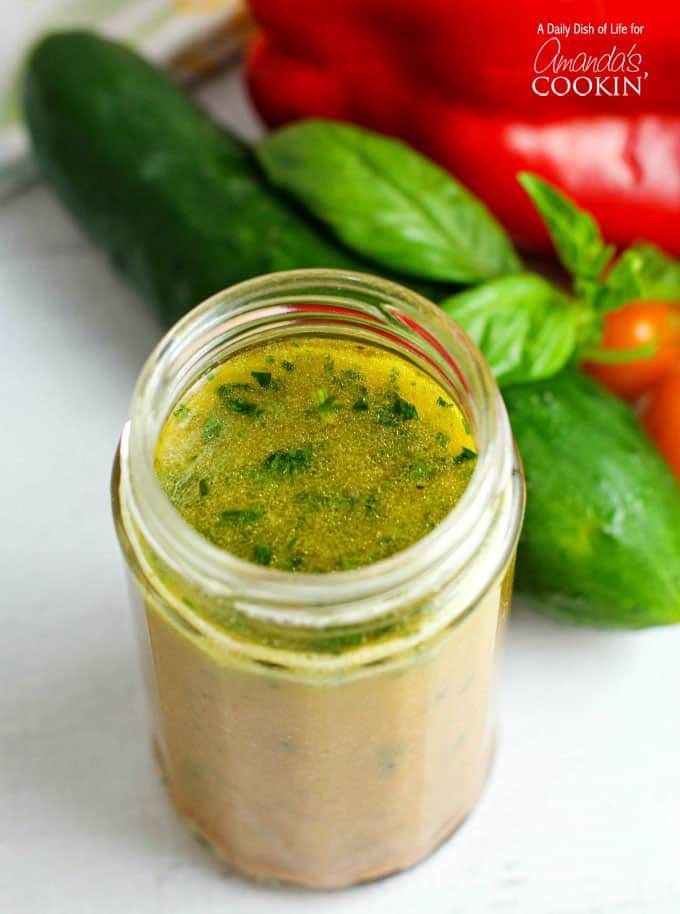 There are affiliate links in this post. That means if you buy something from that link, I will earn a small commission, but it won't cost you anything additional.
TO MAKE THIS PASTA SALAD YOU WILL NEED:
For the Salad
1/2 lb of mini farfalle (or your choice of pasta), cooked al dente
2 cups sun gold or cherry tomatoes, halved
2 red bell peppers, chopped
2 medium cucumbers, cut into rounds, then sliced in half
1/2 of a medium red onion, chopped
3.5 oz feta, crumbled
handful of basil chiffonade
For the Dressing
1/4 cup olive oil
1/2 cup red wine vinegar
1 tablespoon chopped parsley
1 tablespoon chopped basil
2 tablespoons Dijon mustard
1 medium garlic clove, crushed
1 teaspoon sugar
salt and pepper to taste
Kitchen tools you may find useful: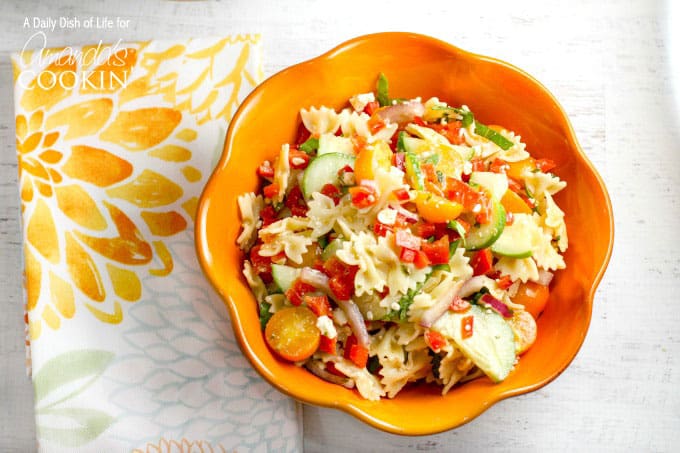 You'll make it over and over
I've made this summer vegetable pasta salad twice in the last couple of weeks, and both times it disappeared really quickly. People were going back for seconds and thirds!  I'd recommend making it a day ahead…it'll taste even better the second day when the dressing has really had a chance to soak in to the pasta and vegetables!
If you think this summer vegetable pasta salad looks good, wait until you see these other recipes I've chosen just for you!
SCROLL DOWN FOR THE PRINTABLE VERSION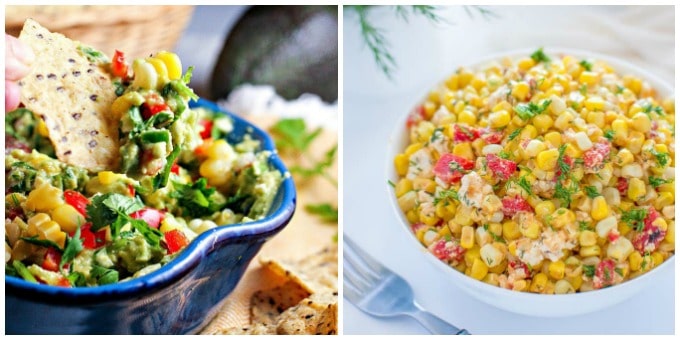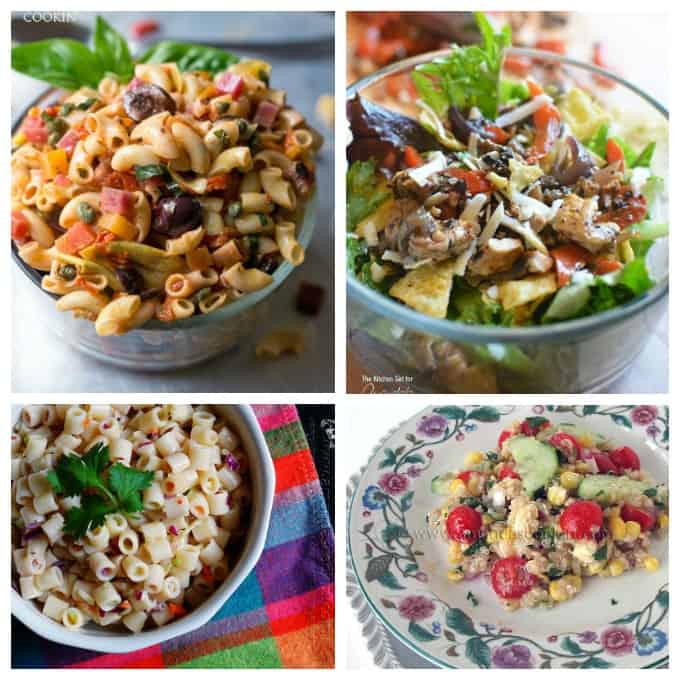 OTHER SALAD RECIPES YOU MAY ENJOY:
Want even more free recipes?
Be sure to join my newsletter for FREE recipes and craft ideas sent to your email inbox every week.