If you like taco salad (and who doesn't), you're going to love this Chicken Fajita Salad. It's a great alternative to traditional, flour-wrapped fajitas. Nothing wrong with those, but if you're watching your carbs, this Mexican-inspired salad might just become your new thing…for lunch or dinner.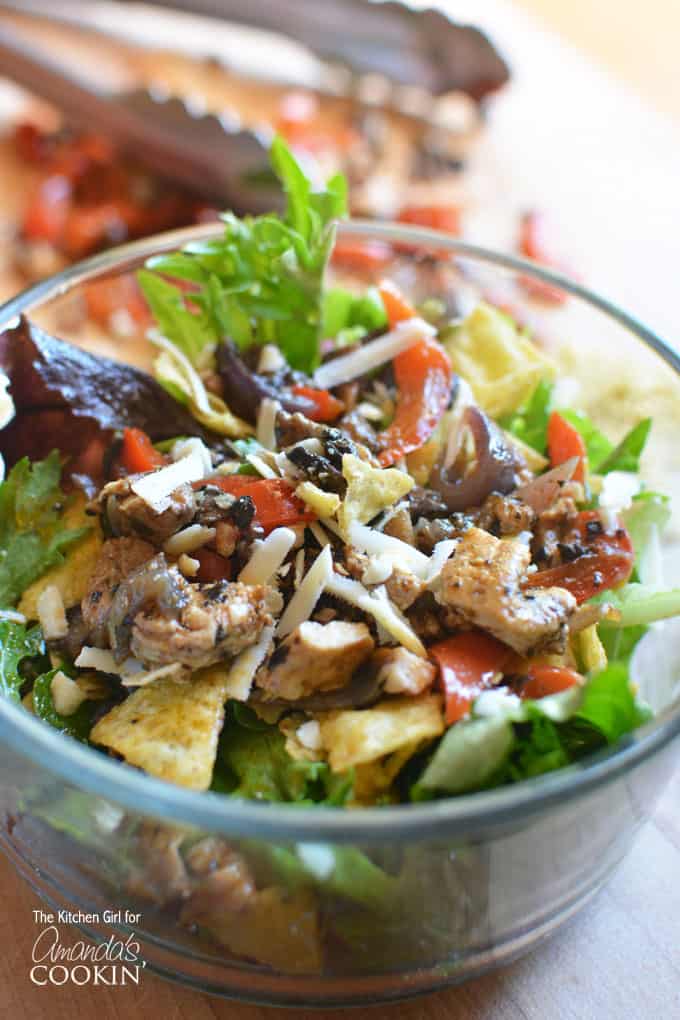 Chicken Fajita Salad
If you're anything like me, you never stop searching for new, easy ways to create a whole meal (or two) from boneless, skinless, chicken breast. And you probably want to keep things on the fresh side, right?
On busy weeknights during the warmer months, we find that salads-for-dinner are exactly what we need. As long as they involve some savory proteins, lots of vegetables, and any other thoughtful ingredients to offer flavor, texture, and contrast. We have definitely found this to be the case with our Chicken Fajita Salad.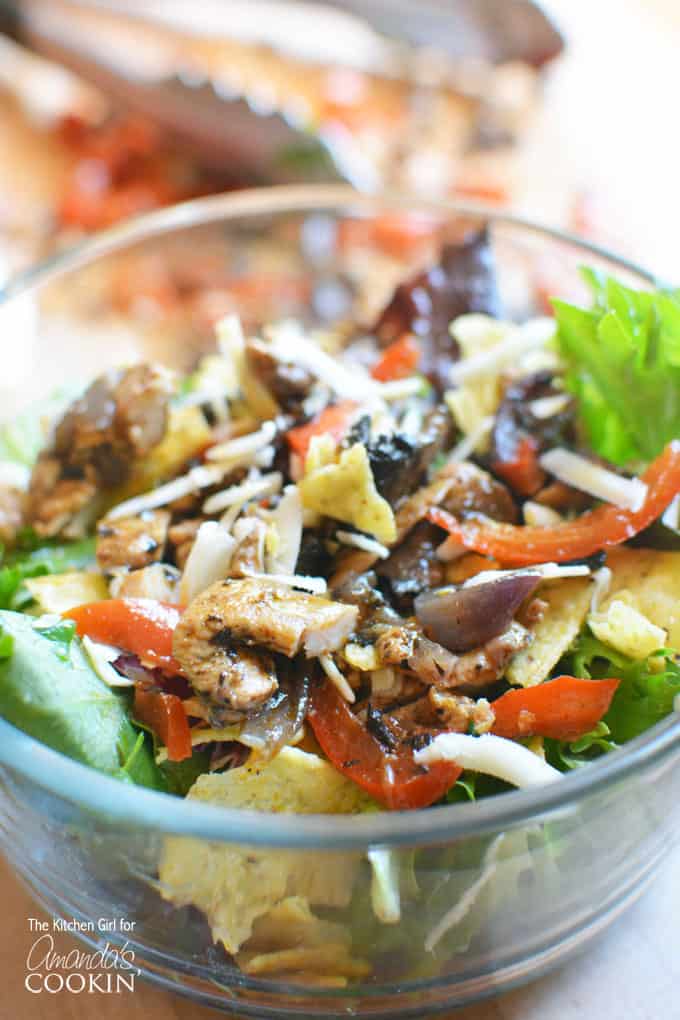 How easy it is to make Chicken Fajita Salad
Oh man, it couldn't be easier! You literally slice the chicken, chop the vegetables, sauté the chicken, sauté the vegetables, allow them to cool down, toss everything together into a bowl of leafy green lettuce, and garnish with various toppings. That's it. The hardest part might be cutting the chicken, but only if you are using a dull knife. So friend, don't do that.
This chicken fajita salad is so good exactly as it is, but you could easily add some traditional Mexican ingredients to it, like cilantro, salsa, or jalapeños…the sky's the limit! If you really want to wrap this beauty up and put a bow on it, make Low Fat Avocado Ranch Dressing as a creamy topping for it. You won't regret it!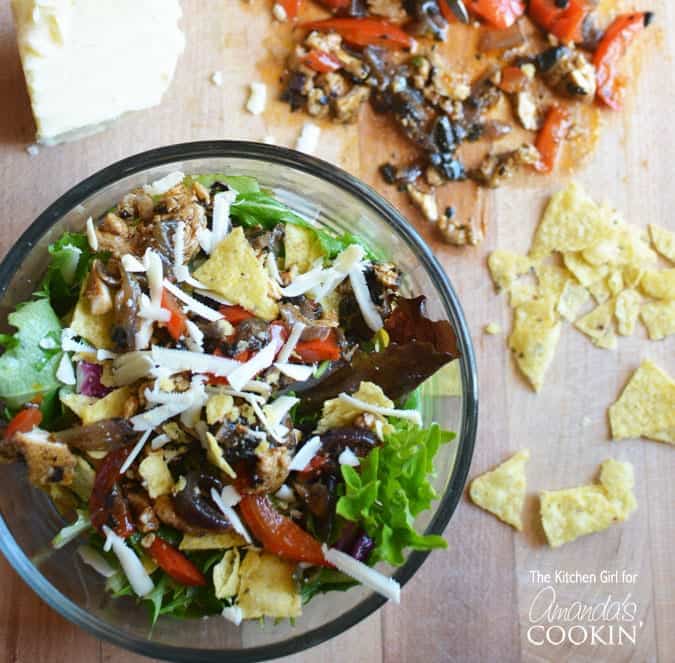 There are affiliate links in this post. That means if you buy something from that link, I will earn a small commission, but it won't cost you anything additional.
Ingredients you'll need to make Chicken Fajita Salad:
1 boneless, skinless chicken breast

1/8 teaspoon salt

2 tablespoons fajita seasoning

2 tablespoons olive oil

1 large portobello mushroom

1 red bell pepper

1/2 red onion

2 cloves garlic

8-10 leafy green lettuce leaves

1 lime

(Optional) tortilla chips and shredded Jack cheese
Tools I used for this recipe: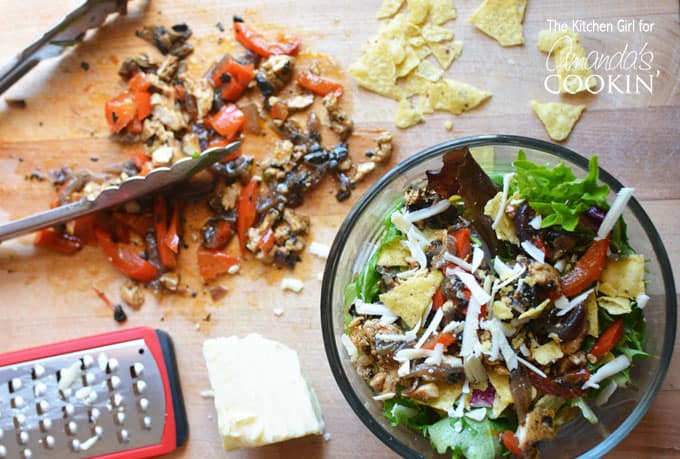 SCROLL DOWN FOR THE PRINTABLE VERSION OF THIS RECIPE
MORE MEXICAN INSPIRED RECIPES YOU WILL LOVE:
This summertime pineapple salsa will become a new favorite. Full of beautiful color and delicious flavors, your guests will be asking for the recipe!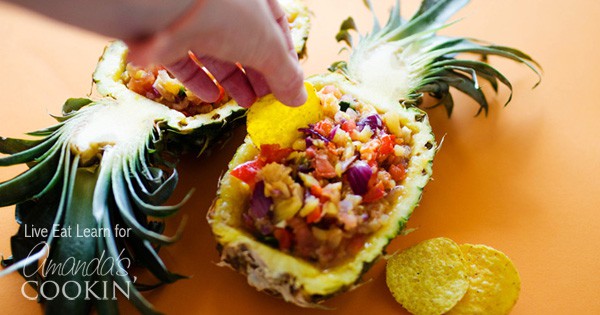 Looking for dinner? Try these taco empanadas, your family will love them and they are so convenient you can grab and go (perfect for football practice!).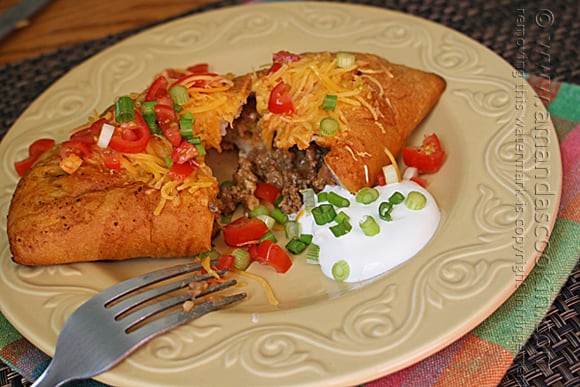 Want even more free recipes? Be sure to join my newsletter for FREE recipes and craft ideas sent to your email inbox every week.