Smoothie bowls are a gorgeous, healthy addition to your breakfast routine, or a fun way to refuel after your workout. Breakfast doesn't have to be boring, so we're sharing our favorite smoothie bowl recipes.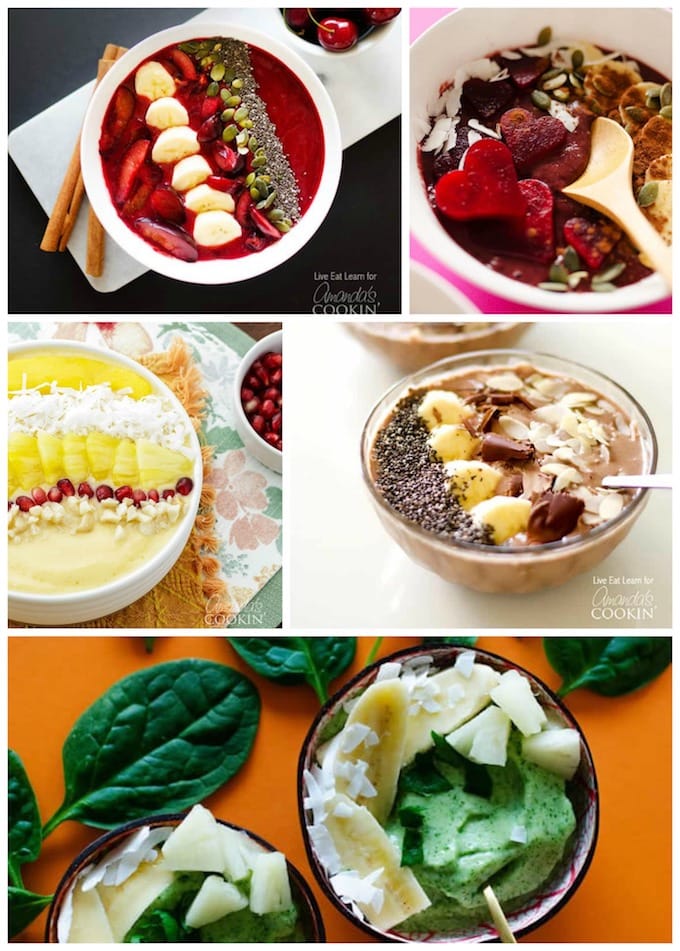 Smoothie Bowl Recipes
Adding a smoothie bowl to your menu a couple of times a month is a great way to keep your diet varied and interesting. Making a smoothie bowl is fun and as an adult, now you can play with your food!
Here are some of our favorite smoothie bowl recipes!
Are smoothie bowls healthy?
Smoothie bowls are a healthy part of your diet provided you are mindful of what toppings you are including. They are a good source of protein, healthy fats, fiber, and good carbs to help kickstart your morning.
What can I top my smoothie bowl with?
There are so many different toppings you can use on your smoothie bowl and creating them is half the fun! Here are a few basic suggestions.
Fresh fruit
Coconut
Nuts or seeds
Flax or Chia seeds
Granola
Nut butters
Chocolate shavings
Dried fruit
Tips for Making Perfect Smoothie Breakfast Bowls
For a nice, thick smoothie bowl we use frozen fruit. Frozen bananas have a permanent spot in our freezer!
Tossing in a spoonful of old fashioned oats can help thicken your smoothie mixture.
Freezing juice or almond milk in ice cube trays and tossing them into the blender helps thicken your mixture as well.
Chia seeds will thicken your smoothie bowl after just a couple minutes of being mixed or stirred in.
With these breakfast bowl ideas you can add a naturally sweet treat to your morning routine.
More smoothie recipes
While these are smoothies that you serve in a glass and drink through a straw, I challenge you to turn them into a smoothie bowl by using the tips above!
Strawberry Banana Smoothie – top with fresh sliced bananas and strawberries and sprinkle with chia seeds and sliced almonds.
Cucumber Tropical Smoothie – sprinkle with flaked coconut and line with sliced avocado, pineapple, and cucumbers.
Loaded Coffee Smoothie – Dark chocolate shavings would be perfect on this smoothie paired with a sprinkle of oats and sliced banana.
Find all of our smoothie recipes here.