A beautiful tropical smoothie bowl is perfect for a weekend breakfast. If you're looking for a plant based alternative to dairy smoothies, this is for you. We've made quite a few smoothie bowls here, but I just love the feeling of sunshine this one gives off!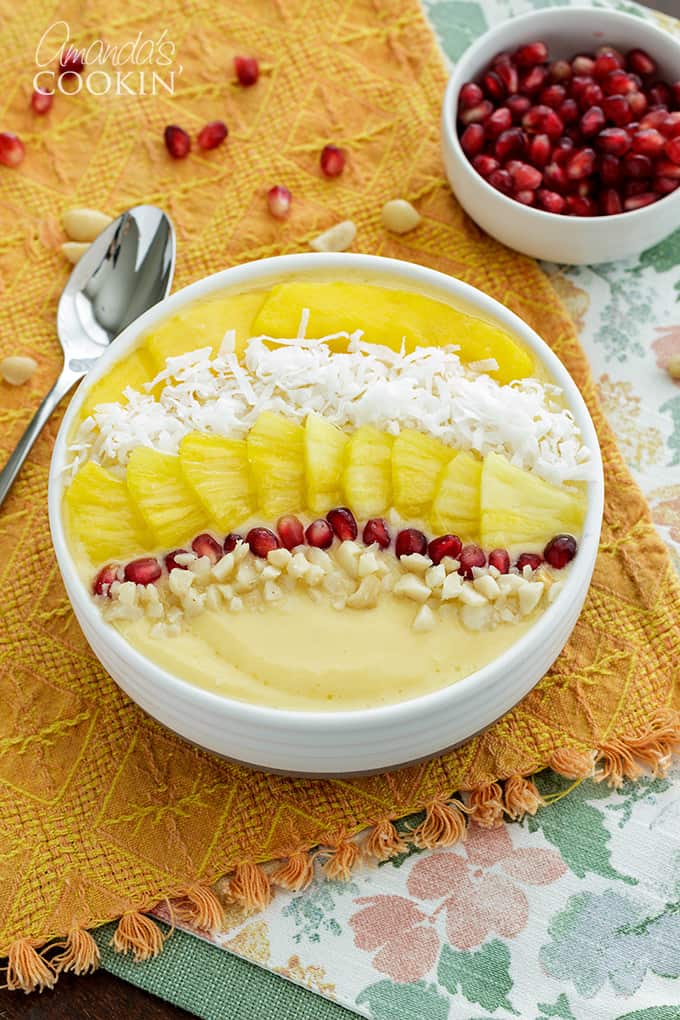 Tropical Smoothie Bowl
Dreaming of the beach? Long for those tropical flavors like ripe mangoes, sweet pineapple and chewy coconut? Well this tropical smoothie bowl includes all those wonderful flavors and it's super easy to make.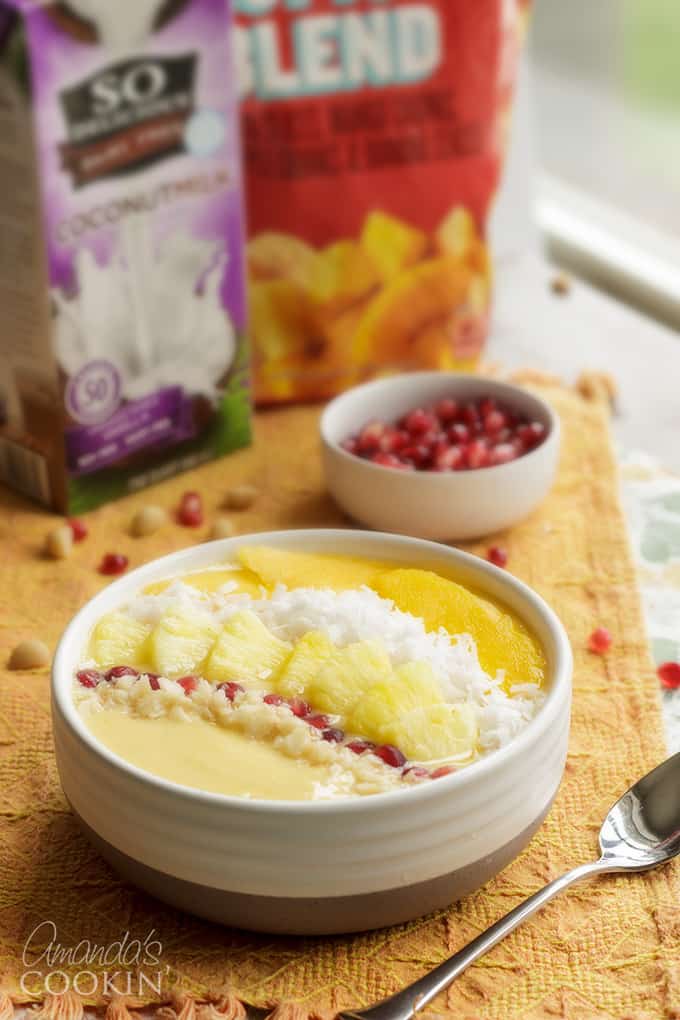 I've really been trying to eat more plant-based foods lately. Lots of fruits and vegetables, and yes, I've even been using soy and coconut milks. While I haven't given up meat, high cholesterol does run in my family, so I'm just trying to make smart choices.
Smoothies and Breakfast
I eat breakfast everyday – not everyone does! I've always loved smoothies, so making them part of my morning routine is a given. Admittedly, a smoothie bowl is not conducive to my weekdays that are packed with school and running around. But when the weekend rolls around and I don't have to be anywhere, this tropical smoothie bowl becomes a welcome treat.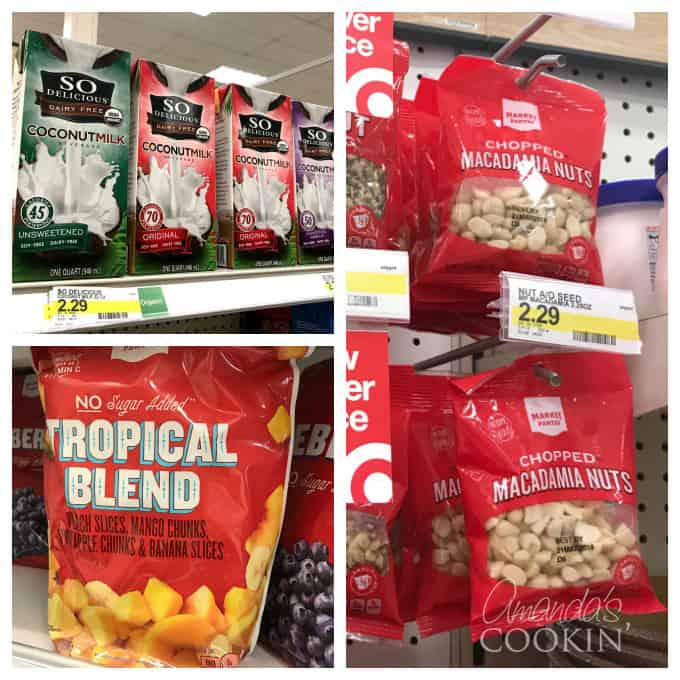 I stopped by Target to get what I needed. I decided to use So Delicious vanilla coconut milk and a blend of tropical frozen fruits that included banana, mango, pineapple and peaches. I also chose fresh mango and pineapple for garnish along with shredded coconut and chopped macadamia nuts. And while you might not think that pomegranates are tropical, they can fall into this category. While they are mostly grown throughout India and the drier parts of southeast Asia, Malaya, and the East Indies, they are also cultivated in tropical Africa. I needed some vibrant color for my tropical smoothie bowl and pomegranate arils fit the bill. I gave my smoothie bowl some crunch with the very tropical macadamia nut!
Save a Little Money
By the way, if you shop at Target often, you really should download the free Cartwheel app. It automatically lists all the items in the store that are on sale, and you can easily scan an item to see if there's a discount available. If there isn't, it will give you alternatives that are currently offered at a discount.
It's a handy money saving tool I use every time I go to Target! In fact, Silk and So Delicious will be discounted 15% through the Cartwheel app from May 7th through May 27th, so make sure you download it!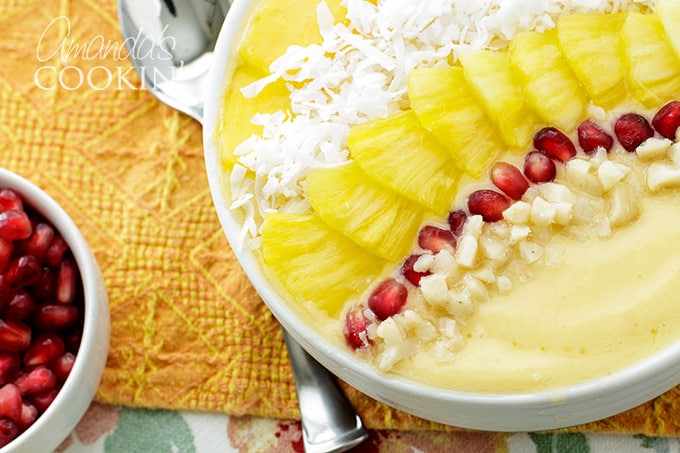 There may be affiliate links in this post. That means if you buy something from that link, I will earn a small commission, but it won't cost you anything additional.
Ingredients for a Tropical Smoothie Bowl
2 cups frozen tropical fruit (mango, pineapple, peaches, bananas)
1 cup So Delicious vanilla coconut milk
1/2 cup pineapple juice
For the garnish:
Fresh mango, sliced thin
Fresh pineapple, sliced thin
Shredded coconut (sweetened or not, your choice)
Pomegranate arils
Macadamia nuts, chopped
If you make a lot of smoothies, you'll definitely want a blender that is up to the task. Look for a model that crushes ice easily, I use my BlendTec and love it. While I don't have one, I know people that swear by their Vitamix and many love the Ninja. No matter what brand you choose, buy one that is going to last through many, many smoothie sessions!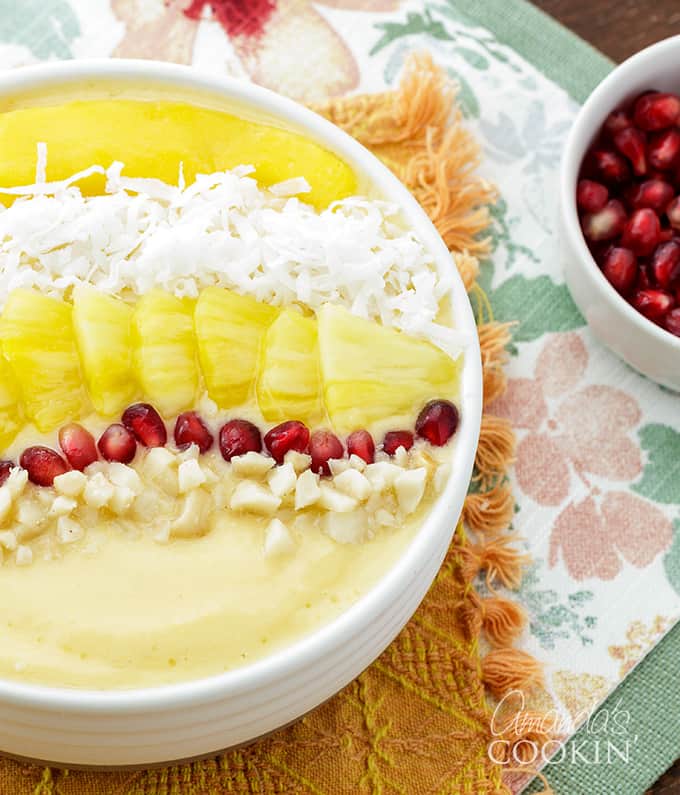 Making Your Smoothie Bowl
The instructions couldn't be simpler. Combine the frozen fruit, coconut milk and pineapple juice in the blender jar and process until smooth. Pour into a bowl and level off with the back of a spoon.
Garnish the top with fresh mango and pineapple slices, shredded coconut, pomegranate arils and chopped macadamia nuts. That's it! All you have to do now is sit down and enjoy it.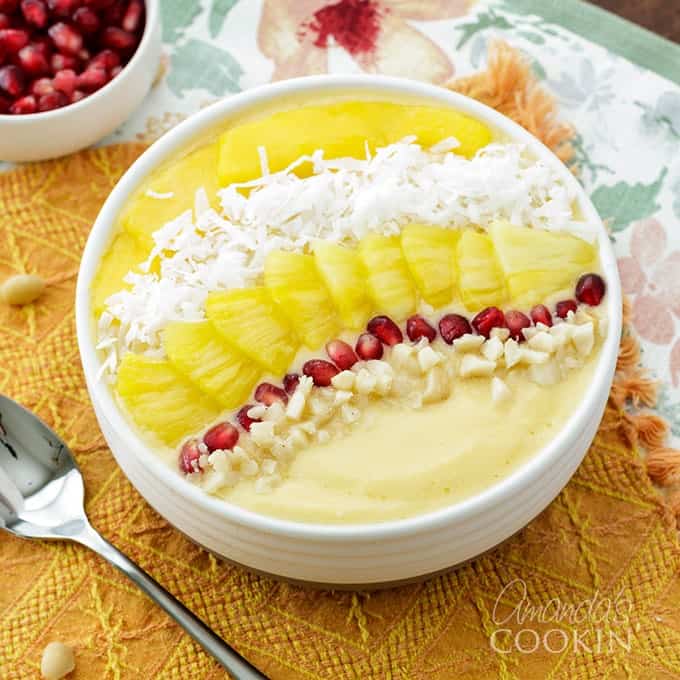 This is a sponsored conversation written by me on behalf of Silk and So Delicious. The opinions and text are all mine.