It's that magical kitchen technique known as the one-pan dinner. If there's any time of year to take advantage of skillet dinners it's summer. With this mushroom ravioli we still get a wholesome home-cooked meal without destroying our kitchens and spending a perfect summer night inside scrubbing dirty dishes.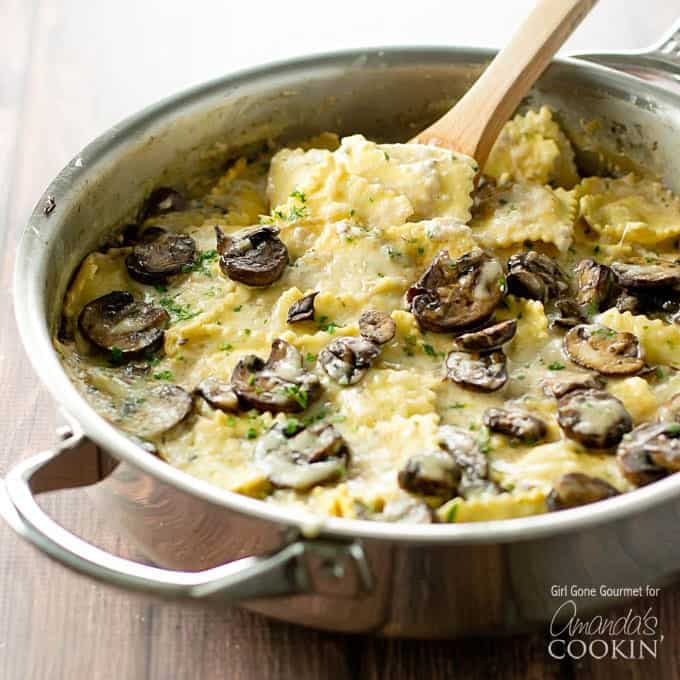 This time of year, when the days are longer, warmer, and, well, just better than they were a month ago, I feel my "must make dinner" resolve drip away like the condensation on a bottle of ice cold beer. Can't we just have hot dogs and potato chips for the next three months? Must we slave away in the kitchen making and cleaning up dinner? Not at all! Enter the skillet dinner.
MUSHROOM FAN? Try our popular stuffed mushrooms for your next party or get together!
One-Pan Creamy Mushroom Ravioli
Let's not abandon our kitchens this summer, let's just cook smarter and make this one-pan creamy mushroom ravioli.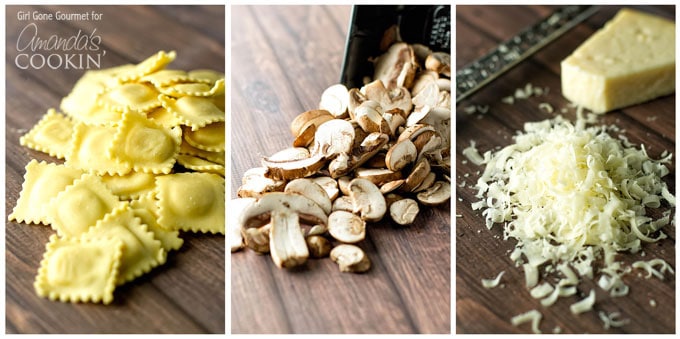 It all starts with some simple ingredients like ravioli, mushrooms, and cheese. In one single pan the mushrooms are cooked until meaty and browned and then the sauce is made with milk, a little cream, fresh herbs, and parmesan cheese. A little flour and butter help thicken the sauce before the ravioli and browned mushrooms are stirred in. The whole thing finishes cooking in the oven. All of those ravioli emerge from the oven coated in a creamy cheesy mushroom sauce and dinner is served.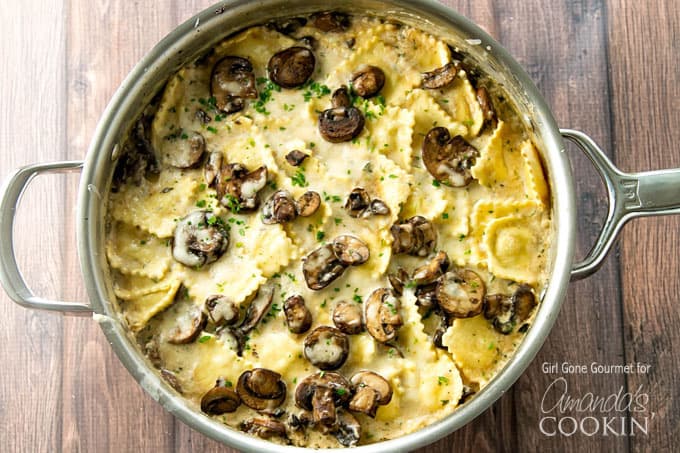 Things You Will Need:
2 tablespoons olive oil
16 ounces sliced baby portobello mushrooms
salt
pepper
1 tablespoon unsalted butter
1 tablespoon all-purpose flour
2 cups 2% milk
1/2 cup heavy cream
2 tablespoons chopped fresh parsley
Leaves from 5-6 sprigs of fresh thyme
Tools you may find helpful:
1 1/2 cups grated parmesan cheese
1 (20 ounce) package fresh four cheese ravioli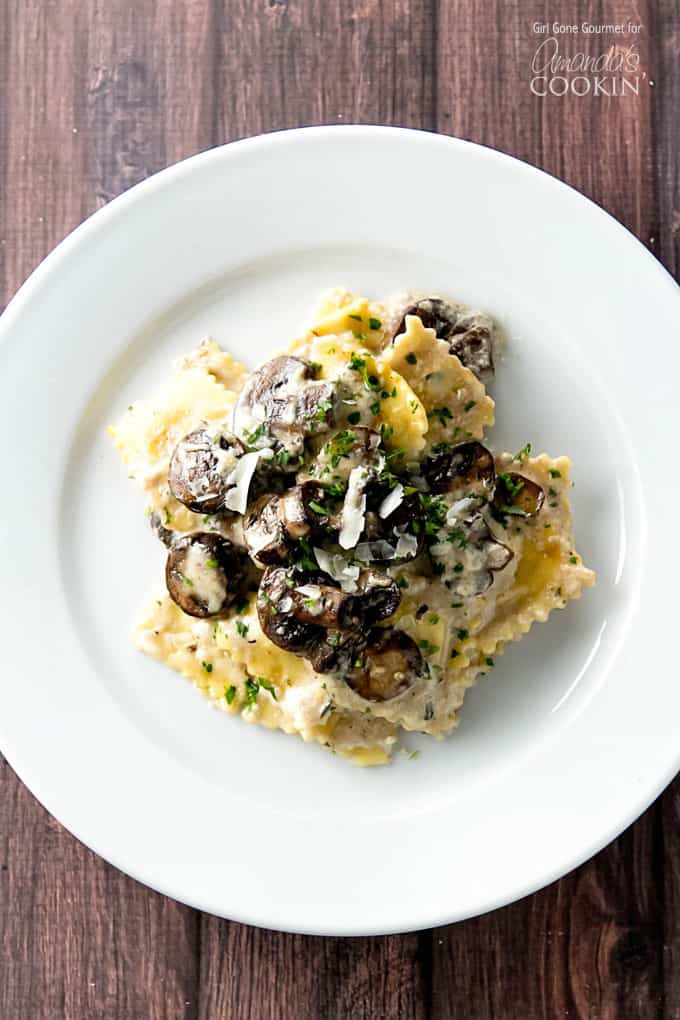 After you've made this, devoured it, and popped the one pan into the dishwasher you'll still have plenty of time to enjoy that warm summer evening. So save the hot dogs and hamburgers for the weekend cook-out and dish up a big o' plate of this creamy mushroom ravioli during the week.
SCROLL DOWN FOR THE PRINTABLE VERSION OF THIS RECIPE
More one-pan meals:
Cooking on the stove top is a "cooler" alternative to summer, when you aren't outside cooking on the grill that is! This Pan Seared Gnocchi is a fresh and delicious alternative loaded with asparagus and snap peas.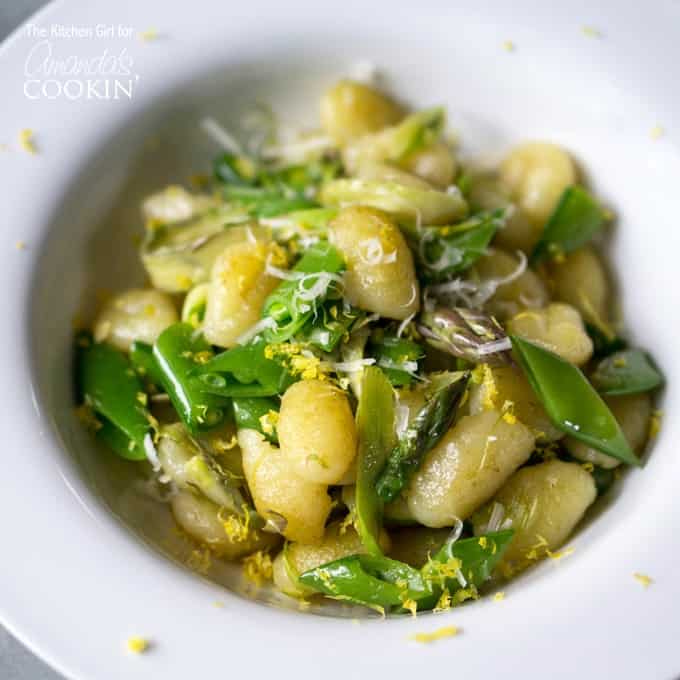 This ooey gooey Bacon Cheeseburger Pasta is sure to be a family favorite. Cooked entirely in the skillet and on the stovetop, you only have one pan to wash and no worrying about cooling off the kitchen afterward.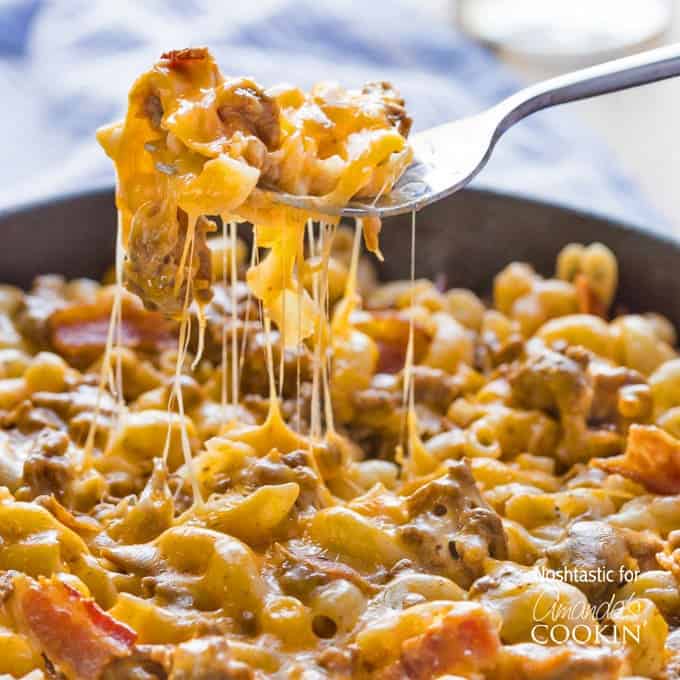 If you love stir fry like I do, this Kung Pao Chicken might be just the ticket. Fresh vegetables and chicken breast combined with just the right sauce ingredients makes for a fabulous skillet meal.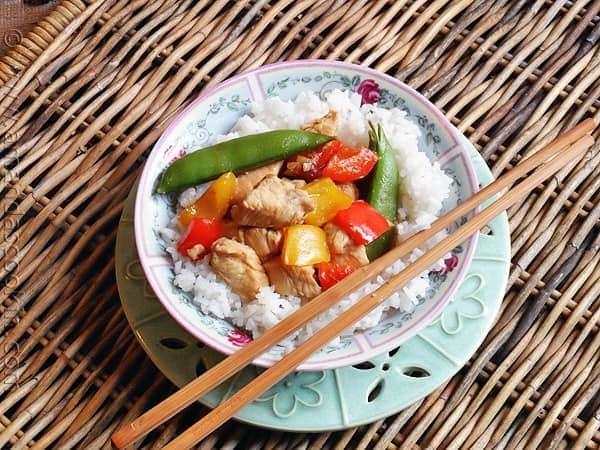 Want even more free recipes? Be sure to subscribe to my newsletter for FREE recipes and craft ideas sent to your inbox every week.