I love the rotisserie chickens from the grocery store. They are so delicious, enough so that I could just sit and eat it without any sides. These rotisserie chicken nachos are the perfect appetizer for a party or watching the big game with friends. They are super easy, though there is a little bit of chopping involved. Give yourself about half an hour to throw this together.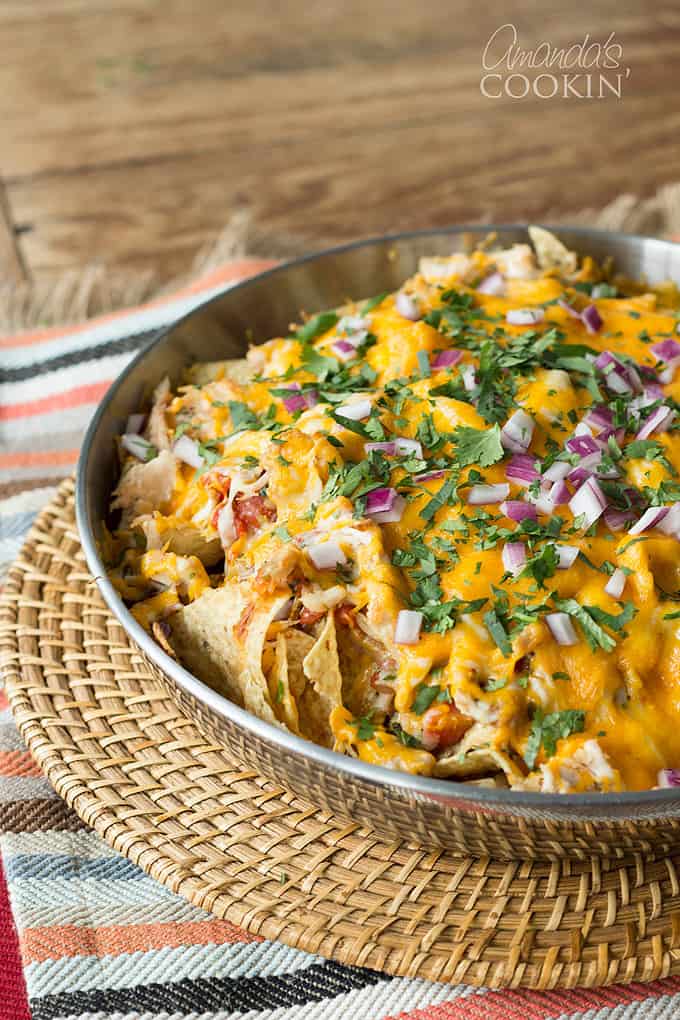 Rotisserie Chicken Nachos
Oh the cheesy goodness…as a Wisconsinite we tend to use a lot of cheese, if you prefer you can alter the amount of cheese to your liking. Just know, it may look like an insane amount that you add on top but I promise you once it's melted and evenly spreads over the nachos you won't regret using the same measurements!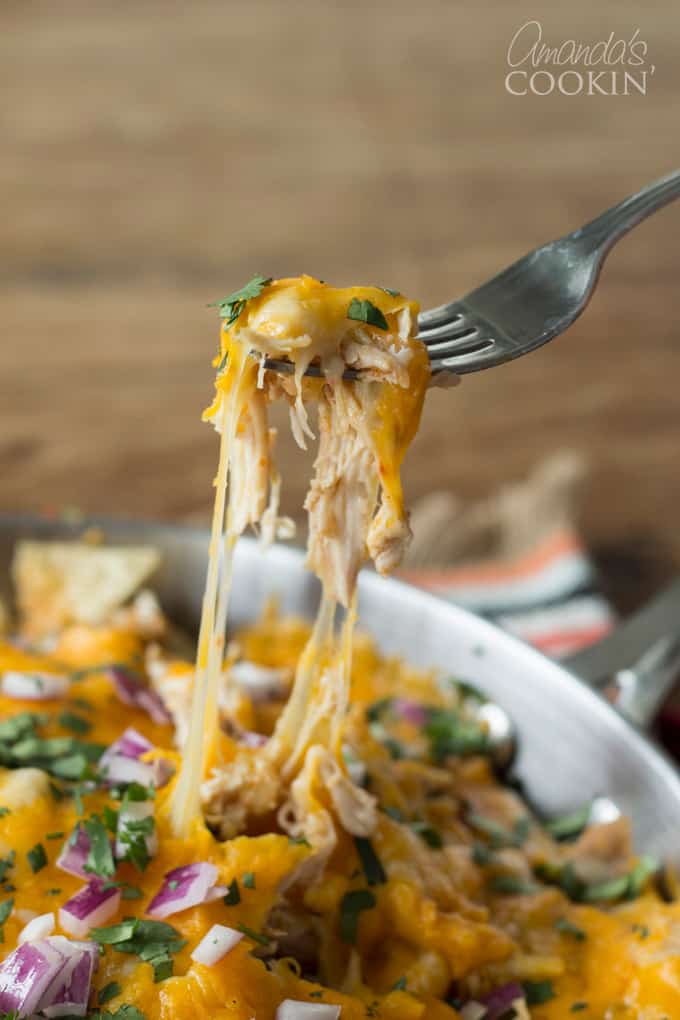 I've added a video here so you can see the process…
I was inspired by this amazing recipe for Pulled Chicken Chilaquiles from A Family Feast. I had pinned it some time ago. While searching for dinner ideas this recipe caught my eye. I was looking for something quick, so I bought a bag of my favorite restaurant style chips. Her recipe makes them from corn tortillas fried in oil. I definitely want to try that someday when I have more time.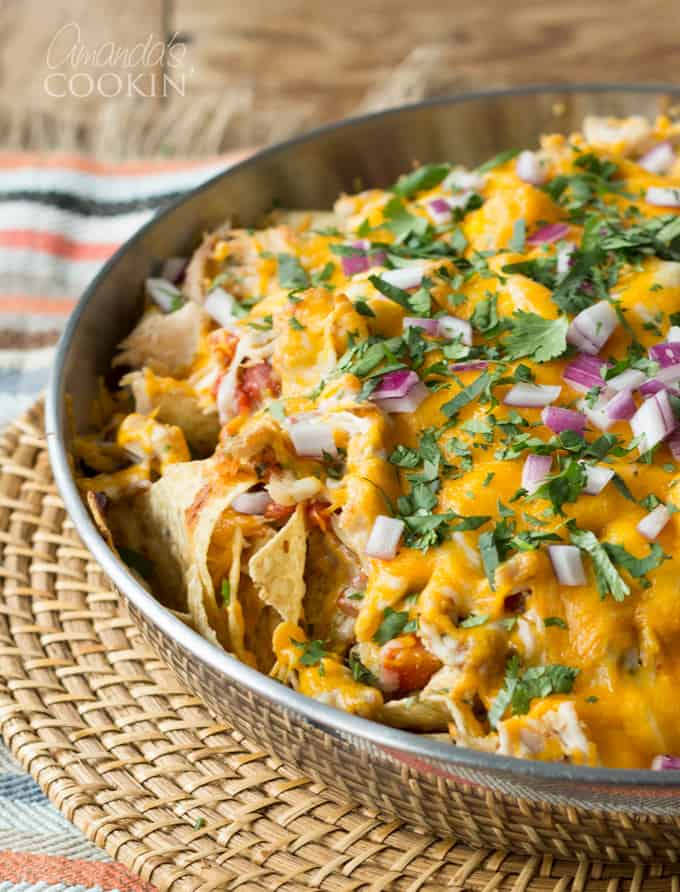 There are affiliate links in this post. That means if you buy something from that link, I will earn a small commission, but it won't cost you anything additional.
Ingredients:
4-pound rotisserie chicken
1 bag of restaurant style tortilla chips
1 15-oz can refried black beans (or regular refried beans)
2 cups shredded sharp cheddar
2 cups shredded pepper jack
2 tablespoons chopped fresh cilantro, garnish
2 tablespoons diced red onion, garnish
For the salsa:
2 tablespoons extra virgin olive oil
1 cup diced onion
1 large fresh Jalapeno stemmed, seeded and minced
1 tablespoon minced garlic
1/4 cup chopped fresh cilantro
1 15-ounce can diced tomato with juice
1/2 teaspoon ground cumin
1/2 teaspoon ground coriander
1/2 teaspoon chili powder
Helpful Kitchen Tools:
PRINT THIS RECIPE AT THE END OF THIS POST
My son is particularly infatuated with nachos. I'm sure he would live off of them if he could. In fact, he raved about the filet mignon nachos too. So it's safe to say there won't be any leftovers after making these bad boys. Be sure you have a big appetite if it's going to be just you and one other, as these feed around 6-8 people! If you are feeding a smaller bunch or you're wanting to serve these as an appetizer, feel free to cut the recipe in half. If you do that you can use a 9-inch skillet instead.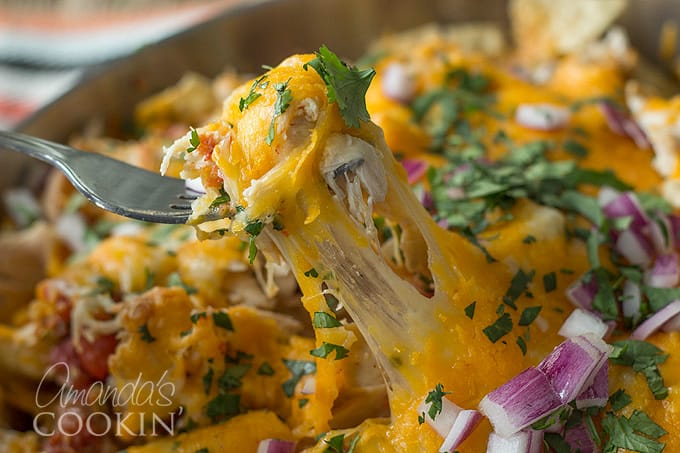 You just can't go wrong with these. Throw in some olives, sour cream, or even avocado. The options are endless when it comes to nachos.
The first time I made these I used refried black beans and a couple types of cheese; sharp cheddar and pepper jack. I also made a quick guacamole by smashing an avocado adding in some chopped cilantro and red onion along with some garlic salt, although this is just an optional addition.
Enjoy your nachos and remember, the more cheese the better!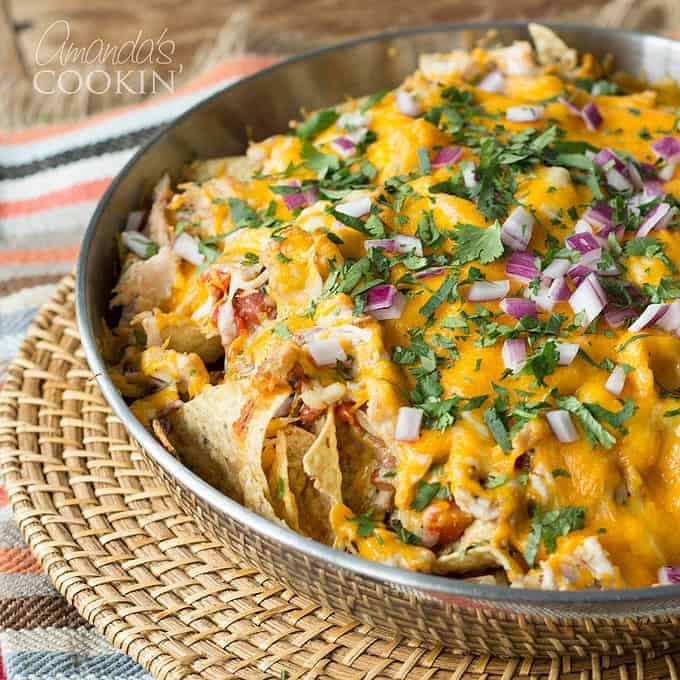 This post was originally published on this blog on June 16, 2015.