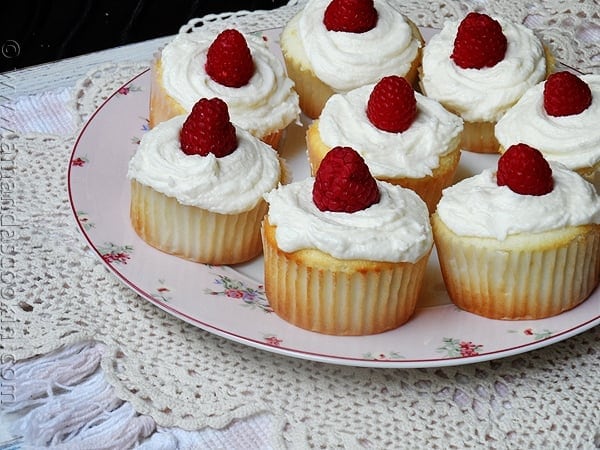 July 31st is National Raspberry Cake Day. I know right? Who knew? I made these Raspberry Filled White Chocolate Buttercream Cupcakes today, just because. I searched and discovered I only have a couple of recipes here that raspberries are the star of, so another was certainly in order. Raspberry picking season will be starting soon around here, so while I can certainly get them at the grocery store, I'm looking forward to having some fresh from the plant!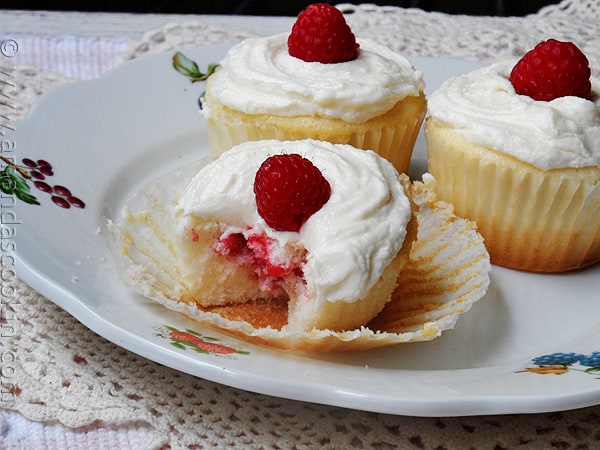 I was pretty surprised to see that I haven't really baked with raspberries for a few years. There's this Raspberry Upside Down Cake I made four years ago and this Raspberry Coffee Cake I made around the same time. This English Trifle Cheesecake from last year is positively amazing, one of my favorites, and on the non-baking front there's this Fresh Raspberry Lemonade.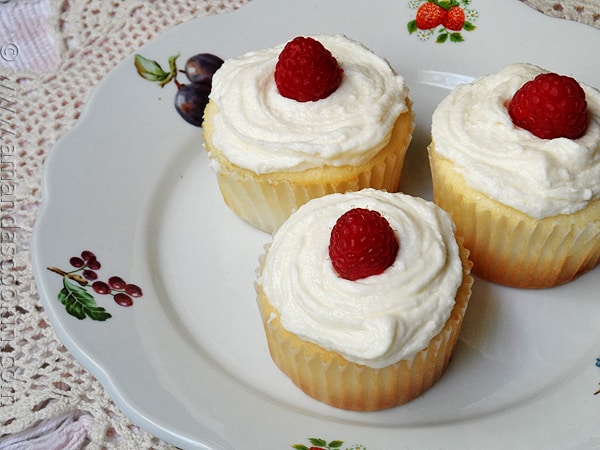 Now if we were talking blackberries then I would definitely recommend this Braided Blackberry Breakfast Danish and this Vanilla Blackberry Jam Ice Cream. Of course, there's Lemon & Blackberry Cream Cheese Swirl Cake and Blackberry Cream Cheese Coffee Cake and Mini Cakes too, not to mention the Blackberry Pie Squares! You can find all the blackberry recipes here.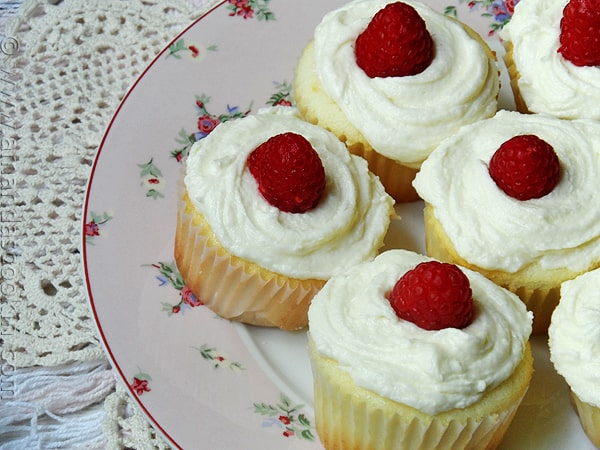 But I digress! I could recipe remreminisce all day, but chances are you came for the cupcakes you see here. Let me start by saying that I found this recipe on AllRecipes.com.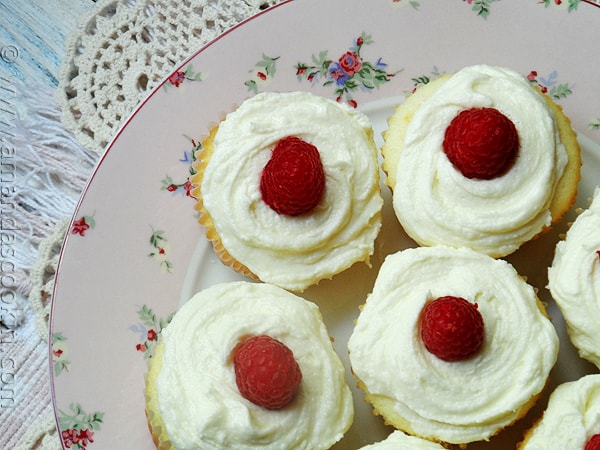 However, instead of using a white box cake mix, I made my favorite white cake, which comes from Dorie's book, Baking From My Home to Yours.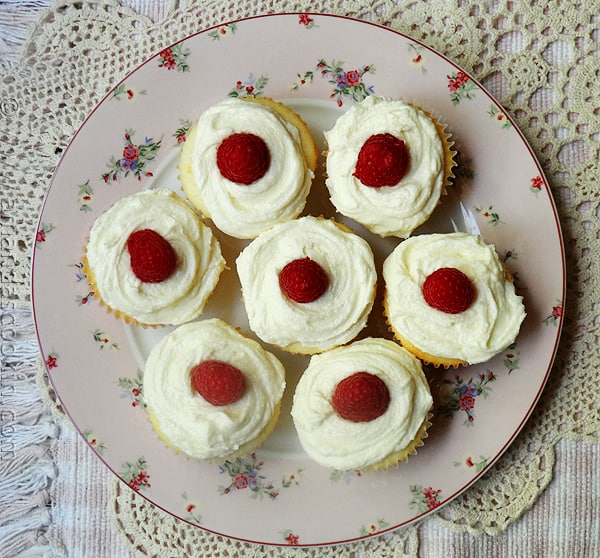 I followed the recipe for the filling, only I simmered mine about twice the amount of time as it called for. Many of the reviews said to double the cornstarch, but that's not necessary. All that's needed to thicken the mixture is to simmer it longer. However, that reduced the amount of filling too, so next time I would use 10 ounces of berries instead of 8.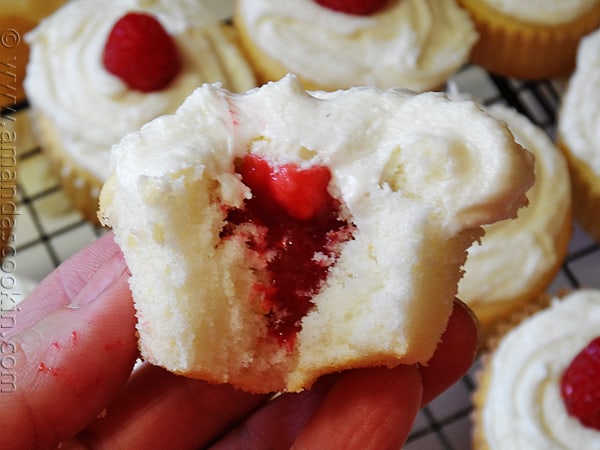 I also pushed it through a sieve to remove the seeds. In hindsight it might have been easier to do that step right out of the mini food processor, but this way worked too.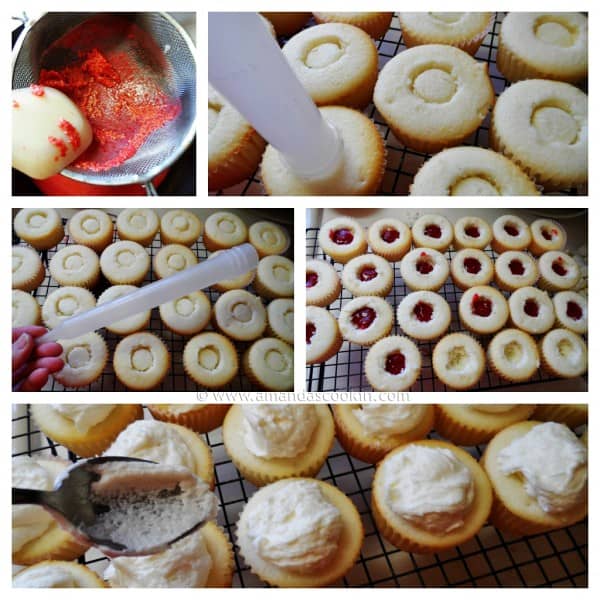 To make the holes for the filling, I used a turkey baster. That's right. I have ALL the high tech gadgets.
Finally, the buttercream recipe is way too much for these cupcakes. At least the way I made them. I didn't pipe the frosting on, so I probably used less. I made the mistake (and I totally knew better) of not letting the melted white chocolate cool completely before adding it to the frosting in the mixer. That's why my frosting has kind of a rough texture, but believe me, it didn't affect the flavor!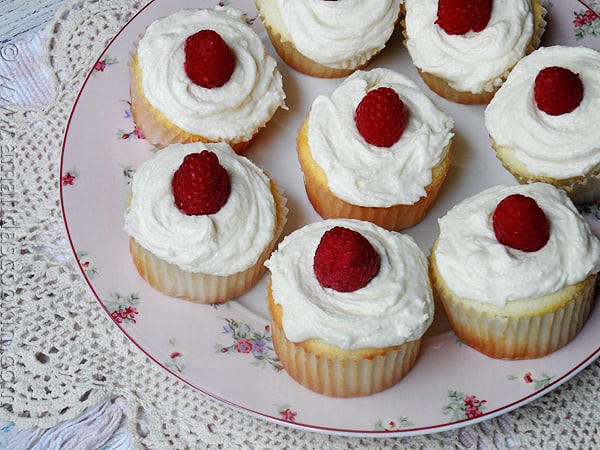 This frosting is very sweet, but the tartness in the raspberry filling works beautifully with it, giving it a perfect balance. These were definitely delicious.
You could minimize the work by using box mix, raspberry jam, and canned frosting. Totally up to you. I prefer the from scratch method, but sometimes time isn't on your side and you must improvise. :) The canned frosting won't be white chocolate flavored, but mixing in the cooled melted chips would probably work just fine. These are super pretty and great for a bridal or baby shower or even afternoon tea, if you still partake in that sort of thing. These were fun to make and tasted great. Enjoy!
NOTE: If you are making these the night before you may want to wait until morning to make the frosting. Placing the frosting in the fridge will cause the white chocolate to harden. It can be thawed int he microwave but may not have the same texture. Thanks to Jeannie for letting me know about this!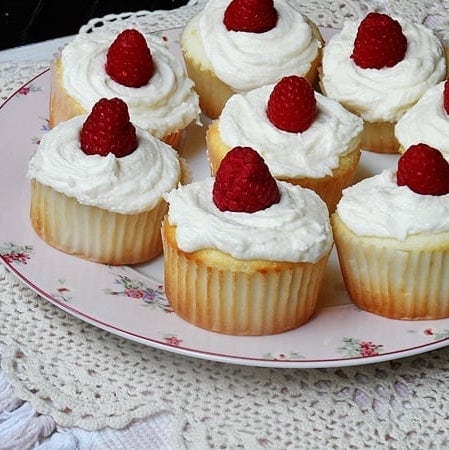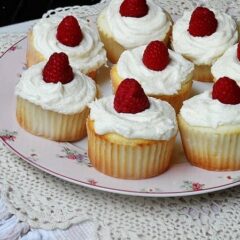 Raspberry Filled White Chocolate Buttercream Cupcakes
Delicious white cupcakes filled with raspberry and topped with white chocolate buttercream.
IMPORTANT - There are often Frequently Asked Questions within the blog post that you may find helpful. Simply scroll back up to read them!
Print It
Rate It
Ingredients
Cake
2 1/4

cups

cake flour

1

tablespoon

baking powder

1/2

teaspoon

salt

1 1/4

cups

buttermilk

4

large egg whites

1 1/2

cups

sugar

2

teaspoons

grated lemon zest

1

stick

8 tablespoons unsalted butter, softened
Filling and Topping
12

ounces

fresh raspberries

divided

1

tablespoon

water

3

tablespoons

white sugar

1

tablespoon

cornstarch

1/4

cup

water
Frosting
2

cups

white chocolate chips

1

cup

unsalted butter

5

cups

confectioners' sugar

2-3

tablespoons

milk

or as needed
Instructions
Preheat oven to 350 degrees F (175 degrees C). Grease 24 muffin cups or line with paper liners.
Prepare Cake
Whisk together cake flour, baking powder and salt.

In a separate bowl, whisk together egg whites and buttermilk.

Place the sugar in your mixer bowl and add the lemon zest. Rub the zest into the sugar with your fingers until moist and fragrant. Add the butter to the sugar mixture and beat at medium speed for 3 minutes, until very light.

With mixer on low, add one third of the flour mixture, then add half of the buttermilk mixture. Add half of the remaining dry ingredients, then the rest of the buttermilk mixture, and finally the remaining dry ingredients. Scrape down the bowl then beat on medium-high for 2 minutes to ensure it is thoroughly mixed and well aerated.

Spoon batter into prepared muffin cups, filling them about 2/3 full.

Bake in the preheated oven until cupcakes are very lightly browned and a toothpick inserted into the center of a cupcake comes out clean, 20 to 25 minutes.

Cool cupcakes in the pans for 5 minutes; transfer cupcakes to cooling rack to finish cooling.
Make the Filling:
Place 10 ounces of the raspberries, 1 tablespoon of water, and the white sugar in a food processor. Pulse several times to chop raspberries; blend until pureed, about 30 seconds.

Place cornstarch in a small bowl. Using a spoon, mix in a small amount of the water (5-6 drops), mixing to form a paste. Slowly drizzle in more water, mixing, adding water, mixing, etc, until all water has been added. Pour mixture into the raspberry mixture in the food processor and blend again until smooth.

Push the mixture through a sieve to remove the seeds, pressing against the mixture to be sure you get all the berry goodness.

Pour raspberry mixture into a saucepan and simmer over low heat until thickened, about 5-10 minutes. Let the raspberry filling cool.

Cut a core out of each cupcake about 1 1/2 inches long and 1 inch in diameter.

Spoon about 1-2 teaspoons raspberry filling into each cupcake. Replace the top of the cupcake.
Make the Frosting
Place white chocolate chips in a microwave-safe bowl and heat in 30-second intervals until chips begin to melt, about 1 minute. Stir and repeat, heating chips about 10 seconds at a time, until thoroughly melted. Stir until chocolate is smooth and no more lumps remain.

Beat butter with an electric mixer on medium speed in a mixing bowl until fluffy. Beat in half the confectioners' sugar, melted white chocolate chips, and milk until mixture is smooth and creamy.

Slowly beat in remaining confectioners' sugar until smooth; if frosting is too stiff, beat in more milk, 1 teaspoon at a time.

Spread or pipe the white chocolate frosting over the cupcakes to cover the raspberry filling and decorate the tops with remaining raspberries.
Expert Tips & FAQs
Saturated Fat 7.4 g, Polyunsaturated Fat 0.3 g, Monounsaturated Fat 2.3 g, Cholesterol 23.6 mg, Sodium 143.4 mg, Potassium 45.8 mg, Total Carbohydrate 39.0 g, Dietary Fiber 1.7 g, Sugars 27.0 g, Protein 3.3 g
If you are making these the night before you may want to wait until morning to make the frosting. Placing the frosting in the fridge will cause the white chocolate to harden. It can be thawed int he microwave but may not have the same texture.
Amanda Formaro is the crafty, entrepreneurial mother of four grown children. She loves to bake, cook, make kid's crafts and create decorative items for her home. She is a crafting expert and guru in the kitchen and has appeared online and in print publications many times over the years. She is also a craft book author five times over and product developer as well as the owner of
FunFamilyCrafts.com
. You can find her on social media by using the buttons to the left!
Latest posts by Amanda Formaro (see all)