This twist on your favorite salisbury steak replaces half of the ground beef with portobello mushrooms! Hence, portobello salisbury steak.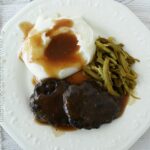 Comfort food. It's defined as food that provides a feeling of well-being, often associated with childhood or home cooking. Salisbury steaks fit into that category for me. My parents divorced when I was 6 years old, so pretty much my whole childhood my parents both worked two jobs. So aside from my mother's baked chicken and my father's minced meat and potatoes, we ate a lot of frozen and prepackaged meals. One of those were On-Cor Salisbury Steaks in Gravy. That's why making these portobello salisbury steak recipe was so fun for me.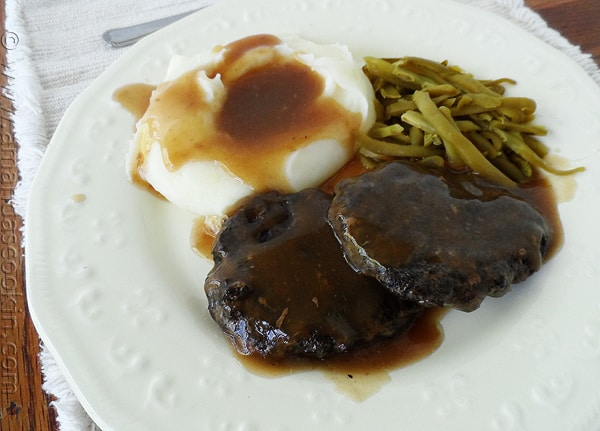 Changing Things Up
I found a recipe for Salisbury Steaks several years ago and had it tucked away in a binder. I finally tried it back in 2008 and it's been my go-to recipe ever since. The original Salisbury Steak recipe uses 2 pounds of ground beef. This recipe for portobello salisbury steak is an adaptation of my original. It uses ground beef and portobello mushrooms and has become one of my favorite dinner ideas using ground beef alongside my Shepherd's Pie recipe.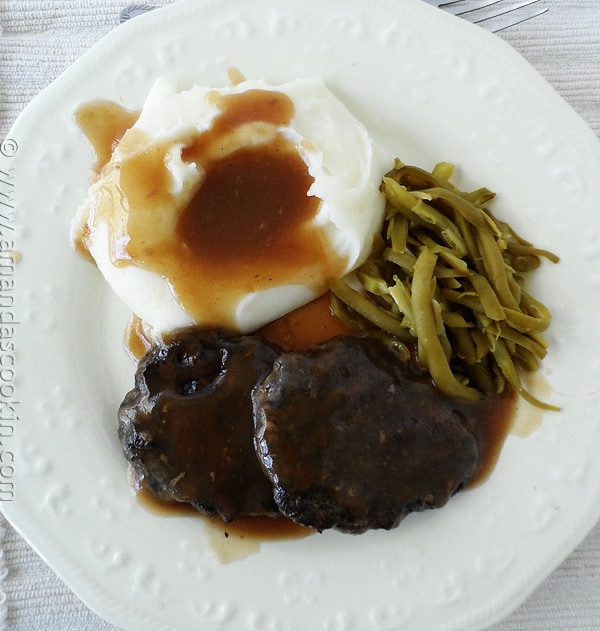 Recently I was challenged by The Mushroom Council to experiment with the swapability of mushrooms.
A Little Culinary Inspiration
They are currently sponsoring several of the Taste of Home Cooking Schools around the country, so they sent me up there to view the presentation first hand. Taste of Home's Culinary Specialist is Eric Villegas and I have to say he was so entertaining to watch! While we weren't able to be up close and personal due to the size of the crowd, video projectors were in place to allow us an up close view of what Eric was demonstrating.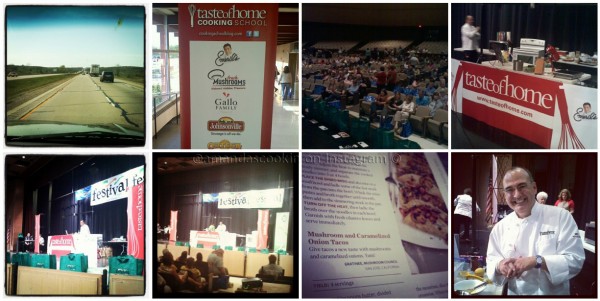 Chef Eric showed the audience how substituting mushrooms for some of the red meat (or all of it depending on the recipe) in your dish can save you plenty of fat calories as well as provide essential nutrients from this fabulous vegetable. Audience members watched and learned as Eric demonstrated the swapability technique and its three easy steps – chop, cook and combine. First he chopped the mushrooms similar to the texture of the meat, then he cooked the chopped mushrooms, then he combined the cooked mushrooms with the meat. The mushroom tacos with salsa verde smelled divine!
Armed with some inspiration from the presentation, I decided to revamp my precious Salisbury Steak recipe. the problem that I have, that I'm sure many of you do as well, is there are several mushroomaphobic people in this house. So the only way to really test this out and get some true response was to trick the family.
That's right. Trick the family.
Portobello Salisbury Steak
When I hit the market I decided to buy Portobello mushrooms. Before I continue, and before a debate begins in the comment section, let's establish that there are two spellings: Portobello and Portabella. The version with the "a" actually comes up as a misspelling in my spell checker, and I have always pronounced the word with the "o", so that's where I stand. It's interchangeable and if you prefer to use the "a" version, then you go ahead. :)
I chose Portobello because of its texture and color. They have a deep, dark color, making them very easy to hide in the meat (just sayin') and they are often used as a substitution for meat in vegetarian recipes (ie. Portobello Mushroom Burgers). If you would like to know more about the different mushroom varieties available out there, The Mushroom Council has a mushroom varieties section here: on their website. This section provides a good cooking overview of which mushrooms work best for salad, sautéing, casseroles, appetizers, raw vs. cooked, stir fries, etc.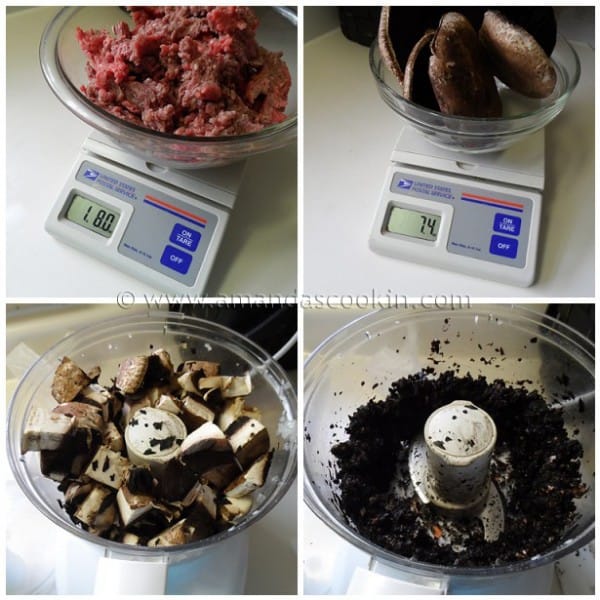 Trying Out Swapability
To try out the swapability technique, I replaced one-half pound of the ground beef with minced mushroom. I chopped the mushroom into large cubes and ran them through my handy dandy food processor. Within 10 seconds I had beautifully minced, dark and rich mushroom pieces. Mmmm!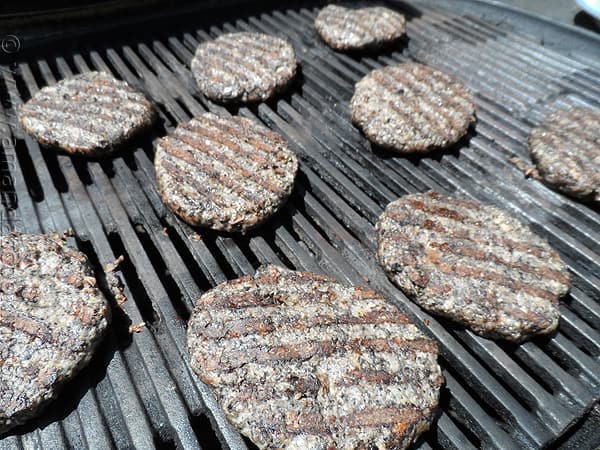 As you can see from the grill picture, the mushroom definitely changes the look of the grill marks. They are more brown than the typical dark brown, almost black marks of just meat.
To see the entire thing in action I've put together this video of me making this portobello salisbury steak recipe.
The True Taste Test
When they were baking in the oven, my 20 year old son and my husband were asking what I was cooking because the aroma was fabulous. When I told them Salisbury Steaks they were excited as it's one of their favorite meals. Little did they knew I hid their biggest culinary fear inside!
Hubby: "Oh wow. This is good. This is another one of those to put in the "don't lose this recipe' file."
Son: "Oh. My. God. That was the best freakin' thing I've eaten in a long freakin' time."
Haha.
I win!
I didn't tell them right away, but once I did they handled it pretty well. While my son felt a little betrayed at first, he got over it fast. My husband said he had a feeling that I had done something to the recipe, he still thought it was fabulous. Success!
How They Compare
Here's the nutritional info for both my portobello salisbury steak and my regular salisbury steak.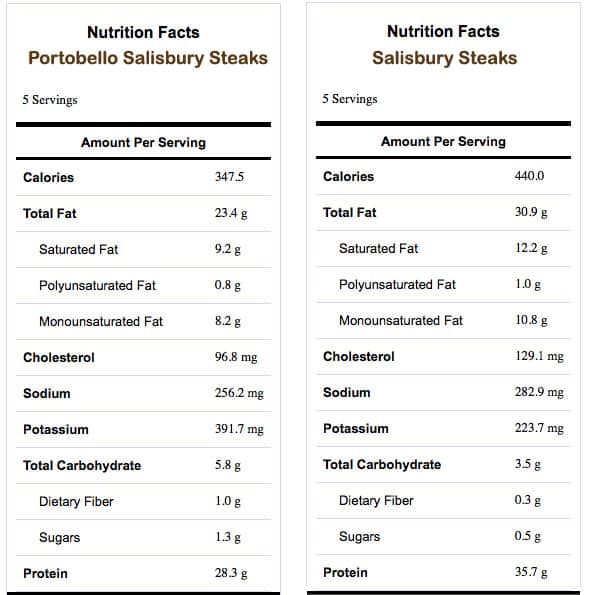 Obviously one of the benefits of swapping mushrooms for some of the meat is the nutritional count. As you can see, just by swapping out half a pound of the meat for mushrooms, you save 100 calories per serving, not to mention all of the other areas that went down, such as fat, cholesterol and carbs. Turns out that portobello salisbury steak was a real winner!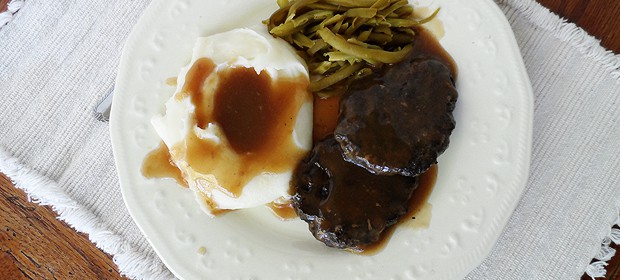 So don't be afraid to do a little swapping yourself, even if you have mushroomaphobics like me! Some other recipes I've considered trying this with would be tacos, any casserole using ground beef, sausage or ground chicken, lasagna and pasta. What ideas do you have?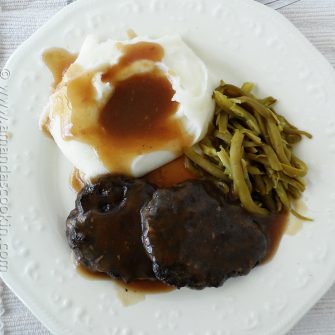 Portobello Salisbury Steaks
This twist on your favorite salisbury steak replaces half of the ground beef with portobello mushrooms! Hence, portobello salisbury steak.
Print
Rate
Ingredients
1 1/2

lbs

ground beef

1/2

pound

Portobello mushrooms

1

egg white

1/3

cup

onion

diced

1/4

cup

crushed Saltine crackers

2

tbsp

1% milk

1/4

tsp

salt

1/8

tsp

pepper

2

cups

brown gravy

homemade, canned, whatever your preference
Instructions
Preheat the grill. Preheat oven to 375 F.

Mix all ingredient together in a bowl, use your hands to be sure everything is mixed evenly.

Form 10 oval shaped patties from the meat mixture.

Cook patties on the grill, just enough to get those fabulous grill marks on both sides.

Remove from the grill and put all patties into a 13x9x2 baking pan. Cover patties with brown gravy.

Preheat oven to 375 degrees F. Cover pan tightly with aluminum foil. Bake in oven for 25 minutes.
Notes
Stovetop Method: Place grilled meat into a large saute pan or skillet. Cover with gravy. Bring gravy covered steaks to a low boil, reduce heat to a simmer. Cover and simmer for 25 minutes.
NOTE: Nutritional information is without gravy.
Saturated fat: 9.2 g Unsaturated fat: 9.0 g Carbohydrates: 5.8 g Sugar: 1.3 g Fiber: 1.0 g Protein: 28.3 g Cholesterol: 96.8 mg
[This post was sponsored by The Mushroom Council. I was compensated for the time that it took me to prepare this recipe and post, but all opinions are 100% mine.] 
Amanda Formaro is the crafty, entrepreneurial mother of four grown children. She loves to bake, cook, make kid's crafts and create decorative items for her home. She is a crafting expert and guru in the kitchen and has appeared online and in print publications many times over the years. She is also a craft book author five times over and product developer as well as the owner of
FunFamilyCrafts.com
. You can find her on social media by using the buttons to the left!
Latest posts by Amanda Formaro (see all)