This really is the best meatloaf recipe you'll ever make! Forget about boring meatloaf and try this delicious recipe.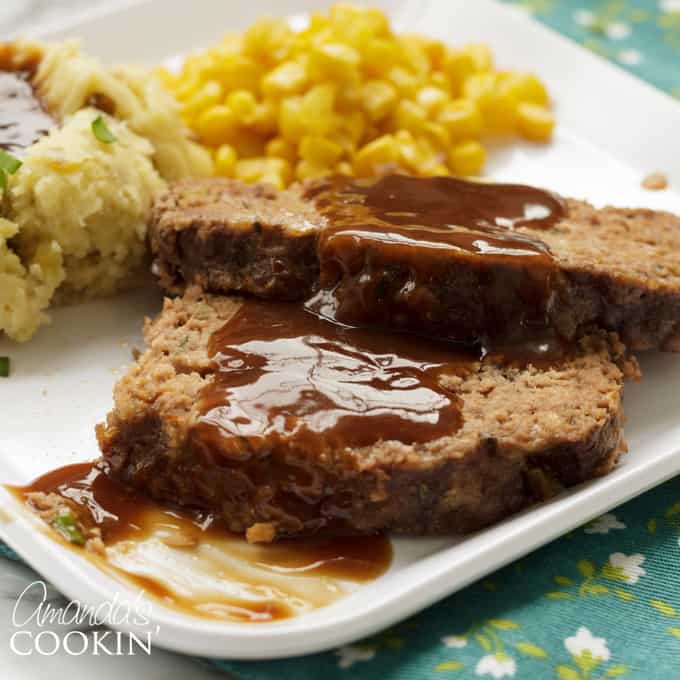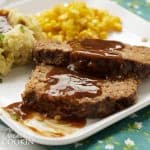 This is the best meatloaf recipe you will ever make! I've been making this meatloaf for my family for almost a decade and it's always a huge hit. Meatloaf is classic comfort food and this recipe is a no-fail, never fall apart, juicy and delicious dinner. The best meatloaf recipe ever.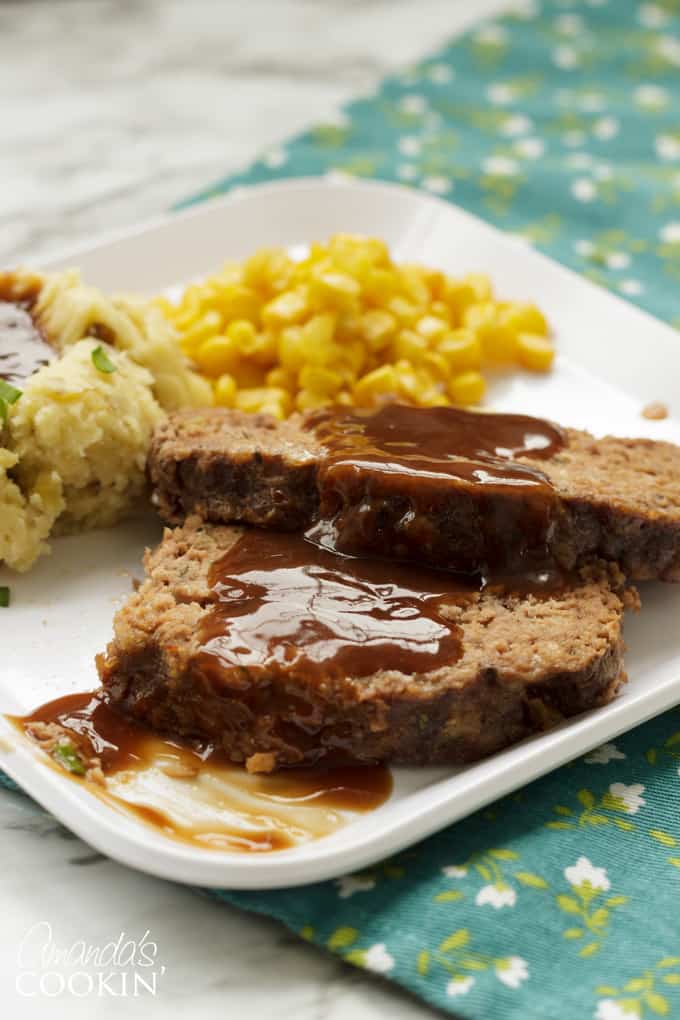 Best Meatloaf Recipe Ever
I've always liked meatloaf, especially cold, sliced thin, between two pieces of white sandwich bread with some mayo. Mmmm. Yes, I like it hot too, though I'm not a "glazed meatloaf" kinda gal. I prefer mine with mashed potatoes and brown gravy. When I'm in a hurry, I'll make this easy meatloaf with less ingredients, but my favorite is the recipe that follows.
I've ditched the meatloaf seasoning packet and progressed past the egg, onion, bread crumb classic, and graduated to this amazing meatloaf supper. I originally found it in my Cook's Illustrated newsletter. I have yet to try a recipe from them that hasn't been awesome, so at the time I felt very comfortable trying it.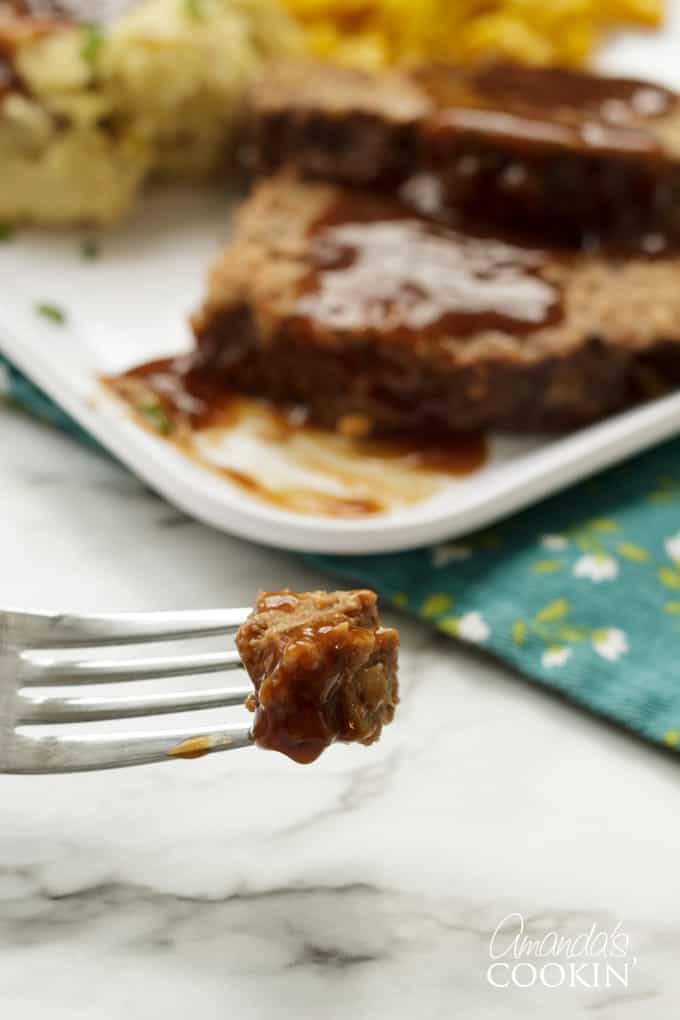 This meatloaf is always a huge hit. Fabulous flavor, smells awesome while cooking, and everyone loves it. A definite keeper with a permanent home on my master list of ground beef dinner ideas!
Ingredients for the Best Meatloaf
I usually use Monterey Jack cheese, grated on small holes of a box grater, but Mozzarella will work just as well.
While the recipe calls for unsalted butter, salted butter or even margarine is acceptable.
Vidalia onion is my favorite, but yellow onion works well too.
Celery and fresh garlic are minced up and cooked with the onion.
If you don't have fresh thyme leaves you can substitute 3/4 teaspoon of dried thyme instead. Thyme is super easy to grow in your yard though, plant some!
Regular paprika is fine, but smoked paprika would add a fun flavor element!
I always have those little cans of tomato juice, but if you don't you can literally squeeze some juice from a fresh tomato or buy the can and freeze the leftovers. Another option is to make a Bloody Mary!
I prefer unsalted low-sodium chicken broth, but you could use vegetable broth or beef broth instead.
For binders you will need large eggs and some unflavored gelatin powder.
Added flavor comes from the soy sauce and Dijon mustard. I wouldn't substitute the mustard, but you could use Worcestershire sauce in place of the soy sauce. They have a different flavor profile, but for this recipe it will totally work.
Instead of bread crumbs, I use crushed saltine crackers. Could you use bread crumbs? Sure, I don't see why not.
Fresh parsley leaves are very inexpensive, usually around a dollar at the grocery store. I would suggest using fresh if you can instead of the dried variety. If you must use dried, measure out half of what the recipe calls for.
Regular table salt and freshly ground black pepper are used for seasoning.
I've found that a combination of ground sirloin and ground beef chuck work best for me. If you want to use one type, pick a ground beef with a fat content of roughly 85/15. Too much fat makes a greasy meatloaf, but not enough will be dry.
Helpful Kitchen Tools
Helpful Cooking Tips:
Just a note about choosing your ground beef. You'll notice in the printable recipe that I suggest both ground sirloin and ground chuck. This has been my favorite combination, but you can use one type of ground beef with a fat content of roughly 85/15. You want some fat for juiciness and flavor, but not too much that it's a greasy mess. In addition, meat with too high of a fat content will shrink, a lot.
Don't over mix the meat, it will make your meatloaf tough. Use a fork, or a wooden spoon, but only mix until everything comes together, you don't want to compact it and smash it all together. A few squeezes at the end with your hands will help bind the proteins. This will help the meatloaf stay together so it won't fall apart when cooked.
I use a meatloaf pan with a drip insert. If you haven't heard of one of these, and you like to make meatloaf, you should have one. It's basically an 8×4 loaf pan, but there's an additional insert pan with drain holes that you place inside the main pan. The meat cooks in the pan with the drain holes, this allows the fat to drip down away from the meat, landing in the pan below. There's one at Amazon here, I've had mine for several years.
Run a butter knife around the edges, assuming you used the pan I mention above, especially if there's any fat that pooled around the top and didn't drip down. This sometimes happens as the meat cooks, it blocks the crevice along the side. Just jimmy the knife around the loaf and let the fat fall down the side of it so it can drain.
Meatloaf Glaze
I don't use the glaze, I prefer brown gravy on mine. Here's the glaze recipe in case you would like it:
½ cup ketchup
1 teaspoon hot pepper sauce
½ teaspoon ground coriander
¼ cup cider vinegar
3 tablespoons packed light brown sugar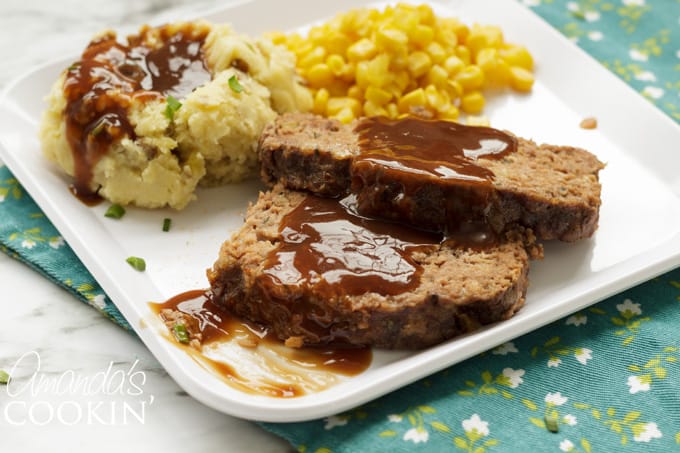 Leftover meatloaf is on of my favorite things. I can't wait to have some for lunch tomorrow on two slices of white bread with some mayo.
If you're like me and you love comfort food, you will want to try my Italian Lasagna, Beef Stroganoff, and these Hot Hamburger Sandwiches. If you're looking for a side dish for this meatloaf recipe, try my homemade stovetop mac and cheese or my Crockpot mashed potatoes. Scalloped potatoes are also a delicious choice.
This post was originally published on this blog on Feb 2, 2010.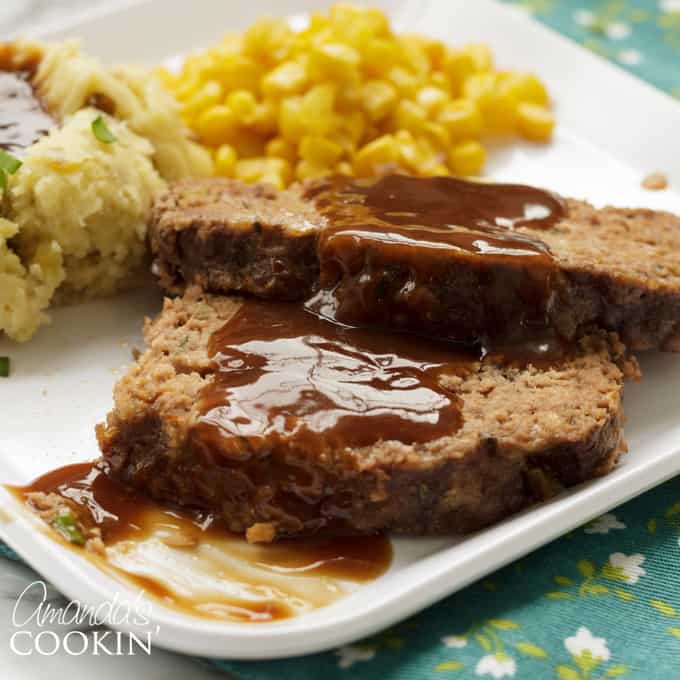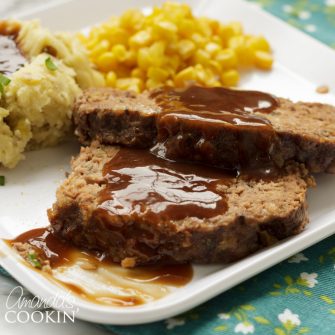 The Best Meatloaf Recipe Ever
This really is the best meatloaf recipe you'll ever make! Forget about boring meatloaf and try this delicious recipe.
Print
Pin Recipe
Rate
Ingredients
3

ounces

Monterey Jack cheese

grated on small holes of box grater (about 1 cup)

1

tablespoon

unsalted butter

1

cup

onion

chopped fine

1/2

cup

celery

chopped fine (about 1 stalk)

1

clove

garlic

minced or pressed through a garlic press (about 1 teaspoon)

2

teaspoons

minced fresh thyme leaves or 3/4 teaspoon dried

1

teaspoon

paprika

1/4

cup

tomato juice

1/2

cup

low-sodium chicken broth

2

large

eggs

1/2

teaspoon

unflavored gelatin

powdered

1

tablespoon

soy sauce

1

teaspoon

Dijon mustard

2/3

cup

crushed saltine crackers

2

tablespoons

minced fresh parsley leaves

3/4

teaspoon

table salt

1/2

teaspoon

ground black pepper

1

pound

ground sirloin

1

pound

ground beef chuck
Instructions
Adjust oven rack to middle position; heat oven to 375 degrees. Spread cheese on plate and place in freezer until ready to use.

Heat butter in 10-inch skillet over medium-high heat until foaming; add onion and celery and cook, stirring occasionally, until beginning to brown, 6 to 8 minutes. Add garlic, thyme, and paprika and cook, stirring, until fragrant, about 1 minute. Reduce heat to low and add tomato juice. Cook, stirring to scrape up browned bits from pan, until thickened, about 1 minute. Transfer mixture to small bowl and set aside to cool.

Whisk broth and eggs in large bowl until combined. Sprinkle gelatin over liquid and let stand 5 minutes. Stir in soy sauce, mustard, saltines, parsley, salt, pepper, and onion mixture. Crumble frozen cheese into coarse powder and sprinkle over mixture. Add ground beef; mix gently with hands (I used a wooden spoon, a fork works well too, just don't over mix it) until thoroughly combined, about 1 minute.

Shape meat mixture into a loaf, or use a loaf pan with a removable draining bottom like mine.

Bake until an instant-read thermometer inserted into center of loaf reads 135 to 140 degrees, 55 to 65 minutes. See my note #6 above if you are using a meatloaf pan. Remove meat loaf from oven.

Let meat loaf cool about 20 minutes before slicing.
Video
Nutrition
Serving:
1
slice
|
Calories:
302
cal
|
Carbohydrates:
6
g
|
Protein:
20
g
|
Fat:
21
g
|
Saturated Fat:
8
g
|
Cholesterol:
110
mg
|
Sodium:
458
mg
|
Potassium:
357
mg
|
Sugar:
1
g
|
Vitamin A:
390
IU
|
Vitamin C:
4.3
mg
|
Calcium:
92
mg
|
Iron:
2.6
mg
Amanda Formaro is the crafty, entrepreneurial mother of four grown children. She loves to bake, cook, make kid's crafts and create decorative items for her home. She is a crafting expert and guru in the kitchen and has appeared online and in print publications many times over the years. She is also a craft book author five times over and product developer as well as the owner of
FunFamilyCrafts.com
. You can find her on social media by using the buttons to the left!
Latest posts by Amanda Formaro (see all)