If you're looking for a quick and easy dessert that you can serve to a crowd for Easter, these cute Easter Chick Cupcakes are a fun little design that you can finish in seconds. They're easy enough where just about anyone can make their very own adorable Easter chick cupcakes, and wow a crowd- just like these Rice Krispie Nests!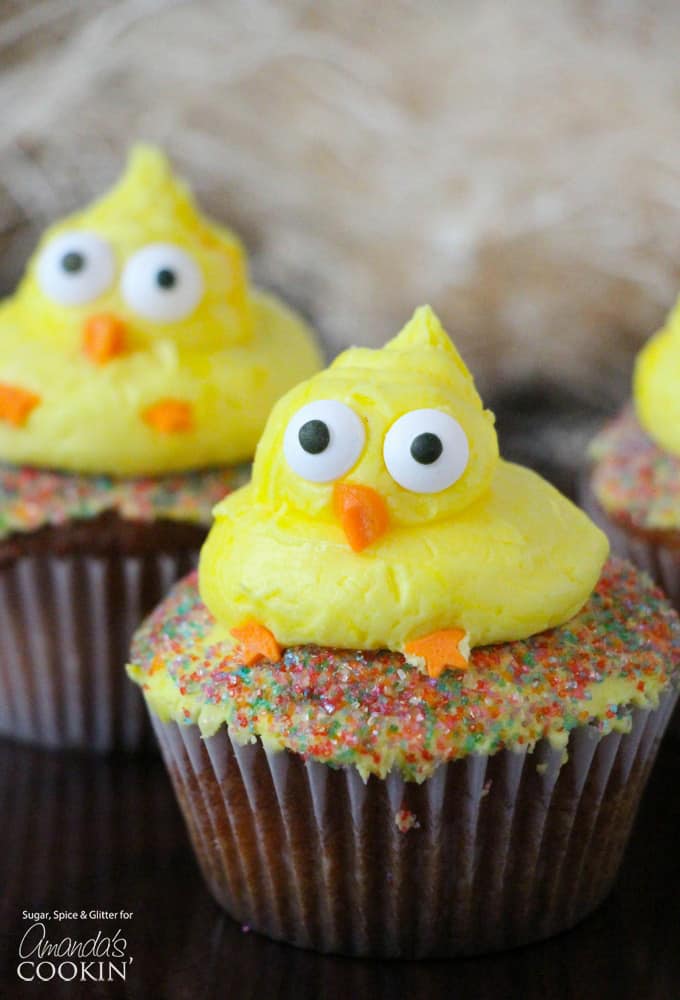 Easter Chick Cupcakes
I love elaborate cake designs but let's be honest, that's when life is peaceful, the kitchen is clean and the kids are all being cooperative.
Most of the time, if I have to make a dessert I need something quick and easy – but I don't want to have to schlep out boring desserts. (I have a reputation to uphold here.) I also love involving my daughter in the baking and decorating, so coming up with something that she can do without me taking over or hovering, that's a kitchen win!
For these cute and easy Easter chick cupcakes, I used my favorite buttermilk cupcake recipe and a vanilla buttercream along with an assortment of candies (and carrots!) that I already had on hand.
We've done variations of this design throughout the years – rolling the chicks in dyed shredded coconut to give the illusion of feathers, or using mini chocolate chips for smaller eyes. Be creative and find uses for what you already have on hand. I didn't want to make candy-coated chocolate chips for beaks (not exactly quick and easy), so I cut up a carrot to make small triangular beaks.
There are affiliate links in this post. That means if you buy something from that link, I will earn a small commission, but it won't cost you anything additional.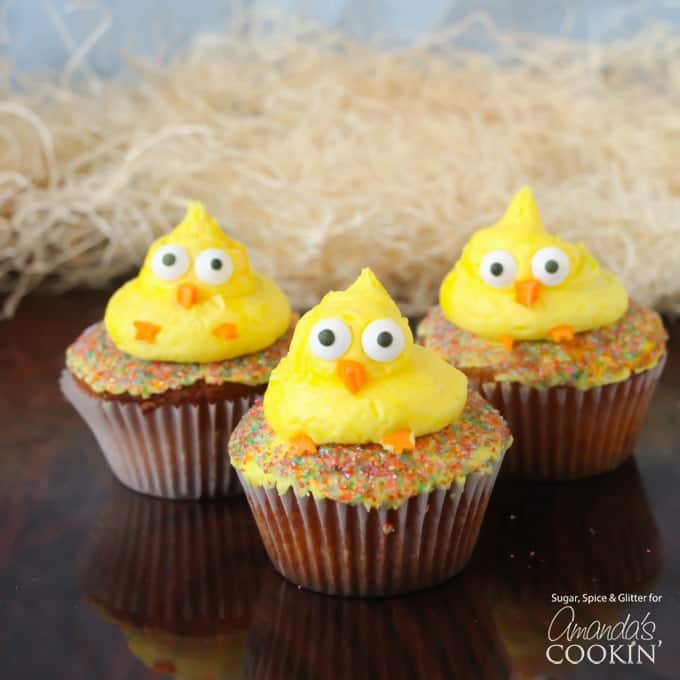 Ingredients to Make Easter Chick Cupcakes
1 1/4 cups cake flour
1 1/4 tsp baking powder
1/2 tsp baking soda
1/2 tsp salt
2 large eggs
3/4 cup sugar
1 1/2 tsp pure vanilla extract
1/2 cup olive oil
1/2 cup buttermilk
For the vanilla buttercream and decorations:
2 cups butter
8-10 cups icing sugar
2-4 Tablespoons cream or milk
2 teaspoons vanilla
Yellow gel food coloring
48 orange star sprinkles
48 Candy Eyes
1 carrot or 24 orange candy-coated chocolate chips
Edible glitter or sprinkles, optional
Makes 24 cupcakes.
Kitchen Tools You May Find Helpful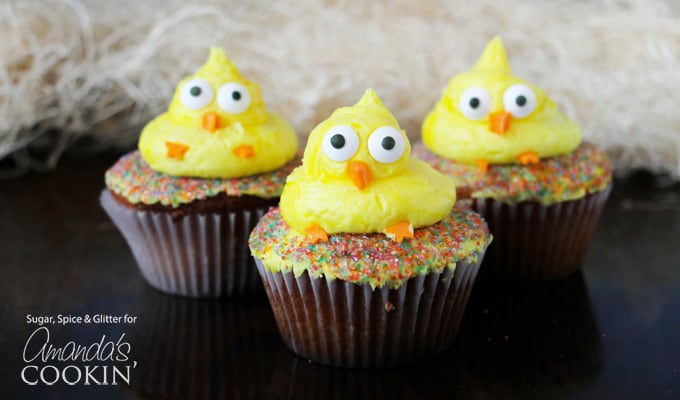 These Easter chick cupcakes were super easy to make and made a perfect classroom treat for a recent event in my daughter's classroom. They'd also be fun as kids' dessert at a family get-together, especially if the grown-ups want something less kid-friendly. (Although, I'd be happy to get these as my dessert at any Easter get-together!)
They also make a cute gift for neighbors or as a treat over coffee with friends.
If you want more Easter recipe dessert ideas you may want to hop over and check out this Checkerboard Cake for Easter, the ever delicious Homemade French Silk Pie, these Easter Bunny Cupcakes, this beautiful Carrot Cake Trifle, or even these colorful Frosted Sugar Cookie Bars. Happy baking!