There are nachos and then there are Filet Mignon Steak Nachos! I mean even ordinary nachos are great, right? But when you use tender, seasoned bites of filet mignon in an appetizer that doubles as a dinner, they'll be coming back for seconds and thirds. With Cinco de Mayo right around the corner, these steak nachos are the perfect choice.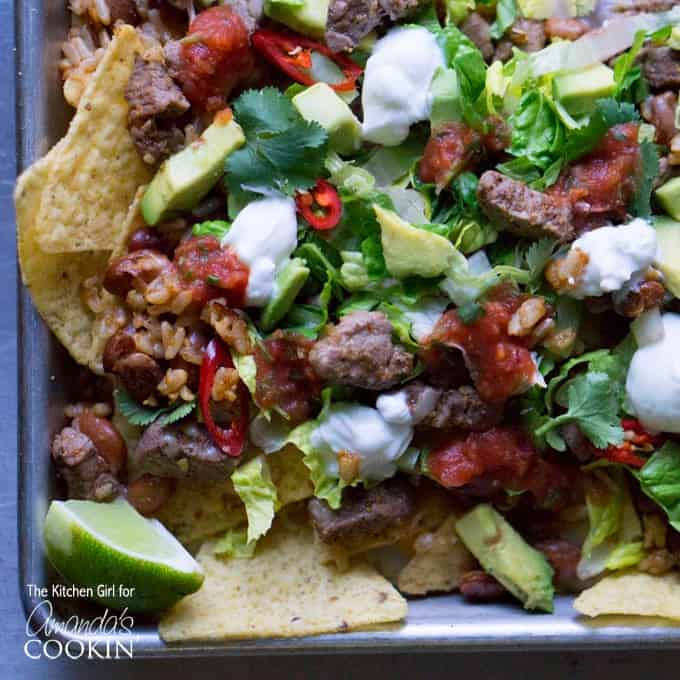 Filet Mignon Steak Nachos
Nachos are part of our regular meal routine at home. But, there's nothing routine about them. They're so awesome and unique… every single time. Nachos are very versatile and we pretty much always have a variety of the right ingredients on hand. That said, Filet Mignon Steak Nachos are the elevated version of our regular old nachos. They are most definitely not routine. In fact, they originated from some special occasion leftovers. We were left with two gorgeous, perfectly cooked, half-eaten filets that begged to be creatively repurposed. Yeah, we know how to turn an excellent meal into two excellent meals.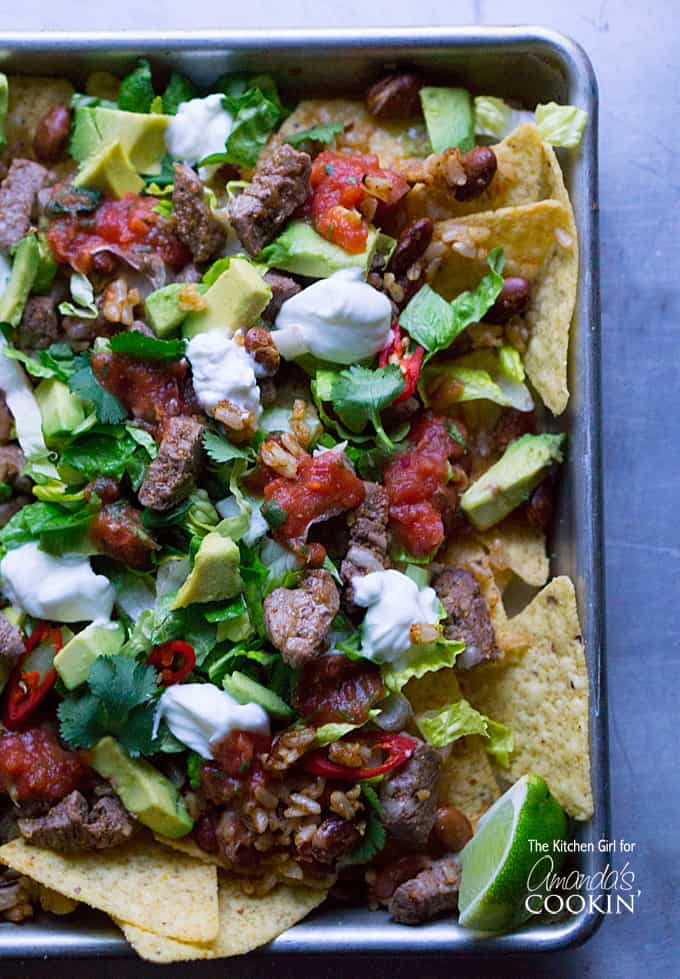 There are affiliate links in this post. That means if you buy something from that link, I will earn a small commission, but it won't cost you anything additional.
Ingredients you will need
18 oz bag tortilla chips
1/2 lb Queso Oaxaca (Mexican cheese), shredded
2 tablespoons olive oil
1/2 lb cooked filet mignon, cut into bite-sized pieces
1- 12 oz can whole pinto beans
1 cup cooked rice
2 teaspoons taco seasoning
1/2 teaspoon chili powder
Salt to taste (optional)
4 cups romaine lettuce, shredded
1 avocado, diced
1/2 cup 5-Minute Restaurant Style Salsa
1/4 cup sour cream
1/2 bunch cilantro, loosely chopped
1 lime, cut into quarters
Handy tools for this recipe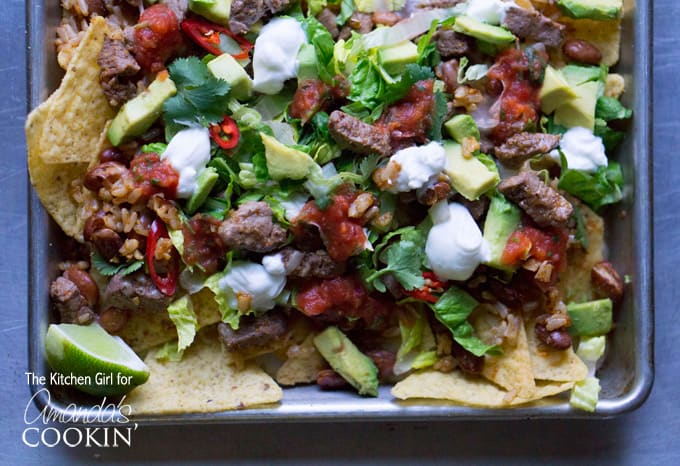 Now, what if you don't have fancy, filet mignon leftovers and you just want to use cooked chicken or pork for your nachos? No hay problema! Just make sure the cooked meat is only mildly seasoned so as not to compete with with Mexican seasonings you'll be adding to it.
When it comes to toppings, this style of nachos really lends itself to lots of really fresh choices, such as lettuce, avocado, cilantro, and lime. It's like having a salad and nachos all-in-one. And, if you enjoy the flavor and consistency of an authentic Mexican salsa, try 5-Minute Restaurant Style Salsa, also known as "blender salsa". You won't believe how easy it is to pop the ingredients into a food processor or blender and poof! You have a quick, copycat version of your favorite Mexican restaurant salsa. After all, your Filet Mignon Steak Nachos deserve the very best.
More you might like: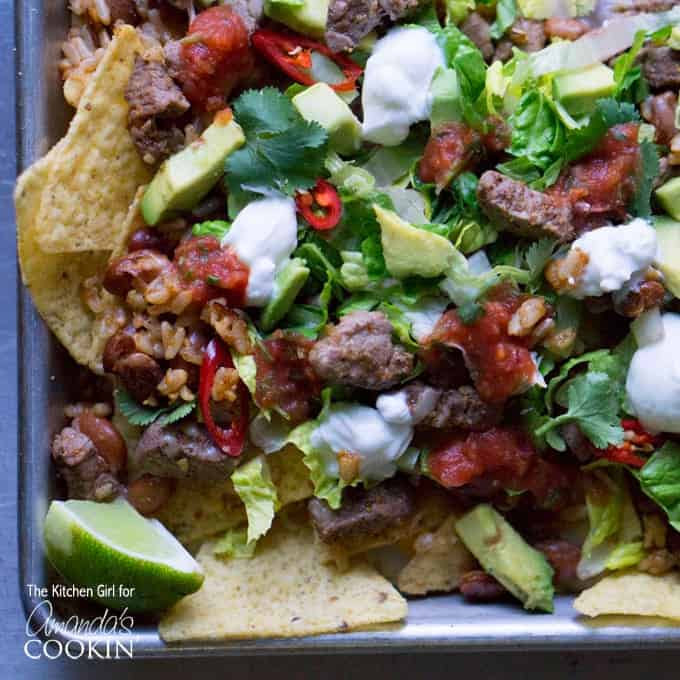 Filet Mignon Steak Nachos
IMPORTANT - There are often Frequently Asked Questions within the blog post that you may find helpful. Simply scroll back up to read them!
Print It
Rate It
Ingredients
18

oz

bag tortilla chips

1/2

lb

Queso Oaxaca

Mexican cheese, shredded

2

tablespoons

olive oil

1/2

lb

cooked filet mignon

cut into bite-sized pieces

1-12

oz

can whole pinto beans

1

cup

cooked rice

2

teaspoons

taco seasoning

1/2

teaspoon

chili powder

Salt to taste

optional

4

cups

romaine lettuce

shredded

1

avocado

diced

1/2

cup

5-Minute Restaurant Style Salsa

1/4

cup

sour cream

1/2

bunch cilantro

loosely chopped

1

lime

cut into quarters
Instructions
Preheat oven broiler to low setting and place oven rack in center position.

Spread tortilla chips on a large baking sheet.

Sprinkle Queso Oaxaca cheese over chips and set aside.

In a 10-inch, nonstick skillet over medium flame, add olive oil and heat until shimmering.

To the skillet, add filet mignon pieces, pinto beans, rice, taco seasoning, and chili powder; heat until thoroughly warmed, stirring as needed. (cooking tip: add a touch of water to this filling while heating if you want to create a juicier texture).

Meanwhile, place tortillas and cheese under broiler flame and heat until cheese is melted and chips are lightly toasted (about 3 minutes).

Remove chips and cheese from oven, scatter all topping ingredients over chips (steak, beans, rice, lettuce, avocado, salsa, sour cream, and cilantro).

Serve warm with lime wedges.
Traci authors The Kitchen Girl® food blog, where busy people on a budget grow smart food habits. She advocates eating for wellness as a lifestyle, offering healthy kitchen tips and everyday, whole food recipes that won't break your wallet...or your palate. She loves her job...even the 'dishes' part.
Latest posts by Traci Antonovich (see all)