English Muffin Pizza is such a fun snack for kids and adults. They are easy to make and you can turn lunch into a party with a fun pizza bar! A great idea for kids parties or just for a different twist on pizza night.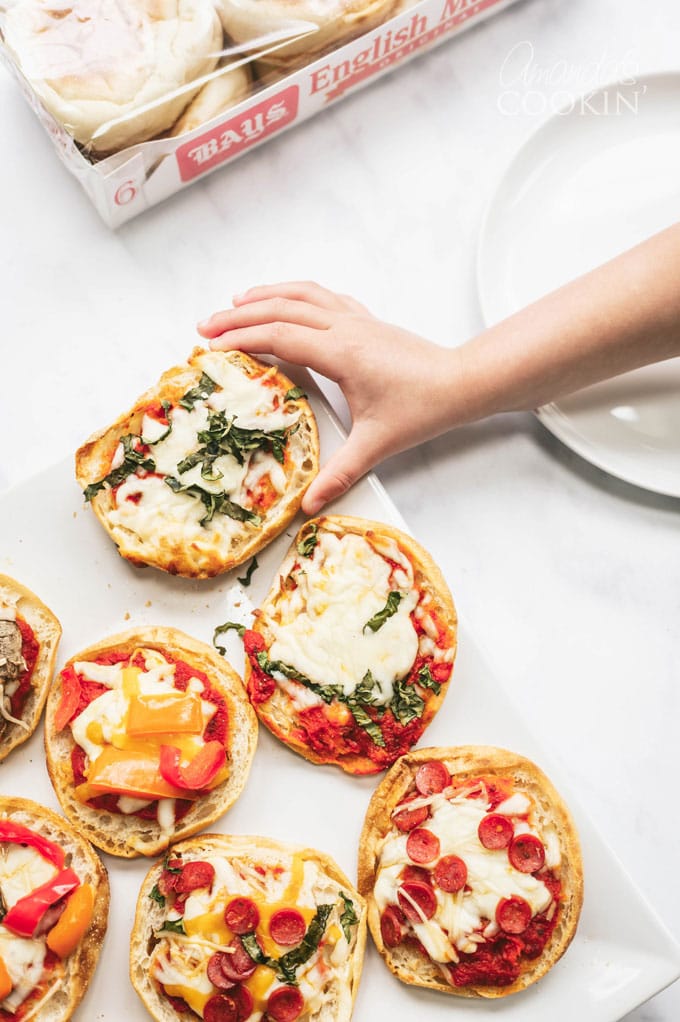 This is a sponsored post in partnership with Bays English Muffins®. All opinions are 100% my own.
When someone says English muffin, breakfast usually comes to mind. An egg and bacon sandwich, melty peanut butter with jelly, or something as elegant as Eggs Benedict. While English muffins are absolutely perfect for breakfast, they also make a toasty lunch or snack!
English Muffin Pizza
Everyone's tried English muffin pizzas at one point in their life. They offer all the flavors of traditional pizza without the hassle of dough. We love them here and find them to be a great lunch for the kids. They are also the perfect snack food for grown-ups watching football!
I got to thinking about it and realized we could take English Muffin Pizza to the next level by creating an English Muffin Pizza Bar!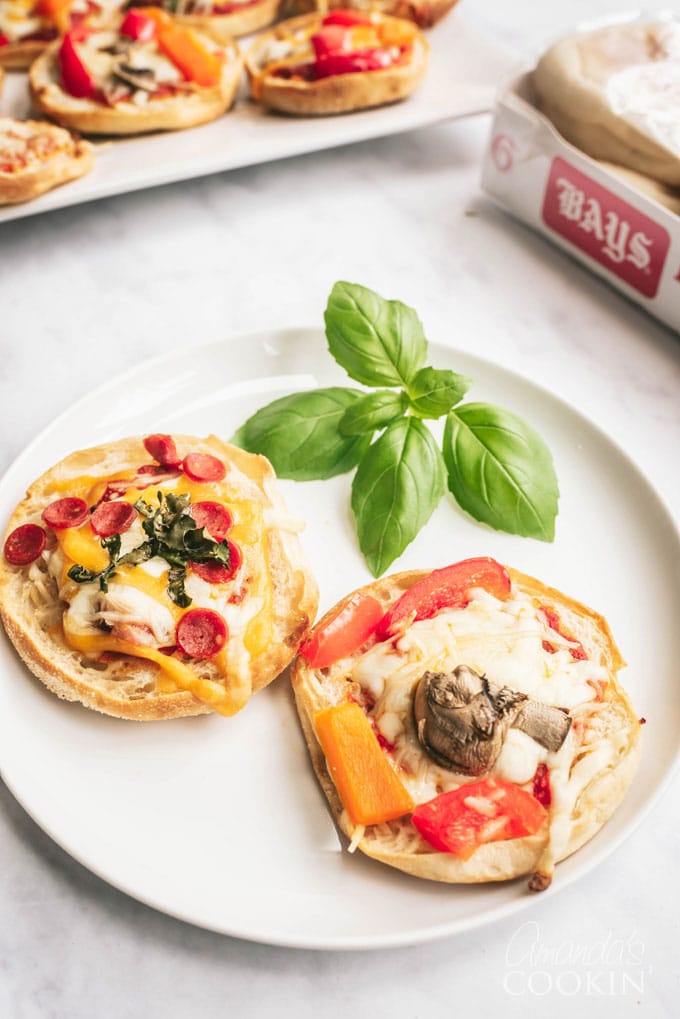 Create a Fun Pizza Bar
I can think of multiple occasions where creating a pizza bar would be ideal. Here's a few that come to mind:
Child's slumber party
Birthday parties
Football watch parties
Other watch parties
Pizza night for dinner
New Year's Eve parties
The best part about a pizza bar is that each person gets to make their own pizza from the bottom up. Bays English Muffins are pre-sliced, making this kind of pizza party a snap. Grab a couple packages from the dairy case at your local grocer and let's get to work!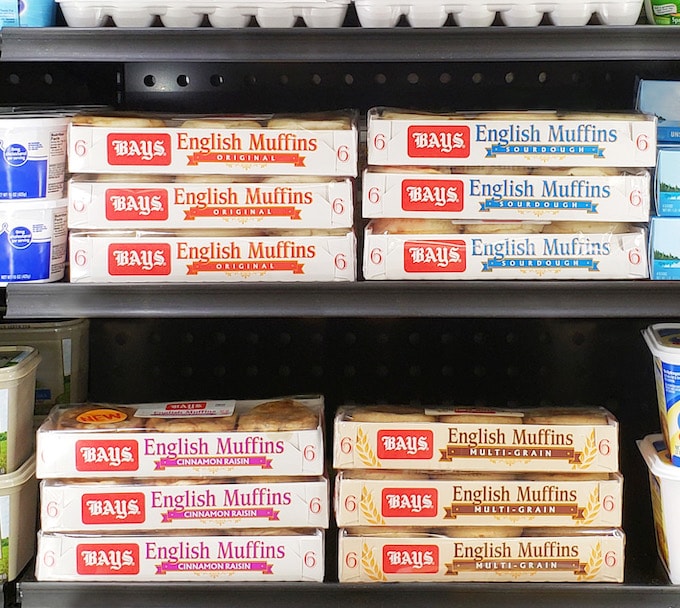 To set up your pizza bar, place the English muffins front and center. Next in line should be a bowl of pizza sauce with a ladle for serving. The sauce should be followed be large bowls of each type of cheese and individual smaller bowls of each type of topping.
Start with a toasty Bays English Muffin, add sauce, shredded cheese, and all the toppings you can fit. Pop them into the oven or toaster oven and voila! Instant fun and deliciousness.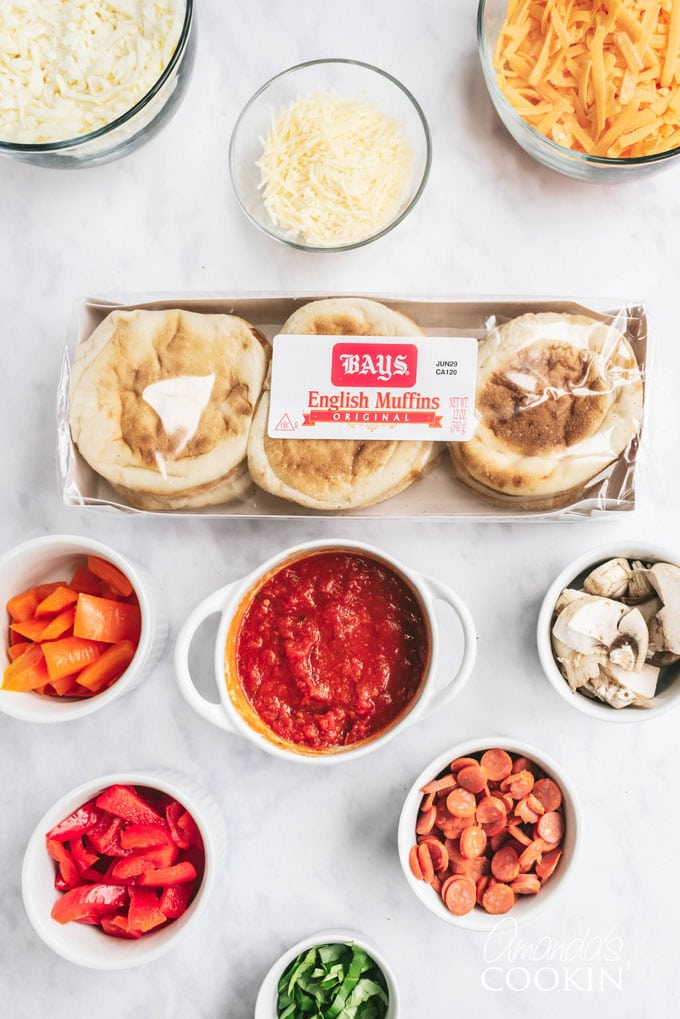 Ingredients for English Muffin Pizza
Bays English Muffins
Your favorite pizza sauce or my homemade sauce
Shredded cheese: Mozzarella, Cheddar, Parmesan
Ideas for toppings to include in your pizza bar:
Mini pepperoni
Bacon
Ham
Ground beef
Chopped bell pepper
Chopped onion
Black olives
Mushrooms
Pineapple chunks
Fresh basil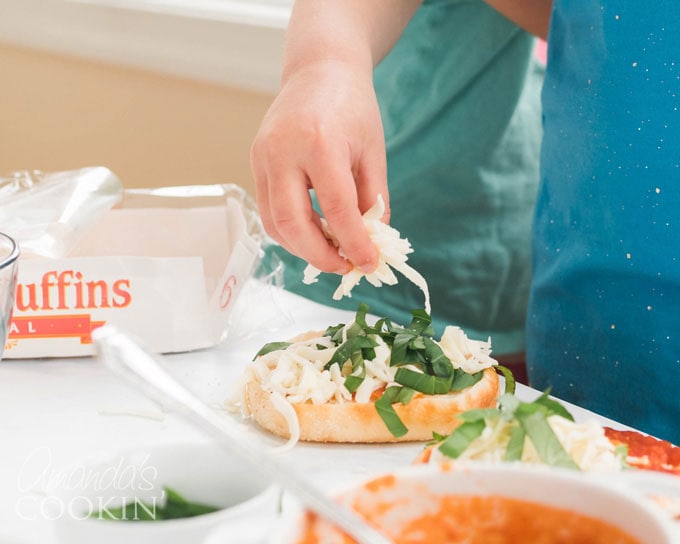 These are just suggestions, put out whatever toppings you and your guests will love!
Here are some tips for a great pizza bar:
Ramekins or small bowls are great for small gatherings or a group of kids.
If you're serving adults, salad or cereal bowls would be better.
People like to pile on the cheese, so be sure you have a big bowl out.
Put a gravy ladle in the pizza sauce!
Have a shaker or bowl of Parmesan cheese and red pepper flakes at the end of the bar.
If you prefer a crunchy muffin crust, toast the English muffins first. For softer crust, leave un-toasted.
Helpful Kitchen Tools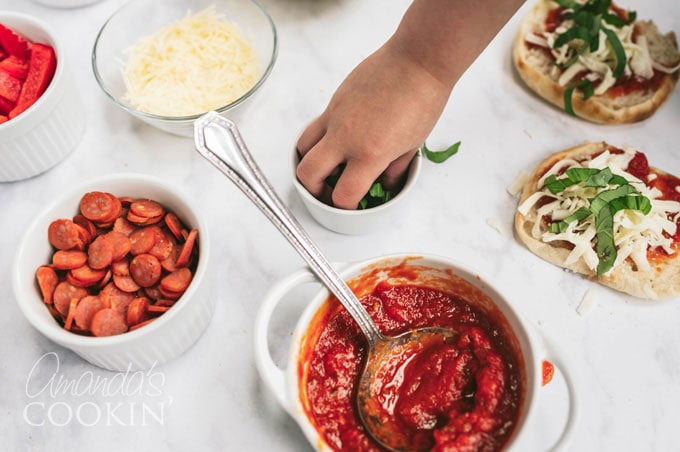 How to Make English Muffin Pizza
Preheat your oven or toaster oven to 375 F.
Place baking sheet at the end of the pizza bar.
Split a Bays English Muffin in half and add pizza sauce, cheese, and any other toppings you like.
Place mini pizza on baking sheet.
Once the last guest's pizza is on the baking sheet, pop it into the oven and bake for 10 minutes, or until cheese is melted and browned on the edges.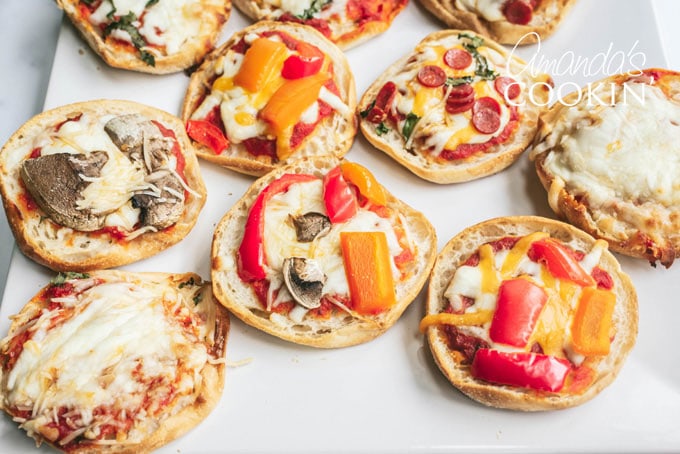 Microwave Instructions:
Yes that's right, you can make your English muffin pizza in the microwave!
Toast English muffins in the toaster first
Add toppings.
Microwave on high for 1 minute or until cheese is melted.
Note: microwaving will warm the sauce and melt the cheese but will not fully cook any vegetable toppings. We prefer the crunchy edges of our muffin pizzas that have been baked in the oven!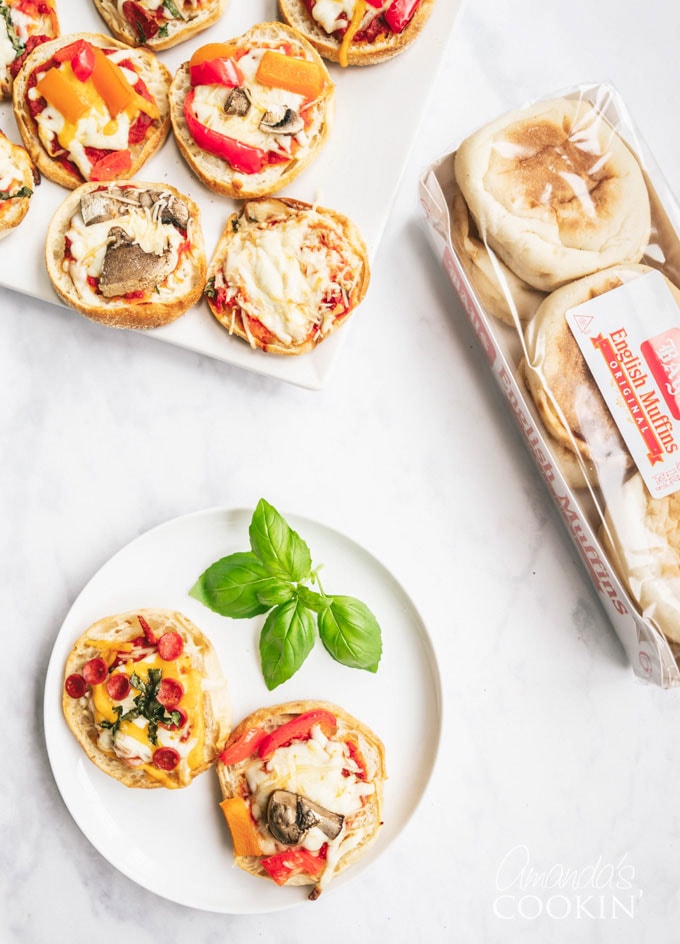 Bonus Tip – Freezer English Muffin Pizza!
After guests have made their pizzas and filled their bellies you'll likely have some ingredients left over. Freeze them for another day!
Assemble pizzas up to the point where you place them on the baking sheet.
Place the pan of uncooked pizzas into the freezer for 6-8 hours.
Once frozen the individual pizzas can be stored together in a freezer bag without sticking to each other.
Bake frozen pizzas in a preheated 425 F oven for 10-12 minutes or until cheese is melted and any visible sauce is bubbly.
So when is your English muffin pizza bar planned for? Aside from the suggestions above, what other situations could you see having a pizza bar?
Don't forget to grab our recipe for Eggs Benedict, another way to use those delicious English muffins. Or switch it up and make some delicious French Bread Pizza!
Find out more about Bays.com and visit them on Facebook at facebook.com/baysenglishmuffins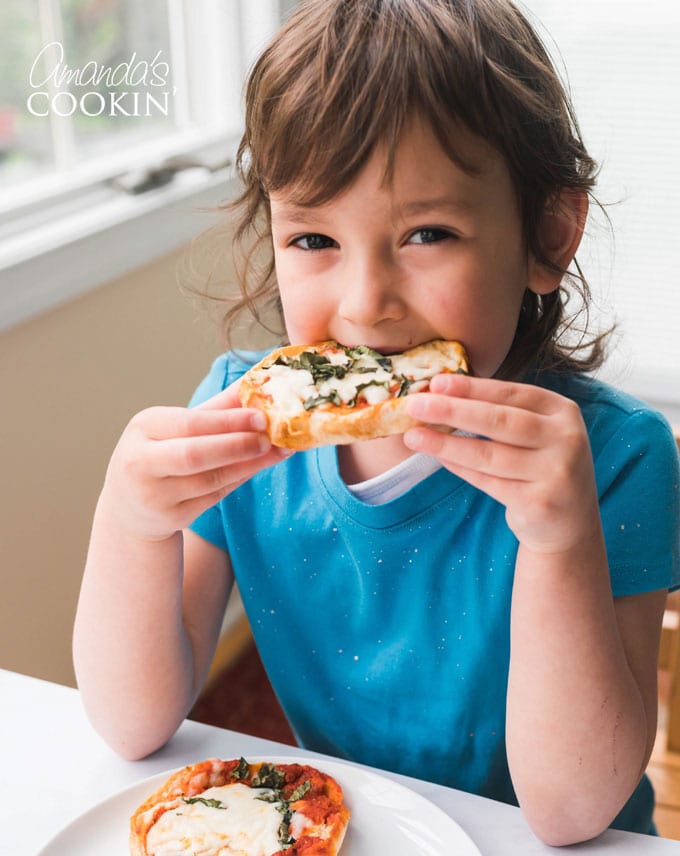 Amanda Davis is the entrepreneurial mom of four grown children and four step children. She and her husband, Chef Antoine, love to cook together creating recipes for this blog. Amanda also make kid's crafts and creates decorative items for her home. She is a crafting expert and guru in the kitchen and has appeared online and in print publications many times over the years. She is also a craft book author five times over and product developer as well as the owner of
FunFamilyCrafts.com
. You can find her on social media by using the buttons to the left!
Latest posts by Amanda Davis (see all)