Easter desserts are in high demand, whether they be "bunny themed", in pastel color, or just delicious one-pan desserts that are always a hit. Here are over 100 Easter dessert recipe ideas for you to choose from!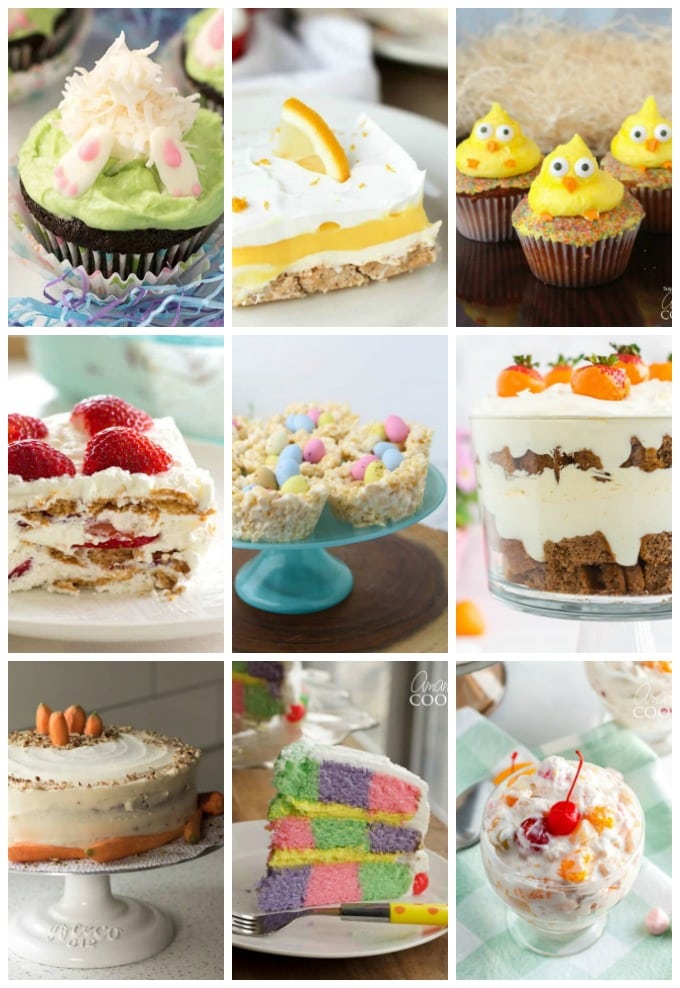 Easter Desserts – 100+ Recipes
Here's what you'll find in this recipe collection:
Easter Specific Desserts
Cute bunnies and chicks and pretty pastels, perfect for your Easter dessert spread.
One Pan Desserts
Always a hit and easy to make, these one-pan desserts are often no-bake as well!
Jello Desserts
Who can say no to a jiggly, nostalgic Jello dessert on Easter!
Poke Cake Recipes
If you're a fan of poke cakes, you'll come to the right place, we love them too!
Upside Down Cakes
Upside down cakes are perfect for Easter. Impressive, pretty, and oh so delicious.
Cake Recipes
So many cake recipes, so little time!
Cupcake Recipes
Sometimes cupcakes are just a must, Easter is no exception.
Cookies Recipes
Everyone loves a delicious cookie recipe. Here are some cookies your guests will love!
Brownies and Bars
Sqaures or bars, whatever you want to call them, they are great for dessert!
Cheesecakes
Looking for something creamy and dreamy? Try one of our delicious cheesecake recipes this Easter.
Cobblers
Try one of our delicious cobbler recipes for dessert.
Trifle Recipes
Making a trifle is so much easier than it looks, and they are so impressive looking!
Pie Recipes
And of course, there's pie!
Hopefully we've given you plenty of Easter desserts to choose from. Have a wonderful holiday!