Watch out world, there's a new chocolate cake in town and it has a delicious, dirty secret…avocados! We're all obsessed with avocados right? We put them on toast and tacos and in guacamole, and heck I'll eat them by themselves. But did you know you can turn these creamy gifts from nature into a dessert? Namely avocado cake? I give to you, Avocado Chocolate Mousse Cake!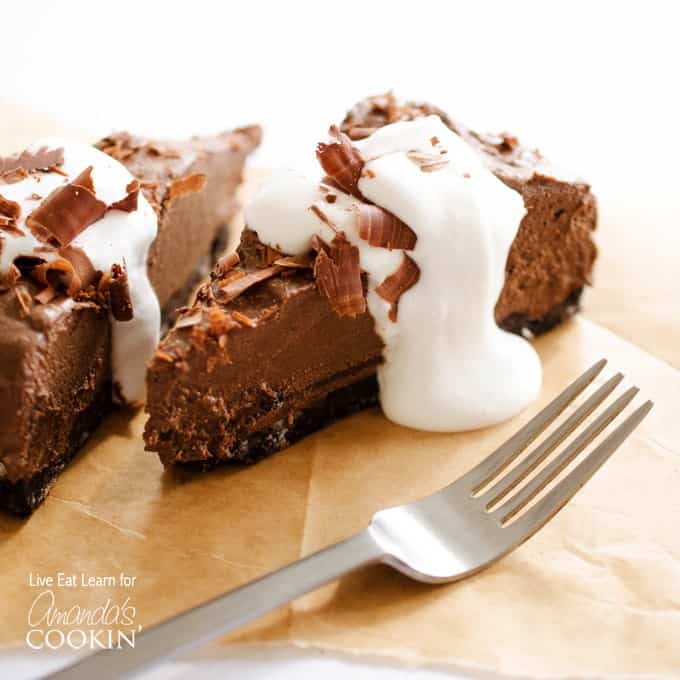 Avocado Chocolate Mousse Cake
So how does this work? And if it's avocado cake, can you taste the avocado? The answer: easy and no! By whipping avocado with melted chocolate, cocoa powder, vanilla, and salt you get an ultra-creamy, thick chocolate pudding of sorts. It's delicious as a simple dessert in this pudding form, but we're not stopping there. We want fluffy, decadent mousse!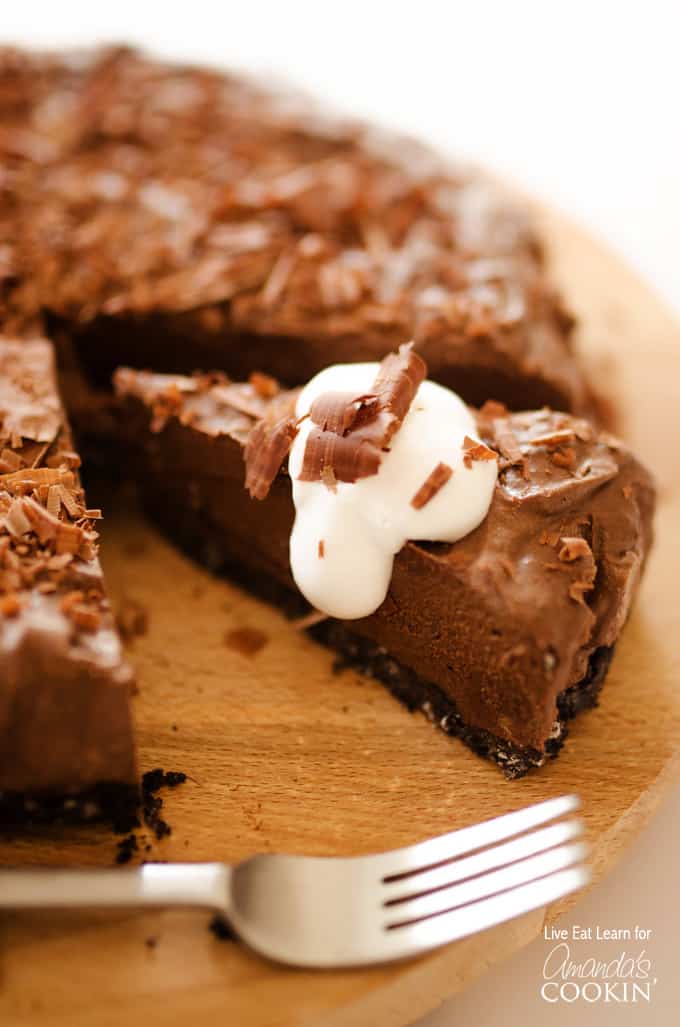 To do that, we're going to take some coconut cream and whip it up. Then just fold together the avocado chocolate pudding and coconut whipped cream. I just love making recipes like this in my food processor, so smooth! And there you have it, avocado chocolate mousse for your avocado cake! Crush some Oreo cookies and mix the crumbs with butter, press it into the bottom of a pie pan, pour in the mousse, and let the cake harden in the fridge or freezer. It's that easy!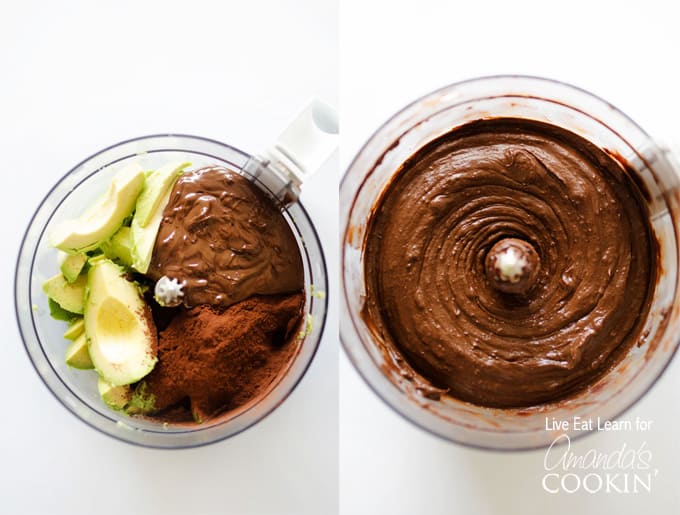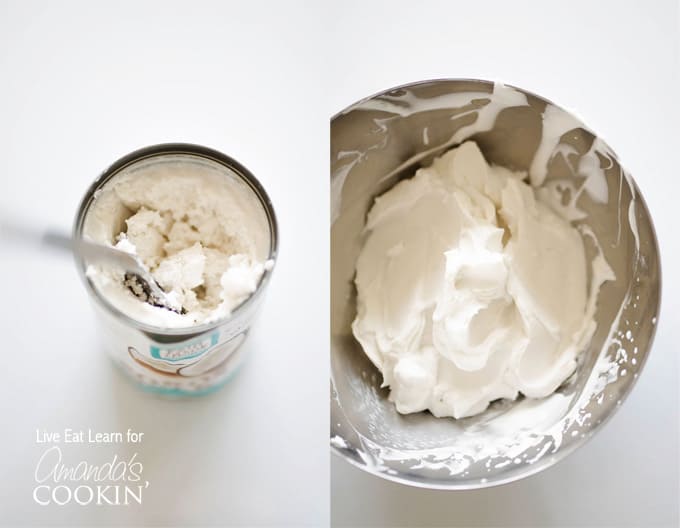 There are affiliate links in this post. That means if you buy something from that link, I will earn a small commission, but it won't cost you anything additional.
Here's what you'll need to make this Avocado Cake
20 Oreo cookies
5 tablespoons butter, melted
2 cans full-fat coconut milk + 1 more can for topping (optional)*
2 tablespoon sugar
1 large bar (7 oz, 200 g) of baking chocolate + more for topping (optional)
5 avocados
½ cup cocoa powder
½ teaspoon vanilla extract
Pinch of salt
Tools you will find helpful: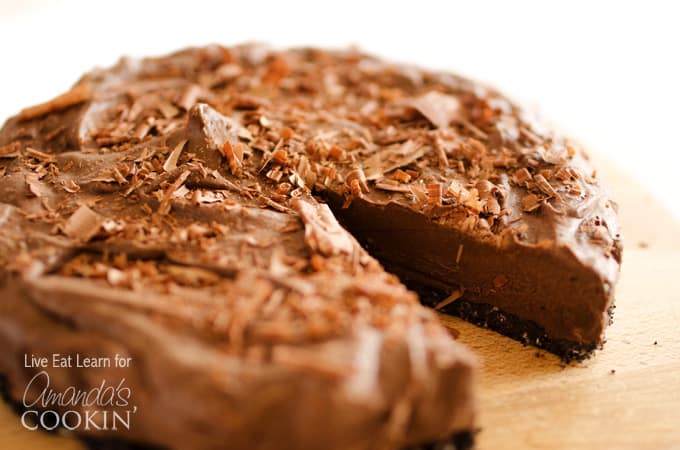 This is such a fun dessert to make and I can guarantee that NO ONE will be able to guess your secret ingredient! And without any dairy, this is perfect for the lactose intolerant folks as well. I topped mine with more coconut whipped cream and some shaved chocolate, but you can top it with anything your heart desires, like fresh berries and edible flowers in the summer or chopped nuts in the cooler months.
Here are several more interesting cakes: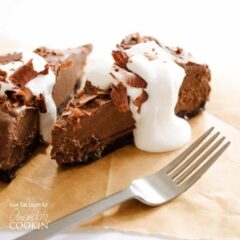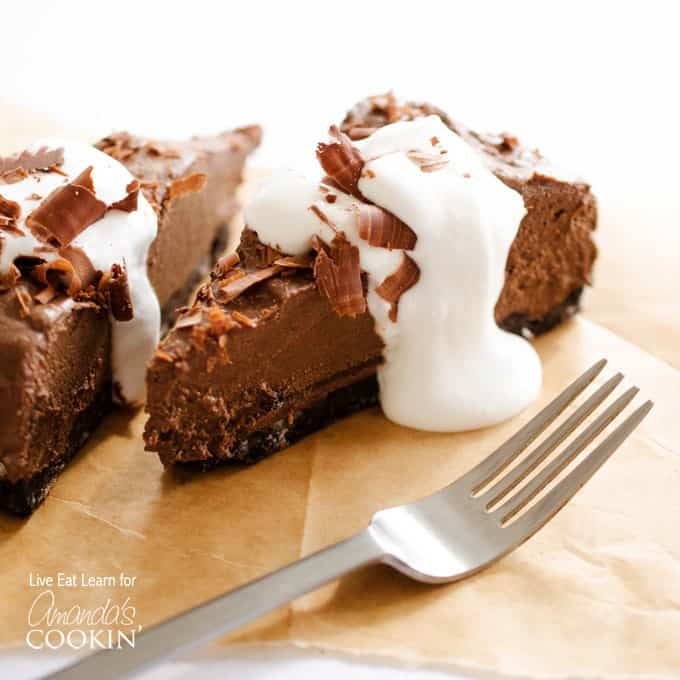 Avocado Chocolate Mousse Cake
This chocolate mousse cake has a delicious, dirty secret...avocados! Creamy, rich, and absolutely delicious, no one will ever guess it's packed with avocados.
IMPORTANT - There are often Frequently Asked Questions within the blog post that you may find helpful. Simply scroll back up to read them!
Print It
Rate It
Ingredients
20

oreo cookies

5

Tbsp

butter

melted

2 13.5

oz

cans of full-fat coconut milk + 1 more can for topping

optional*

2

Tbsp

sugar

1

large bar

7 oz, 200 g of baking chocolate + more for topping (optional)

5

avocados

1/2

cup

cocoa powder

1/2

tsp

vanilla extract

Pinch

of salt
Before You Begin
Look at the ingredients in the coconut milk, and aim for one that has ONLY coconut milk and water, or be sure to buy a good brand (Thai Kitchen is great). Ingredients like emulsifiers and gums will prevent the fat from separating out, which we need to make the whipped cream. And if you need, regular Cool Whip can work instead of the coconut whipped cream.
*Save the coconut water for smoothies!
Top with more coconut whipped cream, shaved chocolate, berries, or chopped nuts.
Instructions
In a food processor, blitz the Oreos into coarse crumbs. Mix with melted butter and press into the bottom of a pie pan or parchment paper-lined springform pan. Set in fridge.

Being careful not to jostle your coconut milk cans, remove them from the fridge and open. The thick coconut cream should have separated to the top. Scoop out the dense cream, leaving the water**.

Whip the coconut cream with an electric mixer or food processor for a few seconds, until smooth and creamy. Gently fold in 2 Tbsp sugar and set in fridge.

Melt chocolate in microwave or with a double boiler. To a food processor add melted chocolate, avocados, cocoa powder, vanilla, and salt. Blend until smooth.

In a large bowl, gently fold together avocado chocolate and coconut whipped cream. Pour into your prepared crust, cover, and refrigerate for 3 hours to set (or pop it in the freezer for 1 hour if you want to eat it right away). Store leftovers covered in the fridge.
Sarah is the publisher behind the vegetarian health food blog, Live Eat Learn. An Alaskan self-taught cook and nutritionist by trade, she loves all things food and health. When she's not exploring new ways to cook up healthy ingredients, she's romping around the Netherlands, her new stomping grounds!
Latest posts by Sarah Bond (see all)