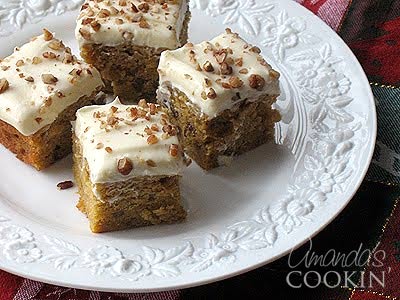 Wow I almost forgot to post these! And that my friends, would have been a sin. You see, these pumpkin blondies are marvelous.. magically delicious, and totally wonderful, all rolled into one. The white chocolate flavor is much more subtle than many recipes that call for it. It compliments, but doesn't overwhelm, so even the white chocolate snubbers will enjoy it.
Again, this marvelous cookbook, 400 Sensational Cookies
by Linda Amendt, has proved to be a guarded addition to my kitchen. This is the third recipe I have made from it, each one equally enjoyable! The other two were the Cranberry Orange Spirals and the Chocolate Chip Espresso Cookies. In fact, today I will be making the dough for the CC Espresso Cookies and will keep it in the fridge for tomorrow when my dad visits. I may even freeze a tray of them and try them straight from freezer to oven.
Amanda's Notes
1) First off, I don't have a 9″x9″ baking pan. I have an 8″x8″ and a 13″x9″. I opted for the 8″x8″, reduced the temperature to 240 F and baked for 42 minutes. Worked perfectly. Other than that, I didn't make any other changes. Whenever you use a smaller pan than called for in a recipe, reduce the temp 5-10 degrees and increase the baking time, checking them at the recommended time frame and increasing from there.
2) You won't need a mixer for this, in fact I recommend NOT using one. This comes together very easily with a wooden spoon or rubber spatula. Using a mixer would most likely over beat the ingredients, leaving less than desirable results.
3) When melting butter, I recommend using the microwave, but do it for short intervals (15-20 seconds) on 50% power. When most of the butter has melted, remove it from the microwave and stir until any unmelted pieces blend in. Add another 5-10 seconds, again at 50% power, if needed. This way your butter won't be too hot and it won't come to a boil.
4) Oh, and I gave a little taste to my neighbor across the street. She emailed me later than night saying that she and her husband loved them. She also said they reminded her of something that her mother used to make. :)
5) Mine were like a cake. That could have been because of the size of my pan. Either way, they were fabulous! :)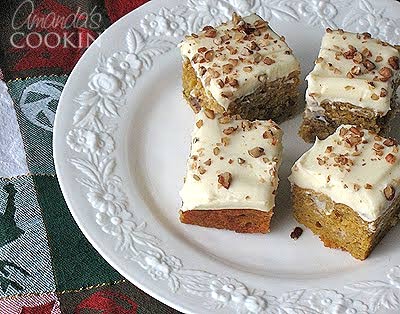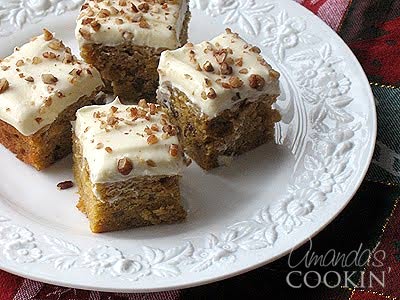 Ingredients
Blondies
1 1/3

cups

all purpose flour

1 1/2

tsp

baking powder

3/4

tsp

ground cinnamon

1/4

tsp

ground ginger

1/4

tsp

ground nutmeg

1/4

tsp

salt

2

eggs

1

cup

solid pack pumpkin

puree (I used the pumpkin puree from my freezer that I made this fall)

3/4

cup

packed light brown sugar

1/2

cup

unsalted butter

melted

1/2

tsp

vanilla extract

1/2

cup

chopped white chocolate or white chocolate chips

I used the chips

1/2

cup

chopped pecans
Frosting
5

oz

white chocolate

chopped

2

tbsp

heavy whipping cream

8

oz

cream cheese

softened

1

cup

confectioner's

powdered/icing sugar

2

tbsp

finely chopped pecans
Instructions
Preheat oven to 350 F. Line a 9-inch square baking pan with foil, grease or spray the foil.

Whisk together flour, baking powder, cinnamon, ginger, nutmeg and salt. Set aside.

Don't use a mixer, do this by hand. In a large bowl, use a wire whisk to lightly beat the eggs. Add the pumpkin and stir until well combined. Add brown sugar and stir until well blended. Stir in melted butter and vanilla. Gradually add the flour mixture, stirring just until blended. Fold in the white chocolate and the pecans. Spread the batter evenly into the prepared pan.

Bake in preheated oven for 30-35 minutes or until a wooden toothpick inserted near the center comes out with a few moist crumbs. Let cool completely in baking pan on a wire rack.

Frosting

In a large microwave safe bowl, heat white chocolate and cream in the microwave at 70% power for 30 seconds. Stir until smooth. If necessary, heat at 50% power for 10 seconds at a time, stirring between each heating, just until chocolate is melted. Do not overheat. Cool for 5 minutes.

In mixer bowl with paddle attachment, beat cream cheese and powdered sugar until light and fluffy, about 4 minutes. Scrape down the sides, then add the cooled white chocolate mixture and beat until smooth and creamy. Spread frosting over the cooled blondies, then sprinkle the pecans over the top. Chill, still in the pan, for at least an hour before cutting.

Using the foil, life chilled blondies from the pan and place on a cutting board. Cut into 1 1/2" squares.
Amanda Formaro is the crafty, entrepreneurial mother of four grown children. She loves to bake, cook, make kid's crafts and create decorative items for her home. She is a crafting expert and guru in the kitchen and has appeared online and in print publications many times over the years. She is also a craft book author five times over and product developer as well as the owner of
FunFamilyCrafts.com
. You can find her on social media by using the buttons to the left!
Latest posts by Amanda Formaro (see all)