White chocolate fans will adore this creamy white chocolate ice cream.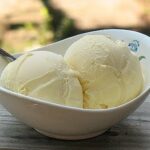 I'm still working on my one year blogaversary post. I was going to hastily put it together due to my current insane workload, but changed my mind. There are soooo many things I have learned this year that I don't want to short change that lovely anniversary and then regret it. So instead, I will try to catch up on some blog posts sitting in the wings as I work on it.
Recently I opened up David Lebovitz's Perfect Scoop and turned to page 33. I, like David, am a white chocolate fan. As he says, some purists will argue that it's not real chocolate. I echo David's thoughts "Although that may be technically true, who cares?" Well said David. :)
I didn't have any fancy white chocolate to use for this recipe, just the white chocolate baker's squares. They worked out beautifully and if you like white chocolate you will like this ice cream! The book suggests topping this with Sour Cherries in syrup (on page 185 of his book ) or pairing it with chocolate cake. I say it's fabulous all by its lonesome!
The full recipe is at the end :)
I think I've mentioned before that I have learned to gather all my ingredients ahead of time. Saves time while making the recipe and it also saves you the disappointment of discovering that you thought you had something on hand when in fact you were out. :-p As you can see, my egg yolks are in a plastic sandwich bag. The most efficient way to extract those yolks from that bag is to cut off a bottom corner and squeeze them out.
Start by putting all the chopped white chocolate into a bowl and place a mesh strainer over the top. Set that aside.
Mix the sugar, salt and milk together and warm in a saucepan.
After you've whisked the egg yolks in a separate bowl, temper the eggs by adding a very slow drizzle of the warm mixture into the yolks, whisking constantly. You can increase the drizzle after you've added about 1/4-1/3 of the warm milk mixture. Put the warm egg mixture back into the saucepan.
After cooking the mixture and thickening it to a custard, strain it over the white chocolate. I had to stir for quite a while to get all the white chocolate to finally melt.
Next, stir in the cream.
Then put the bowl into an ice bath and stir until cooled.
After the custard has completely cooled in the refrigerator, churn it in your ice cream maker. Then put into a container and freeze it completely. Then you get to EAT it :)
White Chocolate Ice Cream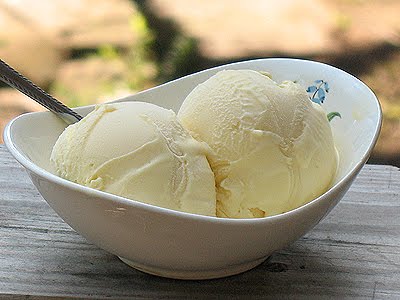 White Chocolate Ice Cream
White chocolate fans will adore this creamy white chocolate ice cream.
Print
Rate
Ingredients
8

oz

white chocolate

finely chopped

1

cup

whole milk

2/3

cup

sugar

pinch

of salt

5

large

egg yolks

2

cups

heavy cream
Instructions
Put the chocolate pieces in a large bowl and and set a mesh strainer over the top.

Warm the milk, sugar, and salt in a medium saucepan. In a separate medium bowl whisk together the egg yolks. Slowly pour the warm milk into the egg yolks, whisking constantly, then scrape the warmed egg yolks back into the saucepan.

Stir the mixture constantly over medium heat with a heatproof spatula, scraping the bottom as you stir, until the mixture thickens and coats the spatula. Pour the custard through the strainer over the white chocolate. Stir until white chocolate is completely melted and the mixture is smooth, then stir in the cream. Stir until cool over an ice bath.

Chill the mixture thoroughly in the refrigerator, then freeze it in your ice cream maker according to the manufacturer's instructions.
Nutrition
Serving:
1
half cup
|
Calories:
475
cal
|
Carbohydrates:
36
g
|
Protein:
5
g
|
Fat:
34
g
|
Saturated Fat:
20
g
|
Cholesterol:
205
mg
|
Sodium:
66
mg
|
Potassium:
177
mg
|
Sugar:
35
g
|
Vitamin A:
1085
IU
|
Vitamin C:
0.5
mg
|
Calcium:
143
mg
|
Iron:
0.4
mg
NEW! Be sure to subscribe to my newsletter, Foodie in the Craftroom, to receive updates and tips from both Amanda's Cookin' and Crafts by Amanda! Visit https://amandascookin.com/p/subscribe-to-newsletter.html
Amanda Formaro is the crafty, entrepreneurial mother of four grown children. She loves to bake, cook, make kid's crafts and create decorative items for her home. She is a crafting expert and guru in the kitchen and has appeared online and in print publications many times over the years. She is also a craft book author five times over and product developer as well as the owner of
FunFamilyCrafts.com
. You can find her on social media by using the buttons to the left!
Latest posts by Amanda Formaro (see all)