Looking for a creamy, dreamy, summer pasta salad will stand out at the next BBQ? This Tortellini Pesto Pasta Salad is your ticket. It takes 20 minutes from start to finish. Throw it together at the last minute, if you must, chill…or serve immediately, and watch it fly out of the bowl. No waiting necessary!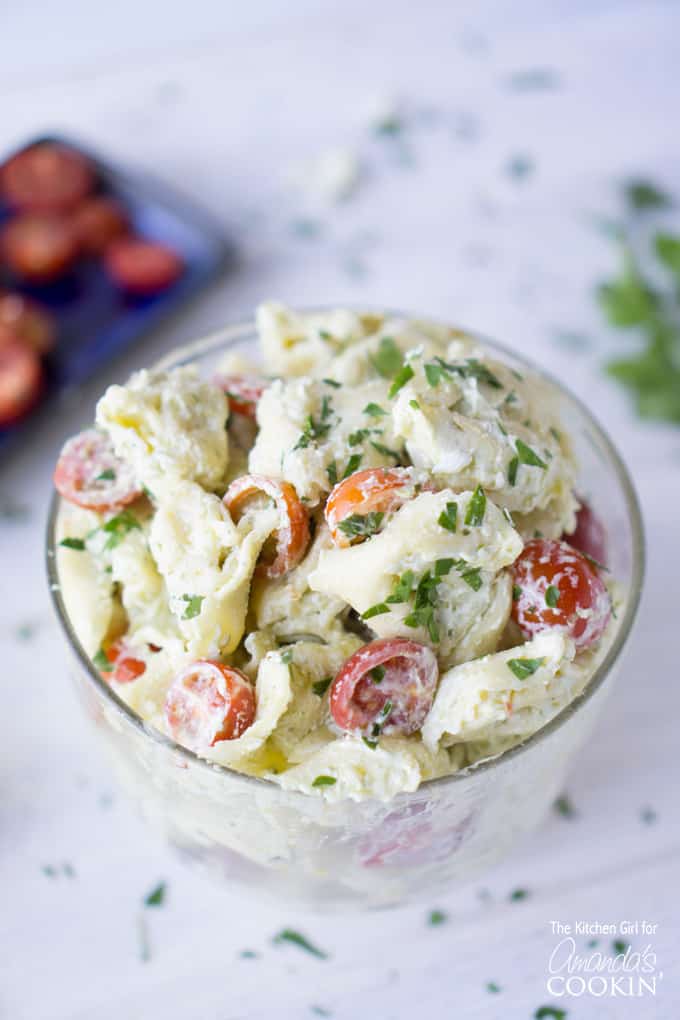 Tortellini Pesto Pasta Salad
Back in my deli days, I used to watch our house-made Tortellini Pesto Pasta Salad fly out the door. People were crazed for it, and with good reason. The tortellini, I believe, was the packaged fresh kind! And the dressing was a pesto cream sauce that our chef blended in a food processor. I don't know the ingredients, but it was heavenly. I think she used either mayonnaise or sour cream to make it creamy.
I've always wanted to come up with a cheater version of that salad. One, because I don't have the recipe, and two because I want a throw-together, party side that everyone loves. Food processor not required.
So for this Tortellini Pesto Pasta Salad recipe, I used packaged, pre-cooked tortellini (takes 4 minutes to boil), and made a healthier-ish pesto cream sauce, using packaged pesto and my usual hat trick…nonfat Greek yogurt with a little mayo…instead of straight mayo. This is my you control the fat technique I use in so many creamy recipes.
Wanna keep it light, yet traditional this summer? Grab my Classic Macaroni Salad Made With Greek Yogurt recipe for your next BBQ. Or, check out this creamy, Grilled Zucchini Corn Salad with Feta Dressing that's loaded with vegetables and tossed in a creamy feta dressing.
There are affiliate links in this post. That means if you buy something from that link, I will earn a small commission, but it won't cost you anything additional.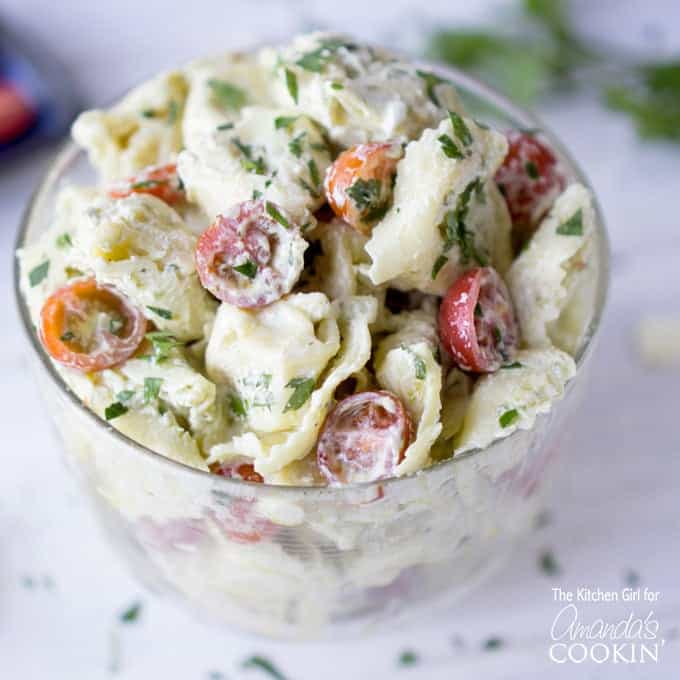 Ingredients for Tortellini Pesto Pasta Salad:
1 1/2 lb. package pre-cooked 5-cheese tortellini (about 5 cups)

1 cup nonfat Greek yogurt

1/2 cup basil pesto

2 tablespoons mayonnaise

1 tablespoon extra virgin olive oil

pinch of salt and pepper

2 cups cherry tomatoes (some cut in half, some whole)

1 tablespoon freshly grated parmesan cheese

1 tablespoon fresh parsley (chopped)
Kitchen tools I use for this recipe: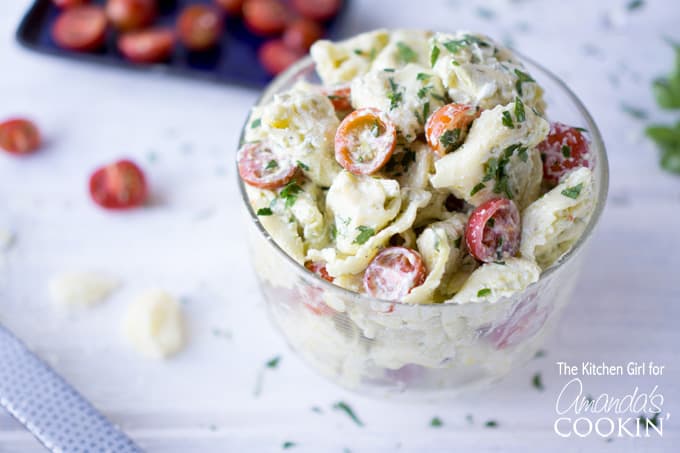 We hope you enjoy this Tortellini Pesto Pasta Salad! Be sure to check out this Summer Vegetable Pasta Salad or this Tomato Herb Pasta Salad for another delicious summer pasta salad recipe!