Happy middle-of-summer to you! I'm taking a break from lighter summer dishes for something a little heartier because my favorite season, fall,  is on the horizon and it's not too soon to stockpile easy recipes for the back-to-school/football/life is busy season. This simple one pot sloppy joe pasta is just like the classic sandwich except instead of hamburger buns pasta gets stirred into a tangy tomato meat sauce. It's a one-pot wonder like this famous Bacon Cheeseburger Pasta that's sure to find a place in your dinner rotation.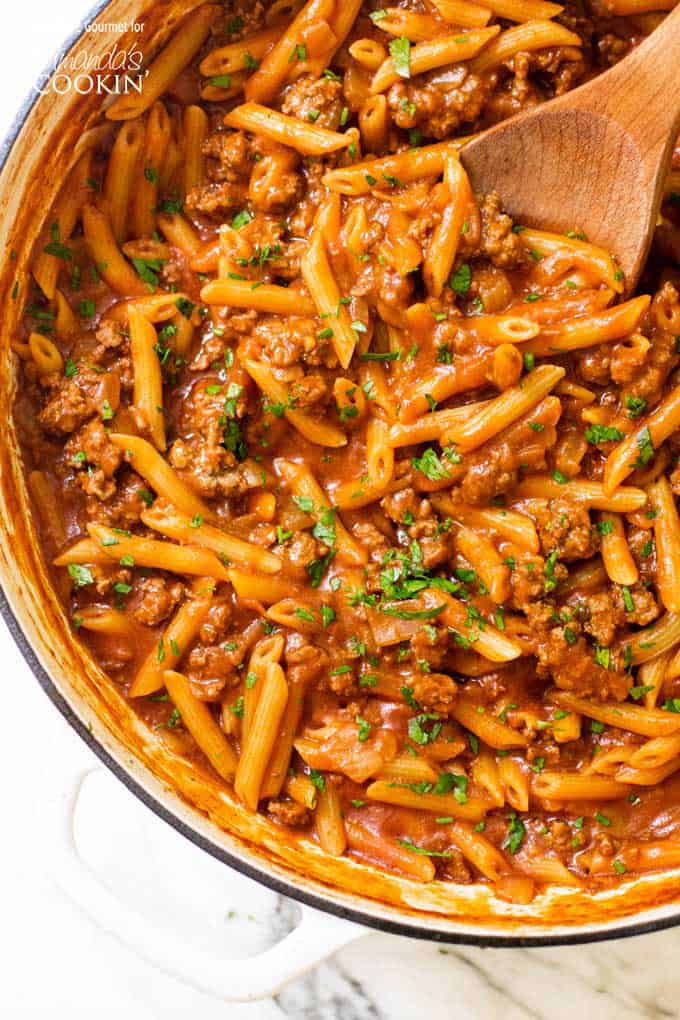 One Pot Sloppy Joe Pasta
I'm sure I've mentioned it before, but I can't resist a big pot of something hearty and comforting even in the middle of July with temperatures reaching in the 90s. I blame my Wyoming upbringing when comfort food classics were served year-round at our family table. Oh sure, in the summer we pulled back a bit on cozy dinners and traded them out for lighter summer fare, but at least once a week we dug into something a little heartier than summer salads and grilled chicken.
So, for me, this one pot sloppy joe pasta doesn't seem out of place this time of year.
If this sloppy joe noodle skillet seems a little off-season for you might I suggest tucking it away for a month or so? Because the fall season and everything that goes with it – back-to school, normal routines, football season, and cooler weather – is just around the corner. For now, you can relish summer and everything it has to offer with the peace of mind that when the long days start to fade you already have a go-to easy one pot dinner to pull out at a moments notice. It's a twist on everyone's favorite messy sandwich except in a one-pot pasta form that is sure to make everyone very happy.
Want more easy pasta ideas like this sloppy joe pasta?  Be sure to check out my baked tortellini, skillet chicken lasagna, and shrimp fettuccine with tomatoes and feta.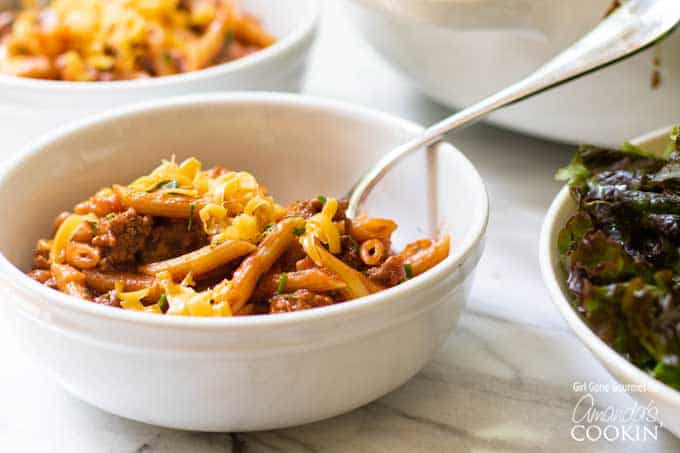 And maybe you're like me and crave an easy comfort food dinner right now because, hello, that's what air conditioning is for.
Helpful Tools for Sloppy Joe Pasta
Some Ingredients You'll Need for Sloppy Joe Pasta
Lean ground beef works best so you won't need to drain off any excess fat after browning the meat.
I used a small penne pasta (called mezze penne), which I found at my local grocery store. Regular penne or another pasta of similar shape will work, but you may need to increase the cook time a few minutes.
The recipe doesn't need a lot of salt if you use regular beef stock. If you use low-sodium beef stock be sure to increase the amount of salt. It's always a good practice to taste as you cook and add more salt if you think it needs it.
I used apple cider vinegar because I love the bright, slightly fruity flavor it adds, but red wine vinegar will also work.
There's not a lot of prep required – you only need to chop up a small onion, some garlic, and fresh parsley.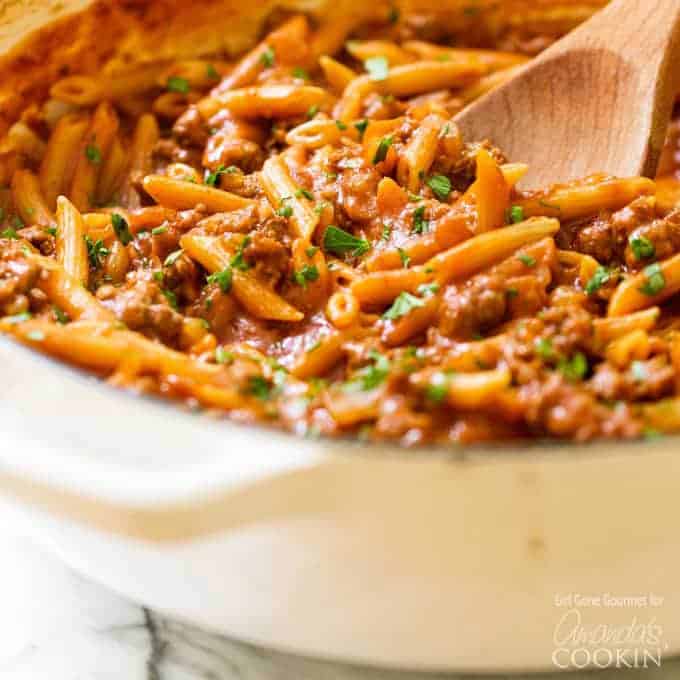 Looking for more easy and classic dinner recipes for the week? You'll love this hamburger casserole, this spaghetti pie recipe, and last but not least, baked ziti. All of which are perfect for a weeknight meal even during the summer months!