I have made these soft, pull-apart dinner rolls so many times now, I think I know the recipe by heart. Never once have I had a problem, they are perfect every single time. This recipe makes 12 piping hot soft rolls just begging for butter. Gently pull them apart and watch the steam come out. Mmmmmmm!
Homemade Pull-Apart Dinner Rolls
These are seriously a family favorite. Every holiday the first thing the kids ask about is these delicious homemade dinner rolls. They scarf them down faster than you can imagine. They aren't only great for holiday's, but any night of the week suffices. Once you make these warm dinner rolls, they'll become a tradition. I'm telling ya.
If you need a roll recipe that you can make in about an hour or so, this is it. Look no further. And with Easter right around the corner, you will thank me, I promise. Cross my heart.
I made these rolls last Thanksgiving, as I had the Thanksgiving before. The difference with last year is that we traveled to relatives and I brought everything I needed with me. Anyway, no mixer involved, just good old elbow grease and they were still perfect. Funny, Uncle Buck (yes, that's really his name!) loved them so much that when dinner was over, he told his wife to put the last of the rolls in a bag and hide them up high. They were HIS. Ha ha ha! Gotta love that!
Big thanks go out to Jill of Simple Daily Recipes for sharing this recipe. They pull apart, are soft and warm, butter melting everywhere… mmmm! The added coarse salt on the top is like icing on a cake. These are some seriously good dinner rolls.
There are affiliate links in this post. That means if you buy something from that link, I will earn a small commission, but it won't cost you anything additional.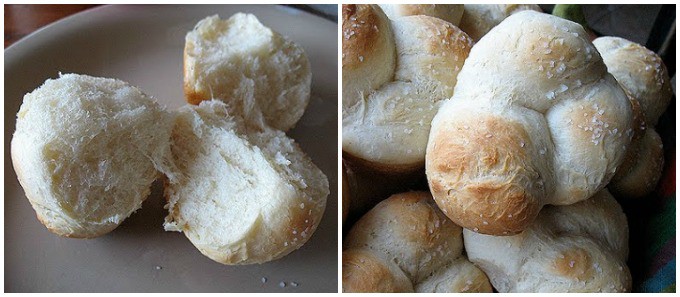 Ingredients for Homemade Pull-Apart Dinner Rolls
1 package quick-acting active dry yeast
1 1/3 cup milk (105 to 115F degrees)
3 to 3 1/2 cups flour or whole wheat flour
3 tablespoons extra virgin olive oil
1 tablespoon sugar
1 teaspoon salt
1 tablespoon melted butter
coarse salt
Helpful Kitchen Tools