When I was in my very early twenties, I used to go with a friend of mine to his parents' house for dinner once in a while. She would serve an amazingly tender and juicy sirloin roast beef with marvelous potatoes, crisp salad, crusty rolls and delicious pan juice on the side.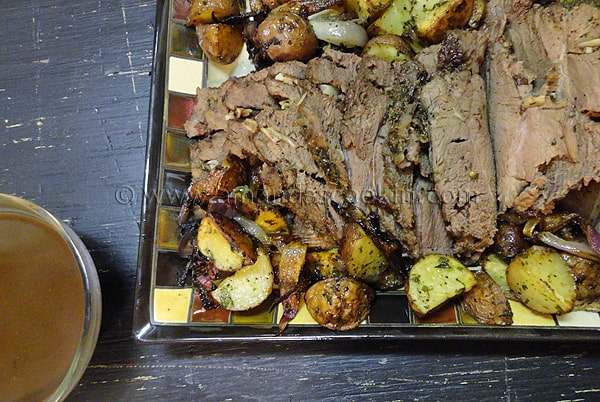 For years I've been making sirloin roast beef recipes and serving them to my family, but hadn't quite captured the flavor from those meals… until now. If you are looking for the perfect Sunday roast, this is it, you've found it. If you like roasts, then you'll love my juicy sirloin pork roast too!
When I received the cookbook Sunday Roasts, written by Betty Rosbottom I immediately started thumbing through it. I made it through 10 pages or so then went back to the beginning and started jotting down the page numbers of each recipe I wanted to try. There's the Old Fashioned Pot Roast on page 18 that uses a chuck or arm roast that I will definitely be making. Then there's the Rolled Flank recipe on page 30 and the Bistro Roast Chicken on page 92 that I can't wait to try! There are quite a few more, but I chose the cover recipe as my first experiment. This recipe uses a sirloin tip roast which I already had in the freezer. If you love roasts, I highly recommend this book!
Let me just say that this roast recipe is truly amazing. It's right up there in the favorites, along with my To Die for Pot Roast for the slow cooker. Mouth watering, full of flavor, juicy and tender. The best part is that because sirloin is a tender cut, it only needs about an hour in the oven. Figure a couple hours before eating dinner to prep everything and to allow for resting time for the roast.

Along with the roast you'll make some delicious vegetables, I added potatoes to the recipe for us and have included that in the printable version below. Toss them with olive oil and fresh herbs, mmm!

I also used my new Frigidaire Symmetry Double Oven to make this roast and chose to use the True Convection option. There's a convection bake and convection roast option on this range (sweet!). I haven't had a convection oven since I lived in Vegas, so it is such a welcome option to have again! Convection allows the heat in the oven to circulate making for more efficient, and faster roasting. I used the convect convert pad to convert this recipe temperature to a convection temperature. Worked like a dream!
I left my sirloin roast in for exactly one hour only because it was still pretty cold in the center. Your best bet is to start with your roast at room temperature for optimal results.
The recipe in the book is accompanied by roasted red onions and mushrooms and topped with sliced blue cheese. However, not being a fan of blue cheese and wanting some potatoes, I adapted the vegetables a bit by reducing the number of onions and mushrooms and adding some quartered small red potatoes. Enjoy!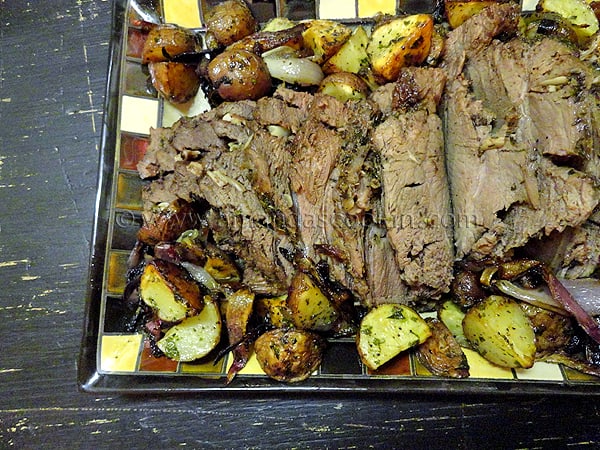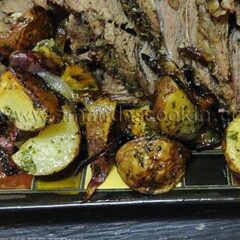 Perfect Sunday Roast
IMPORTANT - There are often Frequently Asked Questions within the blog post that you may find helpful. Simply scroll back up to read them!
Print It
Rate It
Ingredients
1 4-

lb

boneless top sirloin roast

5

cloves

garlic

peeled and slivered

1

teaspoon

dried thyme leaves

1

teaspoon

fresh winter savory

minced

1

teaspoon

fresh oregano

minced

Kosher salt

Freshly ground black pepper

3

tablespoons

+ 1/2 cup olive oil

1

medium red onion

1

cup

whole white mushrooms

3

cups

quartered small red potatoes

1 1/2

cups

beef broth

3/4

cup

Shariz or other dry red wine

1 1/2

tablespoons

unsalted butter
Instructions
Rinse and dry the roast, meat should be at room temperature. use a sharp paring knife to make slits over the entire surface of the roast and insert garlic slivers.

In a small bowl mix together the thyme leaves, savory, oregano, 1 1/2 teaspoons of salt, 1/2 teaspoon pepper and 3 tablespoons of the oil. Brush this mixture on all sides of the roast.

Place oven rack in center position and preheat oven to 450 F.

Lightly oil or spray the bottom of a roasting pan, place roast in the center of the pan, fat side up. Roast in the oven for 15 minutes.

While meat is roasting prepare the vegetables. Oil or spray a large rimmed baking sheet. Peel onion and cut into wedges, leaving the root end intact. Toss onions, potatoes, and mushrooms in a large bowl with 1/2 cup olive oil. Season with fresh ground pepper and Kosher salt, toss again, then place on the prepared baking sheet.

After meat has roasted for 15 minutes, reduce heat to 350 F and place the pan of vegetables on the lower rack of the oven. Continue to roast the meat for 50-60 minutes or until meat thermometer registers 130-135 F. Stir the vegetables every 15 minutes, until slightly browned and charred around the edges, for 50-60 minutes.

When done, transfer the roast to a cutting board and let rest for 20 minutes. At this time if the vegetables are not fork tender, continue to roast until done. Remove vegetables and tent with foil.

Skim off and discard any fat from pan. Place pan over medium heat on stovetop, add broth and wine to deglaze the pan. Bring mixture to a simmer and reduce by half. Swirl in the butter and season with salt and pepper.

Cut roast crosswise against the grain into 1/4? slices. Arrange sliced meat on platter and surround with roasted vegetables. Drizzle sliced meat with some of the pan gravy and serve remainder to pass.
Expert Tips & FAQs
I added the broth and wine to the roasting pan, loosened any bits and transferred to a saucepan as I found that easier to work with.
Also, I used winter savory and oregano because I still have it growing outside. You can just use 2 teaspoons of dried thyme or substitute your own favorite herbs.
Amanda Davis is the entrepreneurial mom of four grown children and four step children. She and her husband, Chef Antoine, love to cook together creating recipes for this blog. Amanda also make kid's crafts and creates decorative items for her home. She is a crafting expert and guru in the kitchen and has appeared online and in print publications many times over the years. She is also a craft book author five times over and product developer as well as the owner of
FunFamilyCrafts.com
. You can find her on social media by using the buttons to the left!
Latest posts by Amanda Davis (see all)