This is a recipe I would have never tried had it not been for my daughter's German class in high school. In fact, I hadn't even heard of it until today when I was searching for something to make. You see, each year the school has all the German students make a German recipe to bring in and share. However, Frau* said no German Chocolate Cake since that's what everyone wants to bring. LOL
* Frau is how they address the German teacher. The definition is "used as a courtesy title in a German-speaking area before the surname or professional title of an adult woman."
Last year we made Homemade German Pretzels, and those went over very well. So many other students will be bringing desserts, so we opted for something a little different. This is actually a very easy recipe. I can't tell you what they taste like as they have to go to school tomorrow, but I can tell you they smelled wonderful. It was hard resisting the temptation to pull one of those sections off!
Traditional partybrot (it's pronounced "broat" like boat) is coated with an egg wash just before baking and sprinkled with poppy seeds and sesame seeds. I was out of poppy seeds, so I went with sesame seeds and coarse salt. Hopefully Frau won't mind. ;) I think mine baked a tad long, so I have rewritten the recipe to reflect what I believe to be the right time. (I did have to rewrite a couple of the instructions that were a bit confusing in the original.)
After preparing the dough and letting it rise, you'll separate it into 19 pieces. Be sure to see my tips at the end of the recipe on how to do this uniformly. Then you place them in the buttered pan, cover, and let them rise.
After they've risen, brush them with egg wash and sprinkle with sesame seeds and poppy seeds, then bake. Fabulous!
Partybrot: German Party Bread
adapted from That's My Home
Amanda's Tips: The easiest and most accurate way to separate the dough into 19 equal pieces is by using a simple kitchen or postage scale. Place the dough on the scale to get the full weight. Convert the total weight from pounds to ounces, then divide the total number of ounces by 19. That will give you approximately how many ounces each of your pieces should weigh. Pull pieces off of the dough and place it on the scale to get the right weight. Works perfectly and you'll have nice uniform sections!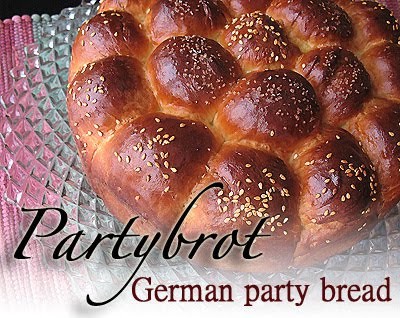 Ingredients
1

cup

milk

separated

2 1/2

teaspoons

dry yeast

4

tablespoons

unsalted butter

melted

2

tablespoons

sugar

2

eggs

beaten

2

teaspoons

salt

4

cups

unbleached all purpose flour

1

egg beaten for egg wash
Instructions
Warm milk in the microwave for 30-40 seconds to take the chill off, should be lukewarm. Sprinkle yeast into 1/2 cup of the milk in a bowl. Leave for 5 minutes; then stir to dissolve. Combine remaining 1/2 cup of milk with melted butter and sugar. Stir until sugar is dissolved. Beat in eggs until evenly combined. Mix flour and salt in large bowl. Make well in center and pour in dissolved yeast and butter mixture. Use wooden spoon to mix in flour to form a soft, sticky dough.

Turn dough out onto floured work surface. Knead until smooth, shiny and elastic about 10 minutes. Knead in extra flour, 1 tablespoon at a time, if dough is too sticky. Resist adding too much flour, as dough should not be dry, but soft. Put dough in an oiled bowl and cover with dish towel. Let rise until doubled about 1 to 1 1/2 hours. Punch down, then let rest for 10 minutes.

Grease a 9.5" springform pan with some melted butter. Divide dough into 19 equal pieces (see tip below). Shape each piece of dough into a smooth ball by pressing down with the heel of your palm, then rolling around against the counter to create the ball. Arrange shaped rolls in prepared pan by making an outer ring of 12 rolls, an inner ring of 6 rolls, placing last roll in center of 2 rings. Cover pan with dish towel and proof until doubled about 45 minutes.

Brush top of each roll with egg glaze and sprinkle alternately with sesame and poppy seeds. Bake in preheated 425° F. oven for 25-30 minutes or until golden brown. Place pan onto a wire rack to cool slightly. Remove the springform from the rolls and place on a plate. Serve immediately.
NEW! Be sure to subscribe to my newsletter, Foodie in the Craftroom, to receive updates and tips from both Amanda's Cookin' and Crafts by Amanda! Visit https://amandascookin.com/p/subscribe-to-newsletter.html
Amanda Formaro is the crafty, entrepreneurial mother of four grown children. She loves to bake, cook, make kid's crafts and create decorative items for her home. She is a crafting expert and guru in the kitchen and has appeared online and in print publications many times over the years. She is also a craft book author five times over and product developer as well as the owner of
FunFamilyCrafts.com
. You can find her on social media by using the buttons to the left!
Latest posts by Amanda Formaro (see all)