These homemade bretzel rolls remind me of a restaurant we used to frequent years ago when we lived in Las Vegas. Soft, delicious pretzel buns, perfect with dinner or for making sandwiches. That restaurant served dark brown pretzel rolls that I always looked forward to. While these aren't the smooth crusted dinner rolls that I devoured at Senoma Cellar, they are absolutely delicious and definitely worth making again and again.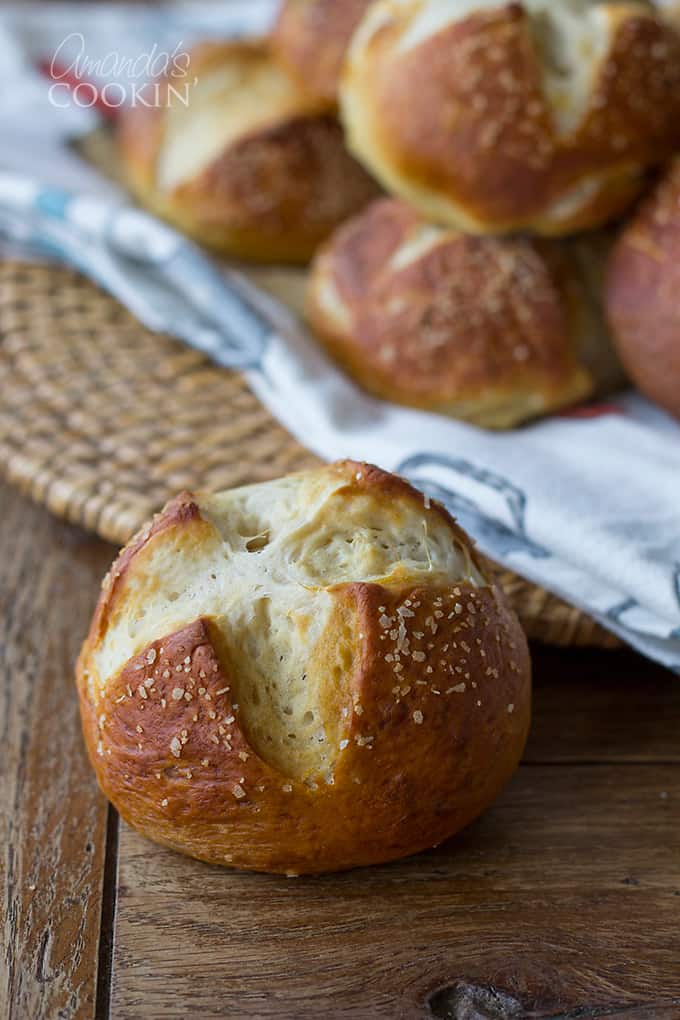 I've made authentic German pretzels before, but these are different. Homemade pretzels have a harder crust, these bretzel rolls are browned, but soft on the outside.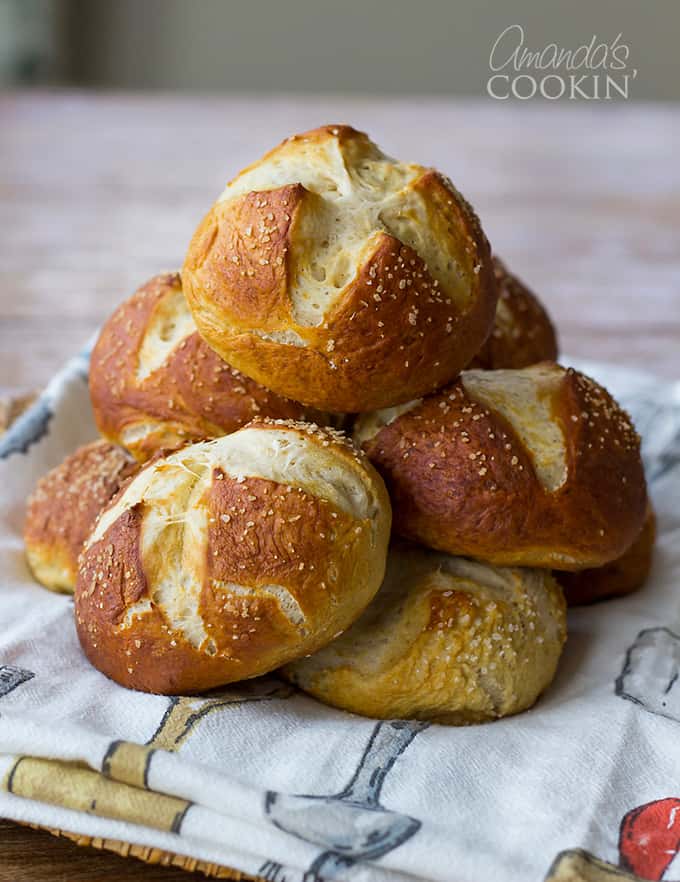 I've put together a video for you of the process. If you've never made pretzels before, take a minute to watch it, especially for the soda bath. It's not hard, but if you've never done it before it can be a bit surprising!
I made a batch of these bretzel rolls today. A few hours later they were gone. Devoured by eager teenagers just waiting for me to finish taking photos!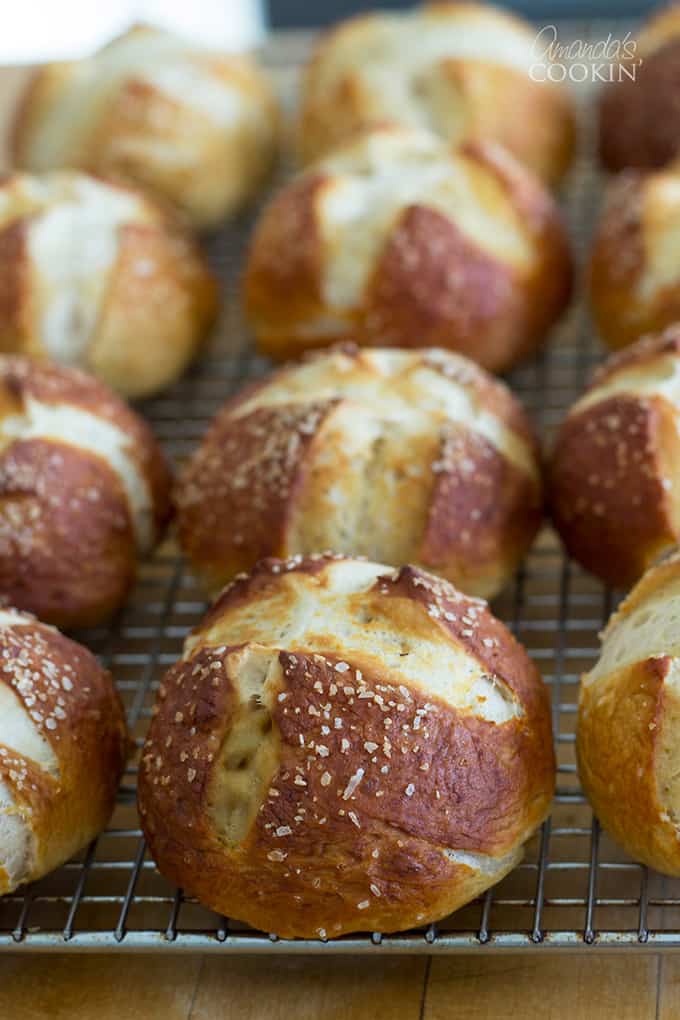 These are great with dinner, a bowl of piping hot soup for lunch, or for slider sized sandwiches. Whatever you choose, they won't last long.
There are affiliate links in this post. That means if you buy something from that link, I will earn a small commission, but it won't cost you anything additional.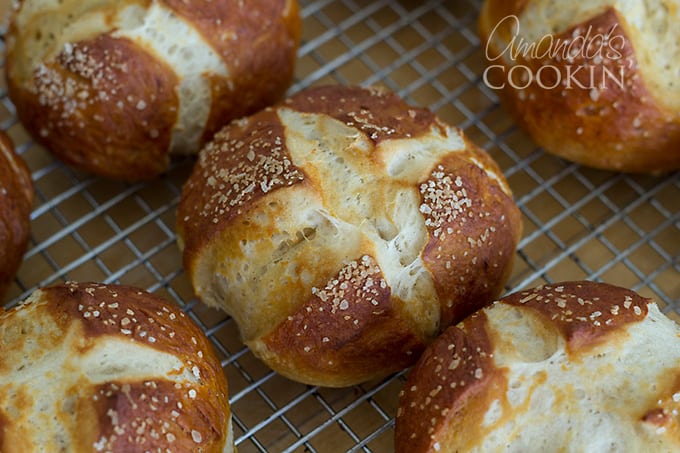 Ingredients you will need for Bretzel Rolls
1 1/3 cups warm water, divided
2 tablespoons warm milk
2 1/2 teaspoons active dry yeast (one envelope)
1/3 cup light brown sugar
2 tablespoons butter, melted
4 cups all-purpose flour
kosher salt
2 quarts cold water
1/2 cup baking soda
Helpful Kitchen Tools
PRINT THE FULL RECIPE AND INSTRUCTIONS AT THE END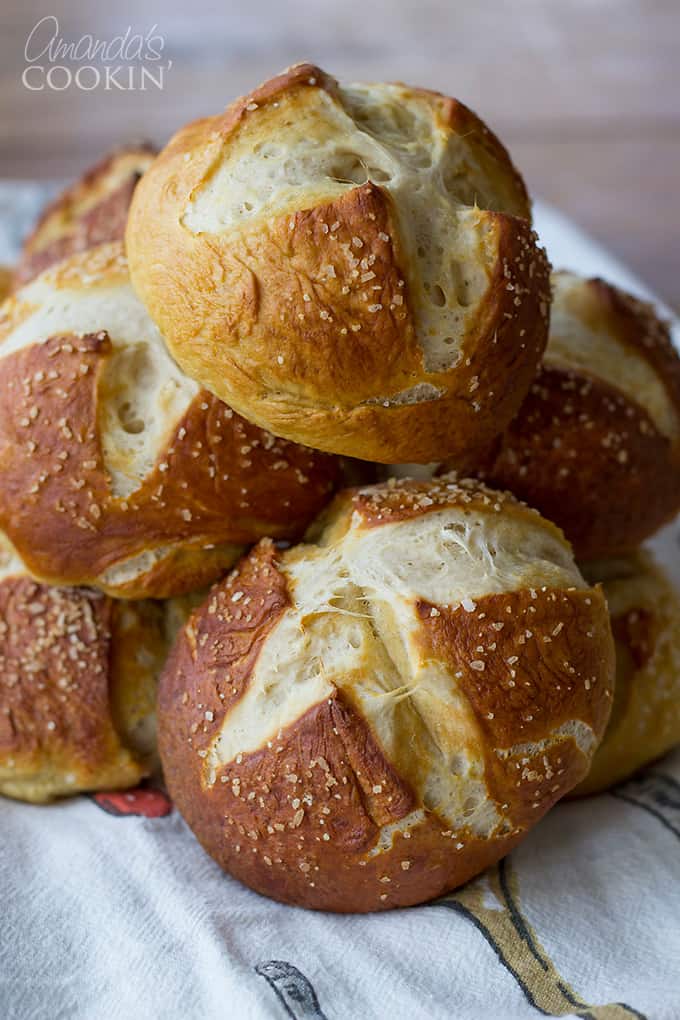 I hope you found the video helpful and be sure to let me know if you try them. We love them here!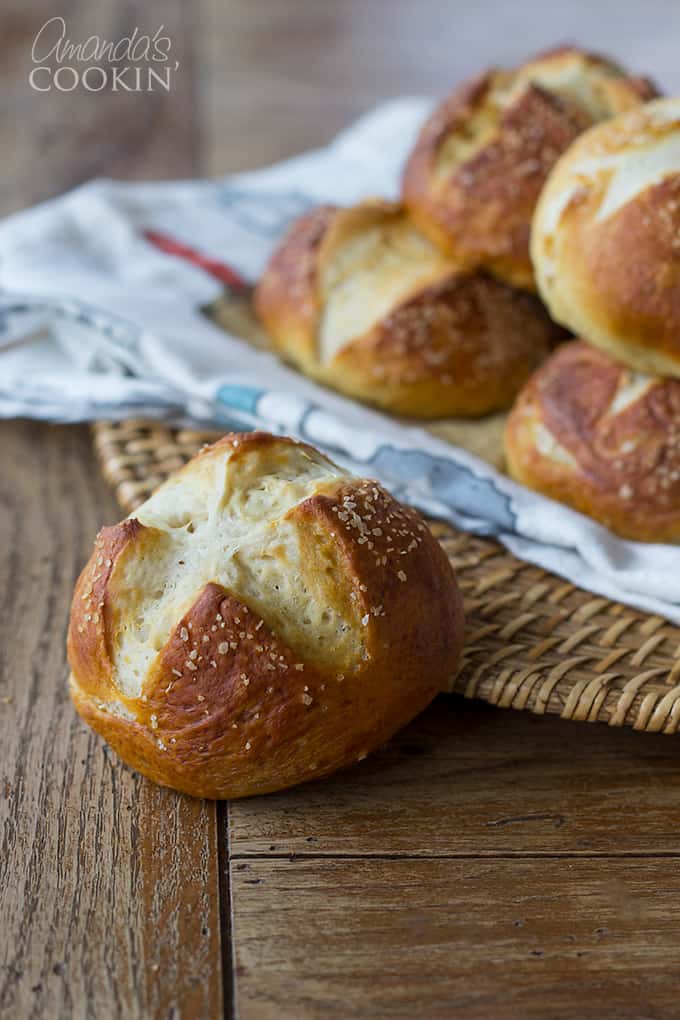 Bretzel Rolls (Pretzel Sandwich Rolls)
1 hrPrep Time
15 minCook Time
1 hr, 15 Total Time
5 based on 1 review(s)
Ingredients
1 1/3 cups warm water, divided
2 tablespoons warm milk
2 1/2 teaspoons active dry yeast (one envelope)
1/3 cup light brown sugar
2 tablespoons butter, melted
4 cups all-purpose flour
kosher salt or pretzel salt
2 quarts cold water
1/2 cup baking soda
Instructions
In the bowl of a stand mixer fitted with a dough hook, mix a 1/3 cup of the warm water (105-115 degrees) with the yeast and let stand until foamy.
Add the remaining cup of warm water along with milk, sugar & melted butter and swirl to dissolve the sugar.
Add flour and mix on medium-low speed.
Remove dough once it forms a nice a firm, pliable dough ball. Add more flour only if necessary.
Turn dough out onto a lightly floured table and knead for 2 minutes.
Separate into 12 even pieces. (Hint: use a kitchen scale to weigh the dough ball then divide by twelve to get the weight you will need for each individual roll.)
Cover dough with plastic and a damp cloth and let sit for 10 minutes.
Pat and roll dough into balls and arrange on a lightly floured surface about an inch apart, cover with lightly oiled (cooking spray works fine) plastic wrap.
Let the dough rest for an additional 30 minutes.
Preheat the oven to 425 F. Lightly oil 2 baking sheets or line with parchment paper.
In a large stockpot, bring the cold water to a rolling boil.
Add baking soda (it will bubble up almost violently and then relax, don't be alarmed).
Drop two rolls into the boiling water upside down. Boil for no more than 30 seconds, turning once after 15 seconds.
Carefully remove with a slotted spoon and hold above pot to let drain.
Place on prepared baking sheet and sprinkle lightly with salt.
Repeat with the remaining rolls.
Bake on the upper and middle racks of the oven for about 10-15 minutes, or until browned all over. You may want to shift pans from top to bottom and back to front halfway through, for even baking.
Let rolls cool on the baking sheets for about 5 minutes, then transfer them to a wire rack.
Serve warm or at room temperature.
Notes
The original recipe said to bake for 8 minutes. That was not long enough and mine usually take a full 15 minutes. Start watching yours at 8 minutes. If they are only lightly browned, try for a few minutes longer.
7.6.4
490
https://amandascookin.com/bretzel-rolls-pretzel-sandwich-rolls/
Amanda Formaro, AmandasCookin.com
This recipe was originally published here on February 4, 2009, original source of this recipe – Food.com
Amanda Formaro is the crafty, entrepreneurial mother of four children. She loves to bake, cook, make kid's crafts and create decorative items for her home. She is a crafting expert and guru in the kitchen and has appeared online and in print publications many times over the years. She is also a craft book author five times over and product developer as well as the owner of
FunFamilyCrafts.com
. You can find her on social media by using the buttons to the left!
Latest posts by Amanda Formaro (see all)