Have you been wanting to learn how to meal prep your lunches, but are a bit overwhelmed at figuring out what ingredients go together? This Mix and Match Meal Prepping is an easy formula for getting lunch made quickly and deliciously, just like our Chickpea Gyro Lunch Boxes.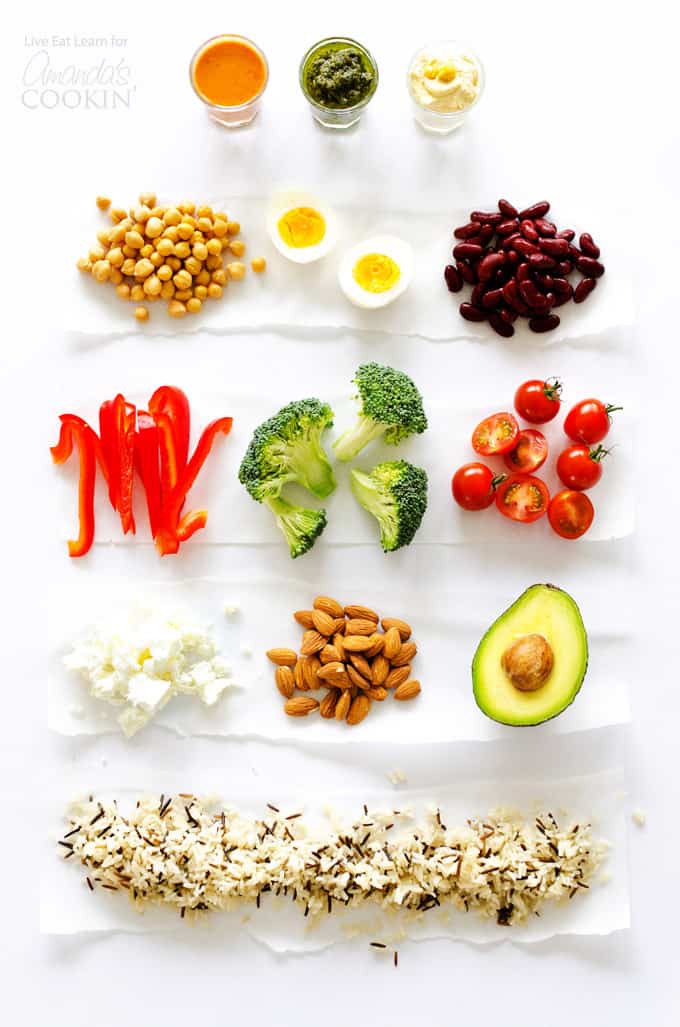 Mix and Match Meal Prep
I've always liked the idea of doing a meal prep but always had a hard time jumping into it. For some reason, I thought it would be confusing or hard or time-consuming. Boy, was I wrong! As it turns out, making healthy lunches for the week is actually easier when you do it in big batches. And the reward? Healthy, flavorful lunches all week that aren't hastily thrown together sandwiches.
So how does it work? Pick one or two items from each group to put in the boxes. Maybe on Monday, you want your protein to be egg and your veggie to be peppers…great! The next day you can have chickpeas with broccoli…also great!
Mix and match without fear, everything goes well together (and you may even find a new favorite combination!) Speaking of, if you're looking for new flavors and combinations, feel free to check out Cook It Fresh, a meal plan program that gives you 31 tasty dinners while doing all the hard work for you (you know, the grocery lists, converting to fit your family size, the fun stuff).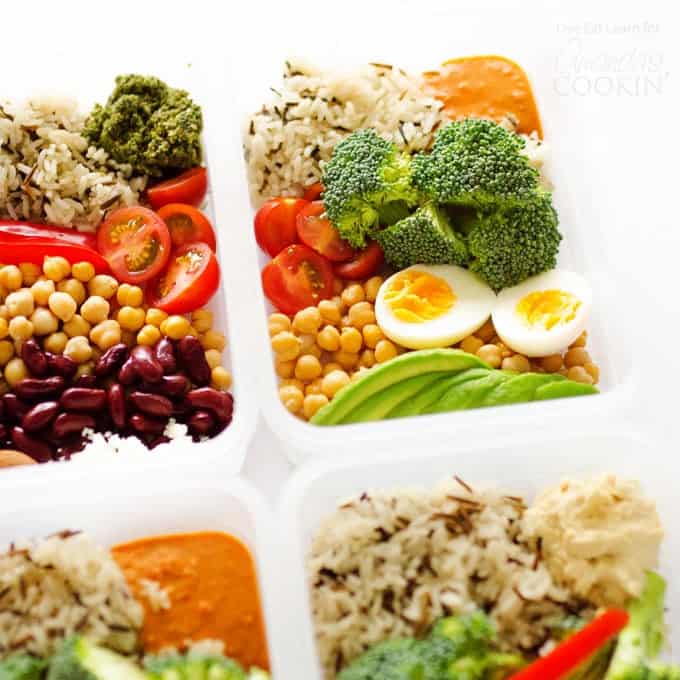 To make Mix and Match Meal Prep you'll need:
3 cups wild rice, quinoa, or bulgur

1 can chickpeas

4 hardboiled eggs

1 can kidney, pinto, or black beans

2 cups chopped broccoli

1 cup halved cherry tomatoes

1 bell pepper, sliced

1 cup feta cheese

½ cup nuts (your choice)

1 avocado

1/2 cup hummus

1/2 cup romesco
Kitchen tools used for meal prep: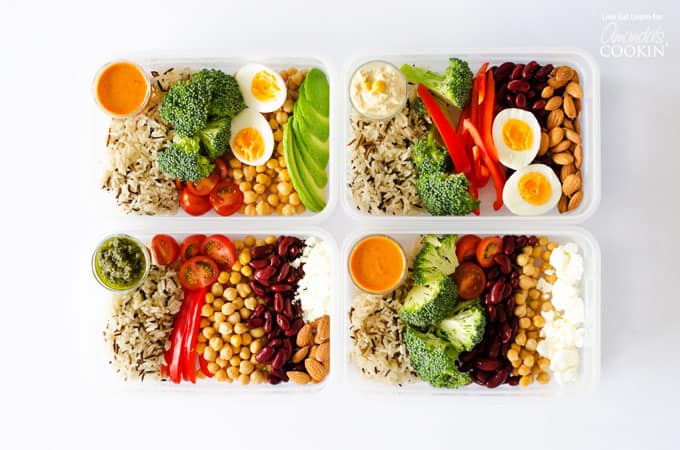 Meal prep has never been easier! For more delicious lunch recipes be sure to check out this burrito bowl. Packed with cilantro lime rice, avocado, corn, peppers and shredded beef. This is a burrito bowl you don't want to miss! How about a delicious toasted cheddar, ham and arugula sandwich for lunch? Nothing quite beats a toasted cheese sandwich for lunch!
If you want more ideas for healthy lunches here are 90 no-heat healthy lunch ideas for on the go!