Skip the takeout and try this homemade burrito bowl instead! Layered with cilantro lime rice, beans and cheese, this quick and easy burrito bowl recipe is easily customized to your taste and full of Mexican inspired flavor. Great for dinner or lunch, and you can use chicken, beef or pork, whatever you are craving.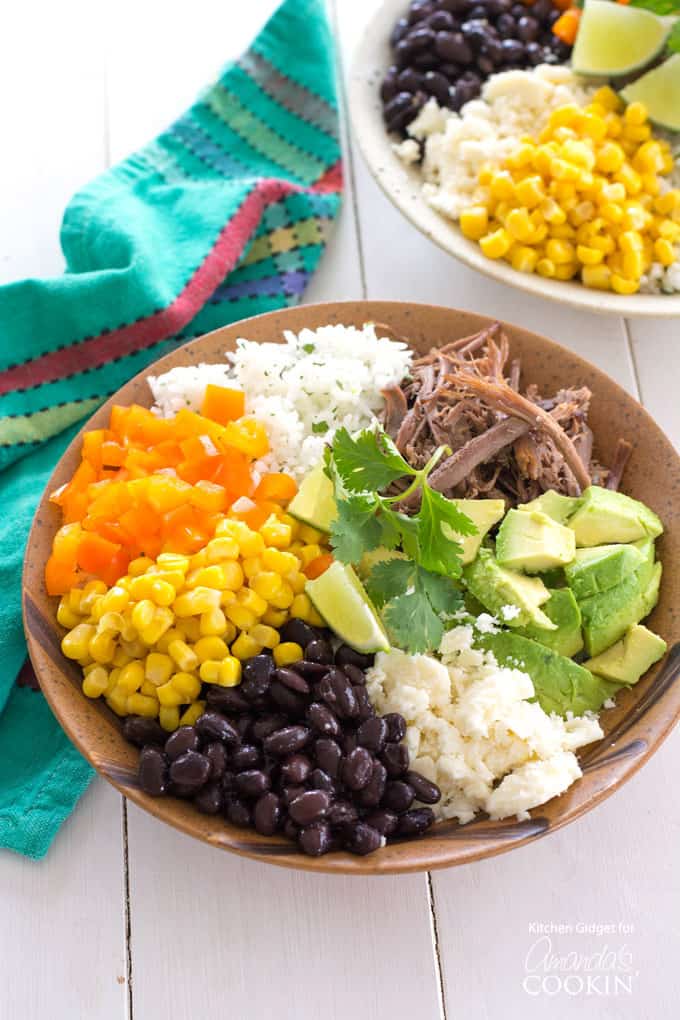 Burrito Bowl
I'm not sure if I mentioned it before, but my husband is in the Air Force and we're stationed in Japan. I absolutely love it, but there are definitely a few things we miss from back home that we can't get here. Inevitably, conversation among friends always turns to food.
Most everyone is crazy about Chipotle and their brand of Mexican food. We're crazy about Mexican food in general and eat it at least once a week. My favorite thing to order from Chipotle is their burrito bowl, which they popularized. It's such an easy recipe to scale back for one person, or multiply for more.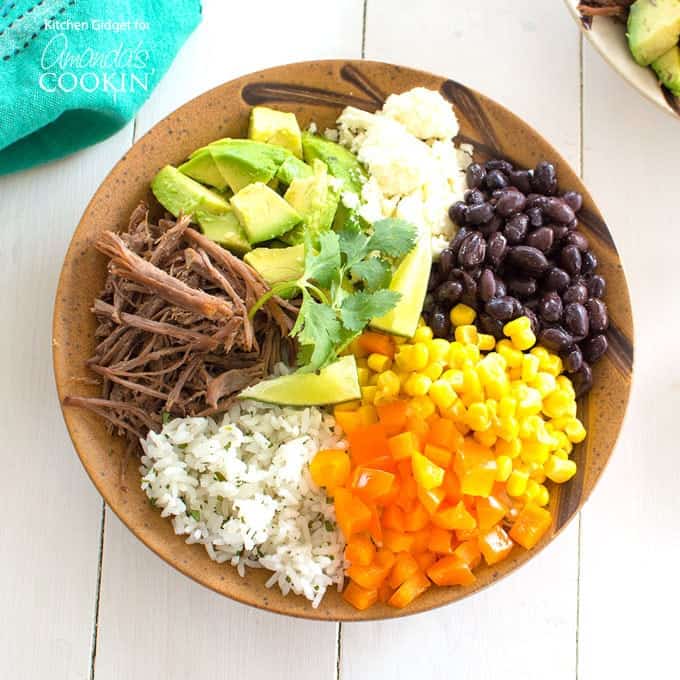 This recipe is not a Chipotle copycat, but a template for you to create your own burrito rice bowls. It's like a burrito, except it's layered on a bed of rice with meat, beans, cheese and taco toppings. Making them at home is just as easy and delicious. And did I mention how healthy they can be with wholesome ingredients?
There's a lot of room for creativity here. You can do more or less than what I've suggested—there are no rules! I prefer to build my burrito bowl based on the leftovers I have in the refrigerator. We always have rice on hand, so I decided to jazz up the leftovers with lime juice and minced cilantro. Plain rice, brown rice or even quinoa works just as well.
There are affiliate links in this post. That means if you buy something from that link, I will earn a small commission, but it won't cost you anything additional.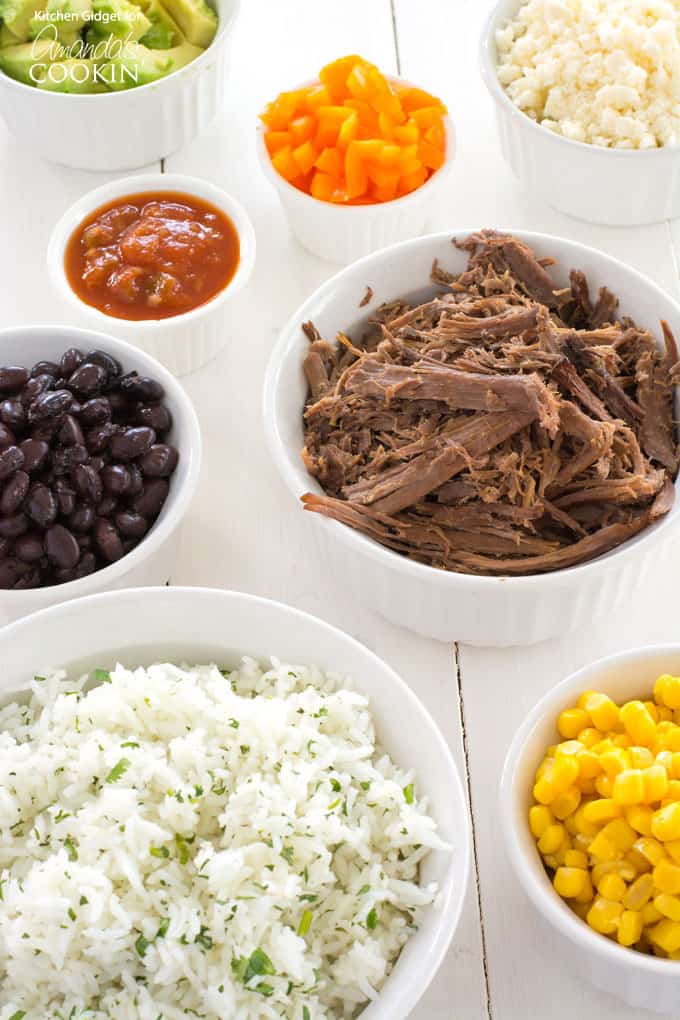 Ingredients You Will Need:
2 cups cooked rice
2 tablespoons lime juice
1 tablespoon minced cilantro
1/4 teaspoon salt
1 can pinto or black beans
1/2 teaspoon cumin
1/4 teaspoon garlic powder
1/8 teaspoon onion powder
Salt and pepper, to taste
1 cup shredded cooked beef
1/2 cup crumbled queso fresco
1 avocado, peeled and diced
1/2 small bell pepper, diced
1 small can whole kernel corn, drained
PRINT THE RECIPE AT THE END OF THIS POST
Helpful kitchen tools: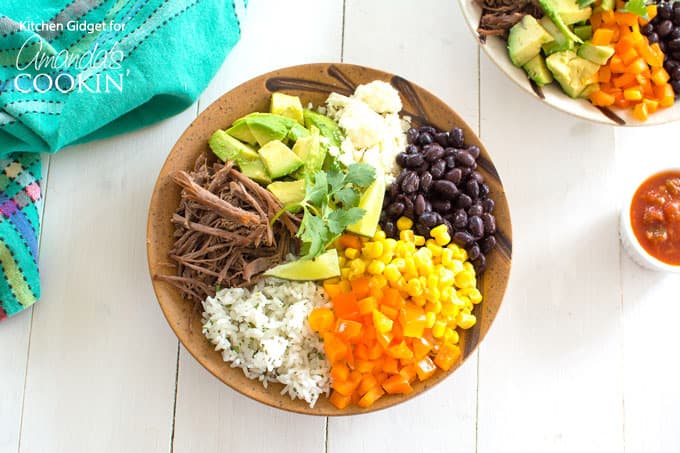 This time I had leftover beef roast on hand which I shredded for protein. For Christmas I made roast pork and the leftovers went in the freezer for a quick topping at a later time. My husband's favorite topping is grilled chicken taco meat, but you could totally go Meatless Monday with this too.
For the beans, pinto or black beans are popular choices. I like to spice mine up a little, but again, if you want to use plain beans the choice is up to you. If you're using salsa, cheese and other toppings, you probably won't taste the difference. Love how quick and easy these are to throw together with such flavorful results!
Here are some of my other favorite topping suggestions:
Avocado
Tomatoes
Sour cream
Corn
Guacamole
Pickled jalapeños
Diced bell pepper
Pico de gallo
Lime wedges
Shredded lettuce or red cabbage
Fajita veggies—sautéed onions and bell peppers
Cheddar cheese or queso fresco
Roasted zucchini, butternut squash or sweet potatoes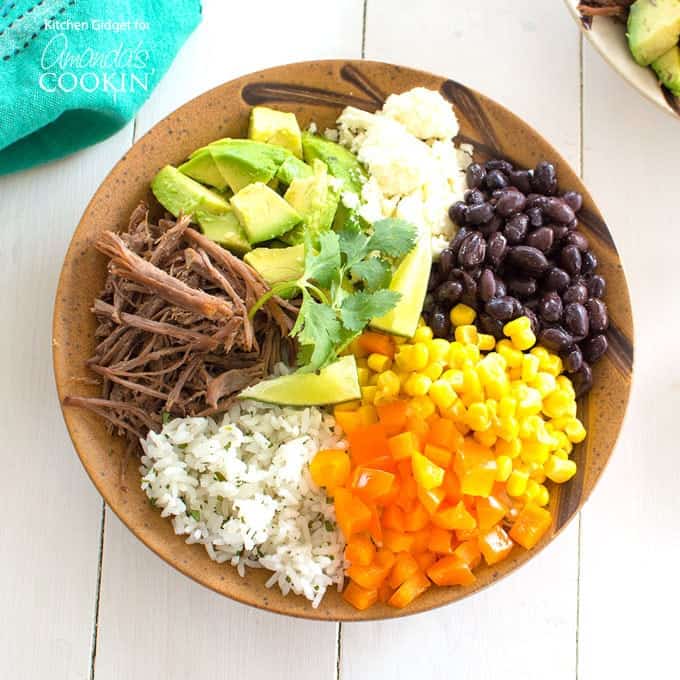 Burrito Bowl
IMPORTANT - There are often Frequently Asked Questions within the blog post that you may find helpful. Simply scroll back up to read them!
Print It
Rate It
Ingredients
For the rice:
2

cups

cooked rice

2

tablespoons

lime juice

1

tablespoon

minced cilantro

1/4

teaspoon

salt
For the beans:
1

can pinto or black beans

do not drain

1/2

teaspoon

cumin

1/4

teaspoon

garlic powder

1/8

teaspoon

onion powder

Salt and pepper

to taste
Toppings:
1

cup

shredded cooked beef

1/2

cup

crumbled queso fresco

1

avocado

peeled and diced

1/2

small bell pepper

diced

1

small can whole kernel corn

drained

Other taco toppings

as desired
Instructions
For the rice:
In a bowl, combine the cooked rice, lime juice and cilantro and salt. This can be served hot or room temperature.
For the beans:
In a small saucepan, combine the beans, cumin, garlic powder and onion powder. Season to taste with salt and pepper. Bring to a simmer and let cook for 5 minutes.
To assemble:
Lay out two serving bowl. Place layer 1 cup of rice along with 1/2 cup beans in each bowl. Divide the remaining toppings (meat, cheese, avocado, bell pepper and corn) among the two bowls.
Rebekah Garcia is the food blogger behind Kitchen Gidget. She creates recipes influenced by her Midwestern roots, Hispanic heritage and insatiable sweet tooth. When she's not cooking, you can find her at the beach with a good book. She is married to the man of her dreams and home is where the military sends them. She believes food is better when shared…unless it's the last bite!
Latest posts by Rebekah Garcia (see all)