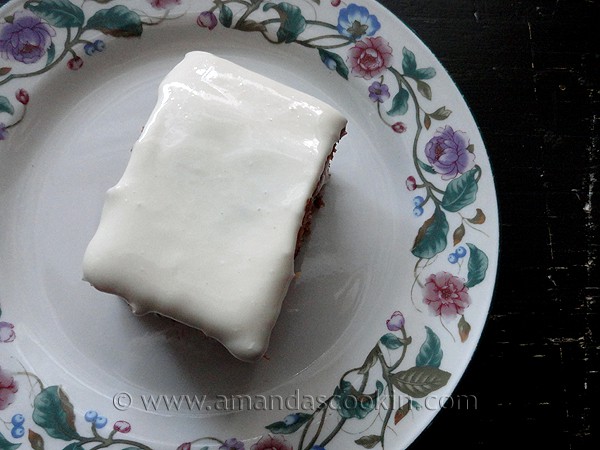 Growing up carrot cake was not something that appealed to me. It wasn't until my thirties that I actually gave carrot cake a chance. Once I did, I was sold. Carrot cake is moist, delicious, and touched with spice. Topping it with cream cheese frosting is definitely a bonus. However, carrot cake can be just as fattening as chocolate or any other cake, unless you make a few adjustments to the ingredients. This frosted cake comes out to 250 calories per slice with only 4.8 grams of fat. You could make the slices smaller of course, but this is a generous piece and a not so guilty pleasure.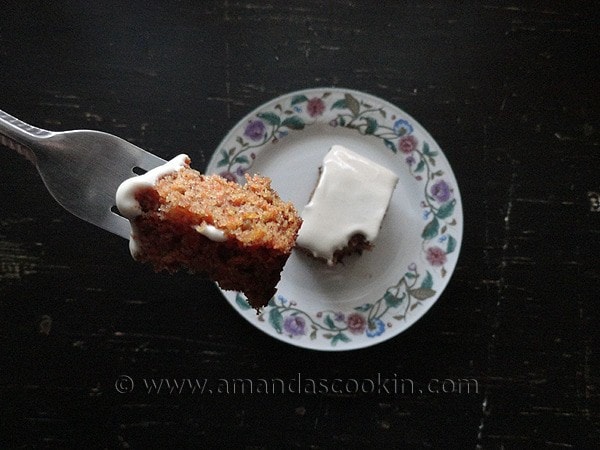 I don't remember how I originally stumbled across this recipe, though I think it was on Pinterest. I read the comments and saw that several people complained about the frosting being too runny. I also noticed that she used marshmallow creme in the frosting, so I decided to use my own frosting recipe instead. I also found it a bit baffling that she said in response to one of the comments to reduce the amount of water in the frosting, yet the frosting instructions didn't include water. So I just winged it.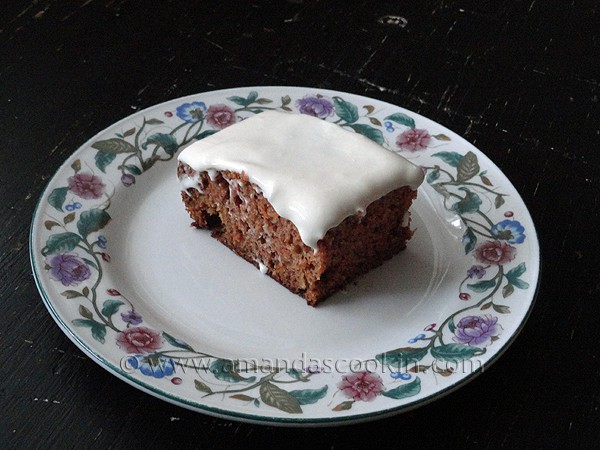 I didn't make any real changes to the carrot cake itself, though next time I might try subbing in some wheat flour for part of the white flour to see how it is. And yes, there will be a next time, it was quite good. :)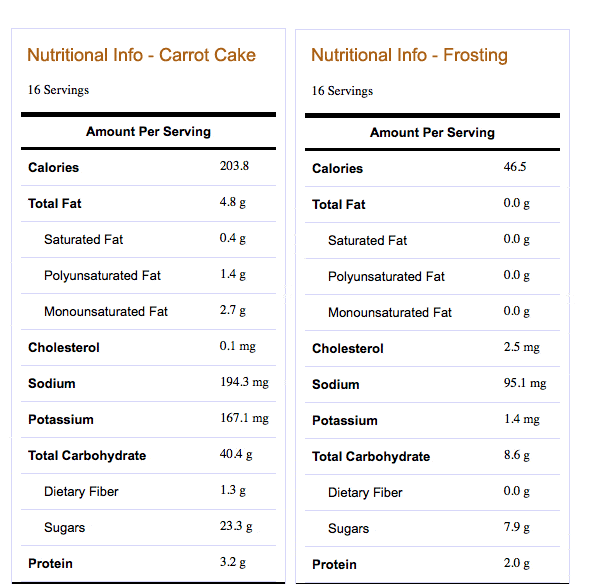 I have actually tallied the nutritional information as well. The total for a slice of this cake is included in the recipe below. The individual labels are above, in case you prefer to eat this without frosting.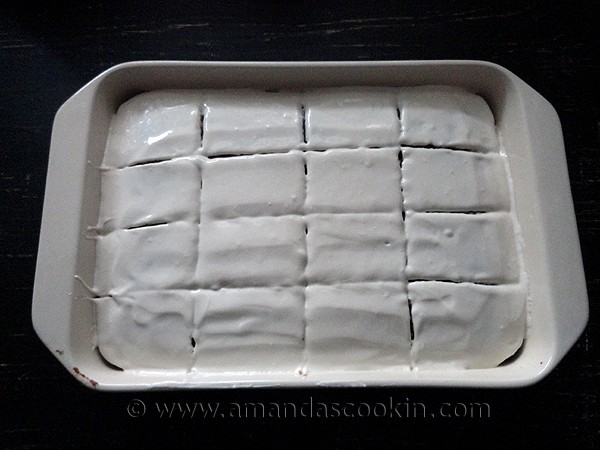 Also, if you want to make your slices smaller, simply multiply the individual nutritional elements below by 16, then divide it by the number of slices that you cut to get an accurate analysis. :)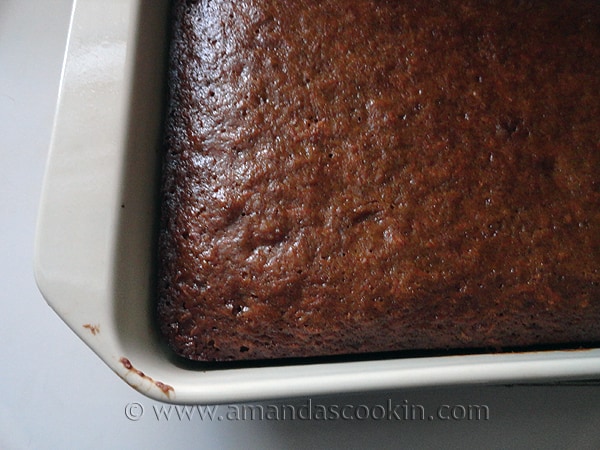 This carrot cake recipe freezes very well also. Place the individual pieces onto a wax paper lined cookie sheet, be careful that they are not touching each other. Freeze for 5-6 hours or overnight. Remove from the freezer and have some squares of freezer paper handy. Place a slice of cake, frosting side down, onto the freezer paper. Wrap the piece of cake and put back on the cookie sheet (just temporary). Continue until all pieces are wrapped. Place wrapped pieces inside zipper freezer bags. When you want one, just take it out and unwrap right away, place on a plate and let it thaw out. I actually take mine out in the morning, place it in a tupperware container with a lid, and by the time I'm ready to eat it it's nice and moist and ready to eat. :)
Enjoy!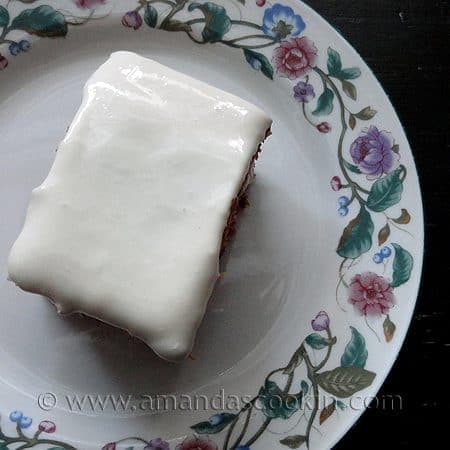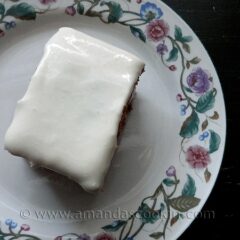 Low Fat Carrot Cake
IMPORTANT - There are often Frequently Asked Questions within the blog post that you may find helpful. Simply scroll back up to read them!
Print It
Rate It
Ingredients
2

cups

unbleached all-purpose flour

1

cup

sugar

1/2

cup

packed light brown sugar

2

teaspoon

ground cinnamon

1

teaspoon

ground nutmeg

2

teaspoon

baking soda

1

teaspoon

salt

1/2

cup

egg substitute

2

egg whites

21/2

cups

shredded carrots

about 3-4 large

1/2

cup

applesauce

1/3

cup

canola oil

1/2

cup

golden raisins

3

tbsp

water
Frosting
8-

oz

package fat free cream cheese

softened

1

tablespoon

unsalted butter

softened

1

cup

powdered sugar

1

tablespoon

vanilla extract
Instructions
Preheat the oven to 350 F. Spray a 13×9 baking pan with non-fat cooking spray.

Combine the flour, sugar, brown sugar, cinnamon, nutmeg, baking soda, and salt in a medium bowl.

Whisk the egg substitute and egg whites in a large bowl. Add the carrots, applesauce, oil, raisins, and water stirring until blended.

Using a sturdy rubber spatula, add the flour mixture to the carrot mixture, and stir until blended. Spread the batter evenly in the pan. Bake until the cake is nicely browned and the edges begin to pull away from the sides of the pan, approx 35-37 minutes.

Place pan on wire rack and cool completely before frosting.

For the Frosting

While the cake is baking, beat the cream cheese and butter together until smooth. Reduce speed to low and beat in the powdered sugar and vanilla. Increase speed to medium-high and beat until smooth. Transfer to a bowl, cover with plastic wrap and store in the refrigerator until ready to use.

When ready to frost the cake, remove the icing from the refrigerator and stir. Spread over top of cake. Cut cake into 16 equal pieces.
Expert Tips & FAQs
The nutritional information is for 1 piece of frosted cake.
Amanda Davis is the entrepreneurial mom of four grown children and four step children. She and her husband, Chef Antoine, love to cook together creating recipes for this blog. Amanda also make kid's crafts and creates decorative items for her home. She is a crafting expert and guru in the kitchen and has appeared online and in print publications many times over the years. She is also a craft book author five times over and product developer as well as the owner of
FunFamilyCrafts.com
. You can find her on social media by using the buttons to the left!
Latest posts by Amanda Davis (see all)