Skagway, Alaska. It was our fourth and final port before heading through beautiful Glacier Bay and on to Whittier, finishing up our Alaskan Cruise aboard the Island Princess. We booked a canoe tour excursion out to the Davidson Glacier. My amazing trip was sponsored by Princess Cruise Lines, but all opinions I have expressed are 100% my own.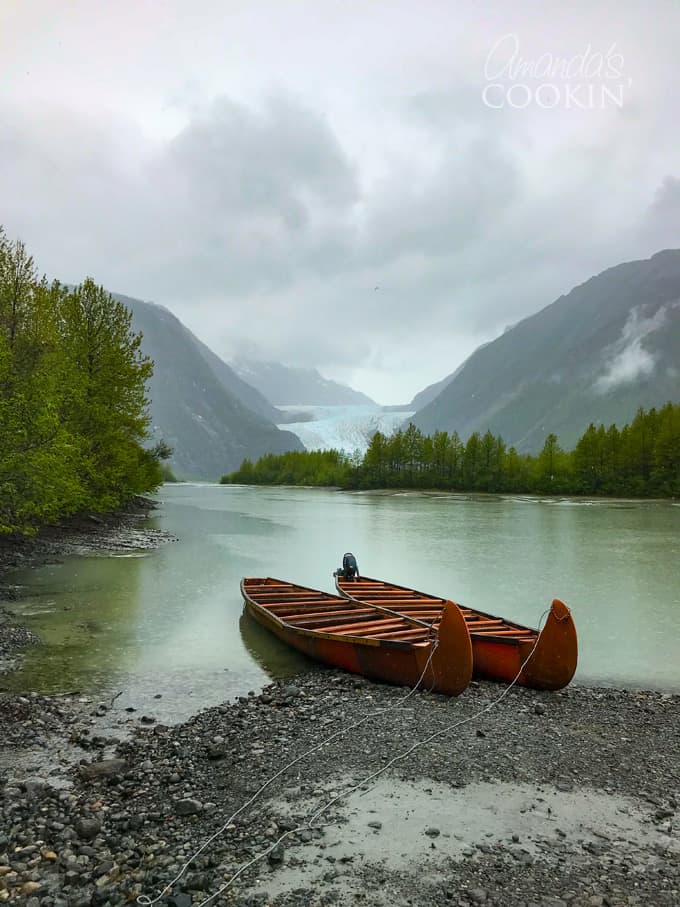 Back in May, I went on an amazing Alaskan Cruise with several friends, courtesy of Princess Cruises. It was my first cruise and I had the absolute time of my life! I am so grateful for the opportunity that Princess gave me and have been talking about my trip constantly since I got home.
Davidson Glacier Canoe Tour
I know this seems like an odd thing to start with, but I suggest going to the restroom before you leave shore. Especially if a primitive outhouse is not your style. Outhouses are available if you need them, but they just don't smell very nice. The island is quite remote and there's no porta-potty clean-out service there! Guides will suggest you go before heading out.
The Glacier Point Wilderness Safari excursion begins with a 75-minute cruise from Skagway through Alaska's deepest fjord. We rode in a boat similar to the one from our whale watching excursion, which is specifically made for marine wildlife viewing and photography.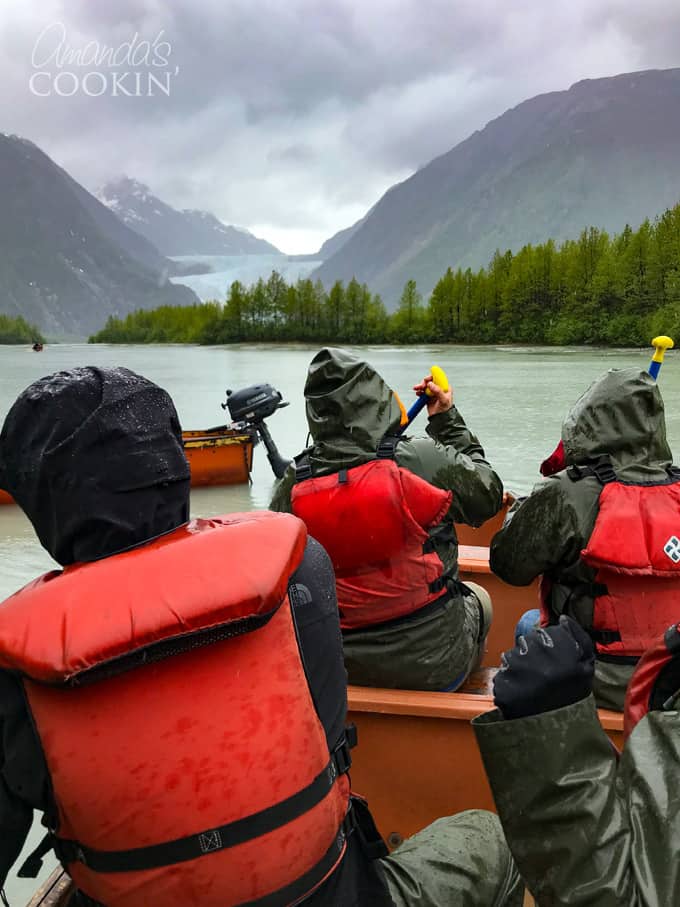 There was nothing boring about the ride though! There's plenty of beautiful terrain to photograph, opportunities to see wildlife, and there's even a couple of quick stops for photographs at some of Alaska's breathtaking waterfalls.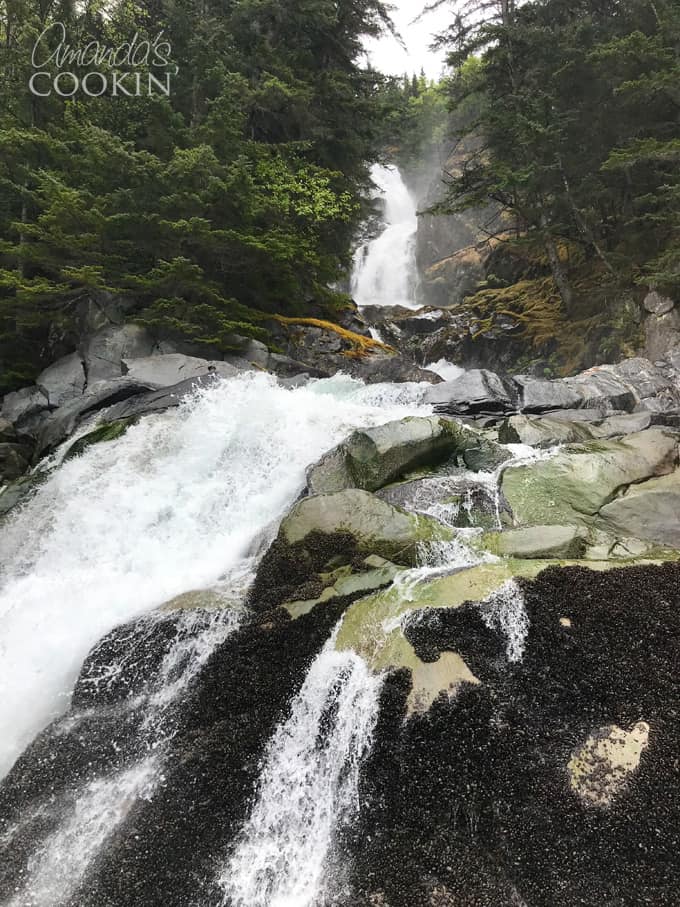 Our onboard guide, Tex, was a wealth of amazing information about the land, sea, people, and history of the area. He pointed out several homesteads where people are living off the grid. Could you live without all the essentials we are all so used to?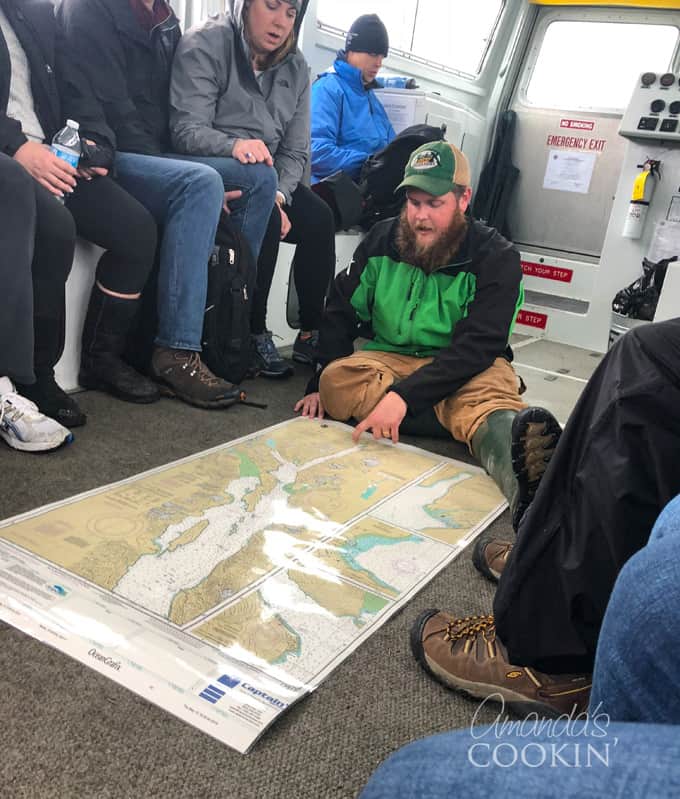 Glacier Point Arrival
We arrived at a remote beach at Glacier Point where we were welcomed by excursion guides. After a quick bite to eat, we climbed aboard the bus and headed down a dirt road through a beautiful moss-covered forest to the "staging area" of the safari.
On the way, we saw several small, primitive cabins. The tour guides live on the island for 2-3 weeks at a time, taking turns going back into town.
Getting Ready for Your Canoe Tour
Guides help outfit you with waders, jackets, boots, life vest and an oar. It's important to note that gloves were not included so be sure to bring your own. In fact, those gloves should be waterproof if possible as ours were pretty well soaked by the time we got back.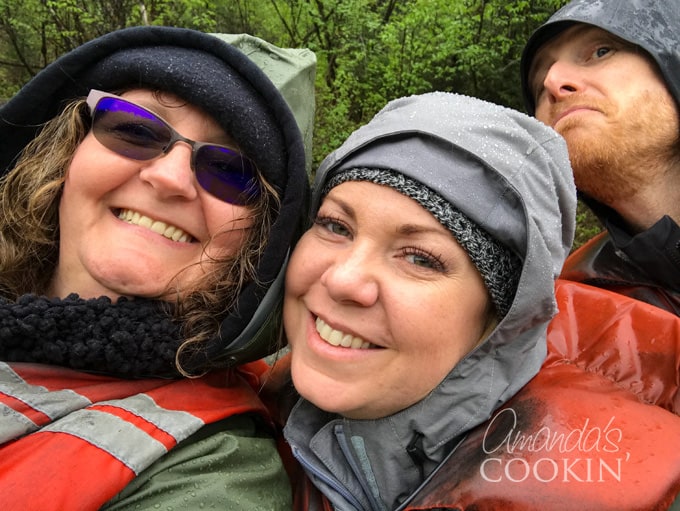 The jacket has a hood, but I still recommend bringing a scarf. We were there in mid-May and it was a rainy day with temps in the low 50's.
Things to Bring on your Canoe Tour in Alaska:
It takes a little while for everyone to get geared up, so don't rush when picking out your waders. I did and didn't pick a pair that was long enough so my pant cuffs got wet. And speaking of wet, be prepared for it, especially if it's a rainy day!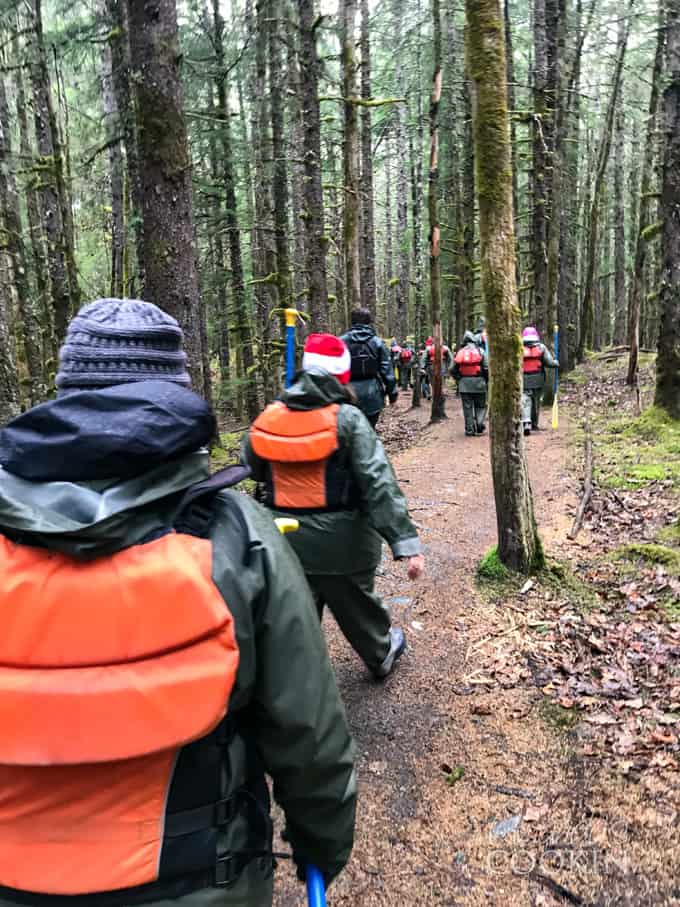 Once everyone is geared up, you'll take a short hike through the forest down to the shore where you'll see a breathtaking view of the lake leading out to the glacier. Along the trail, trees are marked with years, indicating where the glacier was during that time. It's incredible to see how far the glacier has receded over the last several decades.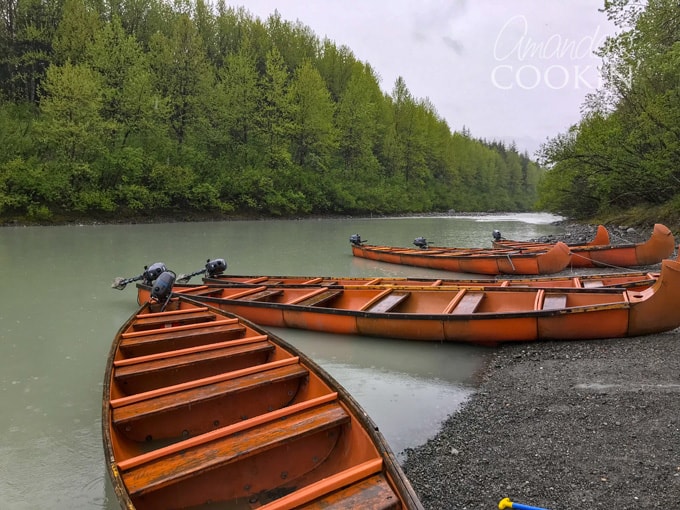 Canoe to The Davidson Glacier
The 31-foot long voyager canoes can hold up to ten people. We had a total of nine, eight passengers and our guide at the back. Your canoe tour guide will give you instructions so that everyone is paddling in sync. Once you and your fellow canoe-mates row out of the shallows, your guide will start the motor and you'll cruise to the glacier's shore.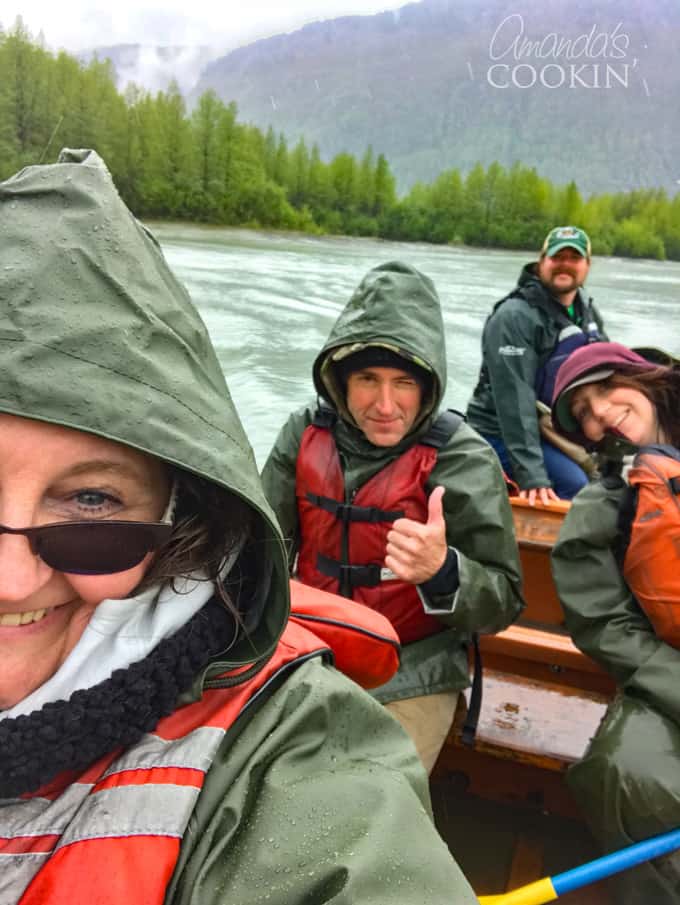 It's amazing how the glacier doesn't actually look that big, even once you arrive at shore. However, once we stepped out of the canoe and looked out toward the glacier, we could see other people out near the glacier and they looked like ants!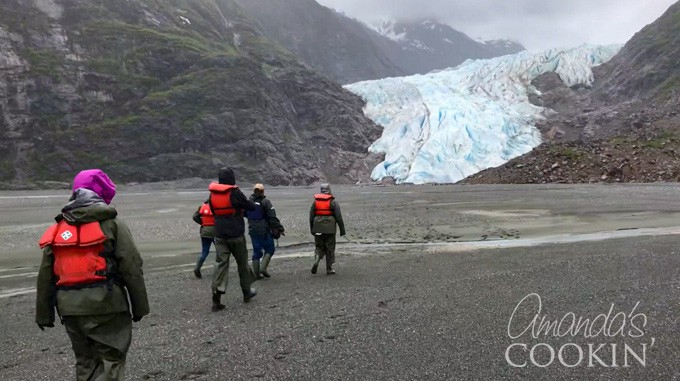 If you look closely at the photo above, you'll see little dark dots near the face of the glacier. Yes, those are people! Alaska's glaciers are truly awe-inspiring!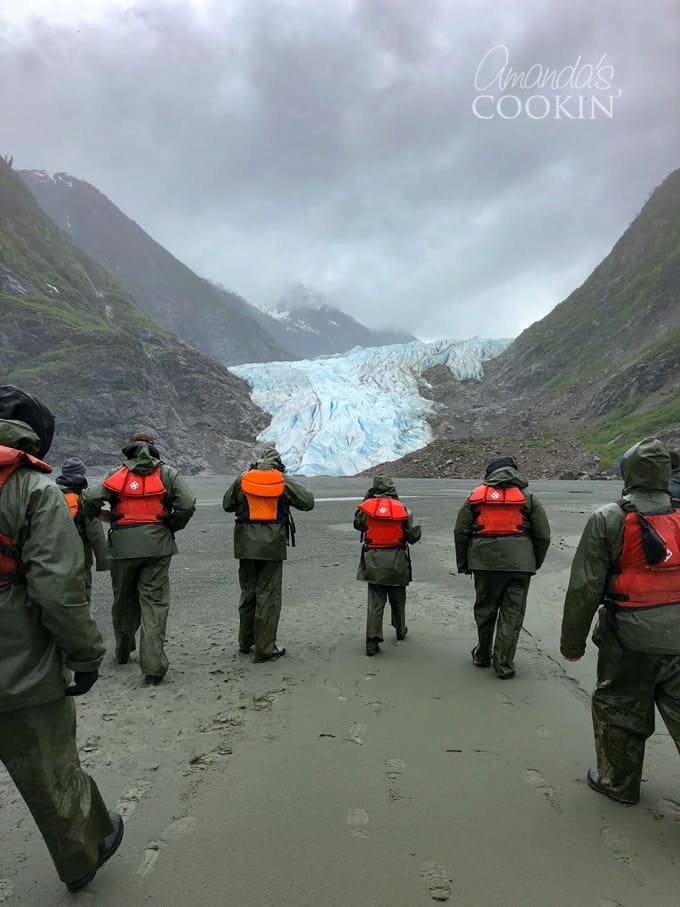 You can trek across black sand beaches to the Davidson Glacier where you can get a drink of fresh glacier water, take memorable photographs, and hold up a chunk of ice from the glacier.
The land leading up to the glacier is covered in smooth stones in a multitude of colors. We found some deep green ones with a white stripe around it. Our guide told us they were known as moon rocks, but you probably know them as story stones. He said they are believed to be good luck and we were allowed to grab a couple as souvenirs.
Finally, after visiting the glacier you'll hop back in your canoes and head back to camp, then back on the boat to Skagway.
The Town of Skagway
When you arrive back in Skagway after your canoe tour, take the shuttle into town to check out this quaint, tiny town.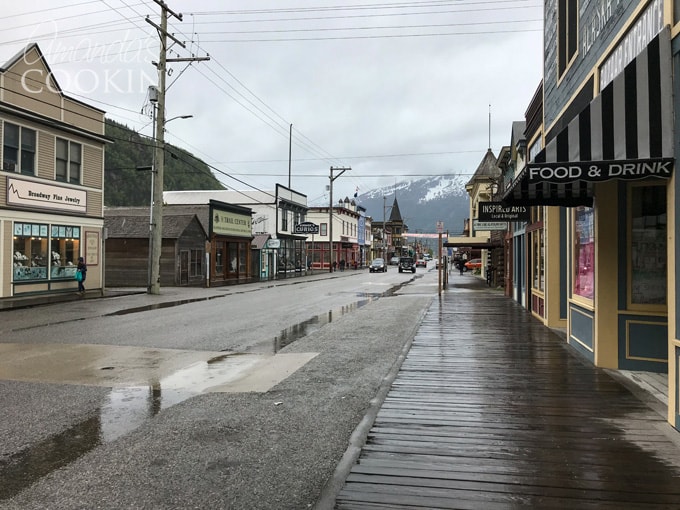 There are several shops (more jewelry shops then I've ever seen actually) and a couple good places to eat in Skagway, but it's only about a mile long at best.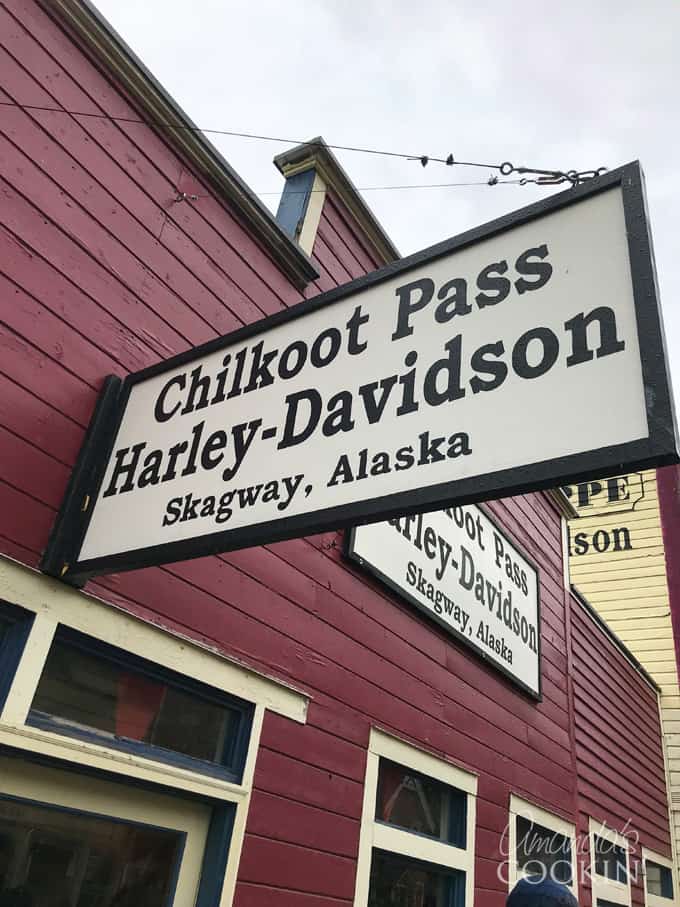 For you Harley lovers, you can find the Chilkoot Pass Harley-Davison shop in Skagway!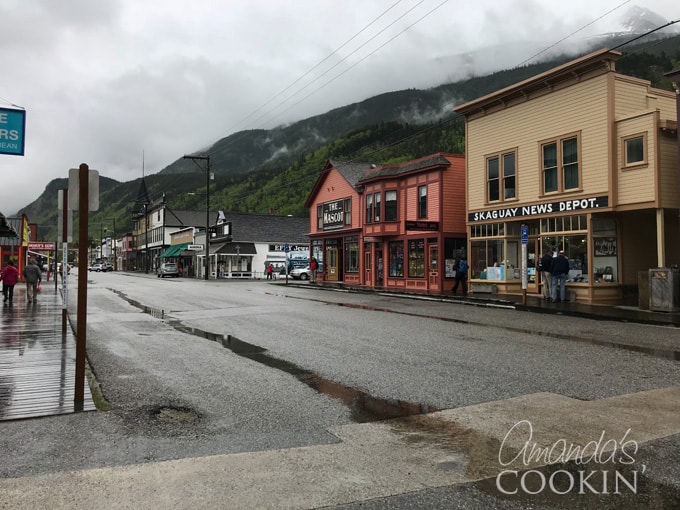 Fun Fact: The town name used to be spelled Skaguay until the post office insisted on a spelling change to Skagway. The News Depot still carries the old name on their building.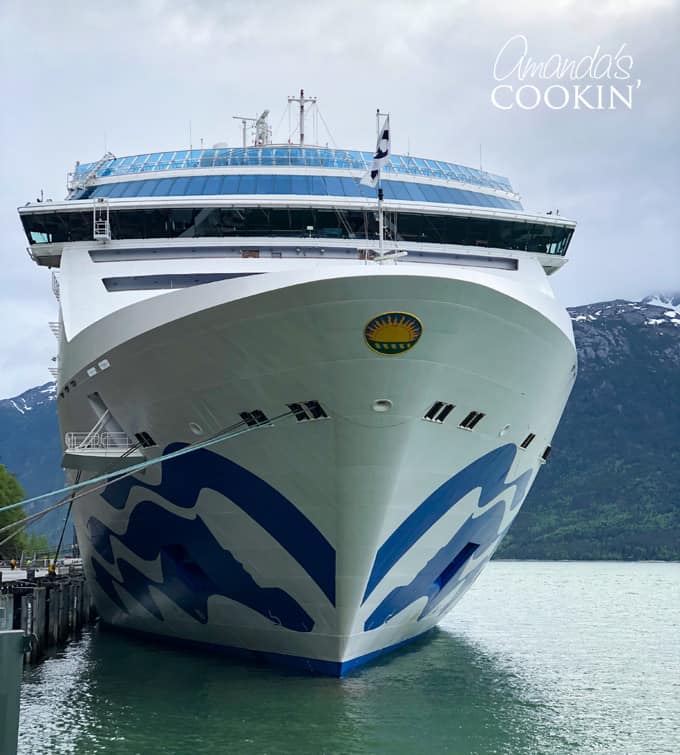 At the end of the day, you can head back to the ship, no worrying about fighting traffic back to your hotel room. Just climb aboard the ship, order a Key Lime Pie Martini or a serving of Espresso Creme Brulee and relax after an exhausting but deliciously fun day!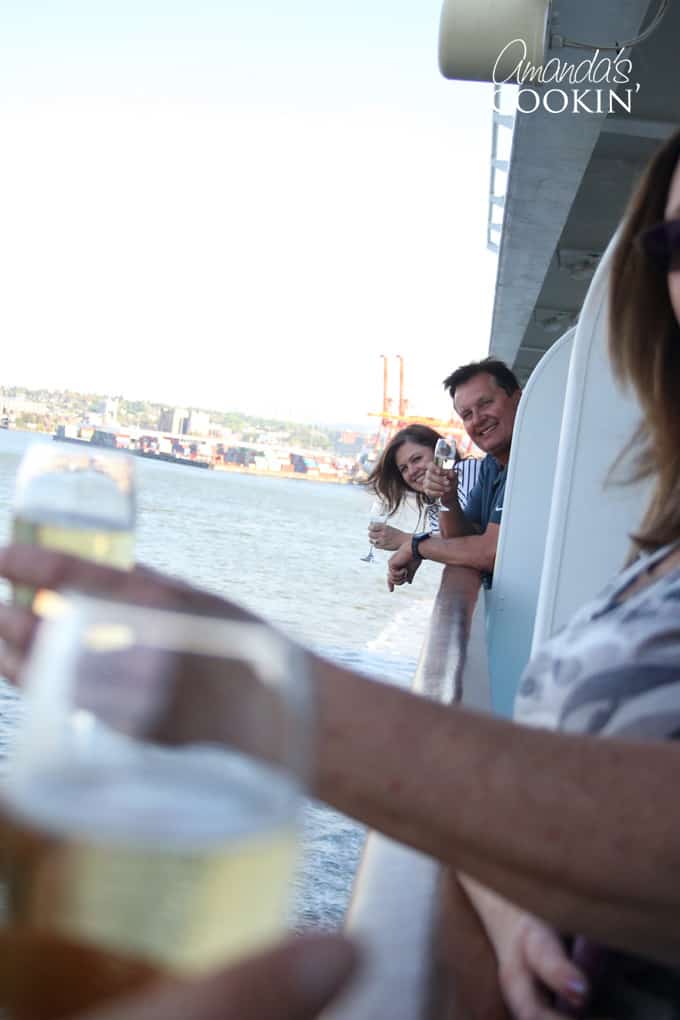 Curious about the rest of my Alaskan Cruise?
Check out my reviews of the whale watching excursion I went on at Icy Strait Point, the Mendenhall Glacier helicopter tour I went on while in Juneau, Alaska and the boat cruise through Glacier Bay! Absolutely breathtaking!
Amanda Davis is the entrepreneurial mom of four grown children and four step children. She and her husband, Chef Antoine, love to cook together creating recipes for this blog. Amanda also make kid's crafts and creates decorative items for her home. She is a crafting expert and guru in the kitchen and has appeared online and in print publications many times over the years. She is also a craft book author five times over and product developer as well as the owner of
FunFamilyCrafts.com
. You can find her on social media by using the buttons to the left!
Latest posts by Amanda Davis (see all)