If you're heading to Juneau, Alaska anytime soon, you definitely want to book a helicopter tour to the Mendenhall Glacier! Make sure you book the Mendenhall Glacier helicopter tour that lands on the glacier so you can get out and trek around. While flying over it is great, walking around on the Mendenhall Glacier is something not many people can say they've done, and you'll definitely want bragging rights! This post and trip were sponsored by Princess Cruises, all opinions are 100% my own.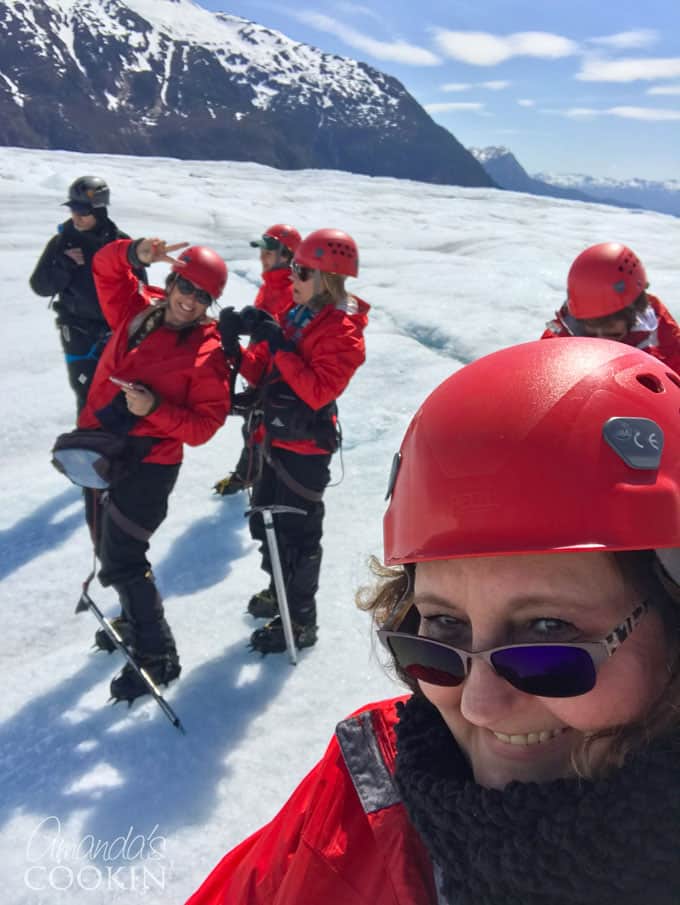 ALASKAN CRUISE EXCURSIONS
Back in May, I was lucky enough to go on an Alaskan cruise with some of my best friends courtesy of Princess Cruise Lines. It was one of the best times of my life and I would definitely do it again! A couple weeks ago I told you about my exciting Whale Watching Excursion at Icy Strait Point in Hoonah, Alaska, which was our first stop.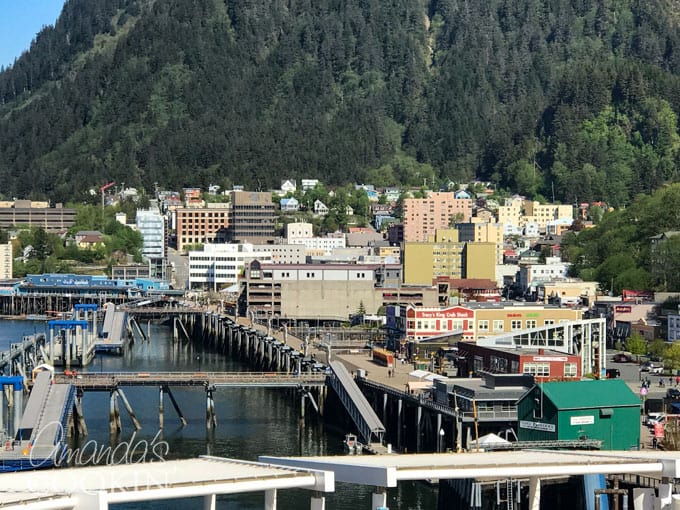 JUNEAU, ALASKA PORT
Our second port stop was in Juneau, Alaska, a town considerably larger than Hoonah. I had been told there were plenty of shopping and eating opportunities in Juneau, so I was definitely excited to disembark and begin the day.
I have to admit though, as excited as I was, I was also quite nervous. I had never been in a helicopter before and didn't really know what to expect or how I would feel about it. My worries were for nothing though! The helicopter ride was very smooth and like nothing I've experienced before.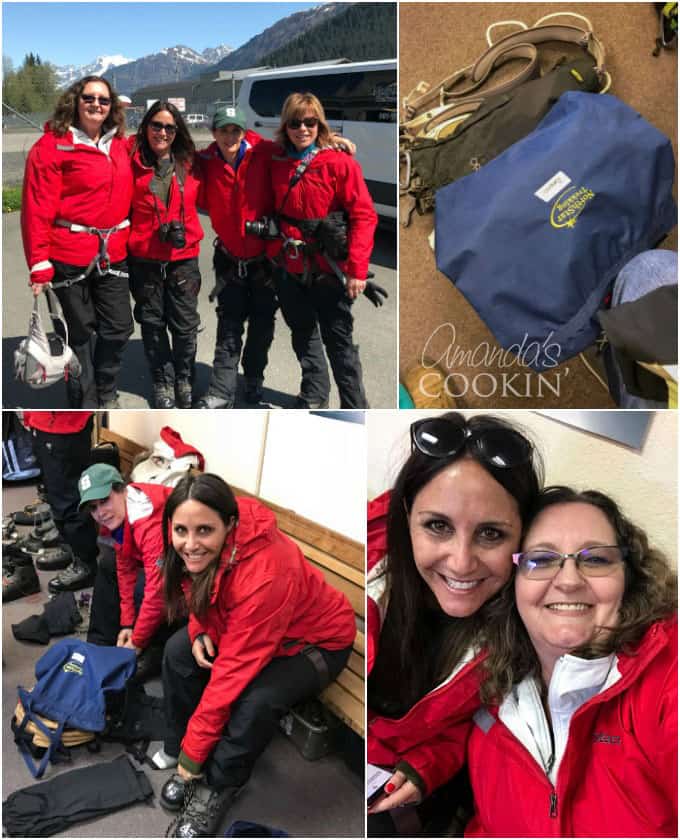 MENDENHALL GLACIER HELICOPTER TOUR
While the tour company provides just about everything you need, there are just a few things you might want to bring along.
When you first get there, you'll spend some time gearing up for the trek. They even provide the boots! Each person is given a pack with all the proper outer gear, a large fanny pack, water, and an energy snack.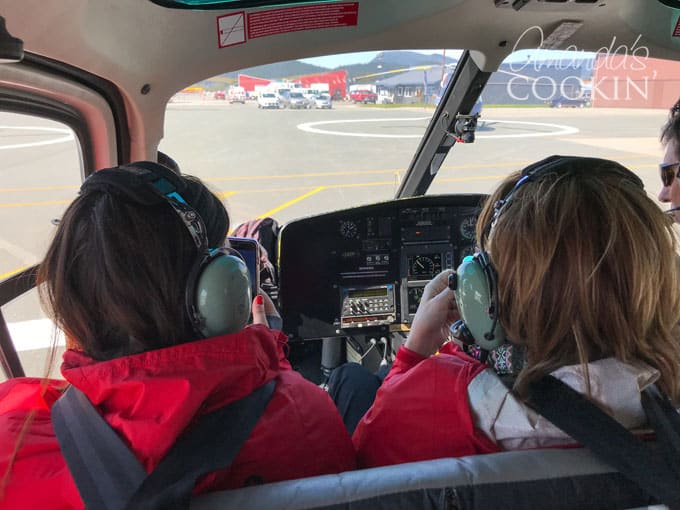 HELICOPTER SAFETY
The staff goes over safety precautions and teaches you the proper way to approach the helicopter, and also covers where the safe zones are. Once aboard the helicopter, you are fitted with headphones so you can easily communicate with the pilot and other passengers.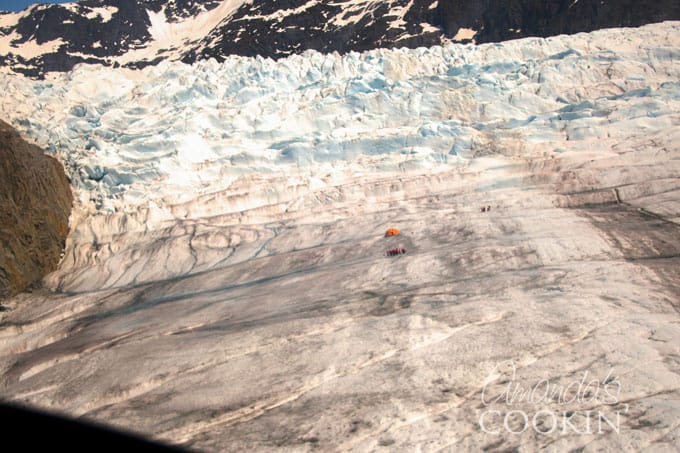 THE HELICOPTER RIDE
The views from the helicopter are absolutely spectacular! I've put together a video for you below so you can get an idea of what it's like to be on board. Our flight to the glacier was longer than the flight back because the pilot flies around the mountains to give you the best views.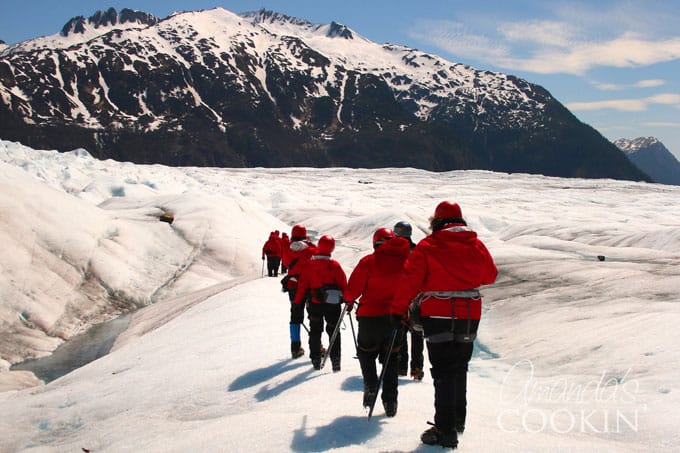 GEARING UP FOR THE TREK
Once the pilot lands on the glacier, you'll exit the helicopter and meet with your guides. First, you'll be given an ice ax, helmet and crampons (spikes) for your boots. They'll teach you how to use your ice ax to help you trek and you'll learn to walk up and down steep slopes as well as how to walk along angled ground.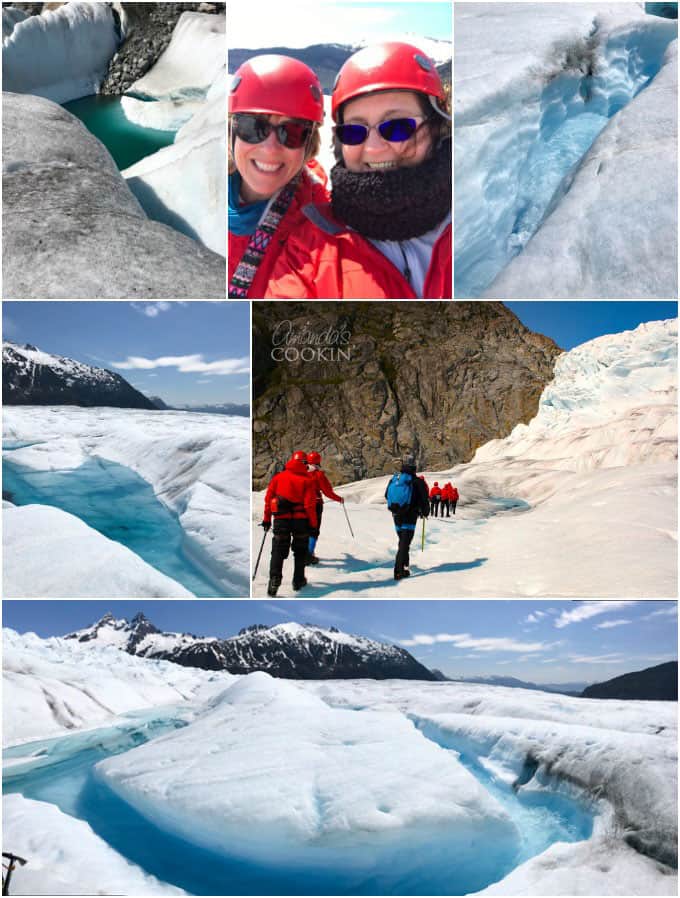 TREKKING THE GLACIER
As a group you'll trek around the glacier checking out the amazing views, spotting tiny waterways and large pools. Your guides will educate you about glaciers, how they are formed and what their environmental roles are.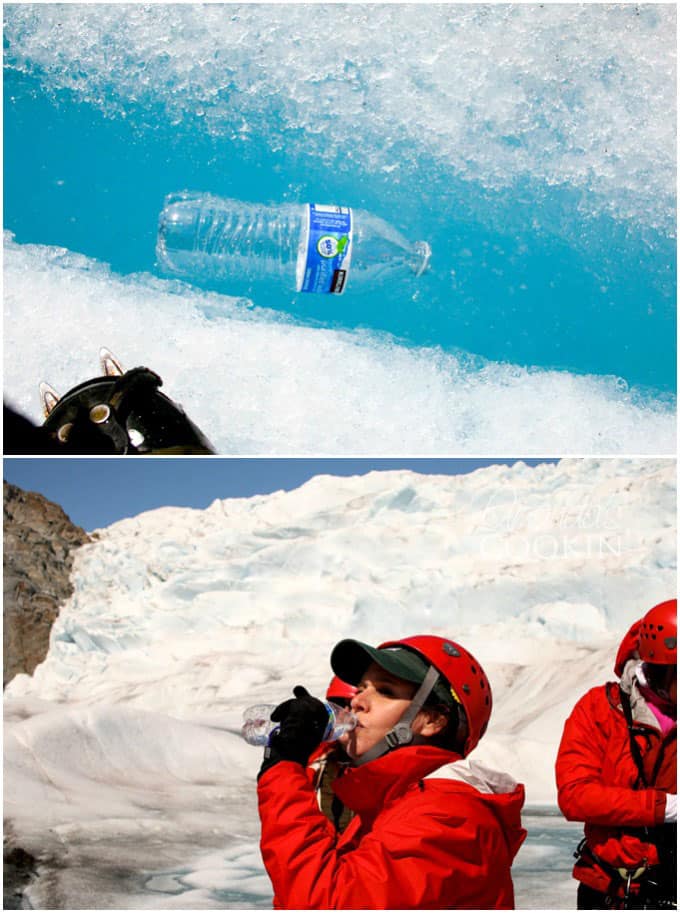 DRINKING GLACIER WATER
How many of your friends can say they've drunk glacier water? Not the kind you buy at the store, but straight from the actual glacier? Well, I can, and so will you! In your fanny pack is a full bottle of water. They recommend taking a sip of the bottled water before pouring it out, then filling your bottle with pure glacial water and tasting again. Such a great experience!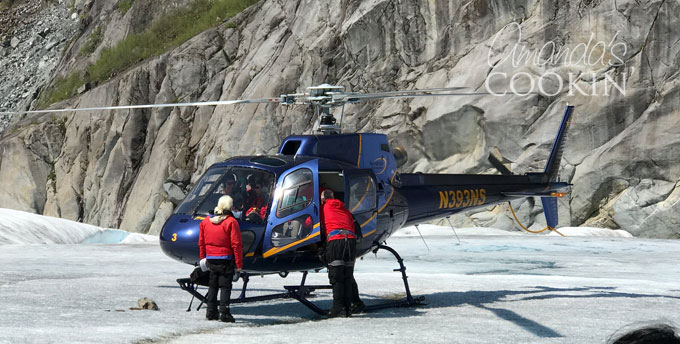 The tour lasts about 2.5 hours and when you're finished you'll climb back aboard the helicopter and head back to Juneau, taking all of those amazing photos and memories with you!
EATING AND SHOPPING IN JUNEAU, ALASKA
When we returned from our tour we headed to town for some shopping and a bite to eat. Juneau has plenty of great souvenir shops and several great places to eat!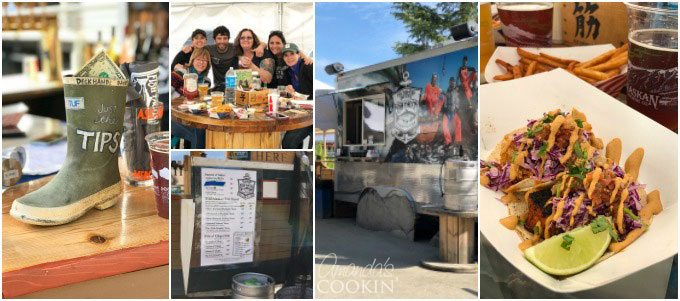 For lunch, we stopped at Deckhand Dave's Fish Tacos, a small food truck with a covered, outdoor eating area. The Rockfish tacos are delicious, perfectly crisp on the outside and tender on the inside and served with a spicy cilantro crema. We paired ours with cold Alaskan beer and it was amazing!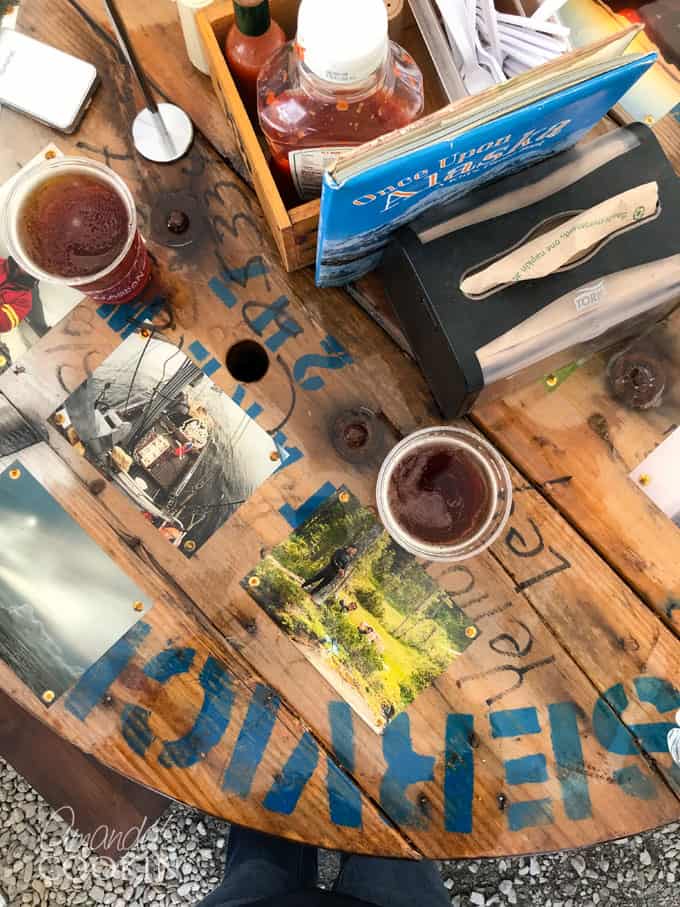 Turns out, the name of the business wasn't just made up. You see, Dave was actually a deckhand on a fishing boat before opening his taco stand. The pictures embedded in his tables are from his onboard experiences. I highly recommend stopping by!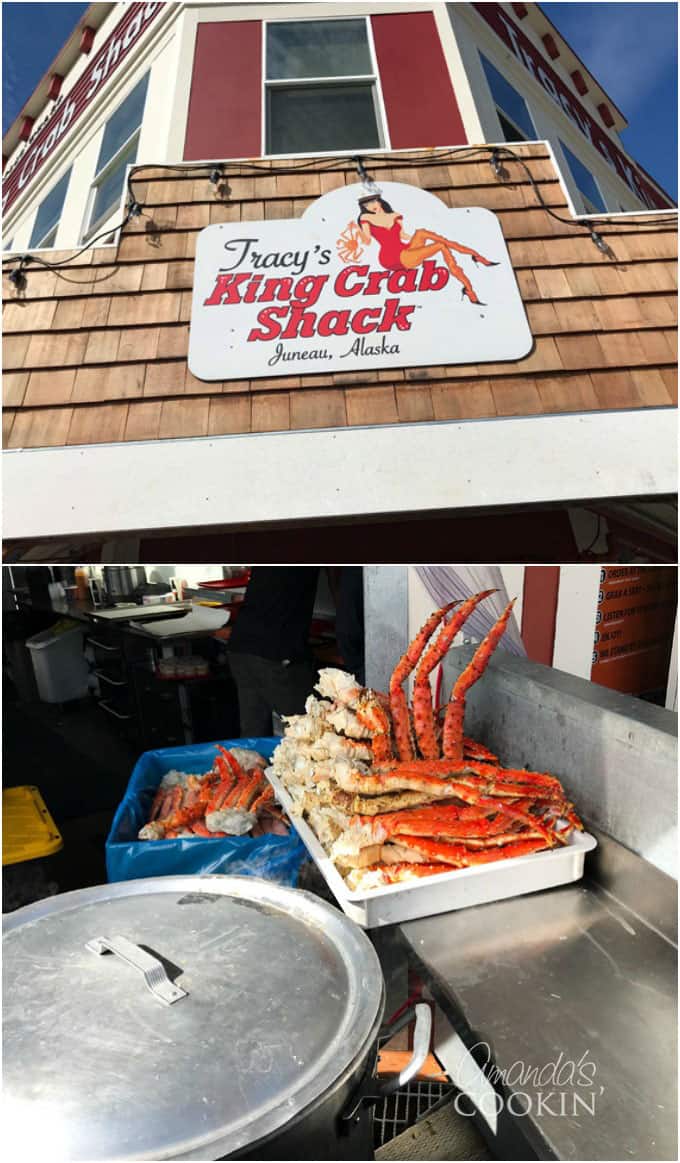 While we didn't eat there, we heard great things about Tracy's King Crab Shack. In fact, Dave told us that Tracy started in the same spot as he did. He planned to move into an actual restaurant just like Tracy's in the next year or so. I think he'll definitely make that happen!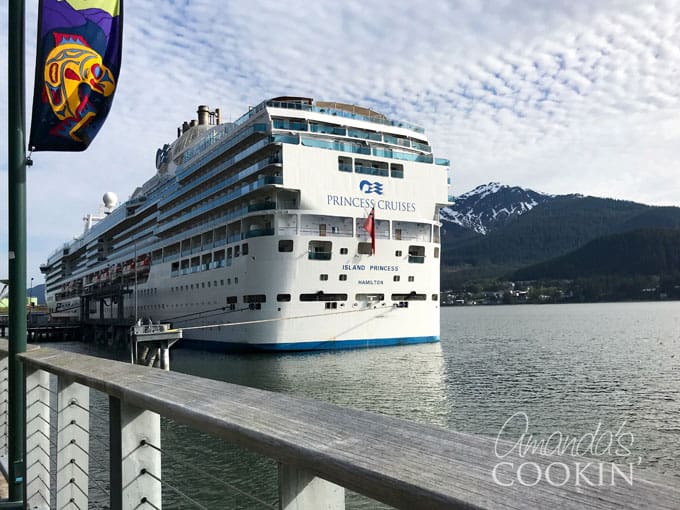 We rounded out the day with some great shopping and browsing around the streets of Juneau. There was plenty more to do but we were pretty tired. So it was great to be able to climb back aboard the Island Princess, grab a Key Lime Pie Martini at The Wheelhouse Bar and just relax!
Be sure to check out my third excursion, the Davidson Glacier Canoe Tour in Skagway, Alaska.
So if you've ever thought about going on an Alaskan Cruise, I highly recommend it! You won't regret it, I promise.
Amanda Davis is the entrepreneurial mom of four grown children and four step children. She and her husband, Chef Antoine, love to cook together creating recipes for this blog. Amanda also make kid's crafts and creates decorative items for her home. She is a crafting expert and guru in the kitchen and has appeared online and in print publications many times over the years. She is also a craft book author five times over and product developer as well as the owner of
FunFamilyCrafts.com
. You can find her on social media by using the buttons to the left!
Latest posts by Amanda Davis (see all)