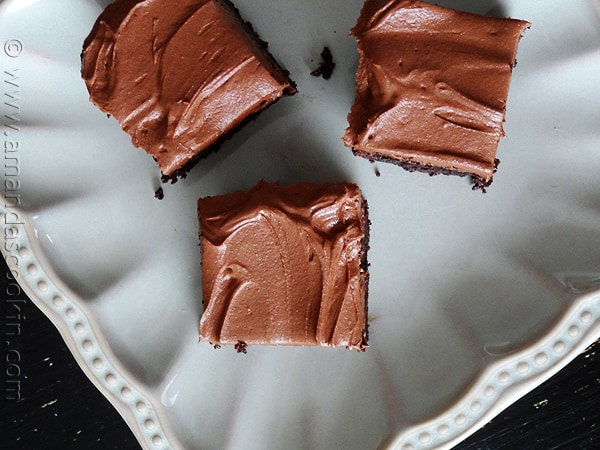 If someone asked me what my favorite desserts were, I'm just not sure I could narrow it down to one. However, if asked about my top five or ten, I'd definitely say that brownies are right up there on the list. I've always loved brownies, ever since I was a bratty little kid in pig tails. They are chewy on the inside and slightly crunchy on the outside, and completely full of fudgy, chocolate goodness.. really, who wouldn't love them??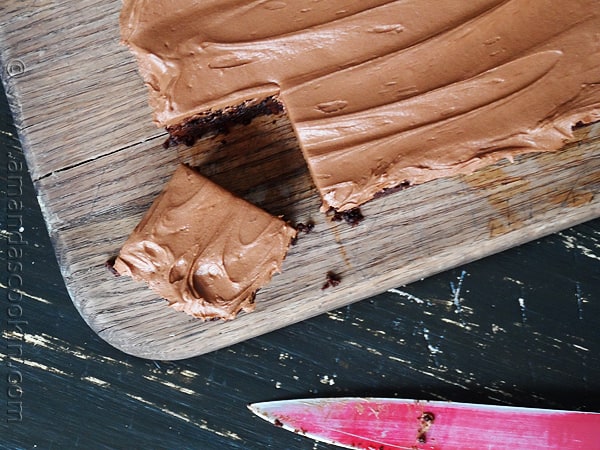 Now, if you like coffee flavored desserts, I have a treat for you today. These espresso brownies are delicious* and covered in a fudge frosting, making them difficult to resist. Of course, you could enjoy them without the frosting if you prefer them that way, but I've always been a frosting girl.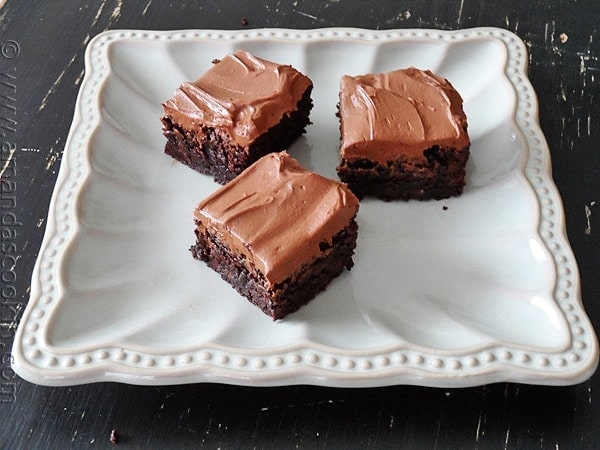 For a nice presentation, chill these in the refrigerator first. Then take them out and cut them to get nice clean lines. Let them sit out, covered loosely with foil, so they get nice and chewy again. Great for when friends or family are coming over. Cut into small squares for the perfect finger food type dessert.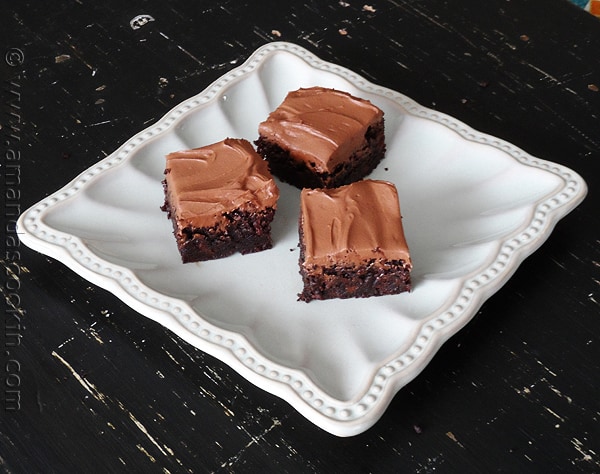 *Apparently "delicious" is a bad food blogger word. Ridiculous. Sure, it's overused, but that's simply because it's one of the best descriptive words for good tasting food! So how could "delicious" be bad? So, I'm here to tell you that I won't stop using the word delicious simply because there's a large group of blog writing police out there that say I'm not being descriptive enough or being creative enough with my adjectives. I'm guessing that YOU think it's descriptive and I'm not changing my writing style because they say it's overused. Yes, I've been to all the conferences, etc. So what? If I think something is delicious, then that's what I'm coining it. The end.
P.S. If you start seeing me use multiple exclamation points in my blog posts (!!!!) then by all means, call me out.
More You Might Like
Chocolate Chip Espresso Cookies
Amanda's Espresso Chocolate Pie
Brownie Mosaic Cheesecake
Brownies in a Cast Iron Skillet
Chocolate Espresso Mini Donuts – Big Bear's Wife
Fudge Topped Brownies – Baking and Boys
Dark Chocolate Espresso Cookies – Cookie Madness
Easy Brownie Daisies – The Decorated Cookie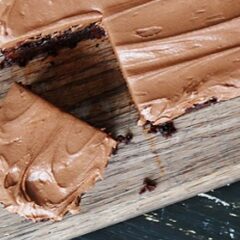 Fudge Frosted Espresso Brownies
IMPORTANT - There are often Frequently Asked Questions within the blog post that you may find helpful. Simply scroll back up to read them!
Print It
Rate It
Ingredients
1/2

cup

unsalted butter

1 stick, softened

4

oz

bittersweet chocolate

chopped

3

oz

unsweetened chocolate

chopped

1

cup

sugar

2

eggs

1

tablespoon

instant espresso powder

1

teaspoon

vanilla

2/3

cup

unbleached all purpose flour

1/4

teaspoon

baking soda

1/8

teaspoon

salt

1

cup

miniature semi sweet chocolate chips
Fudge Frosting:
6

ounces

bittersweet chocolate

minimum 70 percent cocoa solids

1

cup

plus 2 tablespoons unsalted butter

softened

1 3/4

cups

confectioners' sugar

sifted

1

tablespoon

vanilla extract
Instructions
Preheat oven to 350 F.

Melt butter, bittersweet chocolate and unsweetened chocolate in a microwave safe bowl, heating in 30 second increments until smooth. Allow chocolate to cool.

Prepare an 8x8 baking pan by lining it with foil. Spray the foil with cooking spray. Set aside.

When chocolate has cooled, stir in the sugar until well blended. Add the eggs, one at a time, stirring well with a wooden spoon, just until combined. Add in the espresso powder and vanilla and stir until combined.

In another bowl, whisk together flour, baking soda and salt. Add flour mixture to the chocolate mixture and stir until just combined. Stir in miniature chocolate chips. Spread batter evenly into prepared pan.

Bake for 30 minutes. Remove from oven and cool completely in pan on a wire rack.

Make the Frosting

Melt the chocolate in the microwave – 2 to 3 minutes on medium – or in a bowl sitting over a pan of simmering water, and let cool slightly.

In another bowl beat the butter until it's soft and creamy and then add the sifted confectioners' sugar and beat again until everything's light and fluffy. Gently add the vanilla and chocolate and mix together until everything is combined.

Spread frosting on the cooled brownies in the pan.

Lift brownies out of the pan using the foil as handles. Cut brownies into bars.
Amanda Davis is the entrepreneurial mom of four grown children and four step children. She and her husband, Chef Antoine, love to cook together creating recipes for this blog. Amanda also make kid's crafts and creates decorative items for her home. She is a crafting expert and guru in the kitchen and has appeared online and in print publications many times over the years. She is also a craft book author five times over and product developer as well as the owner of
FunFamilyCrafts.com
. You can find her on social media by using the buttons to the left!
Latest posts by Amanda Davis (see all)