Nothing compares to homemade bruschetta (pronounced "broo-sket-ta") which is actually not just the tomato topping. Bruschetta is defined as "thick slices of bread grilled, rubbed with garlic, drizzled with olive oil, often topped with tomatoes and herbs, and usually served as an appetizer". I have heard reports of how soggy the bread can get, making it unappetizing. Serving the topping on the side solves this issue.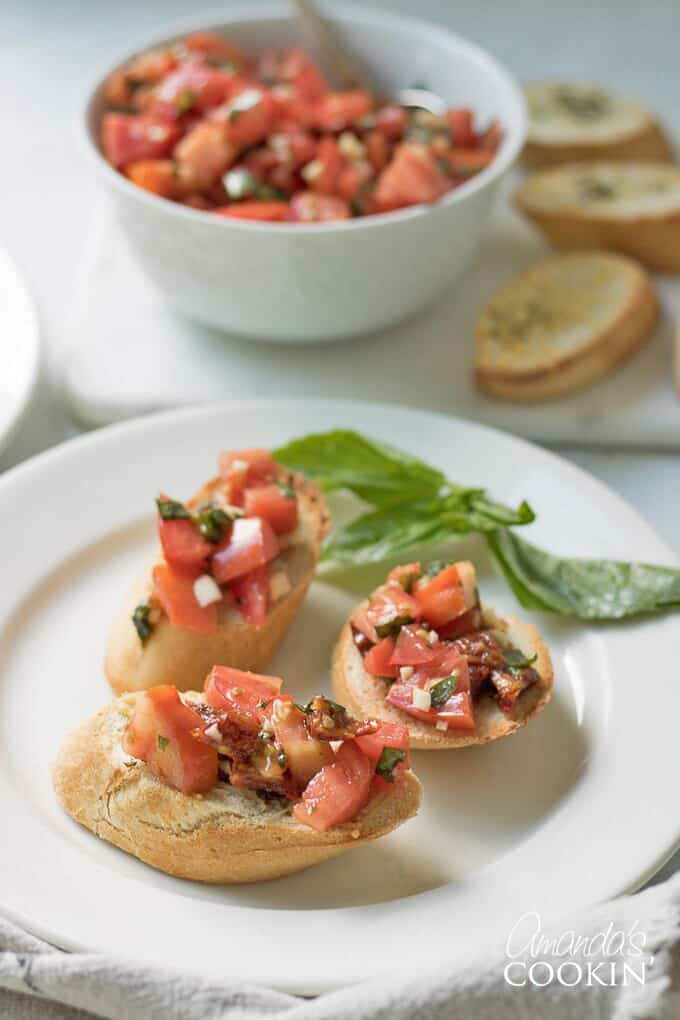 Bruschetta- An Olive Garden Copycat Recipe
This simple appetizer uses chopped tomatoes, fresh basil, garlic, sun-dried tomatoes and a homemade balsamic vinaigrette. It's so delicious piled on top of warmed bread!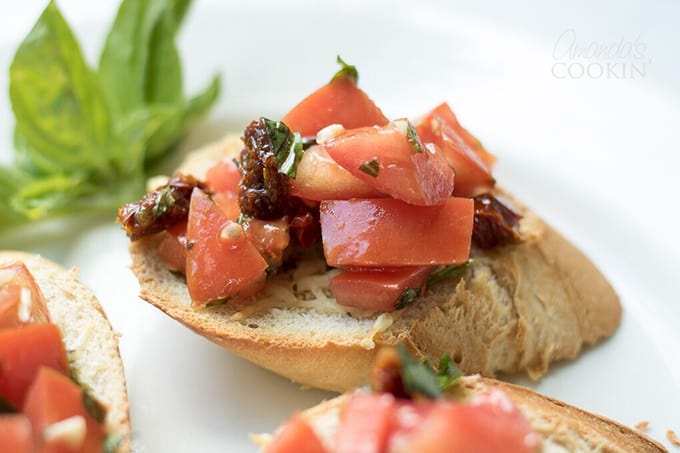 This tasty bruschetta is a year-round appetizer that everyone will love. It's traditionally served on sliced French bread, but the topping is also great with crackers or chips as well.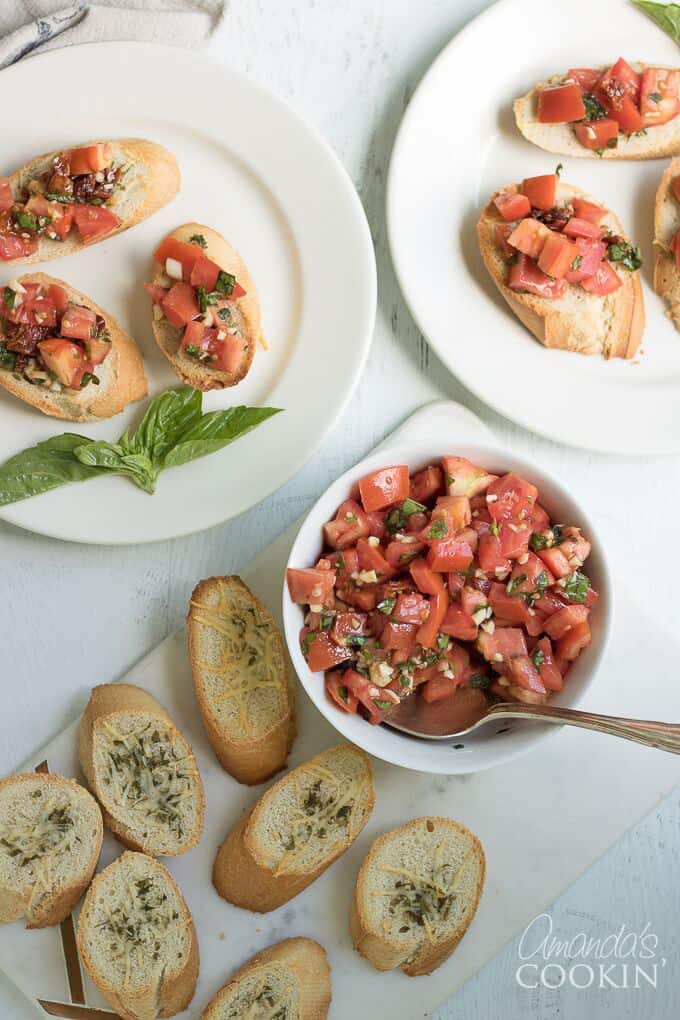 Ingredients You Will Need To Make Bruschetta
For The Topping
5 small-medium firm Roma tomatoes, diced
1 1/2 tablespoon minced fresh basil
3 small cloves garlic, minced
2 1/2 teaspoons diced marinated sun-dried tomatoes
2 1/2 teaspoons extra-virgin olive oil
1 1/2 teaspoon balsamic vinegar
1/2 teaspoon salt
For The Bread
3 tablespoons freshly grated Parmesan cheese
1 teaspoon dried parsley flakes
1 long loaf of baguette-style bread, cut into 3/4″ slices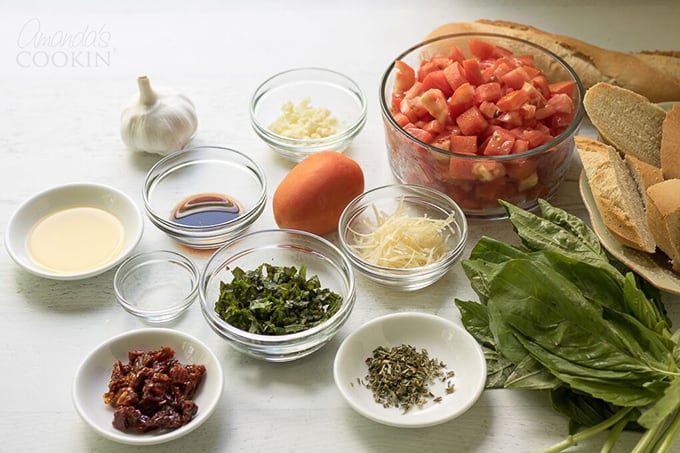 Helpful Kitchen Tools
Making the Bruschetta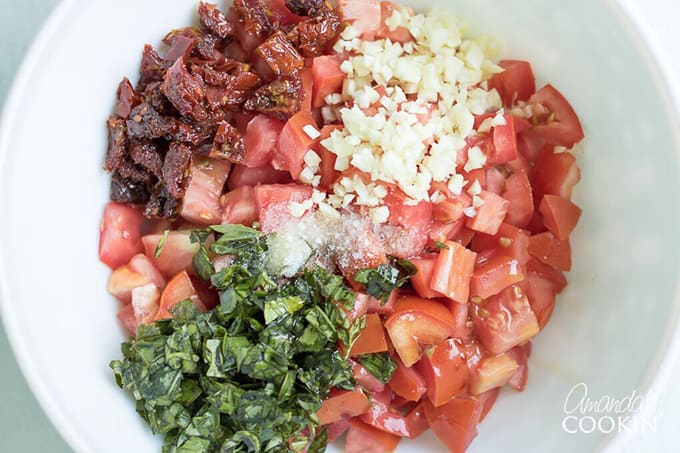 There are only a few simple steps to this delicious appetizer. After chopping your topping ingredients, combine them in a bowl.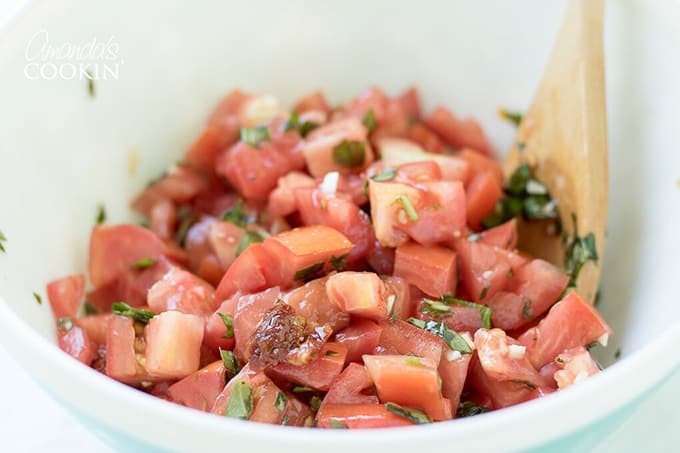 Mix ingredients together. Cover with plastic wrap and place in the refrigerator to marinate for an hour.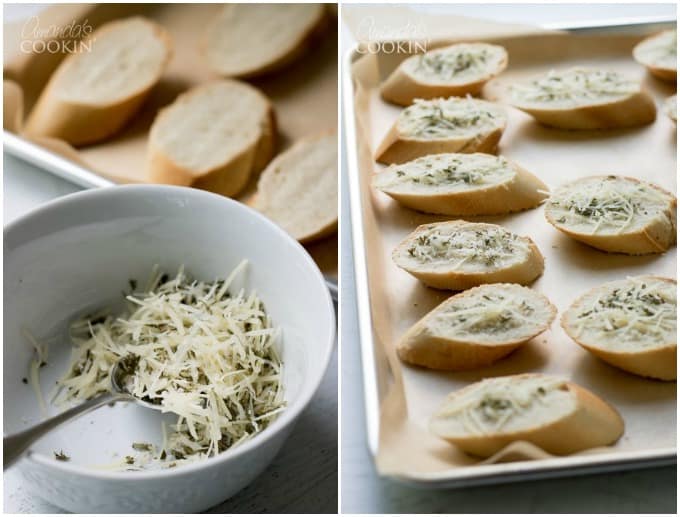 Slice your baguette (HINT: turn the bread upside down, it's easier to slice from the bottom) and place slices on cookie sheet. Mix the Parmesan and parsley and top the bread slices with it.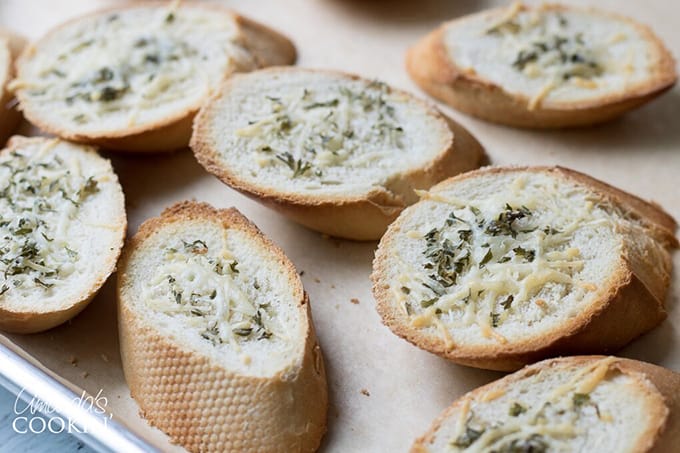 Bake 5 minutes and serve with topping on the side.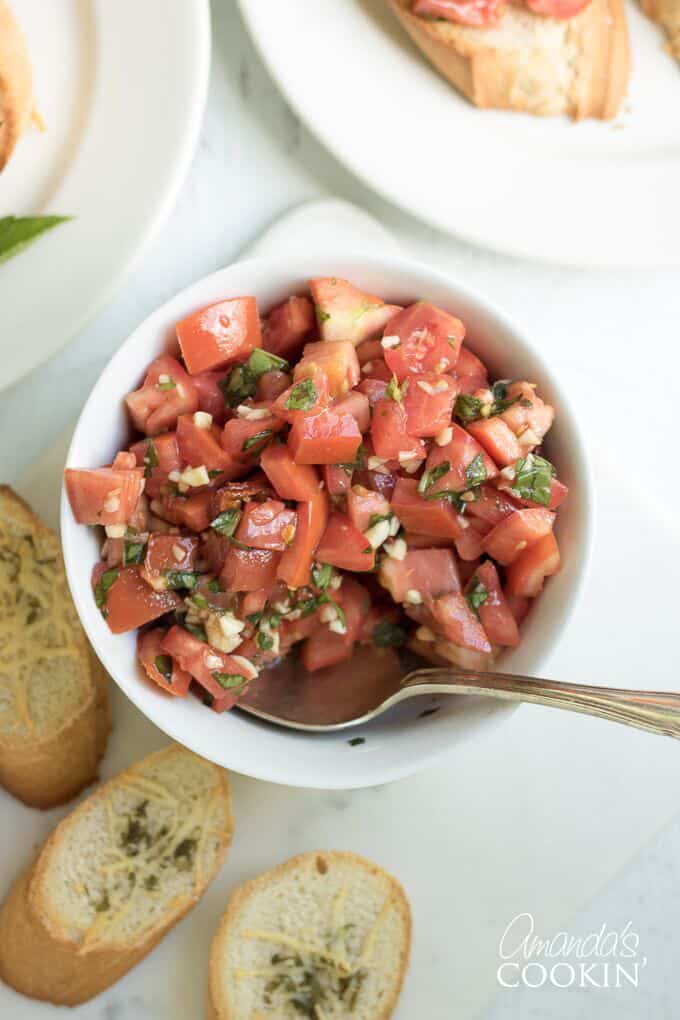 This bruschetta would make an awesome bring along appetizer, or for hosting guests at your house!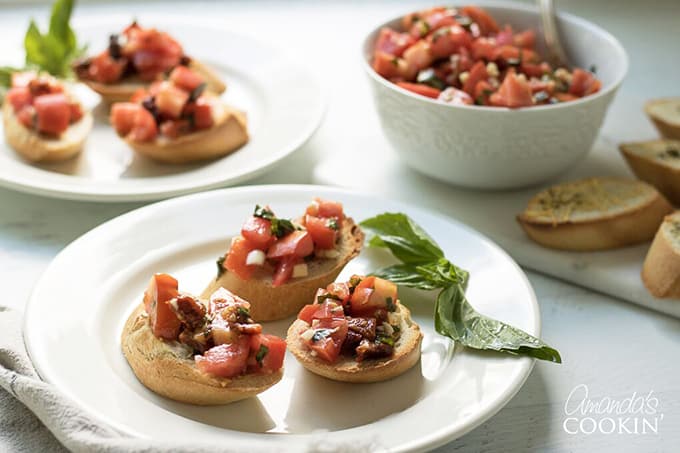 Bruschetta is also a really popular appetizer during Thanksgiving, but you can serve it for just about any holiday or gathering like Memorial Day cookouts, Fourth of July parties, Labor Day get-togethers, etc!
If you're looking for another refreshing appetizer, these Cucumber Sandwiches have quickly become a family favorite! For a crowd or party, this Mango Salsa is always a HIT! And whether you're hosting a get-together or heading to a cookout with friends or family, this Cream Cheese Fruit Dip is always a good choice to bring along!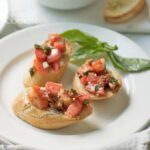 Bruschetta
Print
Ingredients
For the topping
5

small-medium firm Roma tomatoes

diced

1 1/2

tablespoon

minced fresh basil

3

small cloves garlic

minced

2 1/2

teaspoons

diced marinated sun-dried tomatoes

2 1/2

teaspoons

extra-virgin olive oil

1 1/2

teaspoon

balsamic vinegar

1/2

teaspoon

salt
For the bread
3

tablespoons

freshly grated Parmesan cheese

1

teaspoon

dried parsley flakes

1

long loaf of baguette style bread

cut into 3/4" slices
Instructions
Combine the tomatoes, basil, garlic, sun-dried tomatoes, olive oil, vinegar and salt in a bowl. Toss to coat and combine. Cover with plastic wrap and place in the refrigerator for one hour to marinate.

Preheat oven to 450 F.

Toss together Parmesan cheese with parsley in a small bowl and place bread slices in a single layer on a baking sheet.

Add a couple pinches of the Parmesan cheese mixture on each slice. Bake the slices for 5 minutes.

Drain the tomato mixture then put in a small serving bowl. Serve with toasted bread slices.
This post was originally published on this blog on November 24, 2011.
Amanda Formaro is the crafty, entrepreneurial mother of four children. She loves to bake, cook, make kid's crafts and create decorative items for her home. She is a crafting expert and guru in the kitchen and has appeared online and in print publications many times over the years. She is also a craft book author five times over and product developer as well as the owner of
FunFamilyCrafts.com
. You can find her on social media by using the buttons to the left!
Latest posts by Amanda Formaro (see all)