This cream of asparagus soup turned out to be the perfect way for me to use the stalks I was tossing out all the time. I eat asparagus fairly regularly with my eggs in the morning, but I don't eat the full stalk as they tend to be tougher at the ends. So I found this cream of asparagus soup and fell in love!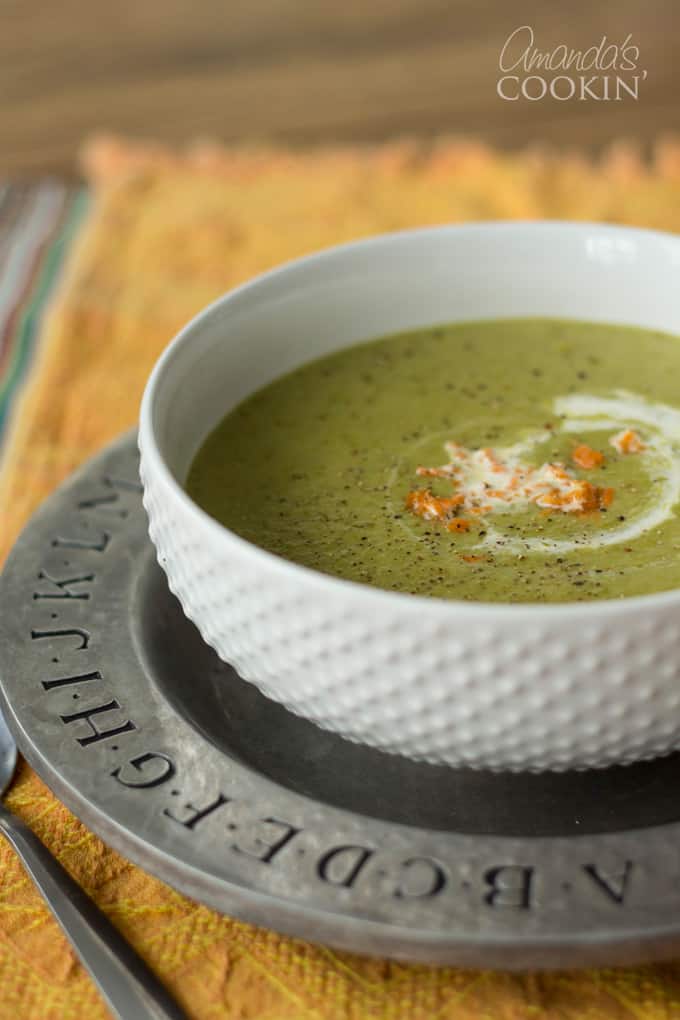 Cream of Asparagus Soup
I'm definitely an asparagus lover, so this creamed soup was a gem of a find. I've made it twice now and love eating it for lunch. I'm freezing today's batch into individual portions to enjoy later, and it can also be kept in the fridge for about a week.
The first time I made this cream of asparagus soup I only used my immersion blender. It worked fine, but I did notice that there were still some "stringy" fibrous pieces in the soup. This time I used the food processor after cooking the asparagus and onion, then after adding the milk I ran the immersion blender through the soup for good measure.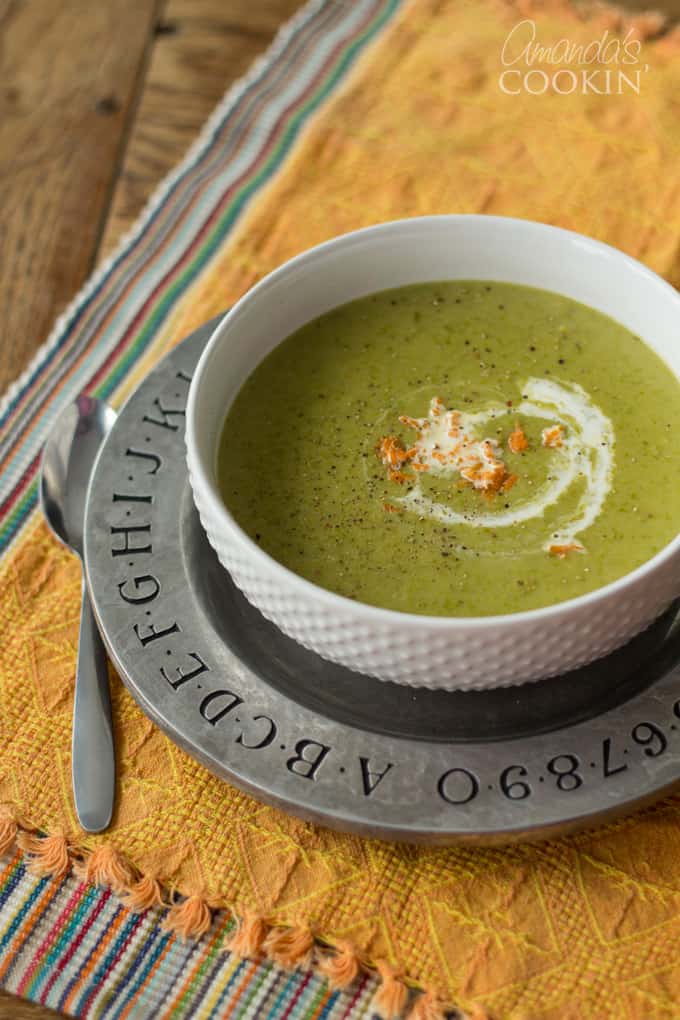 There are affiliate links in this post. That means if you buy something from that link, I will earn a small commission, but it won't cost you anything additional.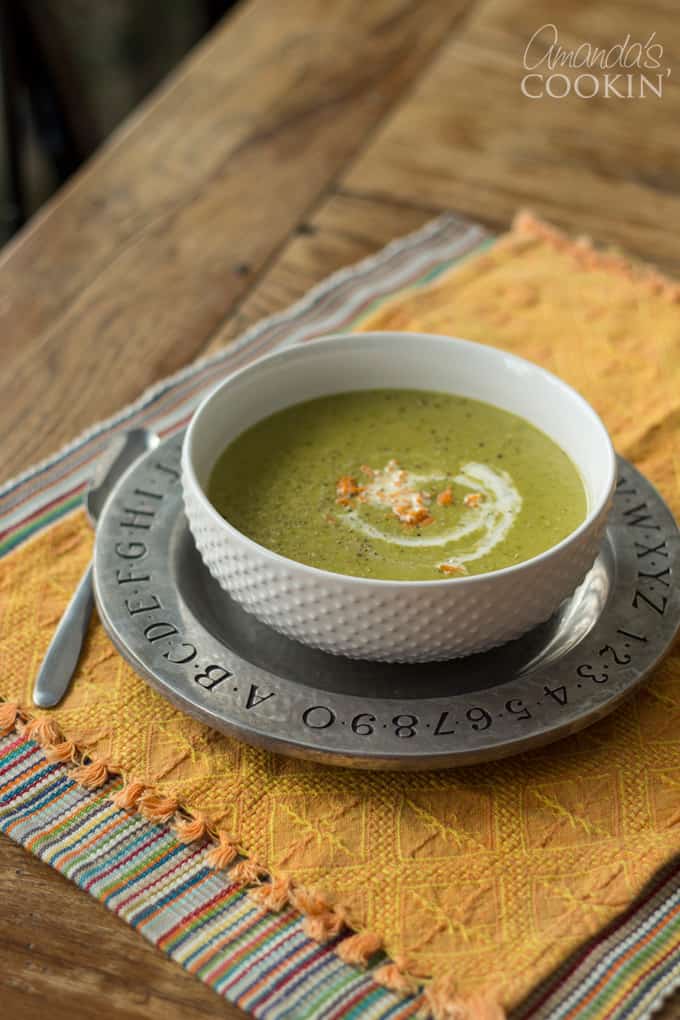 PRINT THE FULL RECIPE BELOW
Ingredients for Cream of Asparagus Soup
1 pound fresh asparagus spears, cut into one-inch pieces
1/2 cup chopped onion
2 cups chicken broth, separated
2 tablespoons unsalted butter
2 tablespoons flour
1 teaspoon salt
1/8 teaspoon (4 or 5 grinder twists) black pepper
1 cup milk
Kitchen Tools you will find useful: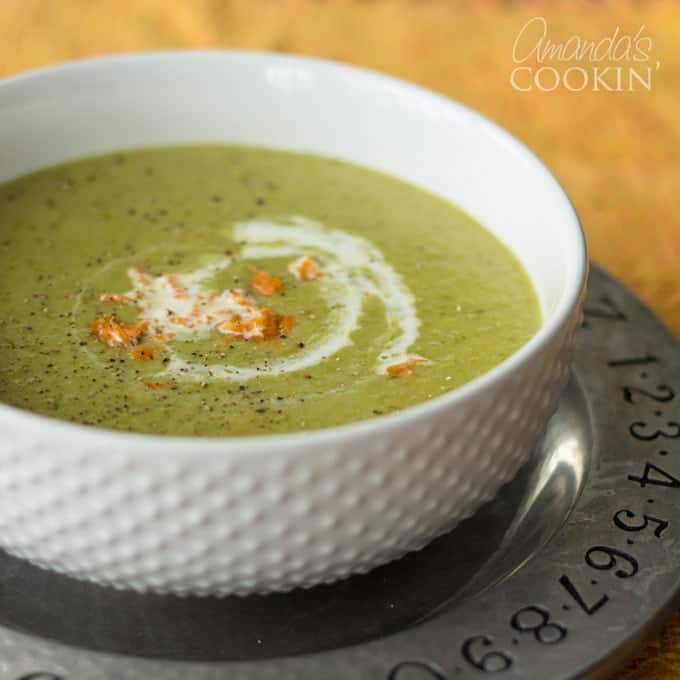 You can get the full instructions in the printer friendly version below, but here's the run down. Cut up the asparagus spears and chop the onion. Combine those with 1/2 cup of the chicken broth. Cook it in a soup pot, bringing it to a boil over medium-high heat. Then turn it down to medium, put the lid on and cook it for ten minutes. Stir it now and again to make sure it's not sticking to the pan. Run that through the food processor until all the pieces are broken up and the mixture is fairly homogenous.
In the same pot you were using, melt two tablespoons of butter. Add the flour, salt and pepper to the melted butter and stir. You are making a roux, so cook it just for a minute until it smells like pie dough. Next, add the remaining chicken broth and stir until lumps disappear. Add the processed asparagus mixture to the roux, then add the milk. Bring everything to a boil, then reduce to a simmer. Run your immersion blender through the soup to make sure it's nice and smooth.
Enjoy!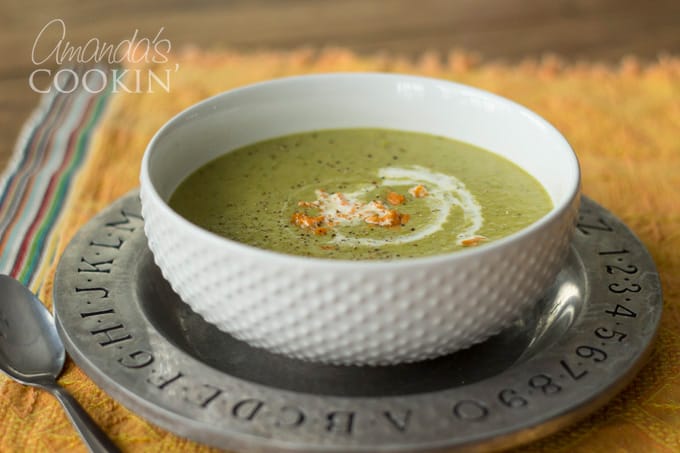 Looking for more soup ideas this winter? This easy white bean soup is full of protein without the meat. On of our favorites this year is this Italian sausage tomato orzo soup, definitely a crowd pleaser!  And a favorite year after year is this creamy white cheddar corn soup, so delicious!
This recipe was adapted from All Recipes