A hearty soup packed with good-for-you veggies and rice. This one-pot vegetable rice soup is what to make when you need a break from all the heavy and decadent dishes this time of year. It takes just an hour start to finish and is filling enough for dinner without weighing you down.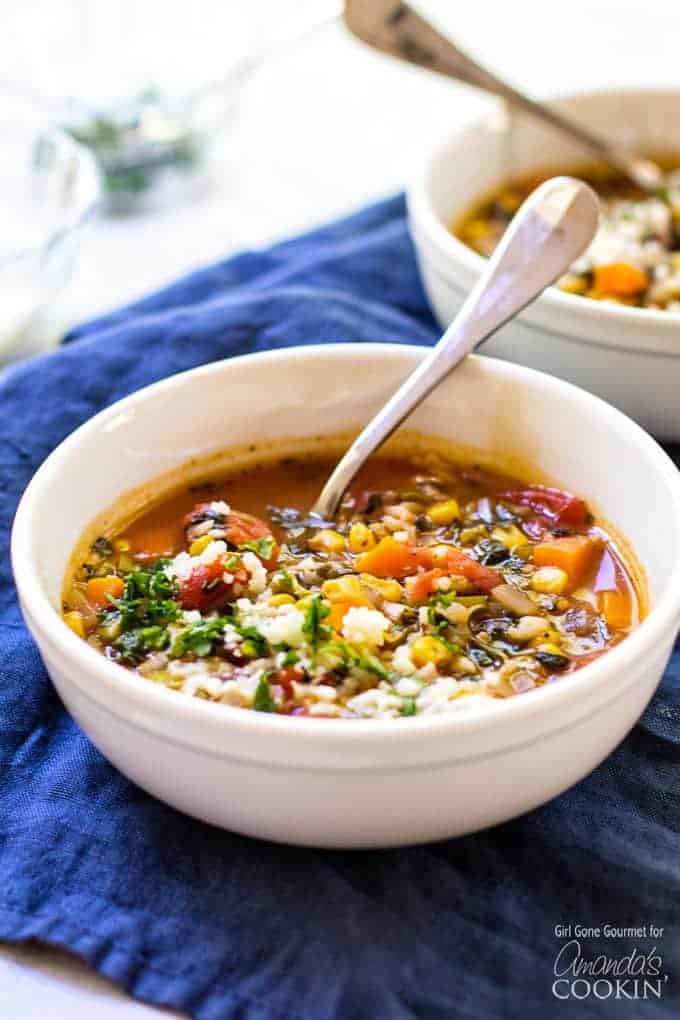 One-Pot Vegetable Rice Soup
This time of year, with the holidays just over the horizon, it's easy to get caught up in planning for all the special dinners and get-togethers that populate our calendars now through the beginning of next year. And, more often than not, a certain amount of over-indulgence happens. Whether it's a Halloween candy binge, a Thanksgiving dinner with all the sides plus a double helping of pie, or holiday celebrations all through December we've all experienced that post-party coma brought on by all the rich and sweet eats this time of year. So, I'm sharing a recipe to keep on hand that is the exact opposite of all those special occasions I just mentioned. It's a veggie-packed rice soup to make when the season has been a little bit too merry.
Simple veggies like leeks, carrots, spinach, corn, and tomatoes simmer just until the rice is tender and all of it cooks in just one pot. This one-pot vegetable rice soup is the perfect antidote for holiday season over-indulgence.
Looking for more soup recipes? Be sure to check out my Hearty Sausage Soup, Roasted Red Pepper Tomato Bisque, and Chicken Tortilla Soup!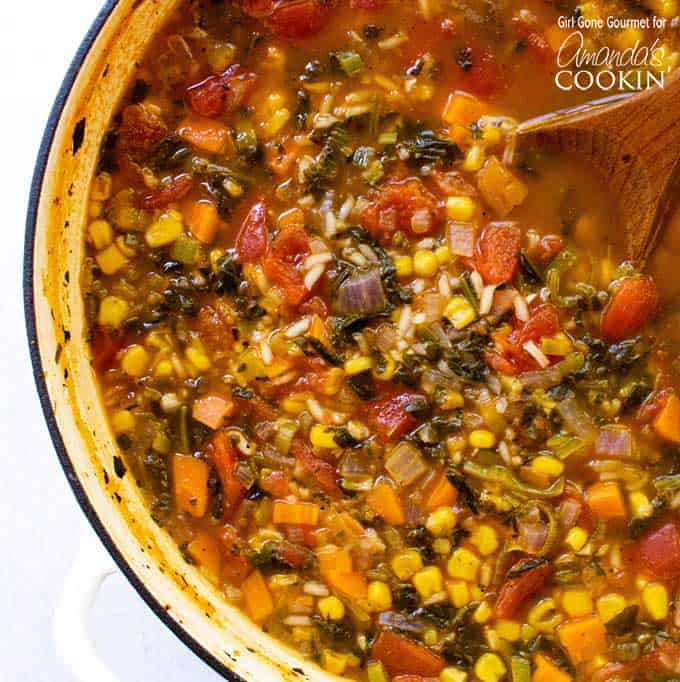 And this one-pot vegetable rice soup serves as more than just a healthy dinner. I don't know about you, but soup-making has become a form of therapy for me over the years. Set aside time, turn on some nice music, and let all the chopping and prepping work its magic. There's something incredibly rewarding in taking simple ingredients and turning them into something nourishing and comforting.  So, as much as we should plan for all the big-deal occasions over the next few months I'm a big believer in planning for some slower-paced cooking time, too.
There's a little bit of everything in this soup. As it simmered it on the stove I couldn't help but think of that helpful adage "eat the rainbow" and this soup pretty much covers that requirement. There's a little kick of heat thanks to some red pepper flakes and the rice cooks right in the soup helping to thicken it a bit as it releases its starches as it cooks. It takes about an hour start to finish and serves up four hearty servings.
Some Ingredients You'll Need
Red onion, garlic, and leek, although if you can't find leeks a couple of ribs of celery would work fine, too.
Red pepper flakes: The recipe calls for 1/4 teaspoon, but if you like a bigger kick increase it to 1/2 teaspoon.
Italian seasoning is a staple in my pantry, but the same amount of dried parsley, oregano, or thyme will work, Use what you have on hand.
Carrots, corn, spinach, and diced tomatoes
I used vegetable stock to keep the soup totally meat-free, but you could substitute chicken stock for a different flavor.
Long grain white rice cooks right in the soup.
Some chopped fresh parsley and grated Parmesan cheese for garnish
Helpful Tools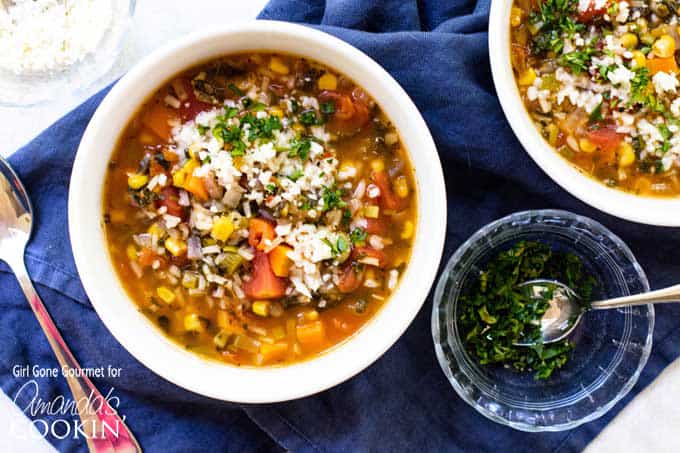 Now that's a pretty soup! For another delicious soup recipe check out our popular Italian Sausage Tomato Orzo Soup, or this Crockpot White Chicken Chili for an ultra-satisfying meal tonight!