This week's recipe from the Tuesdays with Dorie baking group is Sweet Cream Biscuits. It was chosen by Melissa of Love At First Bite. She has the recipe on her blog: click here to visit Melissa or turn to page 23 in Dorie's book, Baking From My Home to Yours
.
If you need a very quick biscuit recipe, this is truly perfect. They bake up beautifully, nice and flakey, plenty of rise, and the best part? There's only one wet ingredient, heavy cream! I love that you don't need butter plus milk. Most biscuit recipes need a fat, like butter, and milk. So heavy cream makes complete sense, it's milk before all the fat has been removed.
I was going to save some for breakfast, but they were all eaten at dinner. This is a short post with only one photo as I made them to go with dinner tonight and there were 5 impatient mouths at the table.
An all around great recipe, probably the easiest since I started with TWD over a year ago. Enjoy!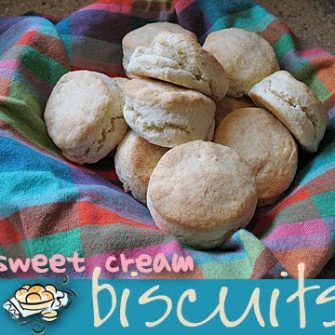 Ingredients
2

cups

all-purpose flour

or 1 3/4 cups all-purpose flour and 1/3 cup cake flour

1

Tbsp.

baking powder

2

tsp.

sugar

1/2

tsp.

salt

1 to 1

and 1/4 cups heavy cream
Instructions
Getting ready: Center a rack in the oven and preheat the oven to 425 degrees F. Get out a sharp 2-inch-diameter biscuit cutter (I used a glass, and it was fine), and line a baking sheet with parchment or a silicone mat.

Whisk the flour(s), baking powder, sugar and salt together in a bowl. Pour about 1 cup of the cream over the dry ingredients, grab a fork and start tossing the ingredients together. If necessary, add more cream, a spoonful at a time, until you've got a nice soft dough. Now reach into the bowl with your hands and give the dough a quick, gentle kneading – 3 or 4 turns should be just enough to bring everything together.

Lightly dust a work surface with flour and turn out the dough. Dust the top of the dough very lightly with flour and pat the dough out with your hands or roll it with a pin until it is about 1/2 inch high. Don't worry if the dough isn't completely even – a quick, light touch is more important than accuracy.

Use the biscuit cutter to cut out as many biscuits as you can. Try to cut the biscuits close to one another so you get the most you can out of this first round. By hand or with a small spatula, transfer the biscuits to the baking sheet. Gather together the scraps, working them as little as possible, pat out to a 1/2-inch thickness and cut as many additional biscuits as you can; transfer these to the sheet. (The biscuits can be made to this point and frozen on the baking sheet, then wrapped airtight and kept for up to 2 months. Bake without defrosting – just add a couple more minutes to the oven time.)

Bake the biscuits for 14 to 18 minutes, or until they are tall, puffed and golden brown. Transfer them to a serving basket.
Notes
Serving: Ideally these biscuits should go from oven to table and be served with cold sweet butter.
Storing: You can keep the biscuits in a plastic bag overnight and give them a quick warm-up in the oven the next day, but you won't recapture their freshly made flakiness.
Amanda Formaro is the crafty, entrepreneurial mother of four grown children. She loves to bake, cook, make kid's crafts and create decorative items for her home. She is a crafting expert and guru in the kitchen and has appeared online and in print publications many times over the years. She is also a craft book author five times over and product developer as well as the owner of
FunFamilyCrafts.com
. You can find her on social media by using the buttons to the left!
Latest posts by Amanda Formaro (see all)