If it's decadence you're looking for then this strawberry swirl cheesecake is for you. It's a towering, rich dessert that will make any occasion special and it feeds a crowd – if you're willing to share.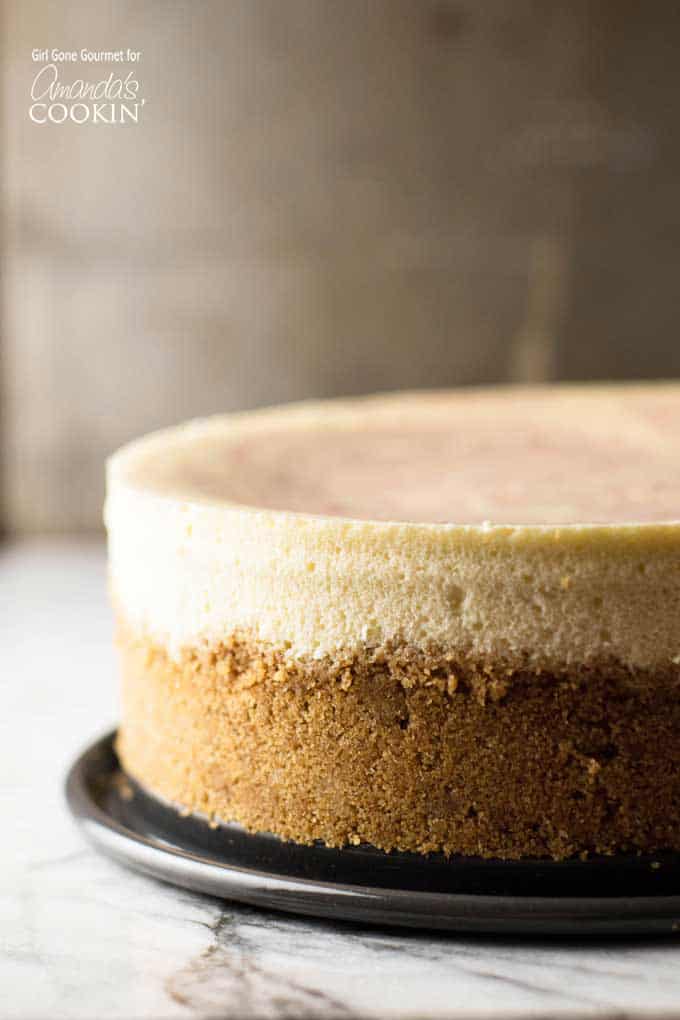 Strawberry Swirl Cheesecake
I first was introduced to this mammoth of a cheesecake six years ago after I moved to Texas, a move that I made by myself during a time of great change in my life. My job at the time presented the opportunity for a fresh start in a new city and, footloose and fancy-free, I jumped at it. So, I packed my stuff and took a lease on a tiny 700 square foot apartment along with a new lease on life. Little did I know, I would soon meet someone who not only became a best friend but who would share her over-the-top cheesecake recipe with me. Friends that come bundled with an amazing recipe is like hitting the friendship lottery.
And it was on a lonely new-to a-city Friday night that I first made this cheesecake and my life has never been the same again.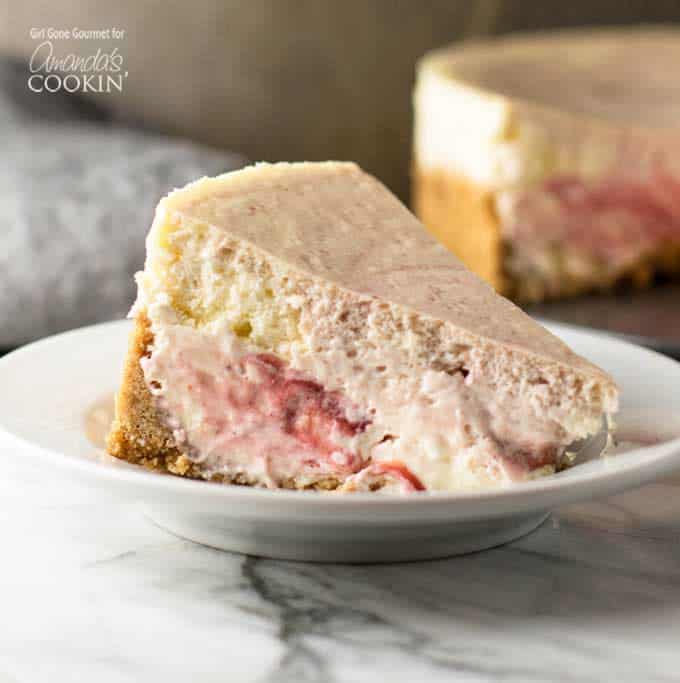 Buckling under its own decadent weight this strawberry swirl cheesecake is my go-to for special occasions. I've tweaked it here and there, like the pumpkin version I made several Thanksgivings ago, and I share it with you now with some adaptions from the original including a strawberry swirl. It makes for a pretty presentation and the bright, fresh strawberry puree adds a nice contrast to all the cream cheese richness.
My good friend, who I miss dearly now that I'm living in North Carolina, has always been happy for me to share her special recipe with readers. It's that generosity of spirit that I love about her and we still talk about this recipe, how wonderful it is, and how much we love it. She and I will always be bonded by cream cheese and graham cracker dust.
There are affiliate links in this post. That means if you buy something from that link, I will earn a small commission, but it won't cost you anything additional.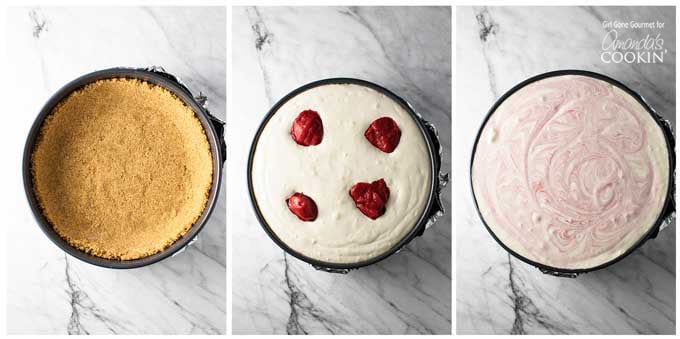 Some Ingredients You'll Need
This recipe uses simple ingredients and it doesn't take much elbow grease to make the crust and mix the batter. The only time required is waiting for it to bake and then chill overnight. It can't be rushed, but I promise the result is well-worth the wait.
Use a food processor to make the graham cracker crumbs for the crust or, if you don't have one, a ziplock bag and rolling pin does the trick. The latter is an excellent stress reliever and sometimes I go the manual route just to release any pent up frustrations. Either way, pulse or beat the graham crackers to a fine crumb. Add some butter and sugar, form the crust and let it chill while mixing the batter.
It's best to use room temperature cream cheese, but if you forget don't fret. Most of the time I forget this step and use cream cheese straight from the fridge. I let the mixer bash it around a few extra minutes to warm it before adding the sour cream, sugar, eggs, and vanilla.
During spring and early summer, when strawberries are at their peak, use fresh ones to make the puree. During the winter, frozen ones work fine. Again, a little advanced planning is ideal so let the strawberries thaw in the refrigerator before pureeing them. Again, sometimes advanced planning never happens so pureeing the frozen strawberries will work, too. Just be aware that they will be thicker (think smoothie consistency) and a little tougher to swirl. Some the puree may sink into the cheesecake providing a little fruity surprise in each slice.
Helpful Kitchen Tools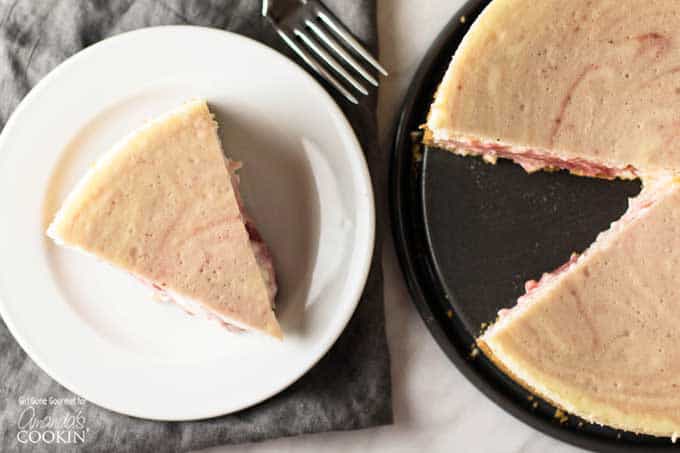 Doesn't it look divine? If you love cheesecake, check out more delicious and mouth-watering cheesecake recipes like this Brownie Mosaic Cheesecake, this Chocolate Chip Cheesecake, or these Mini Turtle Cheesecakes. Enjoy!