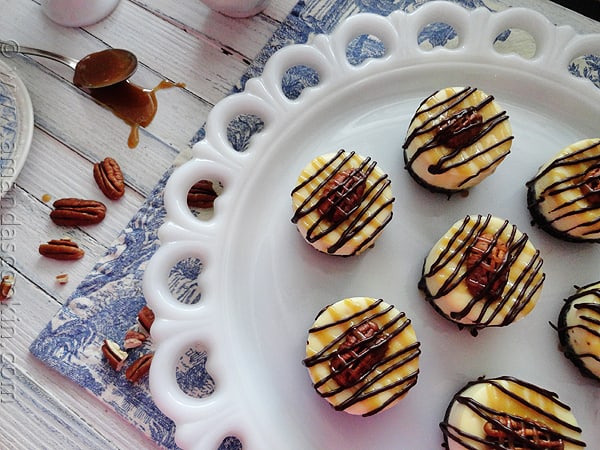 I'm guessing that there's a dessert table in Heaven and that it's lined with all sorts of cheesecake. These creamy luscious treats are one of my all time favorite desserts and I have tried many different flavors, all of which I've loved. Recently I bought a mini cheesecake pan with those little removable bottoms and have been dying to use it. I finally got my chance when these little turtle cheesecake beauties came into my life.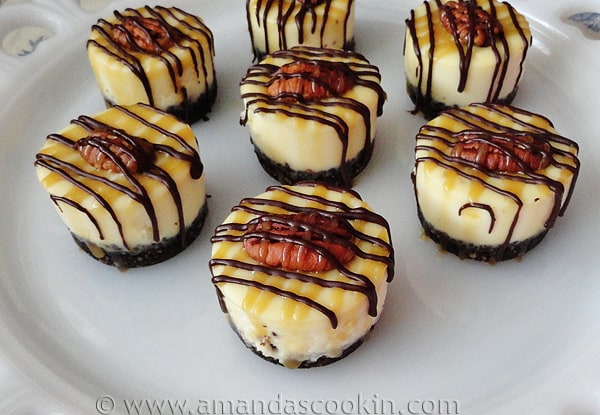 Today is reveal day for The Secret Recipe Club. If you haven't heard about it, it's something I started with a few friends and it grew into a fun blogging club that 300 people participate in. Each month you are assigned a blog and your mission is to go and find a recipe, make it, blog it and reveal it on a certain day along with everyone else. Thing is, it's a secret all month. So you can't tell your blog assignment that you have them or it will spoil the surprise. :) So today the secret is revealed, my assigned blog was the beautiful blog Fake Ginger.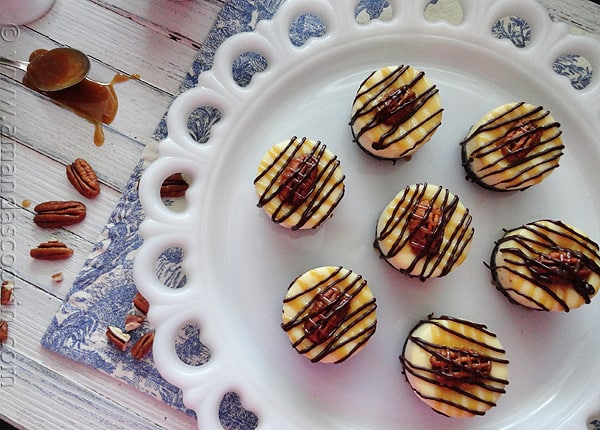 Fake Ginger is a blog run by another Amanda, only she's much younger than me. ;-) Amanda named her blog after her hair color (that she states she changes frequently) and her "extreme dislike" of fresh ginger. Haha! She's a young mom that loves to bake and that really sparkles on her blog. I actually had a hard time choosing something this month simply because there were so many great treats to choose from!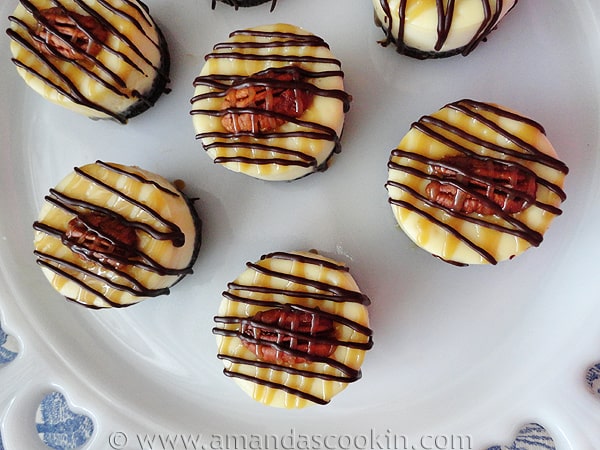 It took me quite a while, but I finally narrowed it down to 6 options. This Chicken Cobb Salad looks so good and is still on my "to make" list!  This Roasted Garlic and White Cheddar Pasta keeps calling my name, and these Angel Food Cupcakes with Blackberry Buttercream look to die for! Another fresh winner is this Broccoli Salad that I will be making soon and I'm sure you've seen this beautiful Cinnamon Sugar Pull Apart Bread floating around Pinterest. See why it was so hard to choose??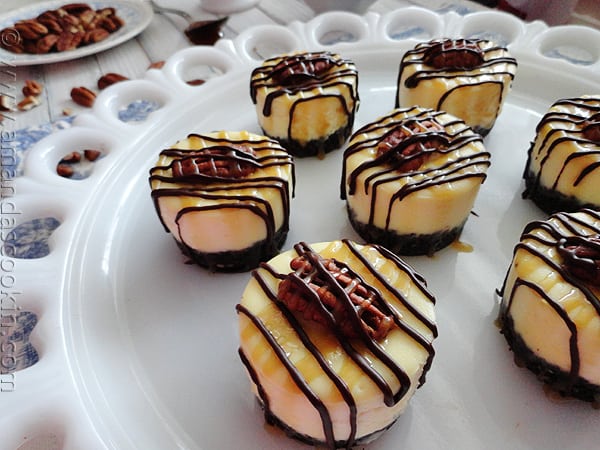 But the deal breaker was two fold: 1) my love for anything cheesecake, and 2) my new cheesecake pan really needed to be broken in.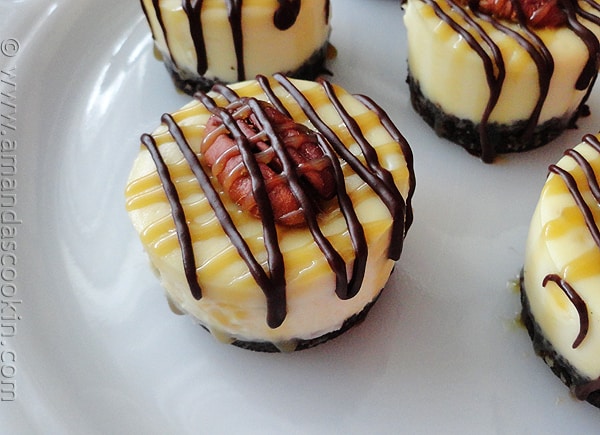 I followed Amanda's recipe pretty closely, only I changed the method a little bit because I have a certain way to make cheesecakes that I find works well. I also changed some of the ingredients.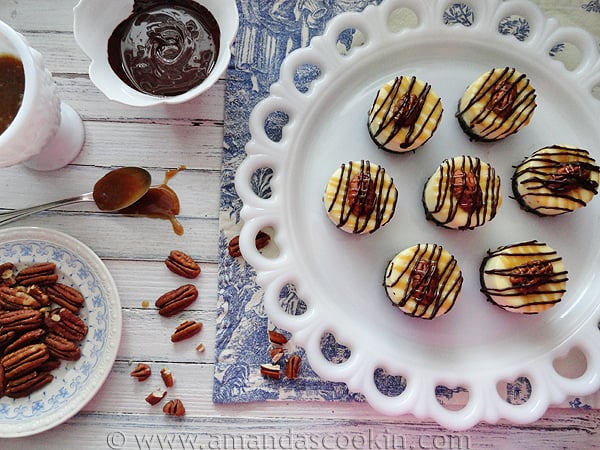 Because Amanda uses a muffin pan for her mini cheesecakes and I was using an actual mini cheesecake pan, I did have to adjust things a little.

My crust is a combination of finely chopped pecans and chocolate graham crackers. After mixing up the crust, mine measured out to one tablespoon + a heaping teaspoon for each. Gently press that down into the pan and bake five minutes.

I should probably warn you that I dirty a lot of dishes when I bake and cook. This recipe was no exception. After mixing the cream cheese with the other called for ingredients, I then scraped it all into my food processor to finish it off. The food processor gives it the most amazing creamy consistency.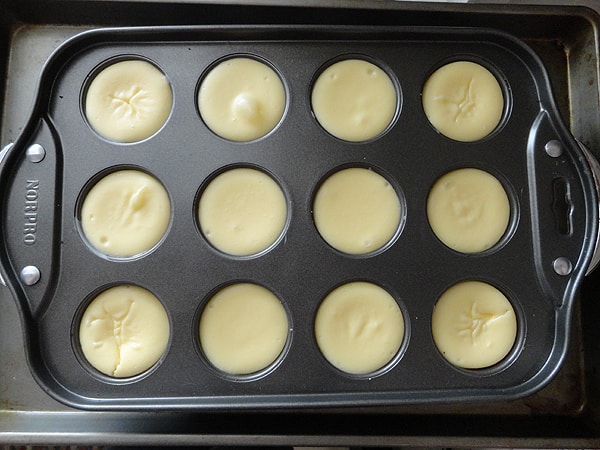 Mine took 20 minutes instead of 15. Again, probably because the pans are different. Does this picture make you want to pop that bubble in the top row? You'll let these cool on the cooling rack for a bit, then transfer them to the fridge to firm up.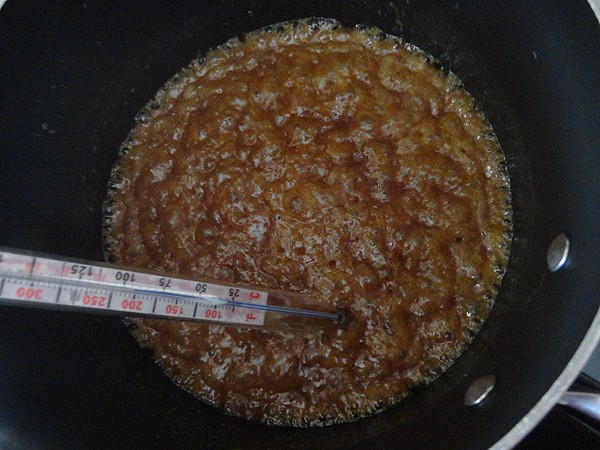 I promise you it isn't hard to make this caramel. The secret is the temperature, also known as the "soft ball stage". You combine the butter and brown sugar and the salt in a heavy bottom saucepan over medium heat. MEDIUM people. Don't stir too much either, just let it heat up. Once the butter has melted and the sugar starts to bubble a bit, stir it with a wooden spoon. Just a bit, 4 or 5 turns is good. Then let it bubble again. Now insert a candy thermometer into the bubbling liquid. If you don't have one, get one. They are less than $6.00 at Walmart or [amazon_link id="B000G2TIR8″ target="_blank" container="" container_class="" ]$5.21 at Amazon[/amazon_link]. Careful not to touch the bottom of the pan as you'll get an inaccurate reading.

The soft ball stage is 238 degrees. When your thermometer reaches this point, slowly pour in the heavy cream and stir. Remove it from the heat and stir in the vanilla.

Pour it into a dish to allow it to cool. Don't worry if it seems a little thin in consistency, it thickens as it cools. Meanwhile, chop up 3 ounces of chocolate and put it in a bowl with the butter cut into pieces. Microwave the chocolate and butter for 1 minute and stir until all the chocolate is melted and smooth. Set them both aside to cool.

Take your cheesecakes out of the fridge. Since my pan has removable bottoms, I didn't want to use the "dip the pan in hot water method" to loosen the cakes. So instead I used a hair dryer to warm up the outside of the cups before trying to loosen them. Put some waxed paper on the counter under a cooling rack and put all the cheesecakes on the rack. Top each one with a pecan.

Put a fold top sandwich bag inside a drinking glass. Fold the edges over the top of the glass and empty the caramel into the bag. Do the same for a baggie of the chocolate. Use this as your piping bag by snipping a tiny hole in the corner and squeezing the bag gently but consistently as you go back and forth over the top of each cheesecake. Do the caramel first and then the chocolate. You will have extra, so save it for dipping strawberries and apples or drizzling over vanilla ice cream! Mmm!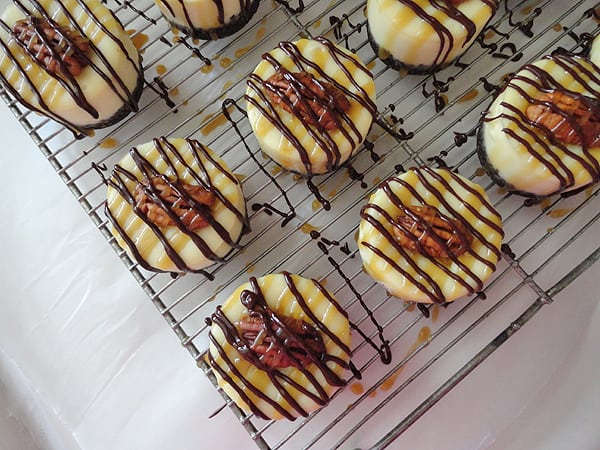 When you're done drizzling put the cheesecakes back in the fridge until your are ready to serve them, or for about 20 minutes. Carefully remove the little pan bottoms before serving.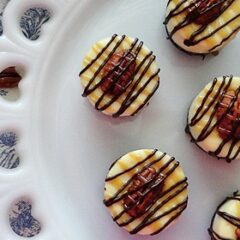 Mini Turtle Cheesecakes
If you love the combination of chocolate, caramel and pecans, these little mini cheesecakes will be right up your alley.
Print
Rate
Ingredients
Crust
3/4

cup

ground chocolate graham cracker crumbs

about 5 sheets, or 10 squares

1/3

cup

finely chopped pecans

2

tablespoons

brown sugar

1/4

cup

unsalted butter

melted and cooled
Filling
8

oz

package of 1/3 less fat cream cheese

room temperature

4

oz

regular cream cheese

room temperature

1/2

cup

sugar

1/4

teaspoon

salt

1

teaspoon

vanilla

2

large

eggs

1/2

cup

vanilla yogurt
Caramel
1/4

cup

unsalted butter

cut into cubes

1/2

cup

packed brown sugar

1/8

teaspoon

salt

1/4

cup

heavy cream

room temperature

1

teaspoon

vanilla
Chocolate
3

ounces

semisweet chocolate

chopped

2

tablespoons

unsalted butter

12

pecan halves

for topping
Instructions
Preheat oven to 325. Place bottoms into each cup of the mini cheesecake pan.
Crust
Combine chocolate graham cracker crumbs, finely chopped pecans, brown sugar, and cooled melted butter. Use your fingers to combine well. Spoon a tablespoon plus a teaspoon into bottom of each cup in the pan and press lightly with your fingers. Bake for 5 minutes; remove from oven and set aside.
Filling
Beat cream cheese in a large mixing bowl until creamy. With mixer running, gradually add sugar, salt, and vanilla; beat well. Slowly add in the yogurt followed by the eggs, one at a time, mixing just until blended. Scrape the mixture out of the mixer bowl and into the food processor. Process for about 45 seconds or until silky.

Fill each cup of the pan to just about the top. Bake for 20 minutes, the edges will be dry, the tops of cheesecakes will be puffed and the centers will be a bit jiggly. Turn off the oven and prop open the door and cool in the oven for 30 minutes. Remove from the oven to a cooling arch and cool to room temperature. Refrigerate for 1-2 hours before decorating.
Caramel Topping
To make caramel drizzle, combine the butter cubes, brown sugar, and salt in a saucepan over medium heat. Stir with a wooden spoon then allow the heat to melt the butter. The sugar will begin to melt and bubble. Stir once or twice then check with a candy thermometer. You want the soft ball stage, which is 238 degrees. When this temperature is reached slowly add in the heavy cream while stirring with a wooden spoon. Stir until smooth then remove from heat and stir in the vanilla. Cool.
Chocolate Topping
To make chocolate drizzle, melt 2 tablespoons of butter and the chopped chocolate together in the microwave for one minute. Stir until all the chocolate is melted and mixture is smooth. Cool.
Assembly
To assemble, carefully remove the cheesecakes from the pan. If they are too cold and stuck, use a hair dryer to warm the outside of the pan cups. Line counter with waxed paper and place a cooling rack over the waxed paper. Place the cheesecakes on the cooling rack. Place a pecan in the center of each cheesecake.

Line a drinking glass with a fold top sandwich bag and empty the caramel into the bag. Twist the end of the bag closed and snip off a tiny corner of the bag with scissors. Squeeze out the caramel from the end of the bag and pipe the drizzle onto each cheesecake. Repeat this method with the chocolate. Keep refrigerated until serving.

Be sure to remove the removable pan bottoms from each cheesecake before serving.
Nutrition
Serving:
2
mini cheesecakes
|
Calories:
365
cal
|
Carbohydrates:
31
g
|
Protein:
5
g
|
Fat:
25
g
|
Saturated Fat:
13
g
|
Cholesterol:
84
mg
|
Sodium:
236
mg
|
Potassium:
167
mg
|
Sugar:
26
g
|
Vitamin A:
650
IU
|
Vitamin C:
0.1
mg
|
Calcium:
82
mg
|
Iron:
0.8
mg
'); // ]]>
Amanda Formaro is the crafty, entrepreneurial mother of four grown children. She loves to bake, cook, make kid's crafts and create decorative items for her home. She is a crafting expert and guru in the kitchen and has appeared online and in print publications many times over the years. She is also a craft book author five times over and product developer as well as the owner of
FunFamilyCrafts.com
. You can find her on social media by using the buttons to the left!
Latest posts by Amanda Formaro (see all)