Learn how to make a Spiderman cake with homemade fondant and a cake mix or your favorite homemade cake recipe! Perfect for Spiderman parties!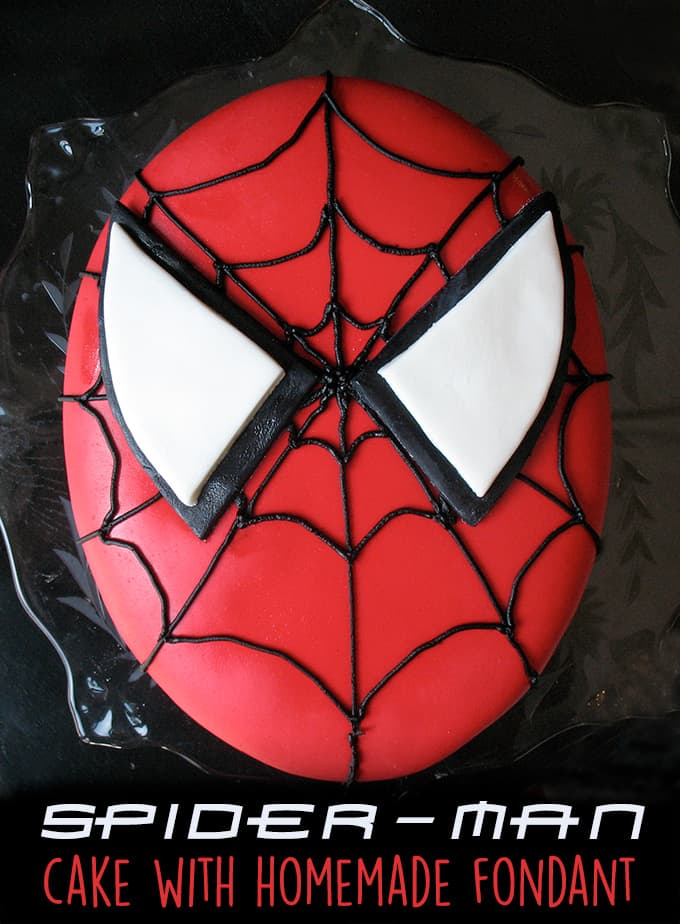 Back in the summer of 2010 my (then) 16 year old daughter asked me to make a Spiderman cake (yes, technically Spiderman should be hyphenated as Spider-man, but for the sake of my sanity I am typing it in this post as Spiderman, no hyphen.) for her best friend's birthday. I was surprised to hear that her BFF wanted a Spiderman cake, but my daughter insisted that she was indeed obsessed with all things Spiderman. So who am I to question, or for that matter, to say no?
Making a Spiderman Cake with Homemade Fondant
So I set out on a quest to find a fun Spiderman cake design. At first I was going to use this cake pan with a simple white frosting, pipe black frosting around it and drag a knife through it to create a spider web design. Kristen wanted a Spiderman face in the middle, so I could have just gone with this light up Spiderman cake topper… but instead I decided to use fondant.
Yikes. Fondant. I had never used fondant. It had been one of those "I have to tackle that one of these days" things. It wasn't nearly as hard as I thought it would be. In fact it was quite easy. I found a great video on working with fondant here and used that to come up with my Spiderman cake.
Using homemade fondant for my Spiderman Cake
So on with my adventure in fondant. I had heard that store bought fondant is pretty gross tasting, and have heard some great things about homemade marshmallow fondant, so I decided to make my own. This definitely did not go off without a hitch, there were several issues, even though it did all work out in the end. This could have really turned into a long post, so I trimmed the mishaps down a bit. Also, I don't have a lot of step by step photos as I was so concentrated (and nervous) that I didn't want to stop to stage photos.
Making and shaping the cake
Kristen wanted boxed cake and container frosting. I baked a chocolate cake in two 9″ round cake pans.  When cool, I chilled them in the freezer for an hour so that I could easily saw off the uneven tops with a serrated knife.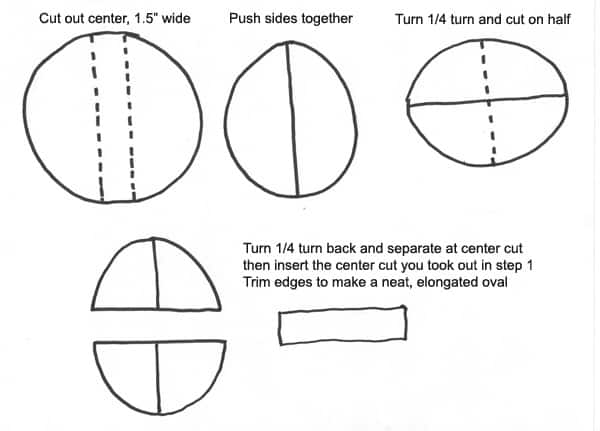 Next, I cut a section out of the middle of each cake layer, about 1.5″ wide and set those pieces aside. I slid the two sides together on each cake to make ovals. However, the ovals weren't long enough to pass as a face, so I turned the cakes a quarter turn, then cut then in half. I separated the two halves and reinserted sections of the pieces I removed earlier. I was able to make longer ovals this way. While this was going quite well, at one point I almost dropped a layer on the floor. I swear I would have cried.
After it chilled a while, I assembled the layers with a layer of white frosting between the two, then I gave the cake a crumb coat. Back into the freezer for another couple hours. I finished it off with the rest of the frosting, smoothed it out really well by misting it with water and smoothing with an icing spatula. Back into the fridge.
Making the homemade fondant
There are lots of different posts and tutorials on making homemade marshmallow fondant. The one that ultimately influenced me the most was this video. However, I must warn you, it's way too long. She really could have edited a lot of stuff out and still made a great tutorial. I found myself saying "Yeah yeah, get on with it already!" Just sayin'.
I almost hosed up the fondant completely. You are supposed to melt 16 oz of marshmallows with a little water, then mix it with 2 pounds of sifted powdered sugar. (recipe at the end if you want it)
I forgot that 16 oz. is actually about 1.5 packages  – I only melted 1 package.
I forgot to add the water to the marshmallows before microwaving them.
I ended up adding more powdered sugar that the recipe called for because of my other boo-boo's.
All seemed to work out well, so I wrapped it tightly and let it rest overnight.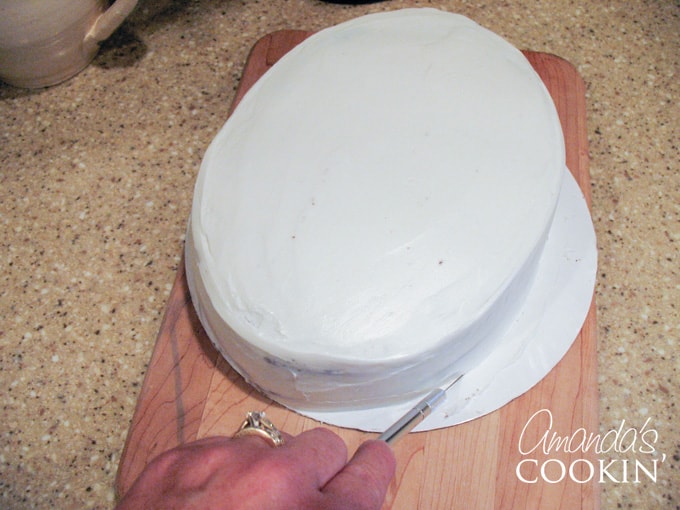 Once I had a couple of cups of coffee in me, I set out to finish this cake. First thing I did was take the cake out and trim the cake cardboard with a x-acto knife to be the same shape as the cake.  This allows you to trim the ends of the fondant easily once you've placed it on the cake.
I separated the fondant so I could color the bulk of it red. I pulled out my red gel food coloring and started working it into the fondant, and then I RAN OUT.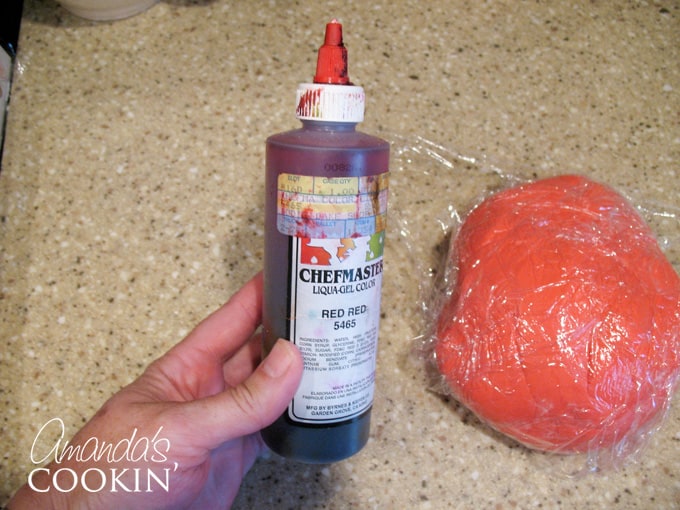 Luckily for me the bakery in town had an extra bottle and sold me one. Phew!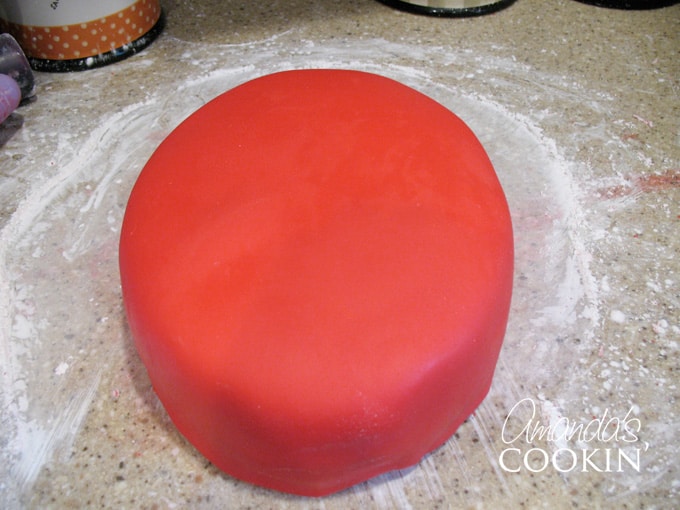 Rolling the fondant out was easy, just make sure you use a good amount of cornstarch on the work surface or it will stick. Roll it 1/4″ thick as suggested by every tutorial I ran across. It lifted easily and went right on top of the cake without an issue.
After trimming the fondant (I used the top of my turntable spice rack to place the cake on) to fit snugly around the cake, I then piped on the spider webs.
I drew out the eyes and cut them from fondant using my drawing. Pasted them together with a little water and placed them on top of the cake. I used a tiny paintbrush dipped in water, squeezed out the excess and touched up the cake. Done!
So all in all, even for my first time, I was pretty happy with it! My daughter and the birthday girl loved it, so that's what was most important to me. Glad I conquered yet another fear that summer!
Here's the fondant recipe. if you can get through it, watch the video I mentioned above, just remember it's kinda longish.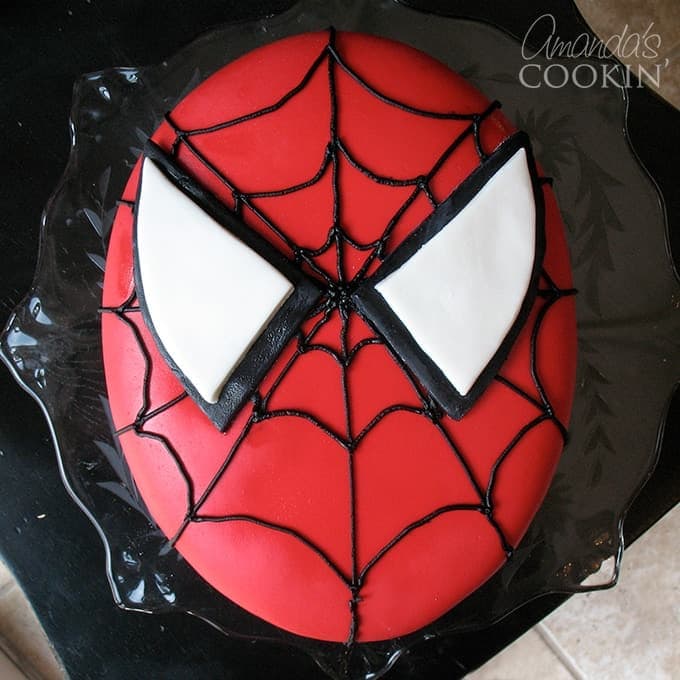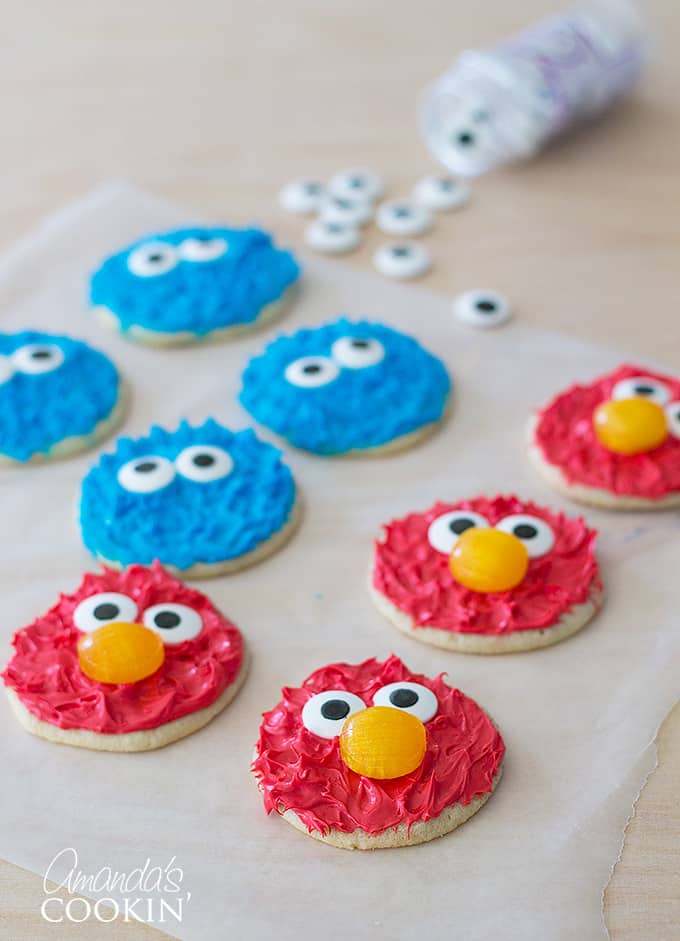 If you're browsing around for more fun birthday party ideas, these Cookie Monster and Elmo cookies are SO easy and a lot of fun to make! You could even have the kids decorate them themselves as part of the party fun.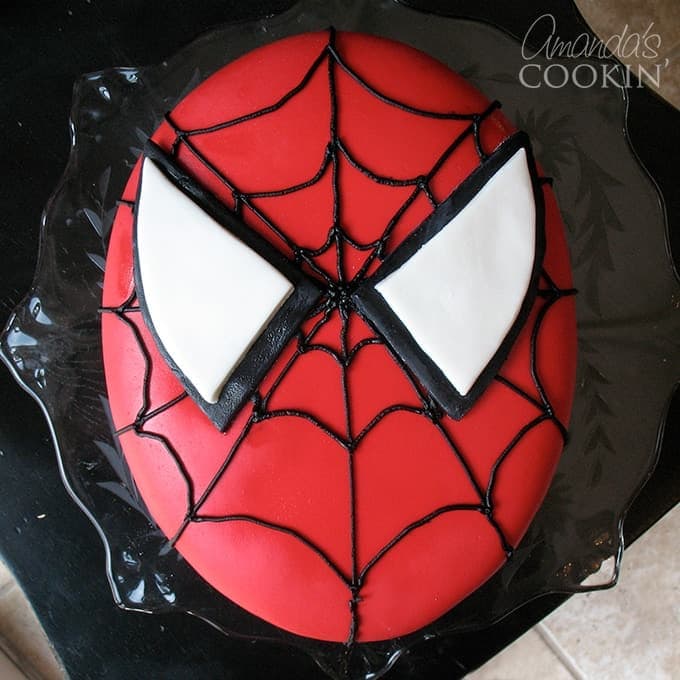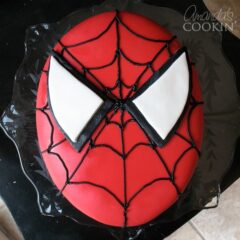 Spiderman Cake Recipe
Learn how to make a spiderman cake for that perfect superhero birthday party. We use homemade marshmallow fondant so it actually tastes good!
IMPORTANT - There are often Frequently Asked Questions within the blog post that you may find helpful. Simply scroll back up to read them!
Print It
Rate It
Ingredients
15

ounce

boxed cake mix

prepared, flavor of your choice

1

can/tub

white frosting

16

oz

marshmallows

about 1.5 packages

2

pounds

powdered sugar

sifted

4

tablespoons

water

vegetable shortening for greasing

1

tube

black decorator gel
Instructions
Prepare box cake mix in round pans and cut according to diagram.

Assemble the layers with a layer of white frosting between the two, then add a thin layer of canned frosting (crumb coat). Put into the freezer for a couple hours. Finish it off with the rest of the frosting, smoothing it really well by misting it with water and smoothing with an icing spatula. Place back into the fridge.

Use the shortening to grease a large microwaveable bowl for the marshmallows, the mixer bowl, your dough hook, and a sturdy rubber spatula.

Sift the powdered sugar and reserve about one cup. Put the rest into the greased mixer bowl.

Put the marshmallows into the microwaveable bowl and add the water. Microwave in 30 second intervals until melted, stirring with rubber spatula in between intervals.

Add the melted marshmallows to the powdered sugar. Lock the mixer and cover the opening with plastic wrap to keep powdered sugar from coming out. Turn mixer on low and allow dough hook to do its thing. Keep mixing for several minutes until the sugar seems to have incorporated for the most part. If still sticky, begin adding reserved powdered sugar, you may use it all, you may not, depends on your weather conditions. It's really humid here, so I used it all.

Fondant is ready when it balls up around your dough hook or when you can touch it and it's still pliable but not sticky. Remove from the mixer and wrap in plastic wrap. Allow fondant to rest for a minimum of 2 hours, I think overnight was best.

To use the fondant, knead it several times, like you would bread dough, to get it to a workable consistency (much like that of Play-dough).

To add coloring, do not use liquid food coloring. Use paste or gel colorings to a handful of fondant, then mix that piece into a larger batch.

Cover work surface with cornstarch. Roll out fondant to 1/4" thickness. Cover cake and trim excess.

Use black decorator gel to add webs.

Cut eyes from white and black fondant. Paste them together with a little water and place them on top of the cake. I used a tiny paintbrush dipped in water, squeezed out the excess and touched up the cake.
Expert Tips & FAQs
Calorie count is for the fondant only!
I baked a chocolate cake in two 9" round cake pans.  When cool, I chilled them in the freezer for an hour so that I could easily saw off the uneven tops with a serrated knife.
Nutrition
Serving:
1
portion
|
Calories:
414
cal
|
Carbohydrates:
106
g
|
Sodium:
32
mg
|
Sugar:
95
g
|
Calcium:
1
mg
|
Iron:
0.1
mg
Amanda Davis is the entrepreneurial mom of four grown children and four step children. She and her husband, Chef Antoine, love to cook together creating recipes for this blog. Amanda also make kid's crafts and creates decorative items for her home. She is a crafting expert and guru in the kitchen and has appeared online and in print publications many times over the years. She is also a craft book author five times over and product developer as well as the owner of
FunFamilyCrafts.com
. You can find her on social media by using the buttons to the left!
Latest posts by Amanda Davis (see all)