These easy shrimp tacos have just the right amount of spice balanced with crunchy cabbage, creamy avocado, fresh salsa, and lime. Best of all, you can have Mexican food for dinner in under 10 minutes!
Love Mexican street food? Don't miss our Mexican Corn recipe with cheese, mayo, and Latin spices!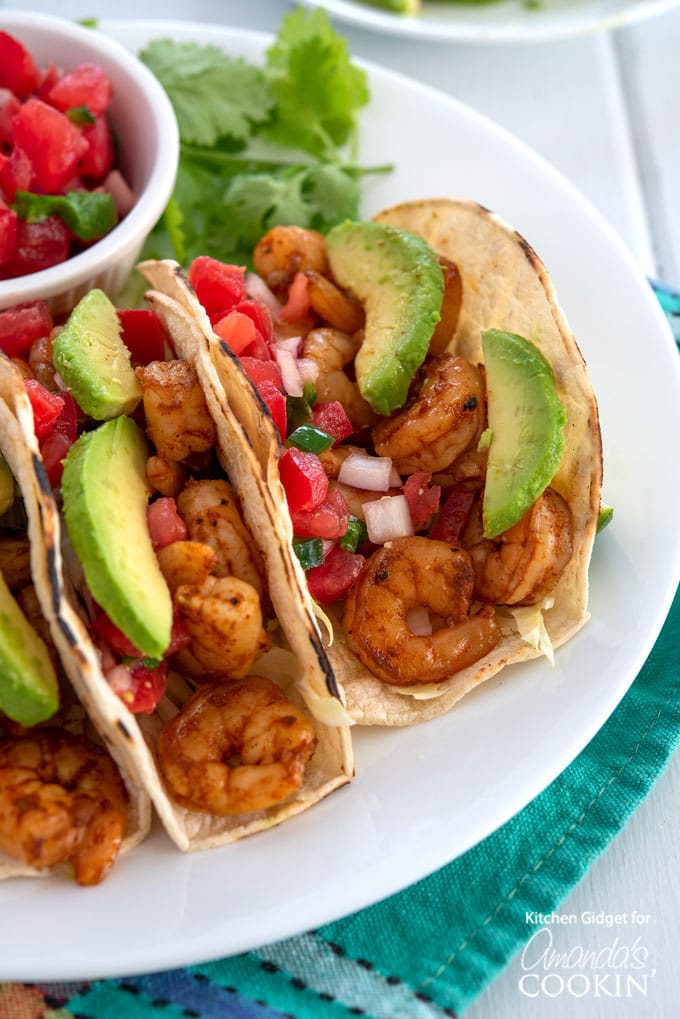 Shrimp Tacos
Mexican food is our favorite dinner of the week, not just Tuesdays. We love the authentic food our grandparents cooked, and also the fusions I've invented like Mexican Goulash.
RELATED: this recipe pairs well with a frosty Pina Colada or Shrimp Pasta
We also love shrimp because they cook up so fast (literally minutes). They're tender and the meat is sweet. They soak up whatever seasonings you use which makes them versatile. An all-time favorite is Camarones a la Criolla (shrimp in red sauce) with rice or bread for the extra sauce.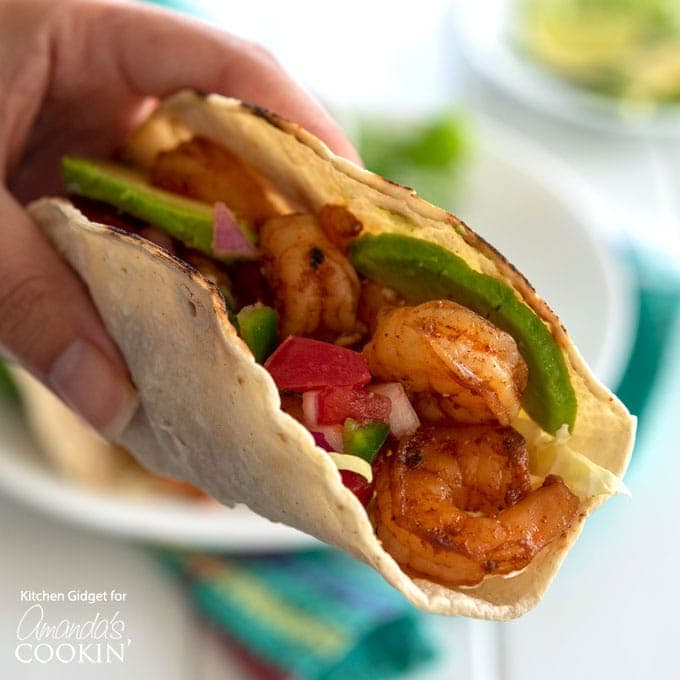 I love these easy shrimp tacos because they have just the right amount of spice for flavor, but not too much to overpower the star of the show – the shrimp. Juicy, succulent shrimp that you can throw together with ingredients found in your pantry. For a little spicy kick, I use chili powder and chipotle powder. If you want more heat, add more chipotle. If you don't like spice at all, just eliminate it.
For the shrimp, I used medium sized shrimp (size 61-70). You can use any size you like, but I think medium or small are good for putting in tacos. Fresh shrimp is best if you're lucky to live near water, but frozen work just as well. Make sure they are thawed, peeled, deveined and tail off.
Ingredients you will need:
24 oz shrimp, peeled and deveined
1 teaspoon salt
1 teaspoon chili powder
1 teaspoon chipotle powder
1/2 teaspoon ground cumin
1/4 teaspoon black pepper
2 teaspoons vegetable oil
12 corn or flour tortillas
Your favorite taco toppings
Helpful Kitchen Tools:
Toss the shrimp with the seasonings and put in a pan with a small amount of oil. Any oil will do – olive, canola, coconut or even butter. Use a pan that's been preheated over medium-high heat.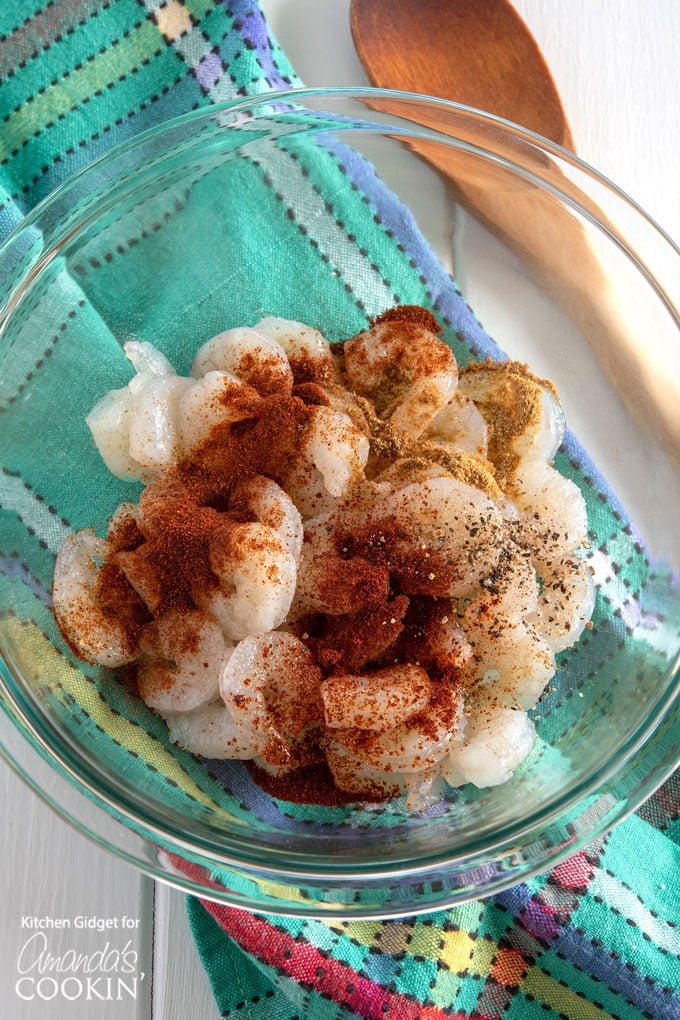 Let me tell you the secret to tender, juicy shrimp: do not overcook the shrimp. Shrimp only take a few minutes. Plus, they continue to cook even after you've turned off the heat, which is how they end up overdone.
Perfectly cooked shrimp will be pinkish-orange on the outside and opaque (not transparent) on the inside. Go ahead and test one before the cooking time is up to gauge how much longer is needed. And don't walk away because they'll be ready in the blink of an eye.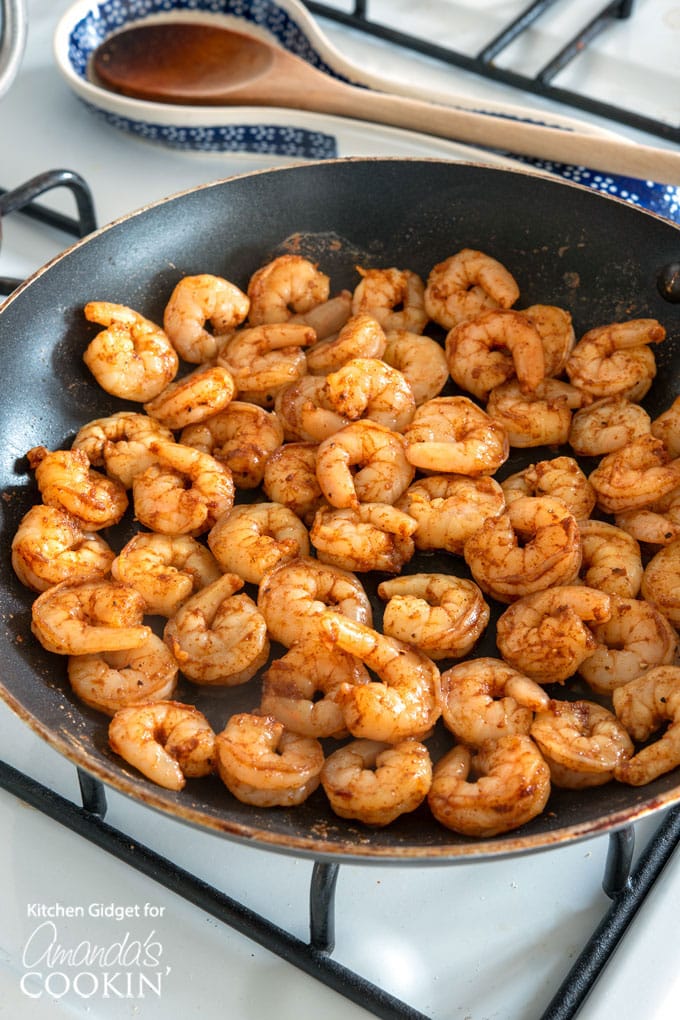 Because shrimp cook up so easily, be sure you have prepared your tortillas and toppings ahead of time. Heat your tortillas up and keep them warm in a tortilla warmer or wrapped in foil. You can use corn or flour tortillas for equally delicious results.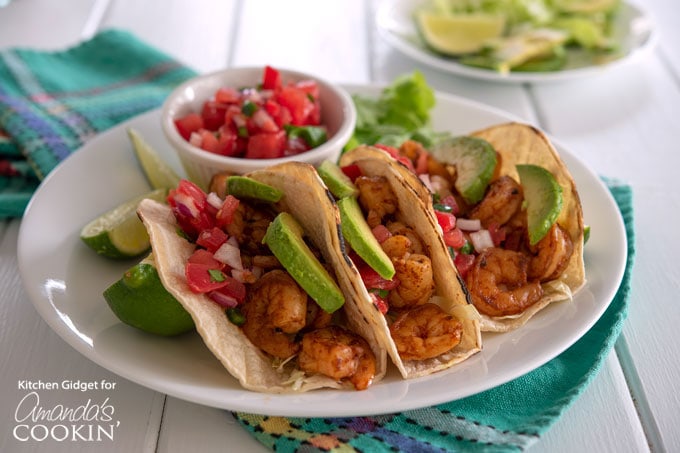 My favorite accompaniments for shrimp tacos are shredded cabbage, sliced avocado, pico de gallo salsa and lots of lime. Other options are cheese, sour cream, hot sauce, mango or pineapple salsa. My husband loves his shrimp tacos with ranch dressing. Because this is such an easy shrimp tacos recipe the options are endless!
More Shrimp Recipes
---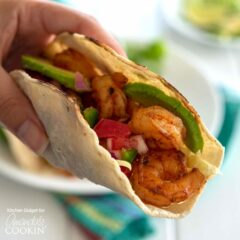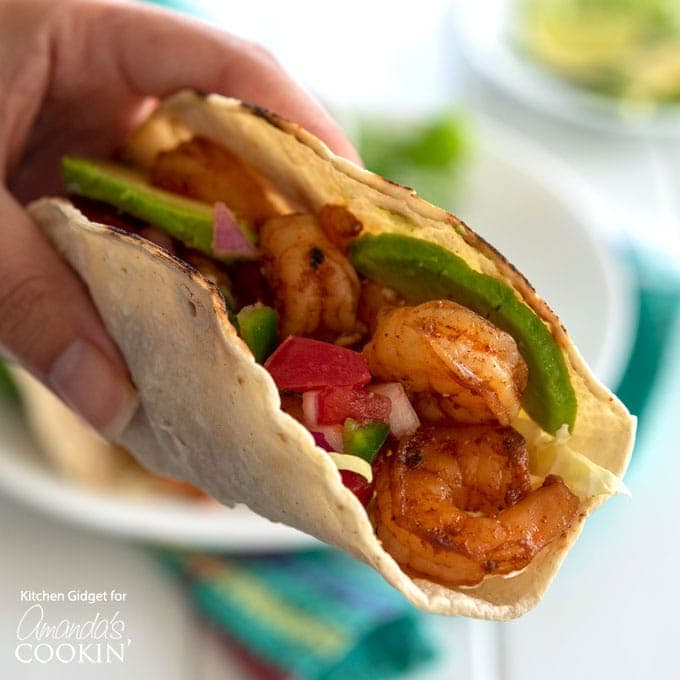 Shrimp Tacos
These easy shrimp tacos have just the right amount of spice balanced with crunchy cabbage, creamy avocado, fresh salsa and lime. Best of all, you can have Mexican food for dinner in under 10 minutes!
IMPORTANT – There are often Frequently Asked Questions within the blog post that you may find helpful. Simply scroll back up to read them!
Print It
Rate It
Ingredients
24

oz

shrimp

peeled and deveined

1

teaspoon

salt

1

teaspoon

chili powder

1

teaspoon

chipotle powder

1/2

teaspoon

ground cumin

1/4

teaspoon

black pepper

2

teaspoons

vegetable oil

12

corn or flour tortillas

Toppings: cabbage

pico de gallo, avocado, lime
Before You Begin
I used medium shrimp, size 61-70.
Instructions
Prepare your toppings and warm the tortillas so they are ready as soon as the shrimp is cooked.

In a large bowl, toss the shrimp with the salt, chili powder, chipotle, cumin and pepper until evenly coated.

Add the oil to a medium skillet and heat over medium-high heat. Add the shrimp and cook for 2-3 minutes, stirring frequently. Shrimp should be pink and opaque when cooked through. Remove from heat.

Add shrimp to tortillas along with desired toppings and serve.
Nutrition
Serving:
1
taco
|
Calories:
120
cal
|
Carbohydrates:
11
g
|
Protein:
13
g
|
Fat:
2
g
|
Cholesterol:
142
mg
|
Sodium:
651
mg
|
Potassium:
100
mg
|
Fiber:
1
g
|
Vitamin A:
100
IU
|
Vitamin C:
2.3
mg
|
Calcium:
103
mg
|
Iron:
1.6
mg
Rebekah Garcia is the food blogger behind Kitchen Gidget. She creates recipes influenced by her Midwestern roots, Hispanic heritage and insatiable sweet tooth. When she's not cooking, you can find her at the beach with a good book. She is married to the man of her dreams and home is where the military sends them. She believes food is better when shared…unless it's the last bite!
Latest posts by Rebekah Garcia (see all)